*edited*
This is damn bimbo, but I just found out that I left out one pair of shoes! So added wtf. This is not any pair of shoes! It's also one of my favorites of the lot, and it makes me a BIKER CHICK!
I just watched a rerun of The Devil Wears Prada just now! Am in such a deliciously superficial mood now, haha. Therefore here's a shrine wtf for the shoes I have bought since I got home, not that many, compared to some shoe freaks that I know of... -_- But it's still a pretty big headache to hide these shoes from my mom! ('Cause as far as she's concerned, I am on a shopping ban
*shifty eyes*
).
As of now, these babies are hiding under my set of drawers, sitting with some of my pharmacy buys, and mixed with clothes wtf.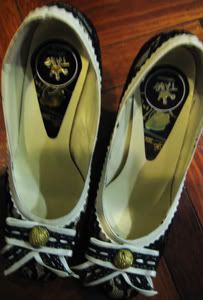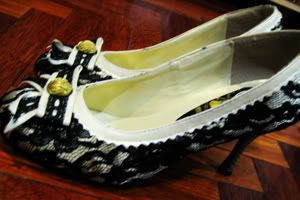 Vintage-looking lace shoes with a kitschy gold button on the cream satin bows!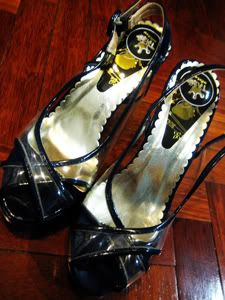 I have been wanting one of these transparent shoes... To satisfy my Cinderella fantasies. Glass slippers wtf.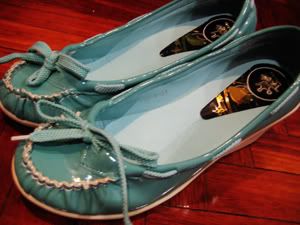 Patent loafer platforms! The color is BRIGHT, makes me cheery when I look at it. ;)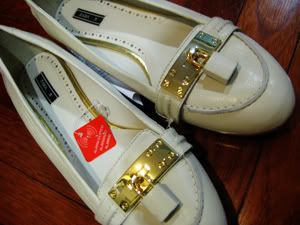 Zara cream flats with gold padlock. Reminds me of these shoes I wanted to get from Tony Bianco from Melbourne. T___T
And it looks like a cross between Marc Jacobs and Chloe paddington right! *self-reassuring*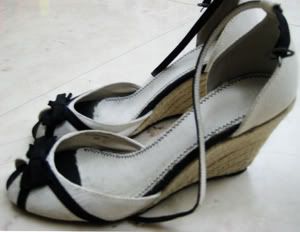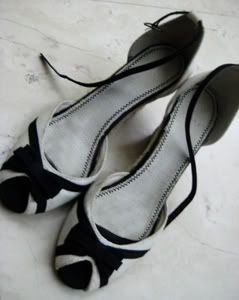 Another Zara peeptoe wedges... Love the straw-like detailing at the wedges part. And I like the earthy feel of this pair! :)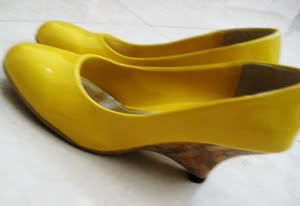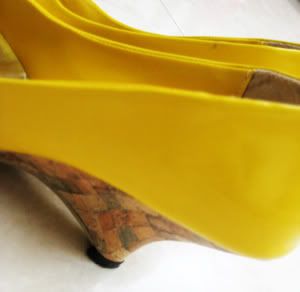 Bright yellow pumps, have been looking for one for ages! You can tell I really like my colors bright huh. :P Love the wedges on this pair too.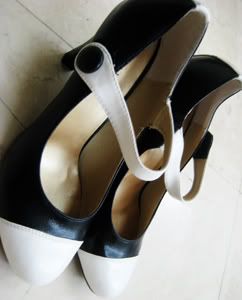 My Chanel-inspired pumps! Ya la ya la, I associate all my shoes with designer brands WTF. These shoes are slightly too big for me, but since it's maryjanes, it's something I could ignore. ;)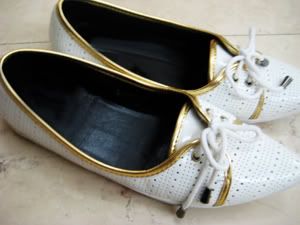 White patent sneaker-like pumps.
I just
know
the boyfriend would love this pair of shoes. -__-
Do you all have the same problem-- the boyfriend likes you in T-shirts and jeans and sneakers??? -_____-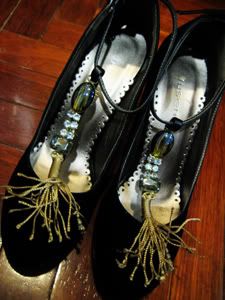 And my favorite pair out of the lot! :D :D :D
Black velvet pumps with semi-precious stones and diamantes... So pretty right!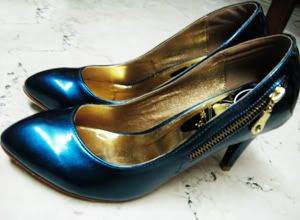 Just added this pic!
See, there are my BIKER CHICK shoes! Love the shiny turquoise/sky blue sheen... And it comes with a gold zipper, which is so damn sexy!!! I can just imagine strutting down in these shoes with a mink coat, damn diva right! I am anti-fur, but that's another story wtf.
And I realised that my obsession with button earrings have yet to cease... -____-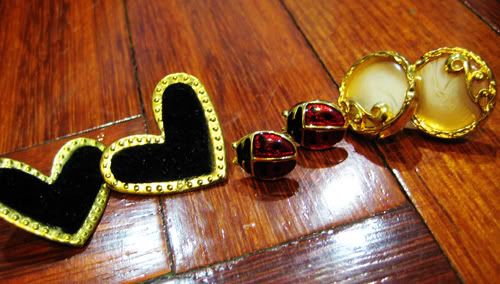 I think that I am a corn
ar
, 'cause corn have EARS, geddit geddit??? :P
****************************************************

Anyway, just now Jing was filling out some forms right next to me, and I realised something!!!
The way she writes '8' is different from me! And it's really weird!!!
This is how she does it: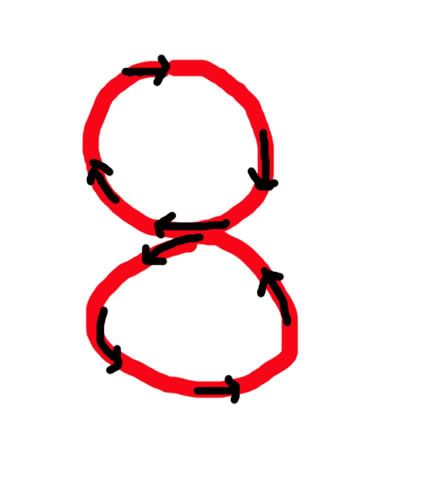 She draws two circles resting right on top of each other!!!
Where got people write '8' like that right! It's as if she is in a drawing class!!!
I was trained to write my '8's this way since young: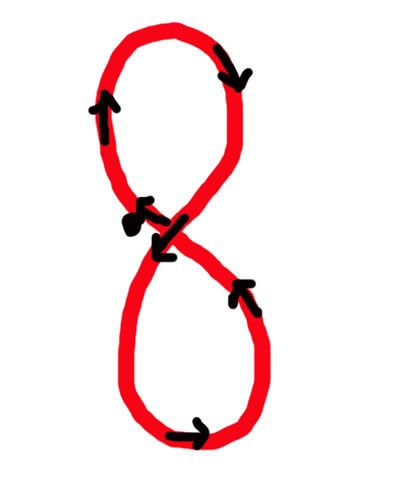 The black dot refers to the starting point.
My grandma and mom used to grasp my hand tightly tightly and make me reiterate over and over again this way of writing my eights, so I *believe* this is the correct way of writing.
Erm, the reason why they were so persistent with teaching me the right way of writing '8' is because I used to write them this way: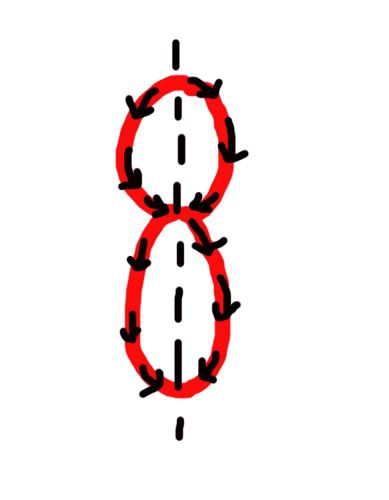 I will draw a
terbalik
'3' on one side, and join it back with a '3' on the other side! 'Cause I really liked art
mah
wtf.
Anyway, I checked with Teeny, and here's how she does her '8's: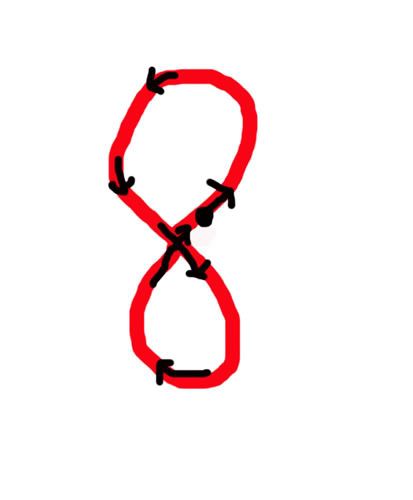 The black dot refers to the starting point.
She writes it in the opposite way from me! Which is quite alright, especially when you compare it to Jing's retarded way of drawing 2 balls resting on each other. -__-
I never knew everyone had their own way of writing the number eight... Starts making me wonder how people write their ABCs and all the numbers! Even the symbol for infinity wtf.
Such food for thought right!! So which way do you write your '8's?? Is your way more creative? :P