Smalls' wall post for me on Facebook:



Crap forgot to wish you. Oh well facebook wall messages is as good as FACE TO FACE wishes right? Hahah Anyways all the best for your interview in Singapore. You will definitely kick ass there *hugs* =)
Well, the verdict?
Arse kicked. ;)
Aiya, actually not completely true
la
. No asses kicked in the process of the interview, but I think I did pretty well. At least in terms of poise and confidence, I think I hit the right note. But anyway, I'll know the decision next week! Damn shy if I don't get the job. T___T
So ya, I've been away in S'pore for my job interview for the past few days.
Not a last minute plan, just in case you're wondering, considering that I made no mention of it before leaving, but heck, I am seriously damn last minute in packing. -_- I had to bring interview books (from the boyfriend, 'cause I am kiasu like that wtf), accounting standards (to skim through just in case they ask me), accounting textbook (for technical questions), and my giant book of certs... T___T And passport photos, extra copies of resumes, employment application forms... So many nitty gritty details to prepare!
Anyway, you would notice I am very rambly today, because frankly speaking, I haven't spoken for 3 days! T__T My mom (I went down with her) was just yakking away with my aunt 24/7 about the 'good old days', and my cousin brother was always in his room seducing his college student girlfriend wtf. And I couldn't really go online as the computer is in said seductive cousin's room. So all I did was just read S'pore entertainment magazines, right up till Nov' 2007 (it's a weekly magazine by the way -_-)... I swear to god, I can recite the personal lives of every single S'pore celebrity by now.
And the bus ride today! Oh my god. 7 hours (a delay with the bus + traffic jam at the immigration center) of just doing
nothing
. Now I know time actually passes by quite quickly when you are staring offspace. And sleeping wtf. I swear to god, I was sitting for so long that my butt is flat now! T_T God, I prayed for a smaller butt, but I didn't mean that I want it squashed. T___T
Anyway, I am pleased to announce that for once, I am going to have all the pictures of my trip up! :)
Some of you may have realised, I always quit after day 2 of any of my travelling escapades. -_-
.... because I only have a grand total of 4 pictures from my trip this time wtf.
All pictures taken at this Chinese health restaurant that we went to!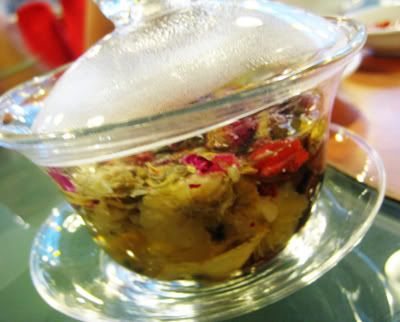 This is called the 8 treasure tea. Besides obviously being beneficial to health, it actually promises to ward off bad
chi
! How cool is that! :P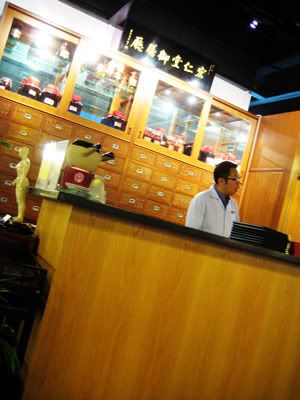 A counter with a
tabib
(Chinese medical man?), who will actually diagnose your health by taking your pulse (just like in those olden days!), and then he will prescribe some suitable herbs for you.
Those herbs are kept in the drawers and drawers behind! Damn unique right! :)
And that's not all....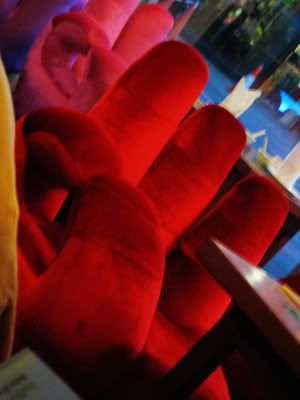 You get to sit on weird ass chairs like that!! :P
It's modelled after the Buddha's hands, I think. But it felt quite strange to be sitting on a hand la, what more with a hand posed like that... I kept on feeling that the fingers will flick my butt playfully wtf. T__T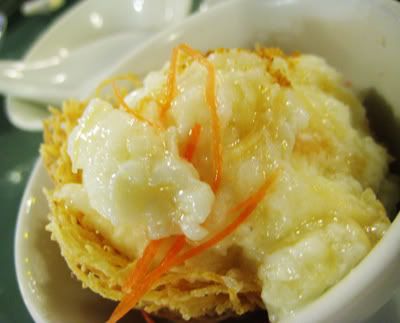 A very yummy appetizer-- braised egg white and scallop on crispy potato biscuit.
I loved it! The braised egg white made me feel tres healthy (heh, anything white and soft makes me feel so, which is why I idolise tau foo far wtf), and I love the shreds of scallop! And the potato biscuit tasted like potato chips! But it costs S$4 per piece... which makes it the most expensive piece of potato chip I will ever eat. -__-
Ok la, since I have so little pictures from my trip, I feel compelled to post up some pics of my buys... But I seriously bought damn little stuff. :( I was down in S'pore on Wednesday night, and I actually spent the whole Thursday cooped up at home, because my mom felt happier gabbing with my aunt, and I don't know my way around S'pore too well to venture out on my own. But of course, put me in Orchard and I can navigate like a magpie to a brass ring wtf. But alas, I wasn't really up for going anywhere the day before my interview, felt safer to stay home and prepare for it. :(
Anyway, all these are in a day's work, after my interview. Which is when my shopping tendencies flood back like a dam unleashed, hehe.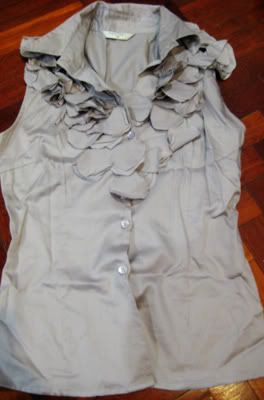 I like the petal detailing on this top.. Hello, high waisted shorts! :P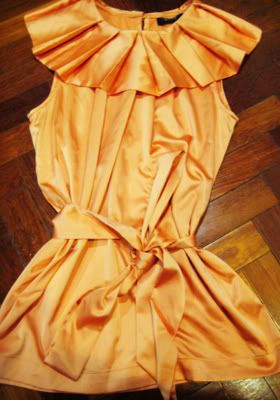 Rick satin on this one. And I have to admit, the color caught my eye! Not 'cause I like orange.. But the boyfriend does...
Sigh, am I the only one who dresses to cater to the boy sometimes? T_T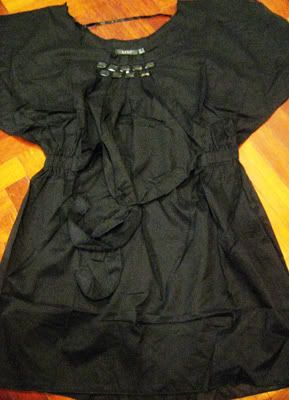 Ok la, looks like shit here.. But it's actually a baggy bejewelled batwing shift dress... I like the casual, not-trying-too-hard look with this dress. :)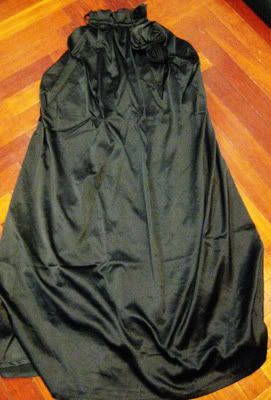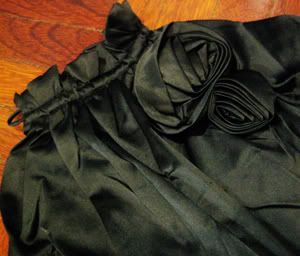 I love this dress... The rosettes and the beautiful back...And the luxurious feel of satin...
The only problem? I have the same dress from F21 in pale lilac. -_______________-
But the dress from F21 has the rosettes at the back!
*shifty eyes*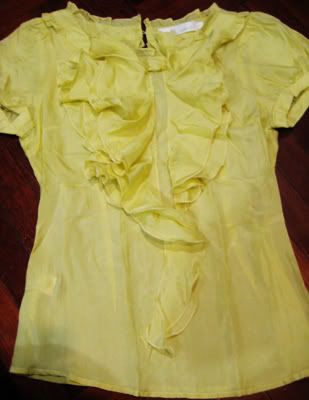 Ruffly top in delicate silk, I like! I have a soft spot for ruffly things nowadays, heh.
And some accessories from F21 and Topshop... I have no idea why I go all the way to S'pore, only to get things that are available in KL. -__-
Colorful kitschy oversized clutch-- perfect to brighten up outfits!
Have been eyeing this in KL-- love those plastic charms!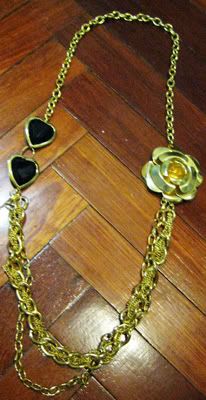 I like the fact that by adjusting this necklace, different looks will emerge! :P For example, I can only show the black gem hearts... Or only show the gold flower... Or layer it...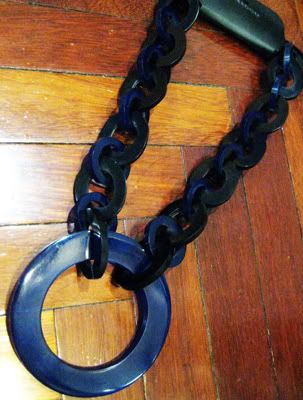 My mom picked this for herself, damn funky hor my mom?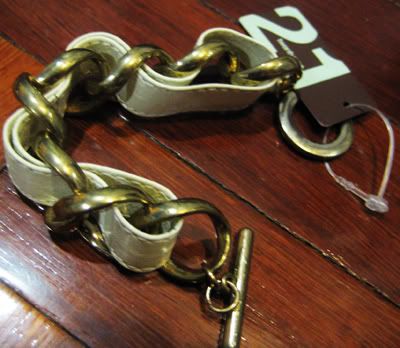 I have been looking for cuffs like that as well. :)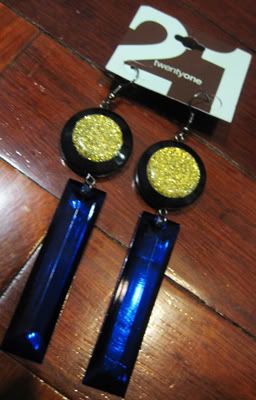 My retro bling. :P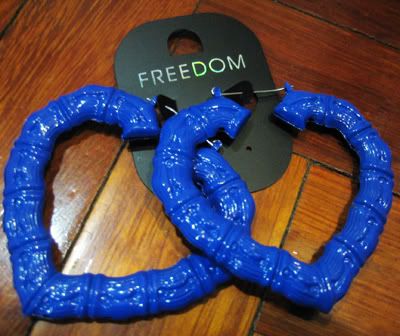 Getting in tune with J.Lo, hehe.
And that marks the end of my S'pore trip! Now everyone bow your head down and mutter a silent prayer for me that I'll get the job wtf.
**************************************

I swear to god, I am the most unloved child.
I have been having mild chest pains since last night, so when I saw my dad just now, I told him about it and asked whether I am getting a heart attack wtf.
(in case you are confused, my dad is a doctor!)
He barely threw me a backwards glance, and just jabbed at my collarbone half-heartedly and told me "Aiya, nothing wan la. Young people won't die so easily."
WTFFFFF you tell me!!! Why am I so unloved. T____________T