Yay, i finally got a new external hard disk, a 120GB one, thanks to daddy! :)
My old external hard disk has crashed a really long time ago, leaving me practically crippled.
-_- This means that I can finally pool all my Melbourne pictures together! This means that I can post up really really backdated pictures of Melbourne! :D
But sister asked me why am I posting such 'lapuk' pictures... But what the heck, sifting through Melbourne picture leaves me with such a warm and happy feeling. :) Though it briefly unsettles me, because I will miss Melbourne all over again.
Anyway, pictures from the last Camberwell of the year!!!
I still remember, it was just an impromptu plan to head to Camberwell, simply because I was going home soonafter then... Only when we have arrived at the market, we found out that the market that day was the absolute last one of 2007 (it was mid-December then)! Can you imagine if we have told ourselves then, aiya, we go to the Camberwell market next week la, I would have never get to go to another Camberwell market before I leave! T______T
Very very image-intensive, because I wanted to capture everything into my memory...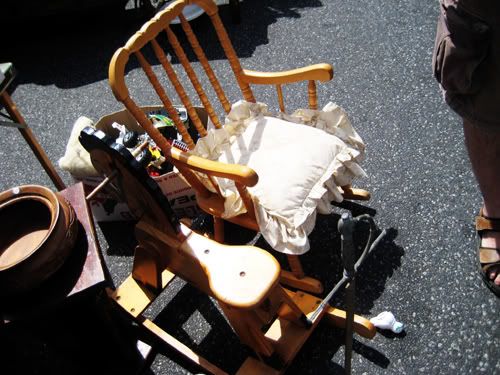 I really really want a rocking chair! It adds such a charming touch to the house.
But I get chairsick when I rock to and fro. -_-
Haha, reading too many Enid Blyton houses made the young hui wen aspire to build birdhouses to attract sparrows and robins! :P
Perfect depictions of one man's junk is another man's treasure. :)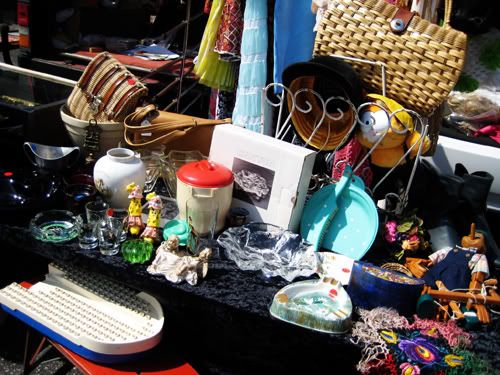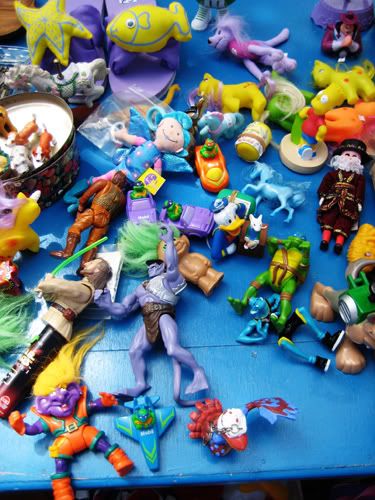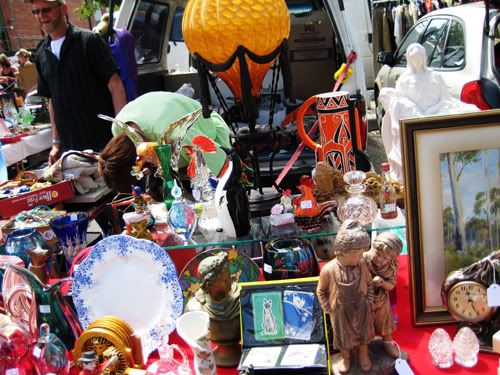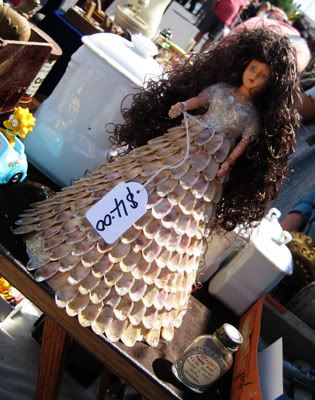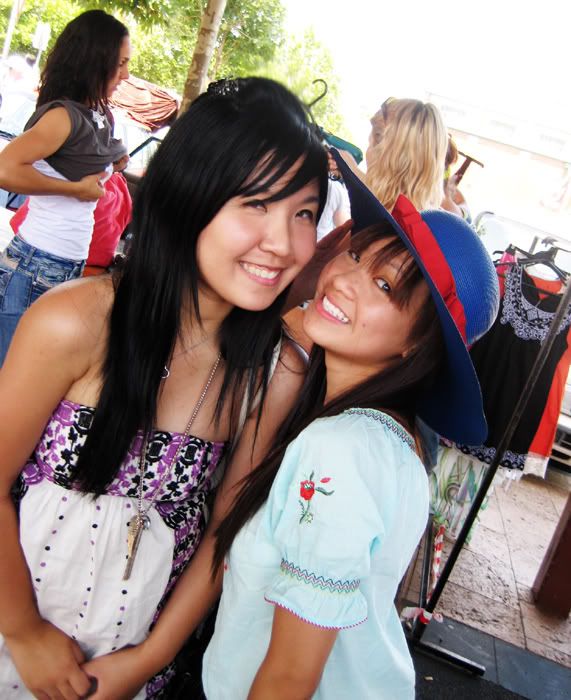 Smalls, and her then-newly-bought hat! So cute right.
And if you notice, this was just after I got tanned at the beach. Really damn black and obvious. T___T
There was this really cute guy who was playing the keyboard right in the middle of the market...
And there was also another guy who was strumming a guitar elsewhere... The different melodies and chords, combined with the hustle and bustle of the crowd, thinking of it still puts a smile on me face. :)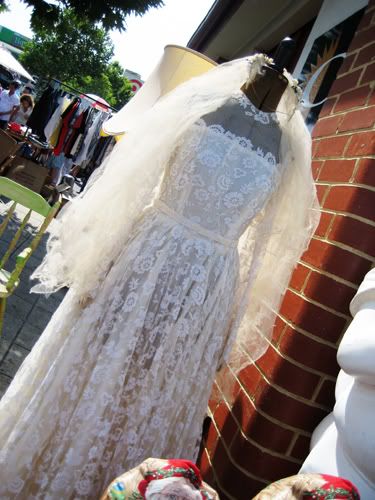 Antique lace wedding gown
This is going to sound weird, but I honestly don't mind donning this gown! So pretty and delicate! Unless it's worn by a dead person before la wtf.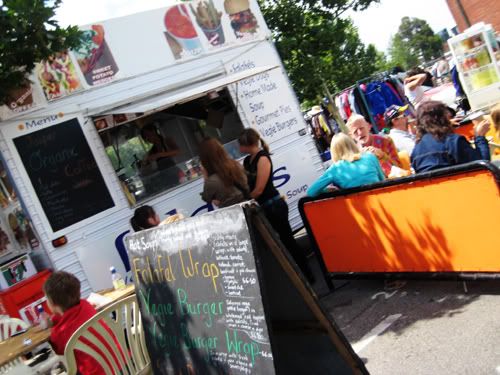 Trucks selling jam doughnuts, greasy fries and hotdogs and coffee could be found all around Camberwell-- it's part of the charm. :)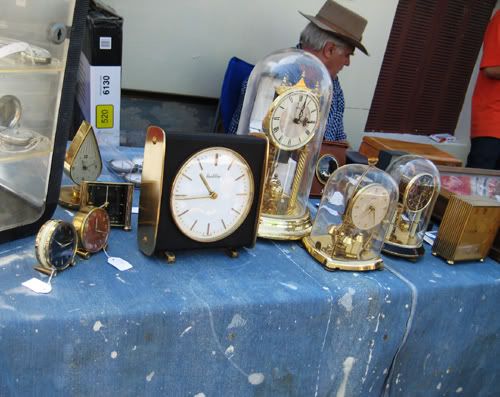 Childish of me, but sometimes, oh just sometimes, I wish to turn back time.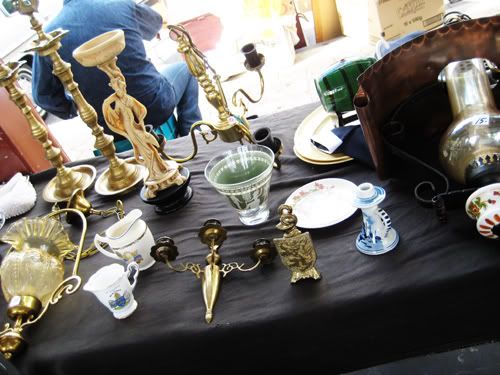 Candlesticks.
Madly colored hand-painted plates.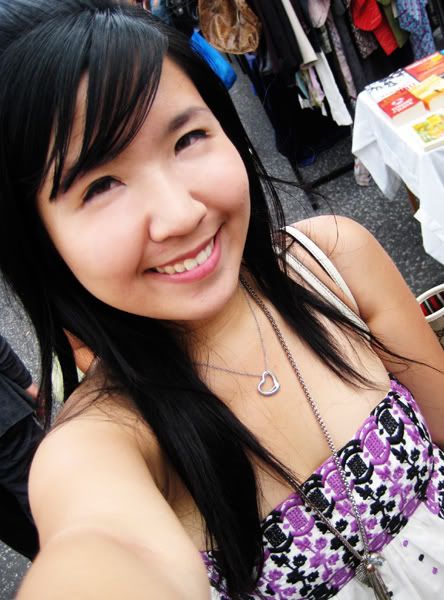 Me with my old hairstyle, weaving in and out of pre-Christmas crowd.
I personally think it would be quite fun to dig for Christmas gifts for people at Camberwell! 'Cause there are just SO MANY different things with such different sentiments for you to attach to the people you care. :)
Smurfs! Which I find disturbing ever since Smalls told me about her Smurf-incest theory-- "haven't you wondered why there are so many Smurf offsprings, but only one girl Smurf in the Smurf village?"
-___________________-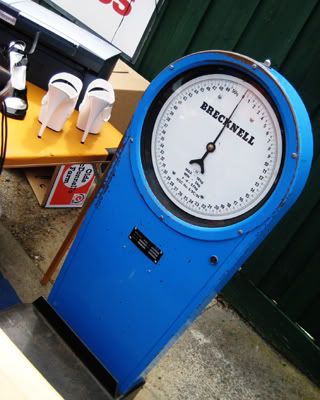 Haha, giant ass weighing scale. Jac, your birthday present next year la, since you're so obsessive with weighing yourself! :P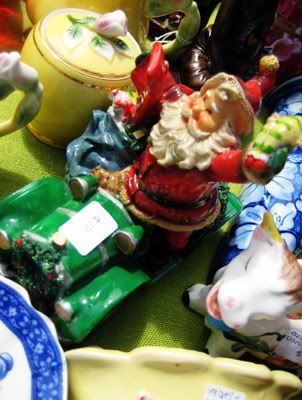 Very apt then, 'cause it was Christmas season at that time!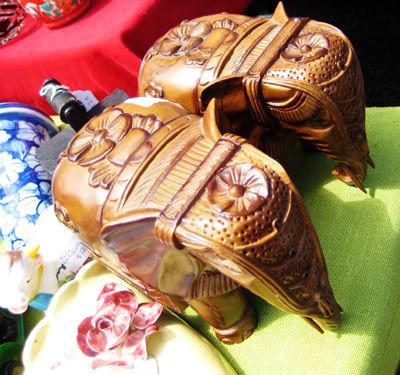 Beautifully crafted elephants.
Wish I got them, 'cause my dad is looking for elephant figurines now, 'cause apparently Lillian Too feng shui books recommended such arrangements in our house. -__-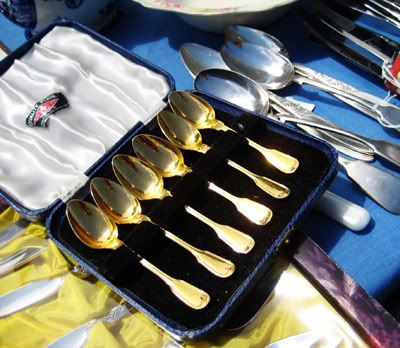 Haha, just out of curiosity:
Born with a silver spoon in one's mouth-
- ever wonder how it came by?
"The earliest spoons were made of wood, the word 'spoon,' in fact, deriving from the Anglo-Saxon 'spon,' 'a chip of wood.' Until the last century most people used pewter spoons, but traditionally, especially among the wealthy, godparents have given the gift of a silver spoon to their godchildren at christening ceremonies. The custom is centuries old throughout Europe."
-- "Encyclopedia of Word and Phrase Origins"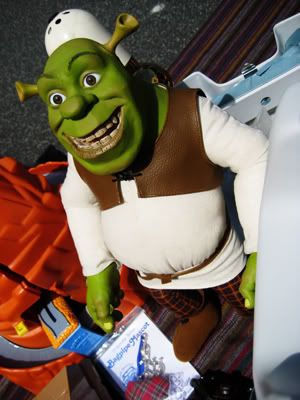 Giant Shrek.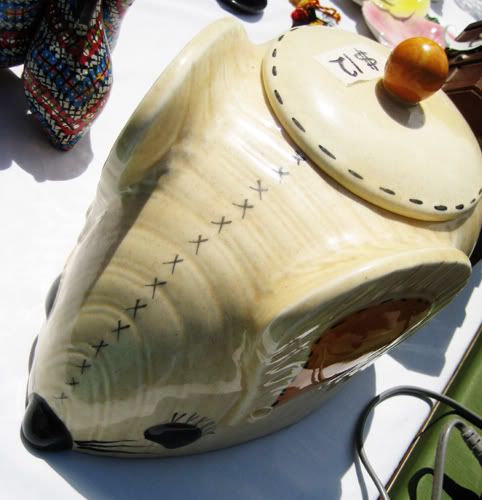 Rat year wtf. Haha, this is actually a cookie jar!
I've always always always wanted crystal chandeliers! Somemore the ones selling there were SO CHEAP! M'sia/S'pore ones are always going for such exorbitant prices. :( But alas, I didn't get one, 'cause it was impossible for me to bring it home. :(
Tinkerbell, which resembles a blow-up doll. Eh, which reminds me, I haven't blogged about my SEXPO experience! Traumatic experience that one. -_-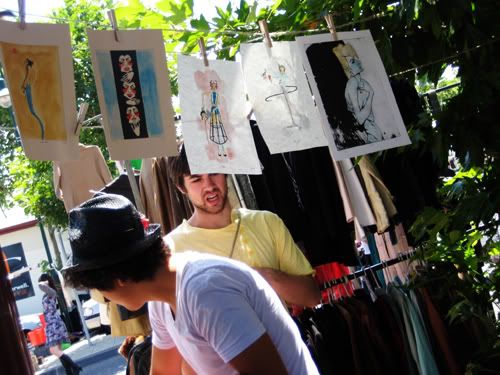 Artists at work.
I love how they pegged their work up as displays! :)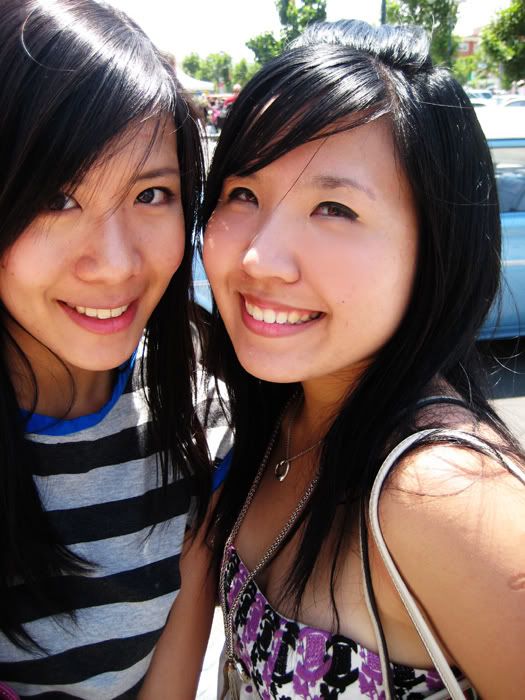 With Mey, her first time ever in Camberwell! Noob, haha.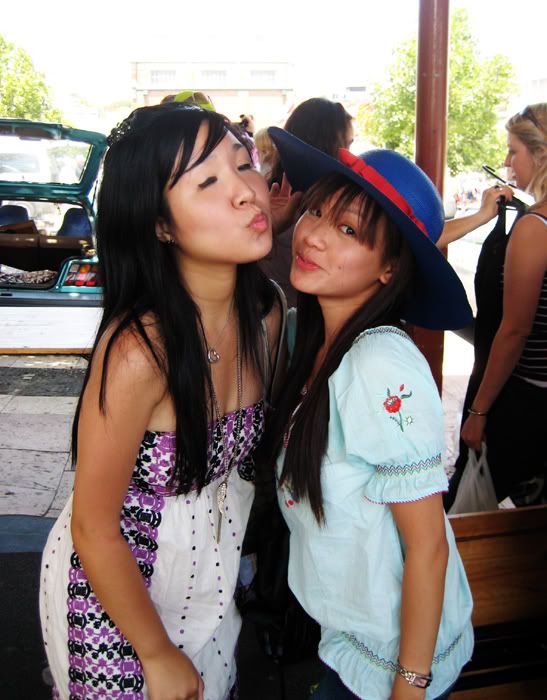 Haha, I look damn unglam here! Unglamly BLACK. T___T
And I was unfortunate to see something that cracked my heart open a little. :(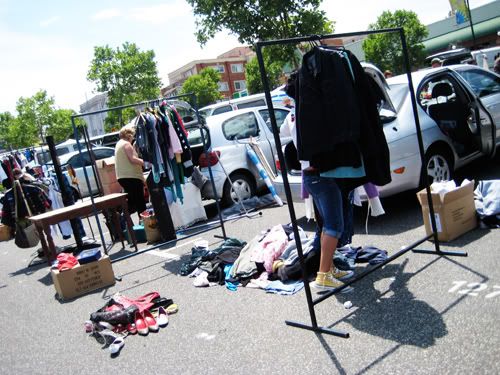 I actually witnessed the closing up of the stalls in Camberwell. :(
As noon drew closer, every step that I took, I saw Camberwell market disappear bit by bit. Umbrellas drawing in, mats rolled up, clothes thrown into boots, tables folded, hangers removed... Every step advanced, was equivalent to one more trace of the market being erased. It was an emotional moment for me at that time, because I was having some personal issues with coming to terms to leaving Melbourne. To imagine that I have been going the market for one whole year, and to see it dwindle to nothing in a few minutes' time. And all the packing up, it was just so analogous to what was awaiting me. It was like viewing the unraveling of this unwanted ending in slow motion. It was not only the last Camberwell market of the year. It was the last Camberwell for
me
.
Aah, but I have survived. :) Anyway, as always, pictures of my buys from the market!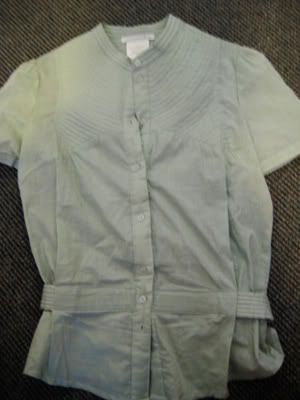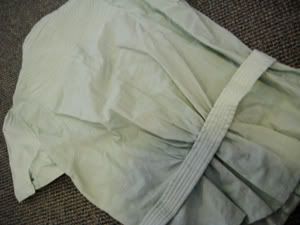 A dusk turquoise top with really gorgeous quilted detailing... Even the belt is quilted... For work! :)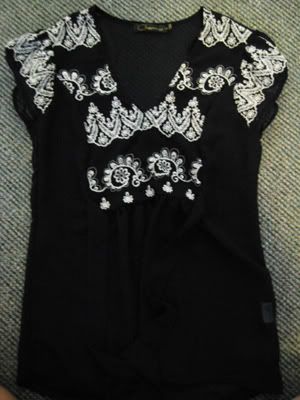 Black chiffon top with pretty cream embroidery.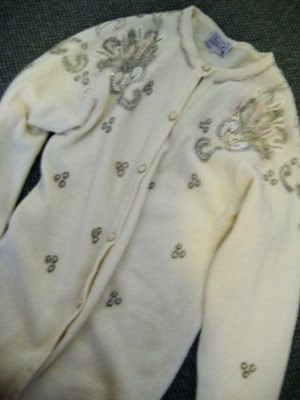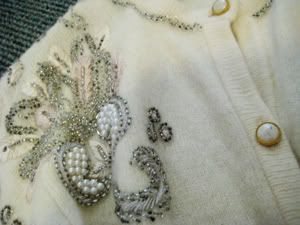 Granny cardigan with seriously awesome beading. The sleeves are too long for me, so I am thinking of altering them to half/three-quarter sleeves!
Chiffon black dress with cream crotcheting and beading in front...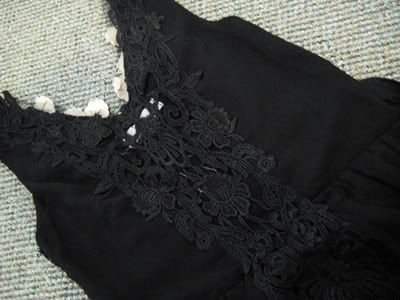 ... and black lace and mesh at the back. I actually like the back more, haha!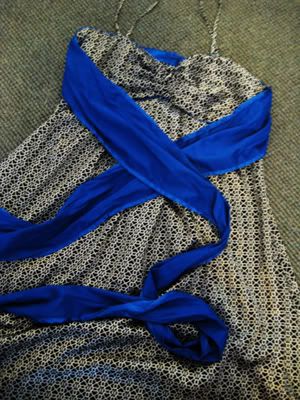 Love this dress, you can play with the silk sash by tying it differently, and I love the fact that's sort of backless! :)
Aah, my most amazing buy that day, I feel! I was actually planning to wear this as my graduation dress...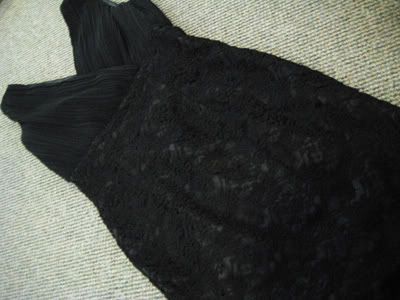 Black ruched bustier, than flow into this beautiful and exquisite pencil lace skirt. Vintage dress at its best. :)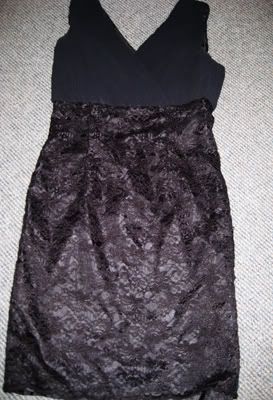 A clearer picture with flash.
In the end, I didn't wear this dress for my graduation, but tell me, isn't it a steal for 10AUD? Tell me I am good! :D :D :D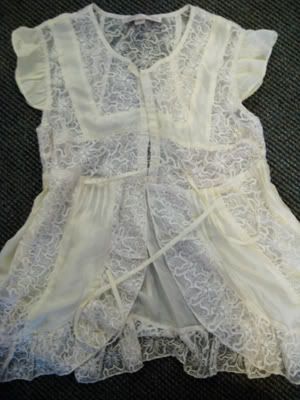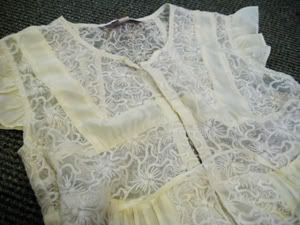 A really classy piece, satin and lace, very very delicate! :)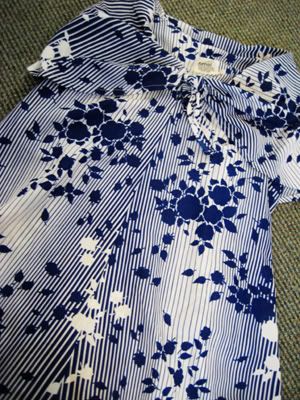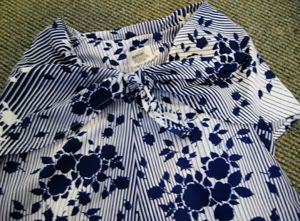 Vintage dress with a sailor cape, so unique right! It's actually a long dress, I am planning to cut it real short. :P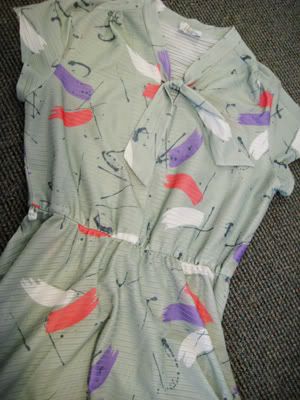 Another really really really cute vintage dress! This one is long too, but I'll make it short! :P
Accessories:
Candy colored necklace, summer must-have. Reminds me of M&Ms!
Owl and unicorn earrings! Haha, I admit, I have pretty eclectic taste sometimes. ;)
Earrings! WHERE IS MY BEACH HOLIDAY!!!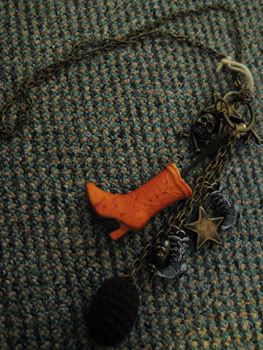 My boots are made for walking wtf. Got this for Teeny, because she likes quirky charm jewellery. Have yet to give her though, 'cause I forgot where I put it. -__-
To think of it, I don't know where are all the items I bought that day! I know I shipped them back, and they must be in one of the boxes, but I don't know which one. -____-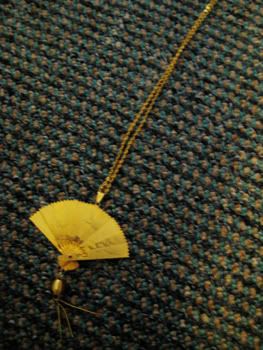 Dainty gold oriental fan necklace. You know why I bought it? 'Cause the fan can be fanned open and closed!!! Hahaha why am I such a sucker for functionality wtf.
Anyway, that pretty much sums up my last ever Camberwell outing in Melbourne.
But you know what I remember most clearly?
When this cafe right smacked in the middle of the market started blaring a jazzy Frank Sinatra song through its speakers, a few couples; bushy-tailed youngsters and white-haired married couples;
from the crowd
, came onto the cafe sidewalk, and they started dancing to the song. They skipped, they twirled, and they spun each other around; laughing and giggling, but light on their toes. And when the song ended, some of the men dipped their partners down as a grand finale. The crowd who have huddled up to watch this unplanned display of spontaneity burst into an applause. :)