One of my recent favorite buys: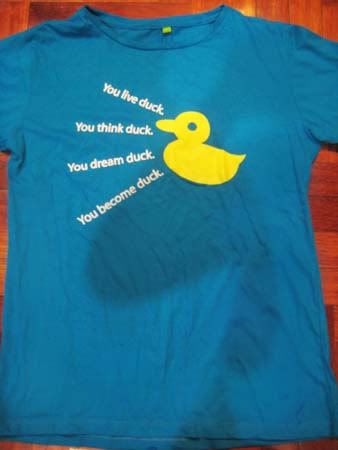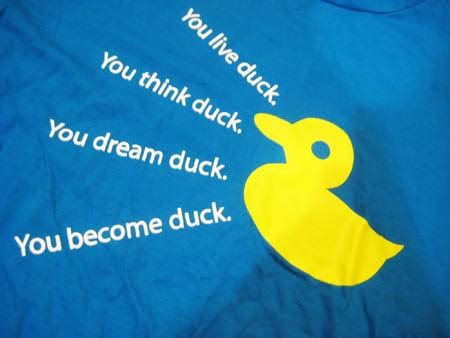 HAHAHHAHAHHA why is my taste like that.
And why is my sense of humor like that too. T___T
*****************************************************

I have been craving for Japanese food; or more specifically sushi with soft shell crab wrapped delicately in it-- since forever!!! Well, actually since I had this dream of eating soft shell crab sushi last week.
I can't remember anything from the dream, but all I had was this imprint, kind of like a movie still-- of me shoving a piece of half-bitten sushi (with this juicy slab of soft shell crab peeking out T__T) into my mouth. And I have been craving for sushi ever since. T____T
And I finally got my wish! :)))
Thank god my mom gave me the green light to slaughter daddy's credit card for our Japanese meal, nyehehe. Told you that i don't simply sign my supplementary card! T____T
We went to Hokano, a Japanese restaurant in Damansara Utama (same row as Maybank, facing LDP)), which has pretty fantastic sushi for pretty affordable prices! I usually go there for my OK-priced sushi fix. I go to Sakae Sushi for my cheap sushi fix wtf.
Jing, who refused to go out with her brand new Gucci bag, because she said Damansara Utama is a high risk area-- indeed, DU is notorious for its pickpocketing and snatch thefts.
SEE YOU STUPID THIEVES, WE HAVE TO PLAN OUR OUTFITS AND OUTINGS TO AVOID YOU ALL.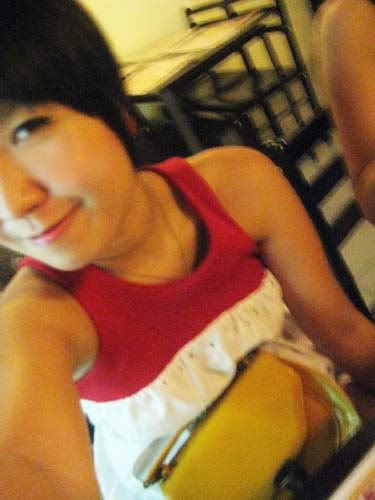 I purposely took a picture of only half of my face, because I can't stand my bangs, and I was tying to minimize the expose of my bangs wtf.
Sigh. I am sure everyone thinks that it's so fun and dandy to have sisters that you're so close with, and to go almost everywhere with them, but trust me, when PMS time comes, it's just a bloody
nightmare
(no pun intended wtf). Especially because females who stay together tend to have similar ovulation cycles (something to do with pheromones/some other chemical signals that your body sends out, I learnt this in Biology)-- this means that we
PMS TOGETHER
.
Oh my god, everyday it's just snap, fight, make up; snap, fight, make up.
OH GOSH, sometimes I hate being a woman.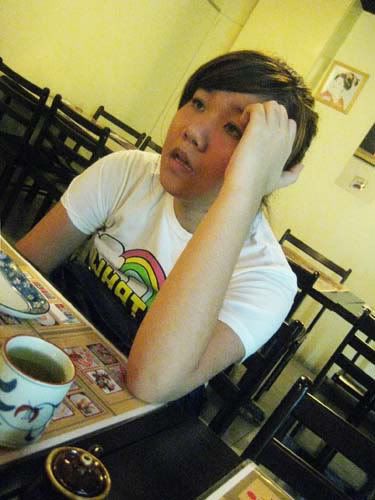 Anyway, picture evidence of Teeny snapping towards Jing.
She damn bad mood that day la. Took a lot of coercing to get get her out of her foul mood. -___-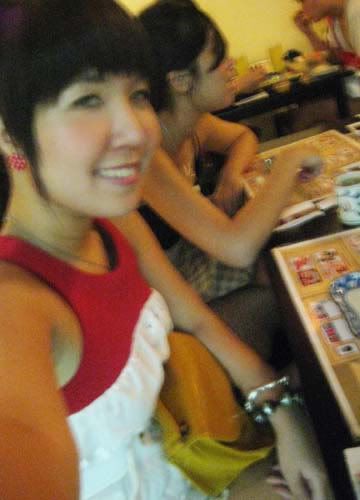 And this is Jing mid-retorting to Teeny.
Haha, I so smart right, pretend to take picture of myself, actually recording their battle!
I think they are going to kill me after this. :(
Yummy yummy sushi!!!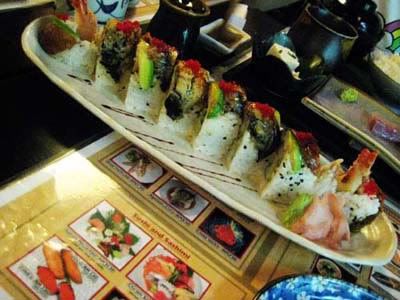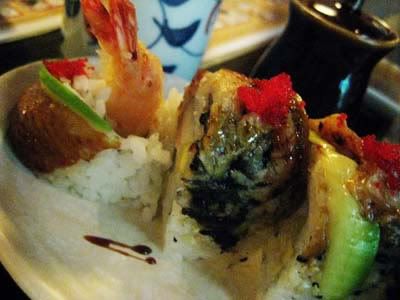 Hokano Roll, which is obviously, one of Hokano's specialties.
It has unagi (eel), tempura prawn, crabmeat and avocado in it-- it's basically everything you need to make sushi heavenly! :P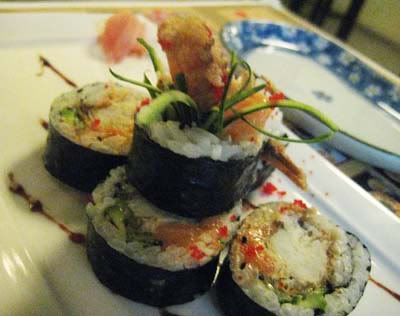 This was what I went there for-- Spider Roll, which is actually soft shell crab sushi.
Oh, orgasmic! And I had this piece of the sushi with the fried crab legs poking out, and I felt like it was going to come out and pinch my nose any moment. -_-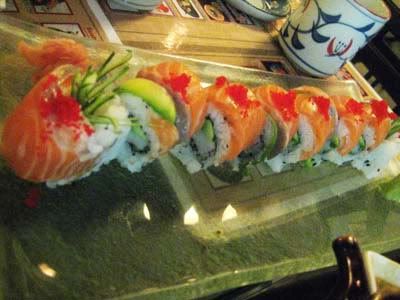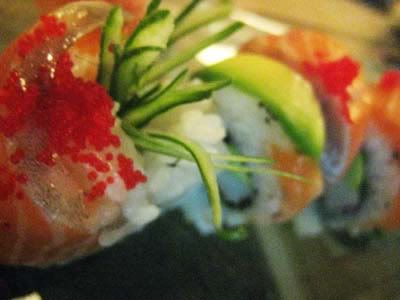 Alaska roll, fresh raw salmon wrapping the sushi! Another one of my favorites in Hokano. Then again, I LOVE salmon sashimi. :)
No picture of Teeny's sashimi bento set because she was giving me deathly stares. -___-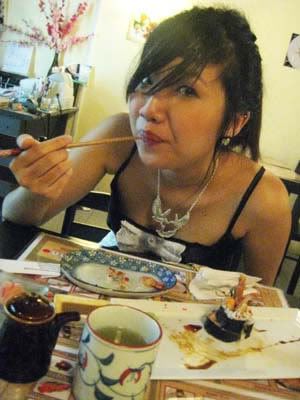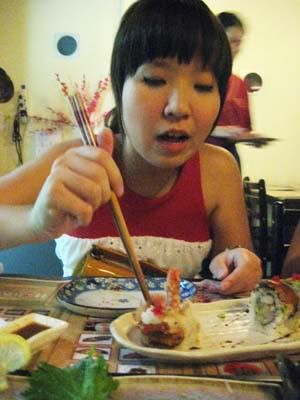 When we aren't at each other's throats, we love each other. :D
And this stupid Jing ar! She was seated next tome, so I was talking to her about something, and she grunted an indecipherable sound, so I was like, "Hmm?", and turned to my left to give her my attention, and I found
this
staring right back at me...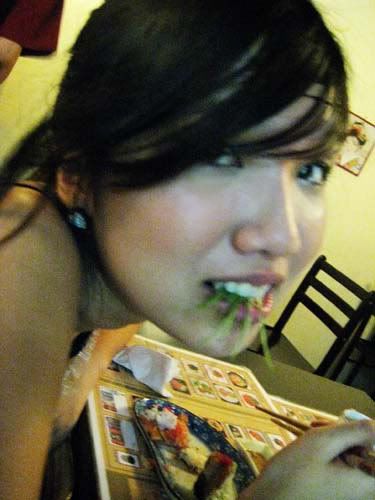 Almost scared me out of my seat! A whole mouth of alfafa sprouts which is as good as grass wtf. You think you cow ar!
But I couldn't stop laughing after that la, heh. :P
We went for karaoke after that! And I was so happy 'cause we got a super duper big room!!!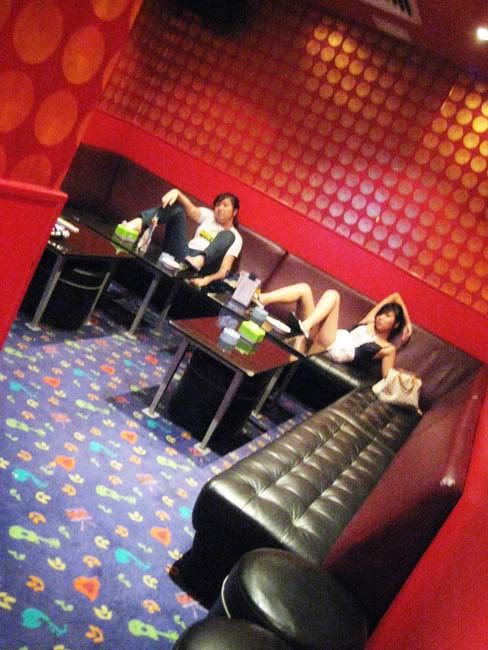 Even though there was only the 3 of us!!!
This was such a pleasant surprise, 'cause the last time I went karaoke with Jac, there was 4 of us, and we got a room that is smaller than my shoe cupboard wtf. Seriously, the logistics of the room is such that when you open the door, you take a step, trip over the tiny coffee table and land on the mini couch. Arghh, damn claustrophobic.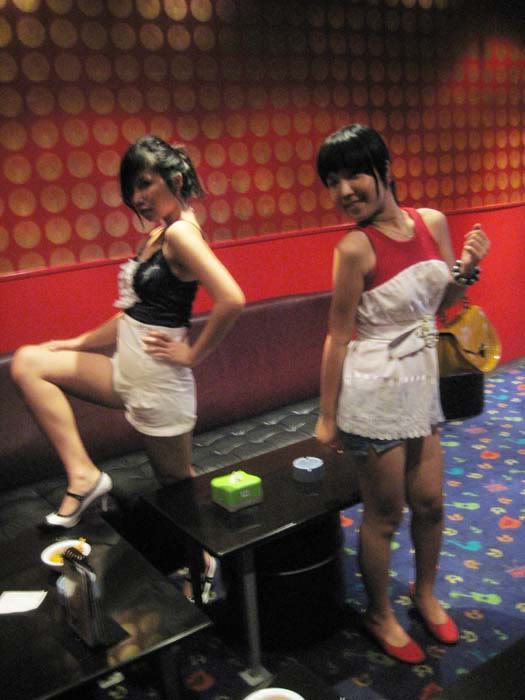 I damn love the top I was wearing! I actually bought it for Chinese New Year, but I forgot about it. It has white eyelet material with really adorable trimmings at the bottom! :)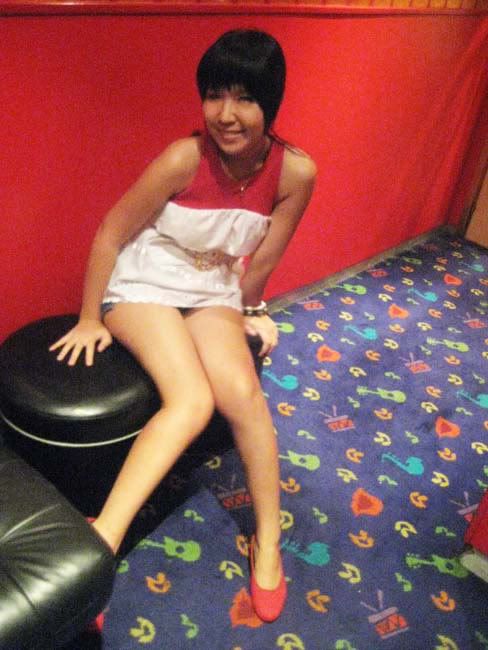 The reason why I was in such a stiff and akward position is 'cause after gym my muscles creak with protest everytime I move my body. T___T
And HAHHAHAHAH, I surprised Teeny with the Itsy Bitsy Spider song on the playlist!!!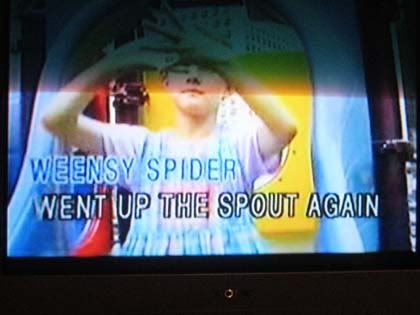 Ok, a little history here on why spiders are related to Teeny.
Teeny's other nickname at home is Spider-- reason being: We started calling her Tinnie (from Ting); and it slowly became Teeny, which is rather ironic 'cause when she was young she was the tiniest thing ever and now she is like 10 feet tall wtf; And y'know Teeny Weeny Itsy BitsyYellow Polka Dot Bikini, and one thing lead to another, we related it to the Itsy Bitsy Spider, and err, from then the nickname Spider stuck for her. :P
So in short, the chronological order of Teeny's evolution nickname is:
Ting> Tinnie> Teeny> (Teeny Weeny Itsy Bitsy Yellow Polka Dot Bikini)> (Itsy Bitsy Spider)> SPIDER
Why I don't call her Spider in my blog? 'Cause she threatened my life's safety should I call her Spider in public. T___T
Teeny the sole performer of the ITSY BITSY SPIDER move, hahaha!
Maybe next time it'll be as infamous as the Macarena move wtf.
Sigh, anyway, hope the next time that I go for karaoke, I'll get an equally humongous room!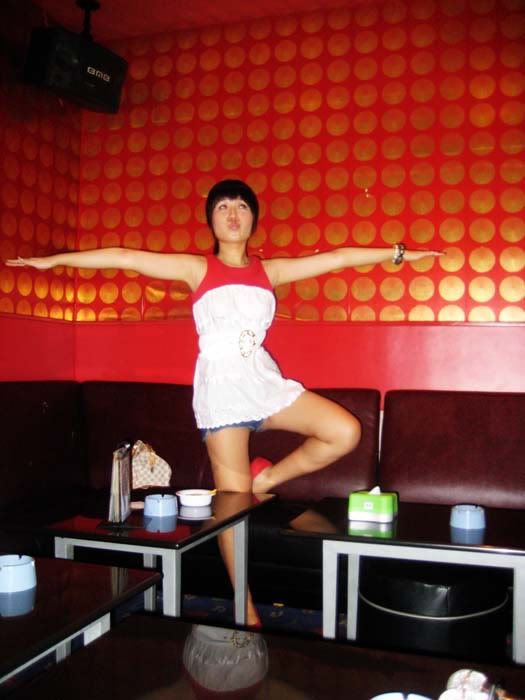 .... so that I could do yoga in it, haha!
OH, and you know how karaoke videos are the most ridiculous ones-- with beaches and bikini girls set in the 80's, of museums, and of birds and tress??!! -_____-
Jing and I were singing to Shakira's "Underneath Your Clothes", and the song was accompanied by this video of a bird park of some sort. It was weird, sure,
what with singing with emotion, but yet seeing feathered animals flapping their way on the screen.

But then, midway through the chorus, there was this scene of a KOALA BEAR WEARING SUNGLASSES!!!!!!!!!!!

With lyrics like this:

You're a song
Written by the hands of god
Don't get me wrong cause
This might sound to you a bit odd
But you own the place
Where all my thoughts go hiding
And right under your clothes
Is where I find them
Underneath Your Clothes
There's an endless story
There's the man I chose
There's my territory
And all the things I deserve
For being such a good girl honey



And we saw something that looked much like this: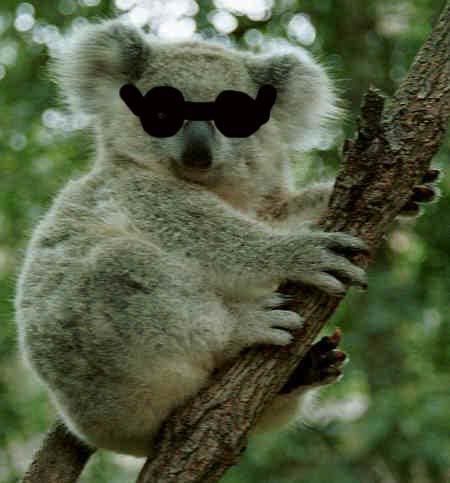 WTFFFFFFFFFFFF!!!!
How to go on singing!
We were just giggling into the microphone, HAHAHHAHAHHA!
And even though Jing tried to resume singing, I could never shed off the image of the day I saw a Ran Ban Koala wtf.
***********************************************************

Anyway, I heard from someone today that she finds that my blog has too many pictures, it's difficult to load sometimes, and it's not the first time I have heard that. So now I need some feedback, do you face the same problem? If so, what do you suggest that I should do?
- Just post less pictures?
- Resize my pictures to really small ones? (I do resize my pics, but not to very small ones, 'cause I keep my pictures in a certain size so that I could develop them if I want to, unless I keep double copies of my pictures-- one set for self-keeping, the other one (with very small pictures) for blogging-- but I find this too tedious!)
- Have fewer posts show on my page, so that there will be less pictures to load?
- Any other suggestions? :)
Thank you, everyone! :)