I just came back from a visit with a cosmetic surgeon.
More on it later.
I am traumatized now. :(
***********************************


*updated*
HAHAHAHHHAHAH WTFFFF I can' believe some of you thought I went for a nose job!!! HAHAHHAHAHAHHA.
Is it that I am so ugly that you all automatically assumed that I went for cosmetic surgery. T___T
Or is it 'cause I am so pretty that I looked as if I was surgically enhanced. Like Dawn Yang. *big shiny eyes*
My nose is already quite sharp (my mom calls it a nose hawk nose T__T), if I enhance it anymore, I would look like Jackie Chan wtf. And actually, all my life, I have been hating my nose, I have the exact same nose as my dad (and the small eyes too, boo), and I hated the fact that it was huge. In fact, it was such a facial feature of mine, that my aunties called me "
Bi Zi
" as a nickname. Which is NOSE in mandarin. T___T
Damn sad to be called "Nose" as a pet name ok. T_____T
Anyway, as I grew up, I came to realize that Asians generally have flatter noses, and that my nose was... unique, and even sought after. :) I get compliments on my nose quite a lot, but now to think of it, it's the only facial aspect of mine which gets praises, apart from my smile. T__T Nevermind, I'll take what I can get wtf.
Aiya, ANYWAY, the point is, I didn't go for a nose job.
And no, no boob jobs for me either, because standing at the lower spectrum of 5 feet, if I have big boobs, I would look like a stumpy melon tree. T__T
Waitamin, do melons grow on trees ar.
Sorry to create the drama, but I actually... had a mole removed.
Hahhaha, damn anti-climax.
Well, actually, it's not really a mole. When I was 17, I was playing with my mechanical pencil, and I accidentally stabbed the pencil lead into my arm, and I guess a little bit of the lead was embedded into my skin; because after that, it became this dark green-ish mole.
I have asked my dad about it, but he said it was okay, and I forgot about it. But over the years, I came to realize that the 'mole' was getting bigger bigger, and I got worried. So in 2005, my dad brought me to his friend, a cosmetic surgeon, to have my 'mole' checked out and to decide whether removing it was necessary. Nonetheless, then, the doctor insisted that there was nothing wrong with the mark on my arm, and that removing it would just leave another scar in place of the mark, making the whole operation pretty pointless. So I breathed a sigh of relief, and forgot about it again.
Nevertheless, recently, it has came to my attention again, and though I am not sure whether it has grown bigger, it has became a source of worry for me, and I asked my dad about it again; and this time, my dad agreed to let me visit the surgeon again to remove the 'mole'.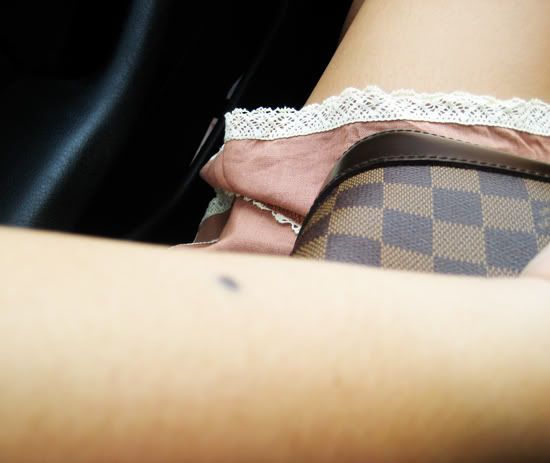 Said 'mole'.
It's not really that big, just that it has increased in size over the years (around 6 years or more). It is on the underside of my forearm.
Anyway, the cosmetic surgeon is a coursemate of my dad, and his clinic is at one of the most bustling shopping malls in KL, but you will never, ever find the place if you didn't pre-call the clinic-- because there are no signboards, no names, nothing! Of course la, if you are going to do plastic surgery, you wouldn't want people to know right! :P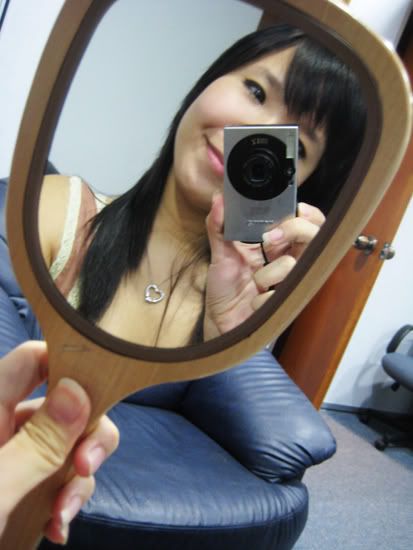 In the doctor's office!
Haha, when we were invited into the consultation room to wait for the doctor, we (Teeny and I, she went there to remove a mole from her nose, totally unnecessary in my opinion, it's just her being extraordinarily vain :P) saw this hand mirror on the table, and we immediately thought that this mirror surely makes people look very ugly! So that during consultation, the patients will see a lot of flaws on their faces, and agree to have
more
surgeries performed on them, hee.
Why are we so untrusting. T__T
And I am hoping that my dad actually recommended us to one of the best cosmetic surgeons in the nation la. But knowing how stingy my dad is, he probably lead us to a pariah doctor or something. T___T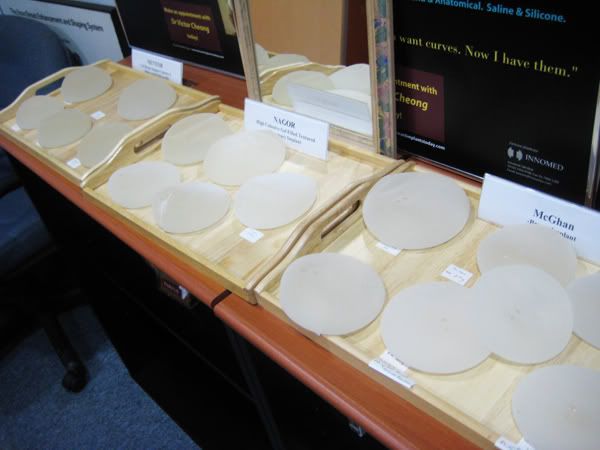 SILICONE BOOBIES!
These are the actual things that they put into your breasts in boob jobs! Got sizes and different textures somemore!!! I was squeezing each and everyone, while my mom looked at me in horror, hahaha.
Erm, the silicone boobs actually felt quite fake. :(
Like, it's really... jelly-like, but not in a good way.
By the way, the doctor remembered me. :))) And he said that I looked SO SO different from the last time he saw me! (which was 3 years back). I took it as a compliment, of course; to hell if I didn't improve from what I looked like 3 years back. T__T
At first, the doctor took a look at my 'mole' and told (yet again) that I have nothing to worry about, and that removing will leave a scar. Then my mom pointed out that I have quite an obvious scar on my elbow (from falling down when I was 7, it's a tragic story T_T), and said that it should be ok. The doctor took one look at my elbow scar, and he said "oh, ok", while looking at my scar and sniffing distastefully. Haha, why this doctor so judgemental wan!
Anyway, the doctor told me that removing my 'mole' involves a simple procedure of simply shaving off the mark. Yeap, you heard me right,
shave
. I guess this is so that the doctor could determine how much to 'cut' off (because by shaving, you are removing the flesh bit by bit). And the whole operation would only take 5 minutes! So we immediately schedule to do it then and there, and the doctor slotted us into his little window of break before his lunchtime.
I was brought into this room which looks like a morgue. T__T And then asked to lie down. Like a dead body. T___T After that, the nurse placed a metal plate (with currents running through it) with clear gel on top under my left calf-- it was supposed to stop my blood from flowing. =/
Before long, the doctor started shaving! I kept my eyes closed the entire time, because I am freaking afraid of blood-- one of the main reasons why I didn't go into medicine, despite my dad's consistent duress. The doctor just kept on talking to me in the low soothing voice of his (btw, he has very smooth and supple skin although he is around the same age as my dad, perks of being a cosmetic surgeon wtf; eh free wor, jab botox into self wtf), to keep my mind away from the operation I guess.
Bu then, after a few minutes, the doctor told me worriedly that the 'mole' runs much deeper than expected; and that he was going to change his treatment. He had to
stitch it up
! T___T
I have never had stitches before ok, and stitches definitely meant scarring. :( When he was done, he gave me a light push, and told me so. I opened my eyes unwillingly, and asked him whether my wound looked disgusting (I didn't really know what he did to me, because my arm was given an anesthetic jab, and I couldn't feel a thing). He told me that it looked fine, so I took a look, and I saw 2 flaps of flesh on my arm being sewn together with a thin black thread!!!!!!
I nearly fainted.
And he told me that he would send a sample of my mole for pathology evaluation. WHAT IF IT'S SKIN CANCER!!! T____T I was damn distressed, though the doctor kept on telling me that it was nothing to worry about, that it's just procedure, and it's better to be safe. But still, WHAT IF IT'S SKIN CANCER!!! T____T
I will only know the results next week, when I go back to have my stitches removed. :(
And in case you're wondering, nope, the whole operation didn't hurt. Maybe 'cause of the anesthetics wtf. Maybe the jab might hurt slightly. Oh ya, that reminds me, damn funny, when I asked the doctor during consultation whether the operation would hurt, he told me that only the jab would hurt a bit. Then he went on "No one is afraid of a little injection right?
Except for men
!!"
HAHAHAHHAHA damn funny this surgeon, SO TRUE! Men turn into big babies whenever they are sick!!! When my dad is ill, he damn LOA, HAHHAA. And when my boyfriend is down with something, he is damn manja. :P
And my wound didn't hurt for most part of the day, though it is starting to feel a little stinging now. Kind of like... taut, if it makes sense. And my whole arm feels a little numb too. Maybe 'cause no more blood wtf. But overall, it's bearable.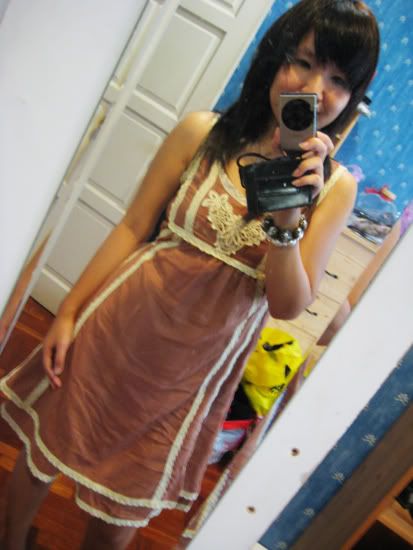 My really pretty dress! Crotchet trimmings all over!!
Don't know why I wore so nice to see a doctor. -_-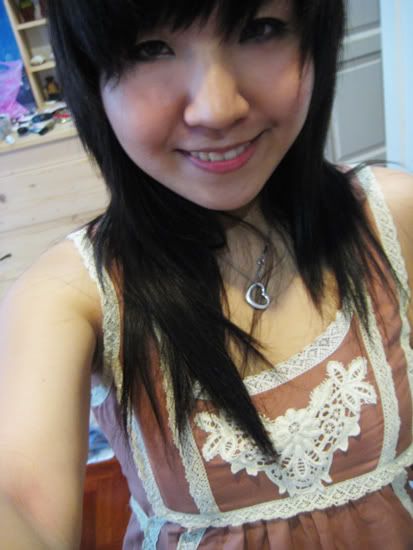 SEEEE, the bustier detailing damn nice right! :))))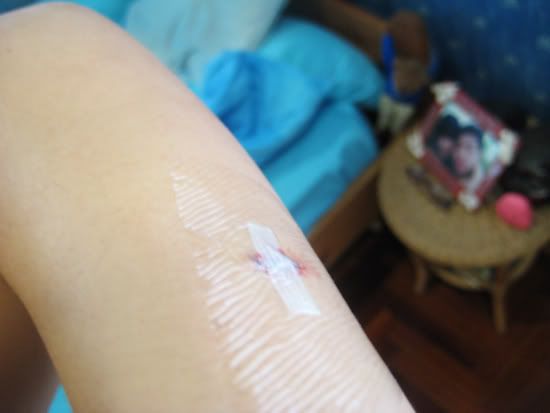 And this is how my wound looked like.
You can't really see anything, because the white plaster is blocking, but as it(the plaster) is really small, if I peer closely, I can see my stitches. =/ And currently, the whole middle part of the white plaster is bloody already!! Does it mean I am still bleeding????? Has anyone had stitches before? Is this normal? I asked my dad and he waved me off dismissively as usual. T_T And I am now using my left hand (where the wound is) very gingerly, because the doctor warned me that arm stitches split quite easily. :'(
Sigh, damn emo. Not to mention I am worried sick about the pathology results. :(
Omg, I just have a sudden thought! I've been having a slight cold today, what if I sneeze and all the stitches start unraveling and split open! T_____T