*edited*

Oohh, I forgot to mention that during the Threads Zoo sale, I actually saw my clothes being sold! o_O
I sell my clothes online sometimes, so I reckon the sellers are reselling them-- but it's just really unnerving to be flicking through the hangers, and suddenly go "EHHHH isn't this mine!" =/
I know they are my clothes, 'cause there were a few of them and Jing's ones were there as well wtf. Which got me to start thinking, I know I wasn't too keen on selling my clothes in this bazaar initially, but I really need to get rid of my clothes!! I still have 5 untouched boxes and 2 big suitcases of clothes from Melbourne (some worn, most brand new), and I KNOW it's impossible for me to get rid of them before I go off to S'pore in July. But I'm damn scared that if I sell it in this type of bazaars, I'll have to let my clothes off for dirt cheap la! I can't do that! :( How, what do you all think, should I rent a spot in the next sale ar!
**********************************************************


Friday's Zoo trip:
Smalls, Vic and I went to Zoo Negara on Friday.
Correction.
We
wanted
to got to Zoo Negara, but we got lost! T__T
We were sent on a wild goose chase around KL trying to locate the zoo, but to no avail.
We ended up in the Curve, heh.
Saturday's Zoo trip
:
You might have caught this poster online:
A bazaar/sale held by the
Threads Zoo
.
I was actually contacted by the Threads Zoo on numerous occasions to join in their sale-- i.e. have a 'stall' there and sell my clothes. However, I wasn't too keen on it, because at that time, they will take 20% commission cut off everything item a seller sells (they have scraped that now though), and on top of that, there's a RM100 rent involved. I sell my things online anyway, so I wasn't particularly attracted to the idea.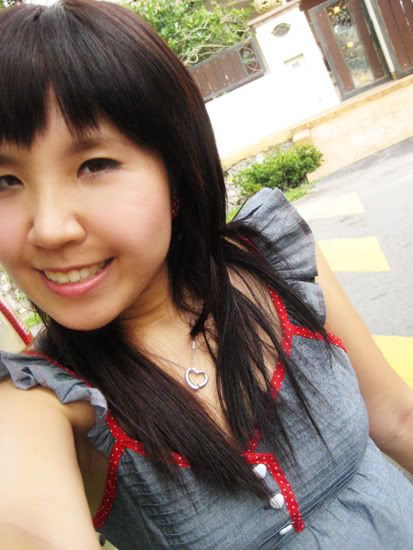 The heart buttons on my top so cute right! :)
And gosh, I look so insanely young in the second picture!!
Which is a GOOD thing.
My birthday is NOT coming up. My birthday is NOT coming up. My birthday is NOT coming up.
Why every weekend or so I am at some kind of junkyard sale! Like part-time occupation only. -_-
Behind this closed door:
The 'DJ' area. See the guy there giving the peace sign! I love camwhores, haha!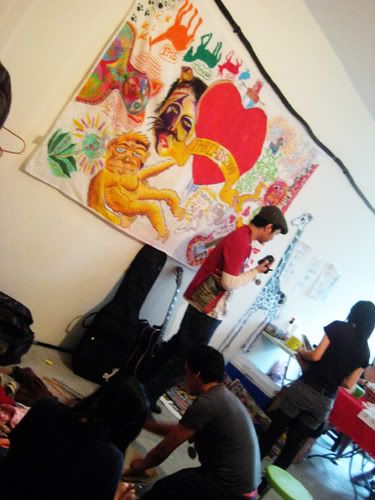 Giant Threadless Zoo poster.
Is that an orang utan at the lower left corner!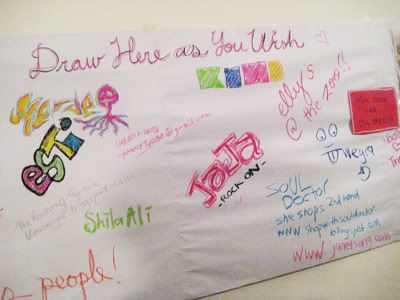 Banner for people to leave "I was here" messages, along with colorful crayons!
I was
this
close to stealing the box of colorful crayons, I can't resist brightly colored things, hehe.
I bought something, and they gave me a
garbage bag
to keep the item!
Me looking very forlorn with said trash bag.
Audrey, are you happy now! T_T
I didn't really buy much, because it was really really crowded and humid inside. And there was smoke too! Smoke in an enclosed, cramped room is just a big no-no.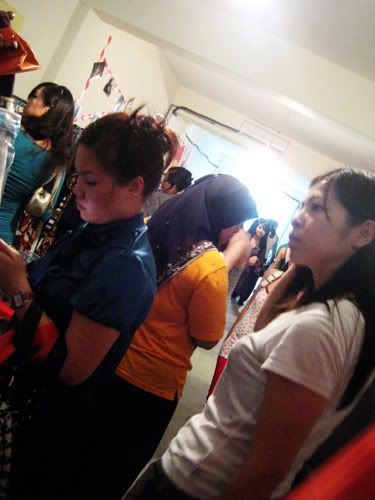 The crowd-- it's difficult to manoeuvre through the throngs of people. =/
And partly, some of the stuff sold there left much to be desired. It's one thing to sell vintage clothings, or even pretty, tip-top condition second-hand clothes, but some of the things there were just... YUCKS. I swear, my grandma will shun those clothes ok wtf. Stained, musty-smelling clothes from the 90's are NOT meant to be sold!
But maybe it's 'cause I didn't dig enough la, 'cause
YC
got some pretty nice things from the sale. But then again, she was there during the closing part of the sale, where the prices of most items were brought down to sell off whatever the sellers could. When I was there (the first day of the sale), most things were still quite pricey-- eg. almost RM100 for a dress that I saw on an online boutique recently, RM70 second-hand dresses which were plain and boring.
Or maybe I was just unlucky la. :(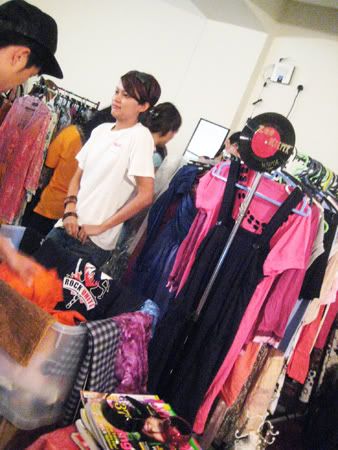 Anyway, this girl in this white tee had some pretty cool things! Very avant-garde, OTT old clothes-- you know, like big, beaded, sequined, padded things from the 80's. But with a bit work, the clothes could be revamped to be gorgeous! :P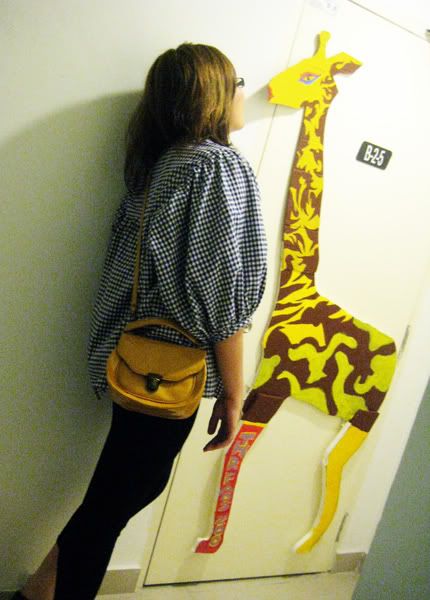 Teeny: Eh eh che, take picture of me! I am as tall as a giraffe!
Sigh, why my sister so show off!
And as luck had it, it was raining cats and dogs and dinosaurs when we stepped out of the bazaar! And we couldn't exactly go back in, 'cause damn shy la, walked out without buying anything, then go back in again meh wtf.
So we camwhored next to the angry pitter-pattering rain! :P
There's a leaf on the floor, and because of the angle, at one glance, it looked as if Teeny was holding a cigar in her hand HAHAHA.
I have the most unglam candid shots! T__T
Teeny said rain = emo, so she took the leaf and attempted suicide. -___-
Soon after, we got bored of taking pictures, and we were pushing one another to brave the rain to get the car. Teeny's excuse was that she has just gotten her driving license recently and she still sucks in driving (most valid reason wtf), Jing claimed that her heels were too high, and I was really against sloshing out in the rain because I was wearing red suede pumps. T__T
Then they saw the trash bag in my hands, and grabbed it from my hands to poke 2 holes in it...
... and asked me to wear the whole trash bag and run out in the rain. T_____T
Sigh, if anyone's interested, in the end, we
all
ran out to the car in the rain together!
Sisterhood means togetherness. :D
Anyway, I only got ONE thing from the sale!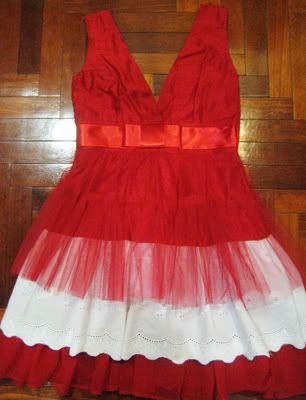 I can't decide yet whether this dress is over the top, but hey, it's cute, and I don't care what you think! And for RM30, it's a steal. :D