*EDITED* Added point 7, haha!
Ok, I admit it.
I have caught on to the
Malaysian Dreamgirl
(MDG) bug.
Regardless of all the negative complains about the quality of the show, the girls, the videos, the judges, the contestant's English wtf, I am hooked onto it just like how I get hooked to other reality shows: Project Runway, Survivor, Apprentice, ANTM (of course!), The Bachelor, even Restaurant Makeover WTF.
And precisely because it's filmed in M'sia, with actual M'sians, it just makes it more fun to watch!
Remember this 8TV show-- Most Real Beautiful Women or something to that extent!!! I watched all of it. =/
Nevertheless, there are some things in the show that irk me, and I am really hoping that the MDG people will just come across these points, and do something! T___T
1. Not showing the final photograph during the elimination session.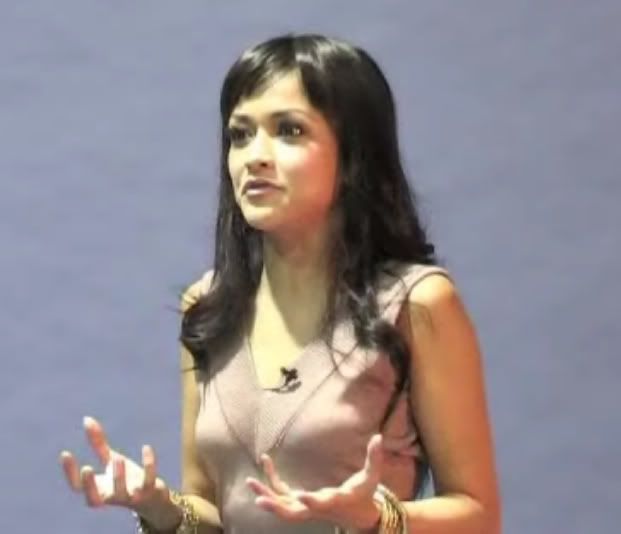 I have no idea why, but it insanely baffled me when the pictures the girls have taken were not shown while Sazzy was giving her comments on the pictures. "Your pose, very stiff, but good arms" etc won't make any sense-- how the hell are we able to connect to her critique when the photo isn't shown? Granted, I am aware that we can view the final pictures on the MDG website, but it's difficult to conjure up the images immediately while the judging/commenting session is taking place, and we end up just blindly listening to Sazzy's statements.
Nevertheless, in the recent episodes, the final photos are shown while the commentaries are given-- Good move! :D
2. Gimme the dish on it, baby!
So far, the idea for the pictures are pretty alright: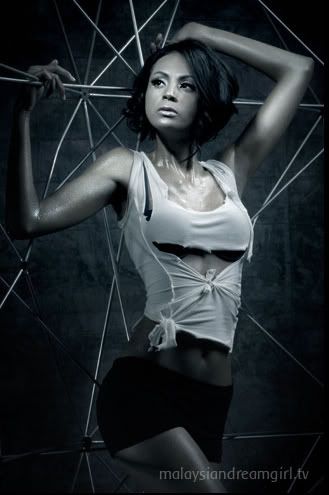 1st shoot: Women Secret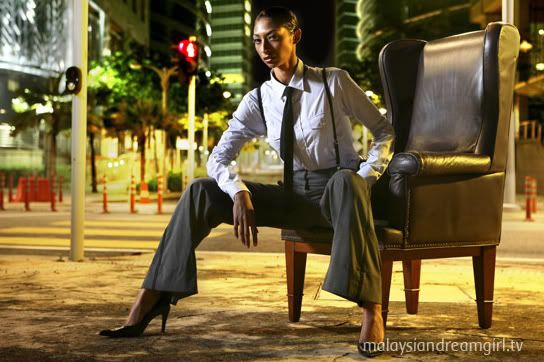 2nd shoot: Precinct 2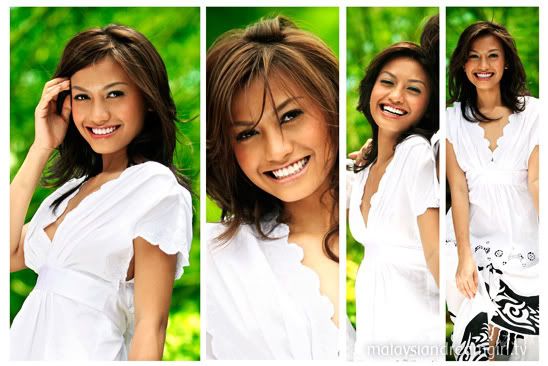 3rd Shoot: White Summer
In fact, I was quite surprised by the quality/photography of the pictures. Nevertheless, I think it'd be good if an explanation could be given about the photoshoot before it takes place-- about the general idea of the shoot, and the overall expectations.
For instance, for the Precinct 2 shoot, we weren't aware that the girls were supposed to portray male counterparts in their photos-- in fact, I only realized halfway during the shoot (I thought it was just an androgynous look, didn't know that in fact it was supposed to be
masculine
). And also, the name Precinct 2: why 2? Whatever happened to Precinct 1 wtf. But yea, explaining the background and requirements of the photoshoots would make the audience connect so much better to the pictures. :)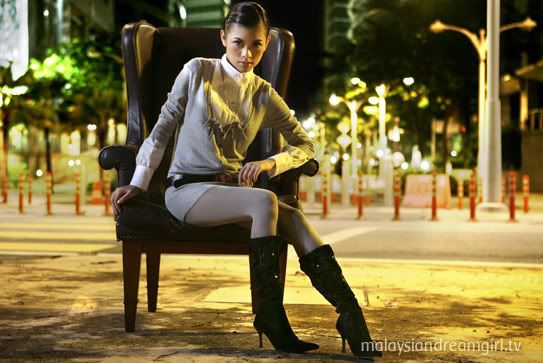 He wasn't man enough for me wtf.
How are we supposed to know that they are supposed to be depicted as
men
in this photoshoot?
3. Cut and edit
One of the most crucial element of TV shows is
pace
, especially when it comes to reality shows. However, MDG sometimes neglect this important aspect. For instance, do you really need to show 3-4 minutes of a contestant's telephone conversation? There isn't even any drama in it! It's just completely irrelevant, and it really bogs down the pace of the show. Just edit edit edit and only show the juicy parts! :P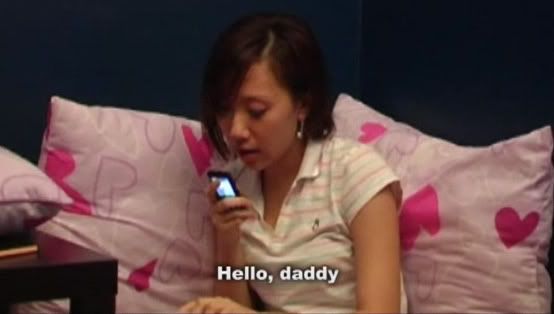 For example, in the recent episode, MDG showed one of the contestants, Cindy on the phone with her dad, and oh gosh, the things she said!!!! In fact, she called one of the Indian contestants "in du poh" in Chinese, it is actually a very very rude and racist term, RAWR. This scene makes you want to reach your hand into the screen and slap her wtf. So yea, good editing! :D
4. Role play
I get really confused with this-- I thought Sazzy is supposed to be the host? Then why is she the one giving commentaries during the elimination round? Isn't it supposed to be the judges' role? And I would think that the host should be the one bringing the girls around for their challenges and photoshoots or any other events; but why is it always Elaine Daly who potters around the girls-- during the makeover, during the make-up lesson/challenge etc.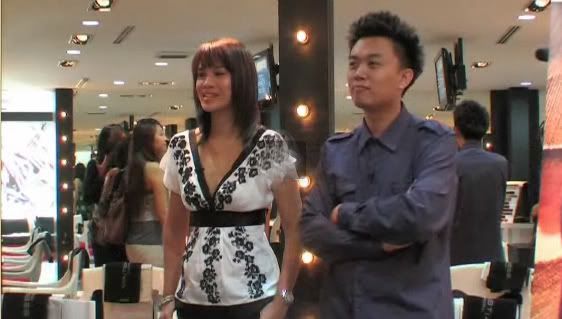 Elaine Daly with Shawn in Shawn Cutler for the girls' makeover.
I think a clearer cut should be made between Sazzy Falak and Elaine Daly's roles. =/
5. Please don't judge me!
Another thing that boggles me is the judges' jobs-- or rather, the lackthereof. I don't get it, what exactly do the judges do? I am presuming that the comments given by Sazzy on the pictures are based on her own professional opinion But then the question crops up-- what about the judges' opinion? They don't have anything to do with picking the best or worst photo, and they definitely don't have anything to do with the elimination process, because that is based on SMS votes.
So what do they do???
I am aware that Kenny Sia made a cameo appearance on one of the phototoshoots. And Jimmy Lee was onset to teach the girls how to dress, but I think that was his only appearance in the show. It seems that the judges don't JUDGE!! The only judging they have done was during the shortlisting rounds. =/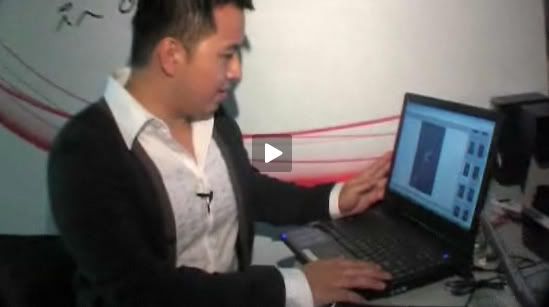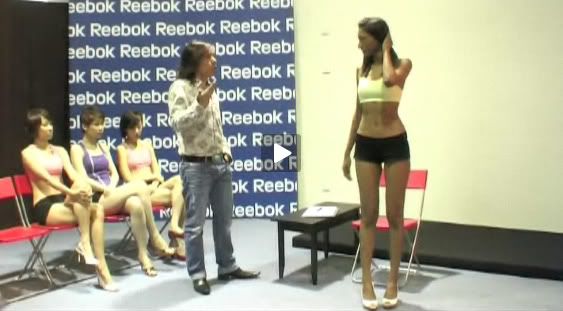 It would be good if MDG could heighten the judges' involvement in the show from now onwards. :)
6. ENGRISH, please!
English show, English used. Simple equation right?
But instead, we have some contestants who constantly rattle off in BM. Look, I know BM, I scored an A1 in it, but I haven't really conversed in BM for some time and I am rusty in the language. And I definitely can't understand her slang, because Malays speak so much quicker in their native tongue, and often, I have zero idea what they just said. I think for a fact, I speak for many people on this subject. :(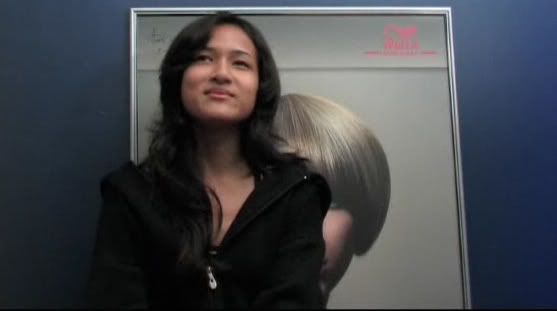 Can MDG please please please make the contestants speak in English!!! Occasional spurts of BM is ok, that's what Manglish is all about wtf, but please, at least string sentences in English!
7. Part by Part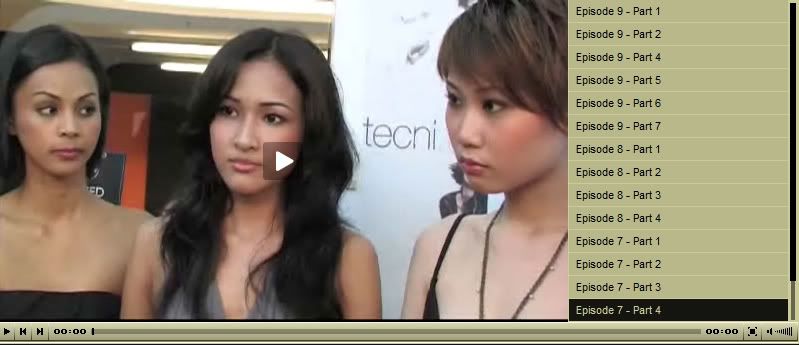 Every week, there are 2 new episodes of MDG, which are usually made of a few parts. I totally get the reason for splitting them into smaller parts, because it makes it easier to load online. However, every episode seems to have a different number of parts-- we see episode A has part 1- to 7, and episode B has only 2 parts? There is no consistency and uniformity, and it confuses the audience, because we don't know what to expect. After watching part 5 for example, is it done? Or is there still part 6 coming up? Did the people at MDG forgot to upload part 7 and 8 this week? I think by uniforming the number of parts of episodes, confusion can be minimised. :)
Ok la, that's all I can think of. What else do you think can improve the show?
SHARE! :D