My dad is coming home from Cambodia tomorrow, after being there for 1 week long!
He volunteered at a hospital in the town center of Cambodia all by himself-- I know he wishes to be able to help out for a longer period, but unfortunately he is held back by responsibilities in his clinic.
Damn proud of him la. :)
****************************************

Look what we found!
Hahaha, recognize us or not!
It's in some newsletter of Cineleisure-- we got stopped last month in the shopping mall to snap some shots, and we have nearly forgotten about it... It's basically a spread of how people dress, for their 'Fashion' edition.
Haih, as luck has it, I look retard as hell, and goodness know why I was in that pose. T___T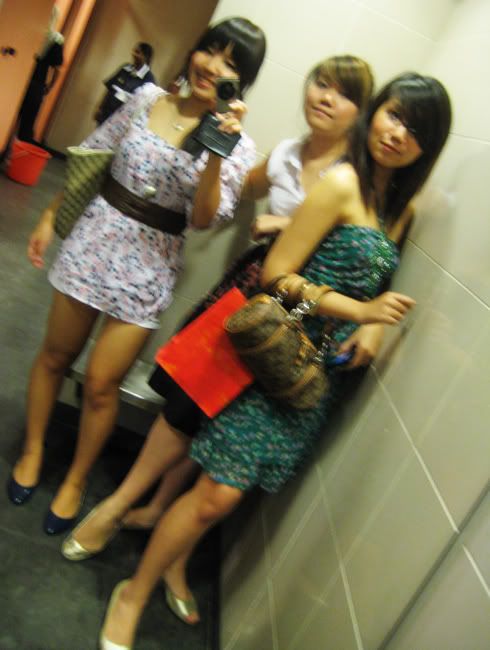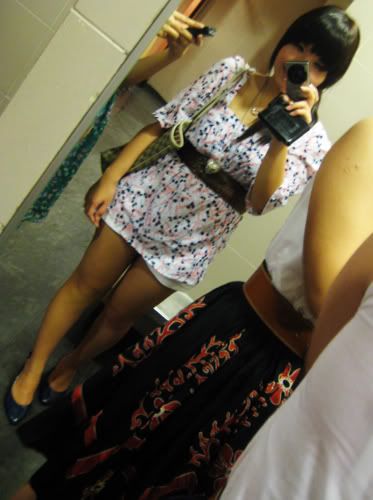 The 2nd picture is just to prove that I WAS wearing shorts wtf.
And I have been having tired eyes! :(
LOOK.
I have been sleeping at least 8 hours a day! But still my eyes look haggard and.. dark. :(
*******************************************

I was awaken by a SMS yesterday morning at 8am, and I couldn't sleep back.
And I don't know for what reason, I was struck by a sudden need to....
... go dig through all my boxes and suitcase of clothes to find the bikinis that I bought last semester.
-_______________-
I also don't know why am I so weird!!!! It was like, one minute I was on the bed trying to mesmerize myself into sleep, and the next moment I was striding through different rooms (my boxes that are shipped back from Melbourne are kept in different rooms), rummaging for little scraps of clothes. -______________-
I found all the swimsuits that I collected in the last 6months or so, and proceeded to try them on one by one.
-______________-
Sometimes I scare myself too.
-__________________-
AND GUESS WHAT.
I did a quick count, and I have bought 1o pairs of bikinis in the last semester.
TEN FREAKING PAIRS. o_O
I think I bought 4 itself in Gold Coast, got carried away. =/ No la, I got affected by all the sunshine and surfboards and good looking people HAHAHA.
I mean, granted, most of them were on sale or something, and I justify buying swimsuits in Melbourne because the only place to get bikinis in M'sia is in Roxy... or Beach (in OU) and those little kiosks, which sell cheap quality bikinis for relatively exorbitant prices. But still. -____-
And there aren't even any beaches that I can go to in KL! T___T
And I am so pissed.
I bought this little pink gingham ruffly bikini because it was too girlie and cute to say no to,
...and I found out that the top is a bloody size 14!!!!!!
ARGHHHHHHHHHH.
The shop must have mixed it up or something, and I didn't check it before leaving the shop.
No wonder when I tried it on yesterday morning, the cups were so big, even my navel was covered wtf.
HOW LAAAA. I can't even exchange it, unless I fly back to Melbourne. T____T
Maybe I'll try shrinking it in the washing machine wtf.
Sigh. Nevermind, still got 9 pairs wtf. I damn damn damn want to go for a beach holiday now! Who wants to come along!!
And where is the best place to go for a beach holiday btw? Redang? Pangkor Laut? COME LAAA, I really want to gooooooooo.