My boyfriend's house got broken into yesterday.
His laptop got stolen. His new-ish, top-of-the-range Toshiba laptop. He lost some cash as well, his old mobile phone, some bottles of whiskey, cufflinks that I got him, and
granola bars
??? Those bloody thieves stole a few of my boyfriend's granola bars.
His aunt lost a lot of money too (he stays at his aunt's place on workdays 'cause it's nearer to his office) and basically the whole house was ransacked.
FUCK THIS SHIT.
This is the second time in a mere 2 months that someone extremely close to me has been robbed. First
my mom
, and now my boyfriend?
Those fuckers actually broke into the house in
broad daylight
when no one was at home. The only suspicious thing the neighbors saw were two shady guys who were leaving on a motorcycle. They cut through the lock.
Seriously, this is getting ridiculous. And frankly, hitting too close at home. I was with Jiameei when my boyfriend called me to tell me about the theft, and she told me that recently, her friend's house got broken into int he midnight, and the thieves just drove 2 cars out of the compound, just like that.
WHAT IS THIS LA. Nowhere is safe now,
no one
is safe. It just scares the wits out of me when I think of the probability factor, it seems as if more and more people around me have faced some sort of theft/robbery, and it's getting to be something of a norm. WHAT IS THIS.
And those stupid thieves!!! ARGHHHH. My boyfriend has just started working not long, do you know how long it will take for him to save for a new laptop???? OMG. I just feel like fuming and popping some blood vessels when I think of it. IS THERE ANYTHING THAT I CAN DO? WE CAN DO? Anything at all to stop this shit from happening?????????
What is Malaysia coming to??? I am so sick of this feeling. So sick of feeling jumpy, just awaiting for someone to be the next. It could be me, it could be you.
*********************************

On another unfortunate note, the whole street where my house is got its electricity cut off. TNB fixing something. -_-
Jing and I quickly ran off to OU. Do you have any idea how hot it is without any fan or air-conditioning. T_T And how boring it is without TV or the internet. T__T
At Vietnam Kitchen.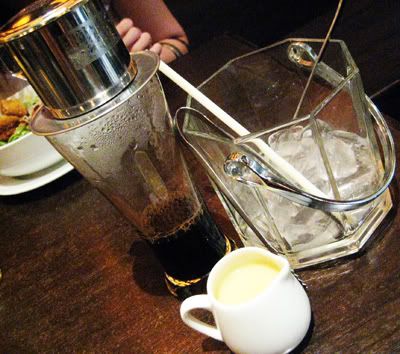 I ordered this Vietnam Coffee, whyich turned out like that. -______-
How to drink, you tell me! When the drink arrived at our table, Jing gave me a I-give-up-on-you look and said "Haih why you always order strange things".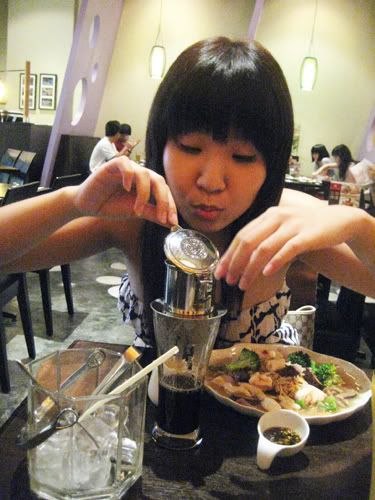 You're supposed to wait for the coffee to SLOWLY filter out and add condensed milk into it. I only got to drink my coffee at the end of the meal. T___T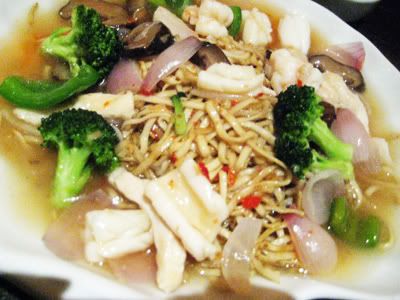 My Saigon fried noodles with seafood!
Quite nice. And I love broccoli! I think mothers over the world will be proud of me wtf.
Jing's super 'kao' mango milkshake. We suspected that the drink is actually a mango in disguise wtf, it was so THICK and CONCENTRATED!!!
Err, I posted the picture 'cause the straw looked damn suggestive wtf.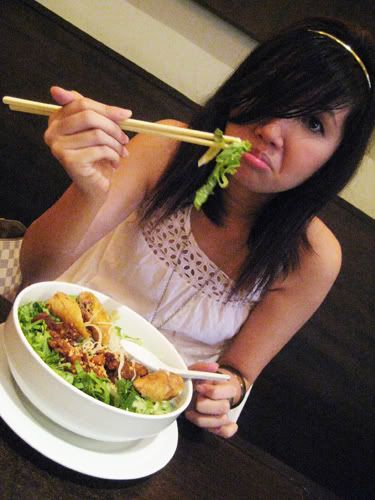 Jing who hated her noodles 'cause got too much vegetables.
We are the opposites, I tell you! I looooove my greens! :)))
But why sometimes I still get constipation ar.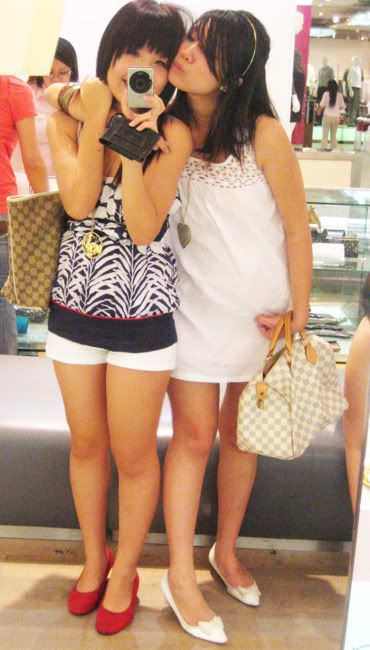 And I damn like this picture! My hair disheveled looks quite good eh. And Jing is going for a hair makeover tomorrow! 'Cause her boyfriend coming back next week. :)
Sigh, I am still damn bothered about the boy's loss. He is like so disturbed and upset. :( And there's nothing that I can about it. :( I mean I can save to buy him a new laptop la, but I am sure you'll understand that your laptop is very personal, and all his stuff and important data is lost along with the laptop. I damn sad for him. :((((
FUCK THIEVES. KILL KILL DIE DIE.