My mom
just
noticed I dyed my hair. After like one week. -__-
She fingered my hair with a scrunched-up nose and a voice full of disdain: "You look so common now la."
Yea, my mom was one of the firm advocates of me keeping my jet black hair, because apparently it's very
rare and unique
.
And yes, trust my mom to give my a little confidence buster by telling me I look common. Bah.
And what the hell, Smalls and Mey recently dyed their hair back to black, and I just found out today that Jac bought black hairdye too, and she is going to dye hers!!!???
WHAT IS THIS LAAA.
Flat hair flat: me, Jac, Smalls, Mey (Feb '08 when everyone else was blonde).
Errr, everyone is till blonde (inside) now wtf.
When everyone had blond-ish/light-colored hair, I was the only one with black hair; and now that I have dyed it lighter (and planning to go even lighter soon), the flat hair flat is going dark one by one????
Am I forced to stick out like a sore thumb forever. T______T
*******************************************

I am doomed to never have my shopping bans work.
NEVER EVER.
It was another junkyard sale again last Saturday, and though all along the journey to our destination I was chanting to myself "You are strong you will not buy anything today. You are strong you will not buy anything today";
it didn't work. T____T
Our outfits for the day!
Denim smock/oversized shirt, and a rock-on!! hui wen.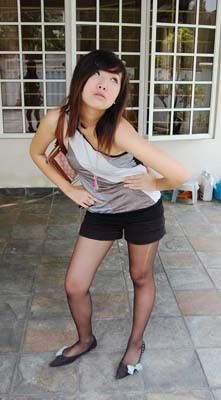 Jing giving the couture pose-- she is allowed to la, it was the first time she was using her tres expensive Gucci bag! Crazy girl.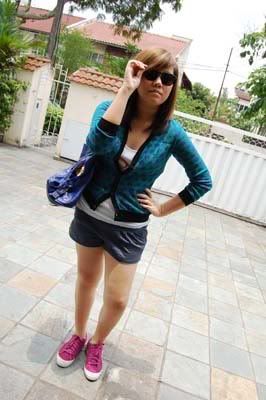 Teeny with her really really old hot pink Puma sneakers.
So old that when she walk, there are puffs of dust clouds at her feet wtf.
Now I know why my say-no-to-shopping mantra didn't work! I obviously was more caught up in camwhoring. -__-
Erm, no pictures from the junkyard sale-- go
here
for more pictures wtf.
Lazy to snap pictures of the same thing la.
And I met Smalls there! The moment we saw each other we were clutching hands and talking at the top of our lungs; I don't know why, it just comes naturally, heh. And Smalls was like chattering me excitedly/worriedly about how our REALLY embarrassing video is posted on
YC's blog
and we are doomed, and YC was standing just right next to her, HAHAHAHA.
And I met Jade again, whom I've met once before in the
Palate Palette Lap Sap sale
!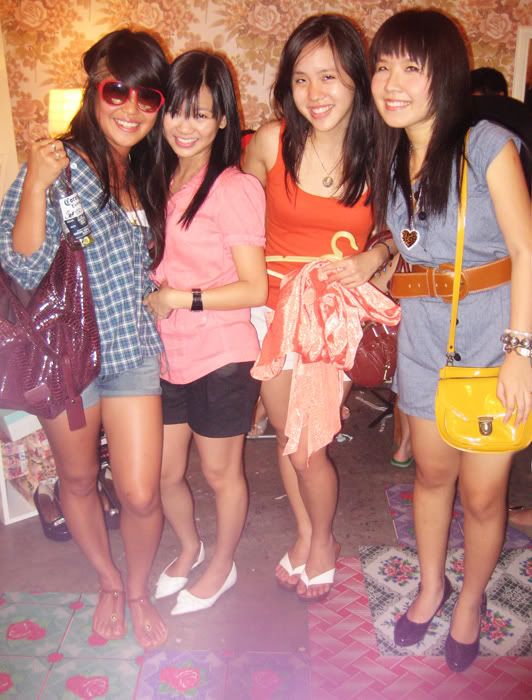 Jade, Smalls, Jade's BFF--wifey (haha, that's how I know her from Jade's blog), me!
And I hate Teeny for making the bottom of the picture looked like it was invaded by Casper wtf.
Haha, damn funny, Jade was telling me, "You shop too much!!!!"
And she continued, "YOU ARE MY INSPIRATION!"
HAHAHAHHAHAHHAHA damn idiot.
Jade blogs at
www.xanga.com/tastywords
, and she writes really really well.
Hmm, wait a minute, Smalls write really well too, and she blogs at Xanga too! I think everyone who blogs at Xanga writes really well!!
Except for natalynn WTF.
Since I have no other pictures from the junkyard sale, erm, I offer you this picture of a inflatable penis wtf.
It's really quite huge in real life-- must have been quite a blow job! Err, no pun intended?
We marched over to Banquet in Bangsar Village 2 for our replenishments-- hello, fighting with aggressive women for 2 hours straight is no joke.
Banquet is really classily done-- white and woody, with white straw chairs and crystal chandeliers adorning the ceiling. And I love how the perimeter is surrounded by lush green trees! :)
The menu is designed to look like a crisp newspaper copy, sweet.
Iced cappuccino! Gosh, it's so hot these few days that I am just furiously downing ice cold drinks.
My clear tom yam soup vermicelli with seafood and chicken.
Pretty decent, though on the sour side. I can't really take sourish tastes, remember this sweet called HIGH SOUR? I hated that man. :(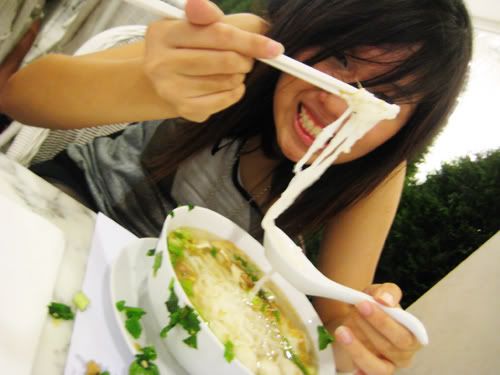 Jing who is being the grossest person alive-- all the parsley (that she hates) stuck onto the outside of the bowl! -______-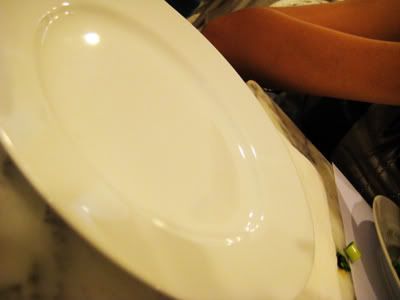 One of the waiters saw, and swiftly place a plate at our table for Jing, hahaha, damn shy!!!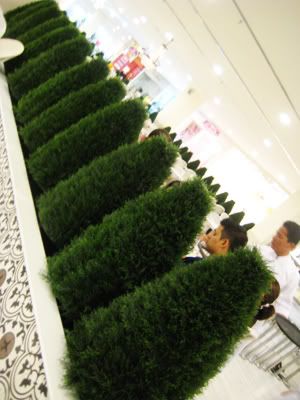 Looks so much like Christmas trees right!
Sigh, I still remember when I was really young, my parents promised to buy a Christmas tree for our house, and I was so excited. And what my parents did was brought back home this 6-inches high mini-Christmas tree to be placed on table tops. T_____T
Anyway, moving on to happier things, my buys for the day!
Cream chiffon top with crocheted neckline and black gemstones.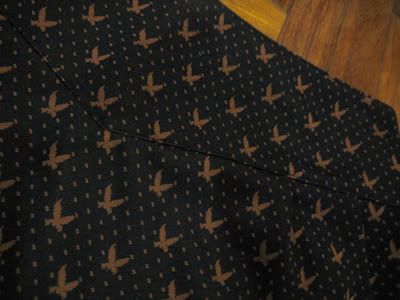 High waisted skirt with, erm, bird prints.
In my defense, the skirt has a really fabulous cut k!
I have this other skirt with this kooky kitten print (I've got weird taste la T__T).
Upon seeing my new addition in the form of the bird-print skirt,
Jing: Eh, you want to start a zoo ar?
Teeny: Since when are you a Cranberries fan? The animal.. the animal.. the animal instincts in me....
WTF. -______________-
Green anorak/jacket. You can't see it in the picture, but the sleeves are puffed at the shoulders, uber cute!
But I don't know where am I going to wear this. I keep on forgetting that I am not in Melbourne. -___-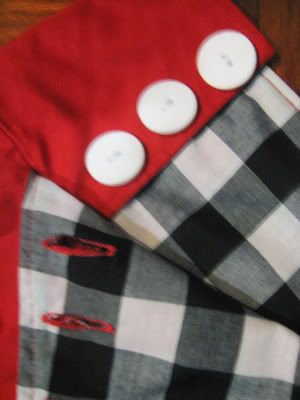 High-waisted red shorts! With really cute gingham print on the inside-- which is why I bought it.
Sigh, damn easy to cheat my money.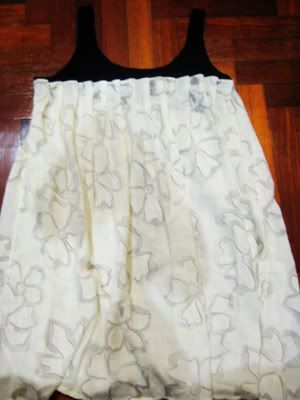 Black mesh top, joined to a pleated cream skirt, pretty! :)
Bought this for work, need to start building a working-clothes wardrobe!
Daddy, be prepared wtf.
Loving the pleated details on this one. :)
Vintage oversized top with lace trimmings. Am going to wear ala baring one shoulder! :P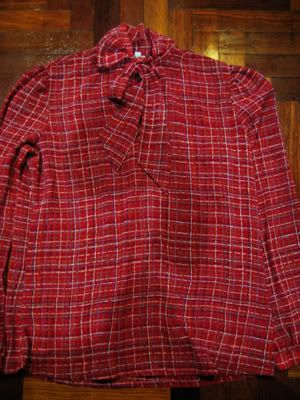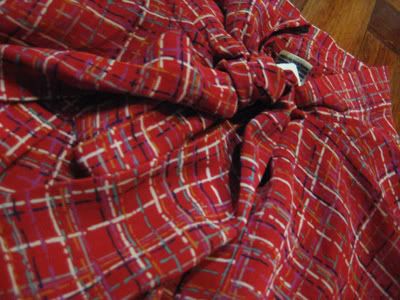 Vintage chiffon top with a sash tie.
*Might* wear it for work if the color is not considered to be too bold.
And a pair of Melissa shoes! :)
I am collecting flats now, I have decided to treat my feet better, and this means saying no to high heels!
Not all the time la.