I have been meaning to blog bout this since quite sometime ago, but circumstances refrained me from doing so (no internet, computer crash etc etc, it's as if the universe is against me making my blog ham sap).
I am so sorry for unleashing some of the pictures here, please don't boycott me after this! T___T
Or report me to Blogger wtf so that my blog will come with a warning (Offensive Pictures: Are you sure you want to continue) in the future!!! T______T
On our way to SEXPO-- that's Sex Expo for you!
This was in Melbourne la, obviously, which was a really long time ago, heh.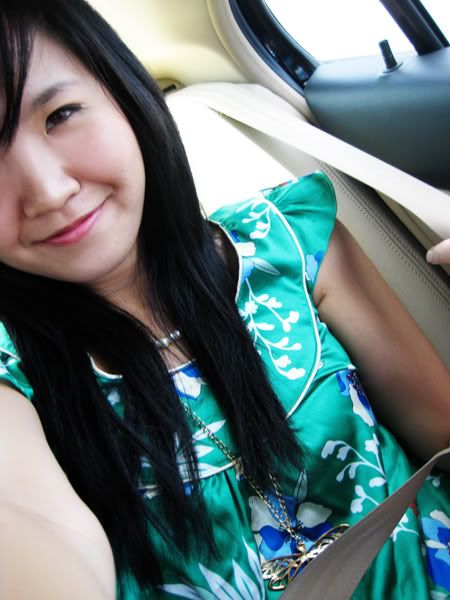 Back in the days when I was still fair!
Gosh, I actually
do
look fair and rosy!!!
I am so emo now. :(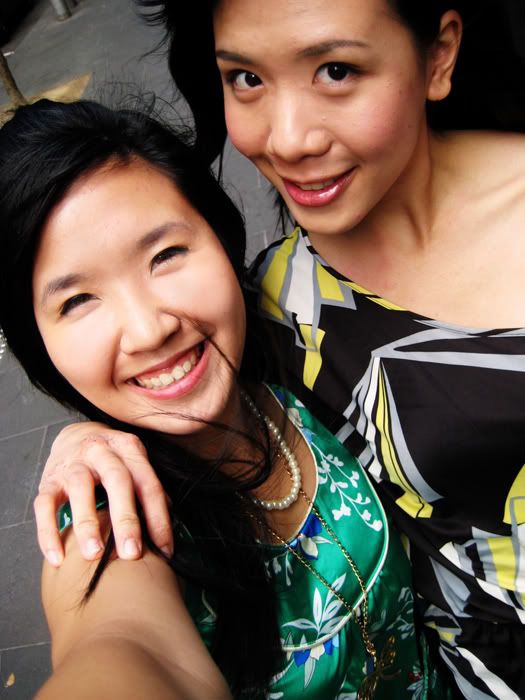 With Mey, stupid woman, towering over me, sigh.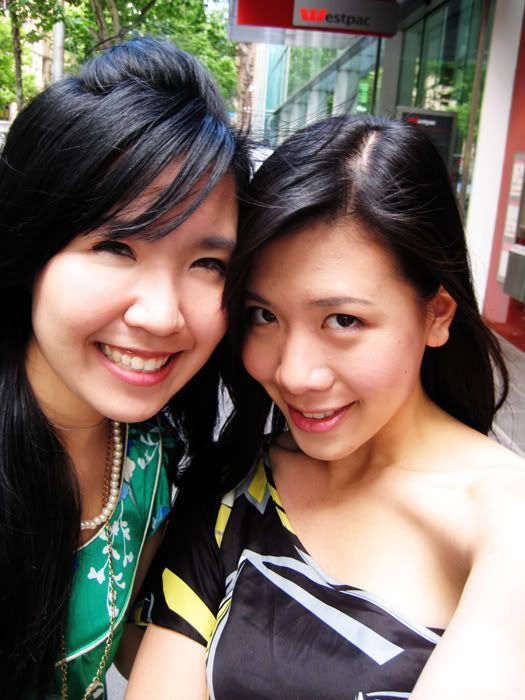 So I made her stoop down. Her knees were almost reaching the ground wtf.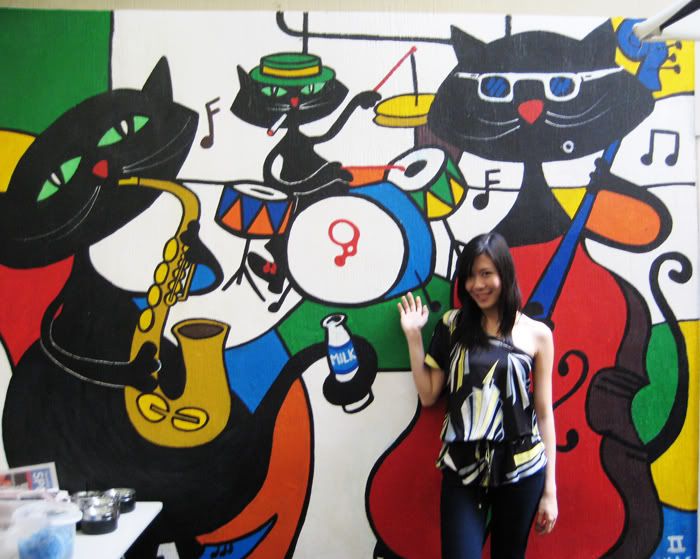 Do I suck for thinking an appropriate caption for this picture is KUCING.
Brunch time! I love Melbourne cafes la. This one has colorful funky murals. :)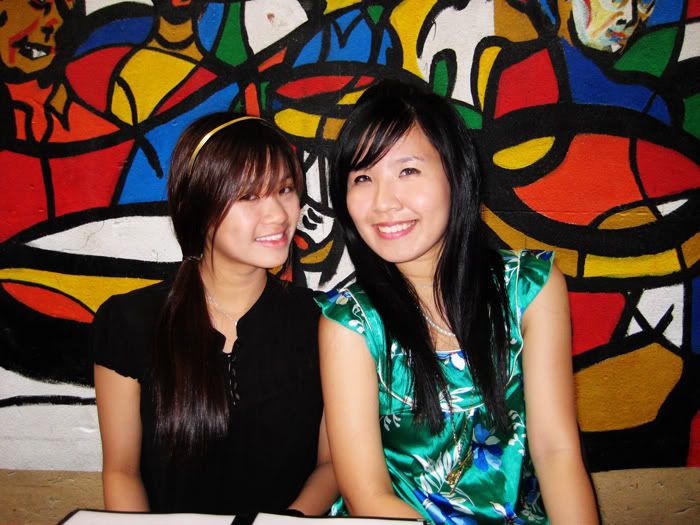 With Smalls.
I WAS SO FAIR.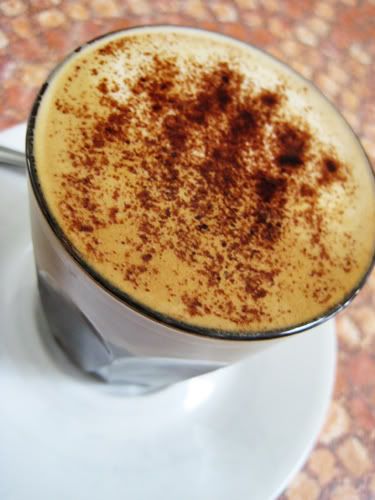 Mocha!
So easy to pay AUD3 for a coffee in Melbourne, but to fork out RM9 for the same drink here is just cut-throat. =/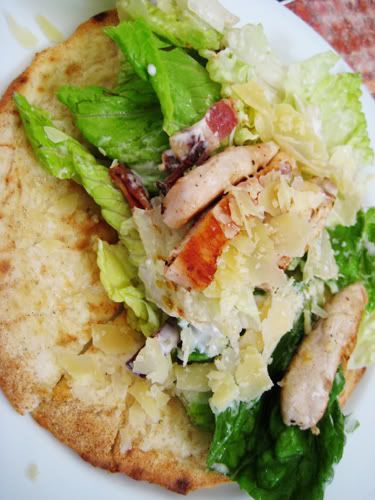 Caesar salad pizza!
Finally, a pizza which I can justify eating. Hello, it has the word SALAD in its name ok?
This is SO GOOD, the crust is actually garlic bread. T____T SO NICE. T_____T
Ok, let's cut to the crunch.
SEXPO time!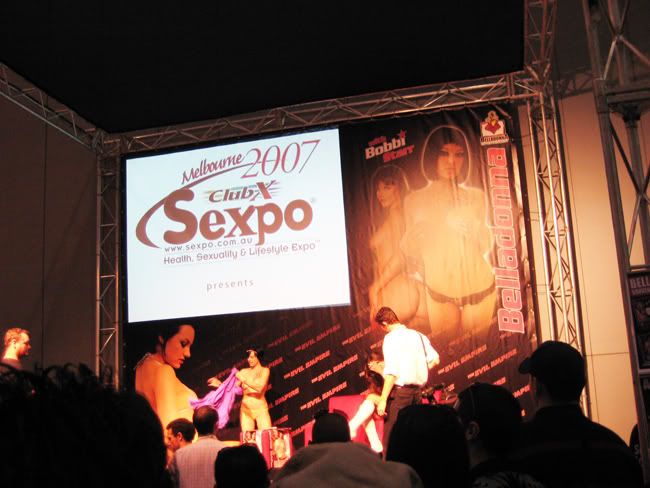 One of the main stages in the exhibition hall.
And yes, that is a girl stripping on the stage. In fact, she is some kind of famous porn star. I haven't heard of her before, she's called BellaDonna, not that I am very well-versed in porn stars la wtf. Err, her name rings a bell, anyone?
She (and another porn star) were just onstage to take pictures with their fans, those were people queuing up downstage. If you're wondering why people were so keen to photograph with them (obviously you have to pay for it, I think it's quite pricey), it's because they were practically naked, and they will sit on a couch, and you can pose however way you want to with them.
You can squeeze their boob, smack their ass, ANYTHING. I saw this guy who stood right behind one of the porn star's buttocks (ala doggy-style) and one of his hand on her butt, and the other grabbing her boob. -____- And this other guy who buried his face in her butt!!!! o____O
Now, I am no prissy prick (no pun intended wtf), but it's really shocking and degrading to see those acts. Yes, it is entertaining, in an eye-opening sort of way, and I know it's their job and all, but to see they being groped and grabbed with not a single ounce of respect, ugh, it just disgusts me. :(
Oh, and in case you're stunned that there are nude women just prancing around, the moment we stepped into the entrance of the hall, we were greeted by topless women in very very skimpy thongs. I nearly gasped in shock when I turned a corner into the entrance, as I was eye-to-eye to a nipple ('cause Caucasian women so much taller!) wtf.
So you sort of get used to naked women walking around, haha.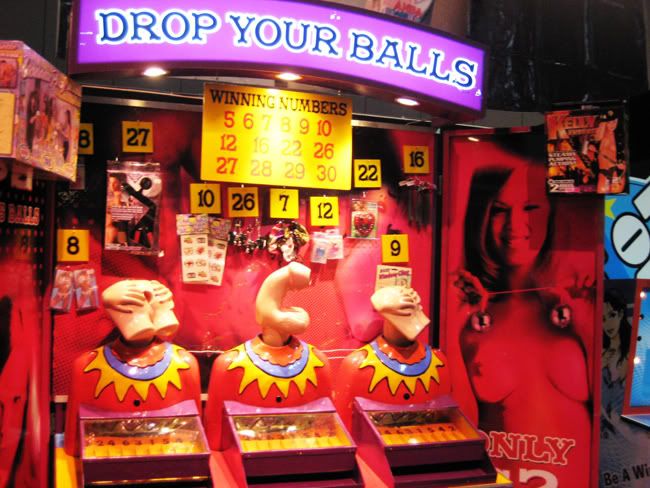 Some kind of gaming machine.
I have no idea how it works, but is that a crooked penis in the middle a.. joystick??? -_____-
They had this screens, with shadows behind it. REALLY REALLY SUGGESTIVE SHADOWS.
It was like a really slow and sensual act-out of a whole love-making process (just shadows only!), which later became a threesome (extra shadow, haha).
Beat that,
wayang kulit
!
Get this, blow-up ALIEN.
And she has 3 tits yo! Perfect for those who wants more than a handful. Three handfuls to be exact wtf.
Sigh, how can anyone make love to this face is beyond my belief.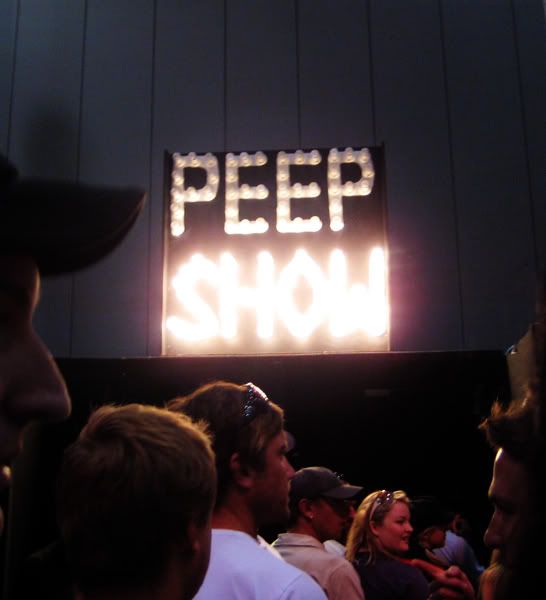 And what sex exhibition is complete without a peep show! :P
Peeking at the peep show.
The peep show is really cool! You go into this cubicle, and you insert in a AUD2 coin, and the shade of the window will slide open, and you get to see this naked girls, erm, doing their thang. But the main girl was kind of fat-- she was doing really obscene things with this transparent stick, things that will make my grandmother blush and my great-grandmother flip in her grave. Obviously I didn't take any pictures, because it would be really rude!!! But I did do a naughty gesture to her (the stripper of the peep show la, not my grandmother wtf), which made her laugh and proceed to... em, take things further. I am not telling what gesture I did!
Why am I so naughty. T_____T
And haha, Mey and I shared the same cubicle, and because each AUD2 coin last for 30seconds I think, we ended up slotting in more coins, HAHAHA.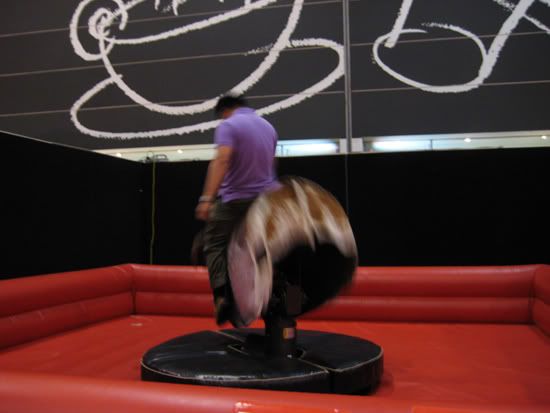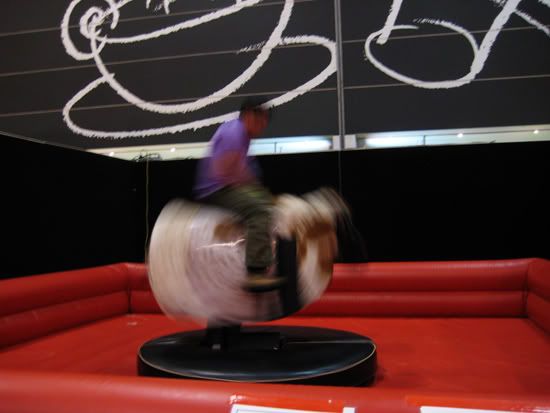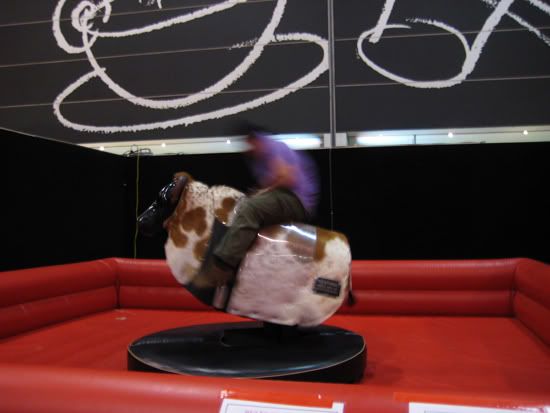 Wheee, ***-ride! Asterisks because I can't for the sake of my life remember what it's called! I know the word starts with a B, but the word 'Banjo' keeps on cropping up in my mind. -__-
The picture is blur 'cause that's how fast the ride is!
But it's so totally HOT! I would try it out if I was wearing leather pants and spandex, HAHAHA.
And there was supposed to be strip shows!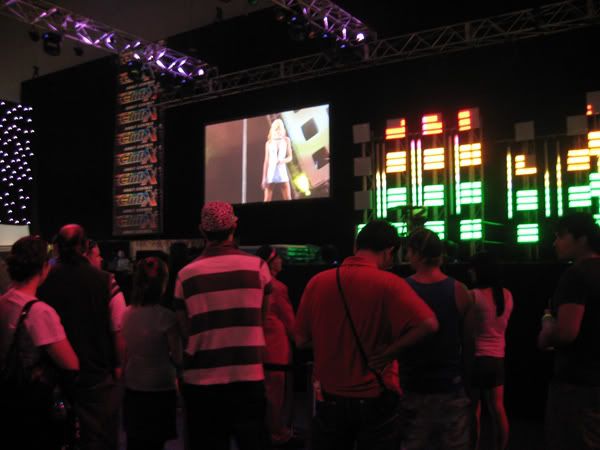 But bluff wan, all they had were
videos
of strippers. Pffft.
Apparently there are time slots for every strip show, and we missed the last one.
But Smalls caught a MALE strip show, which she still speaks of fondly till now wtf. HAHHAHAHHA.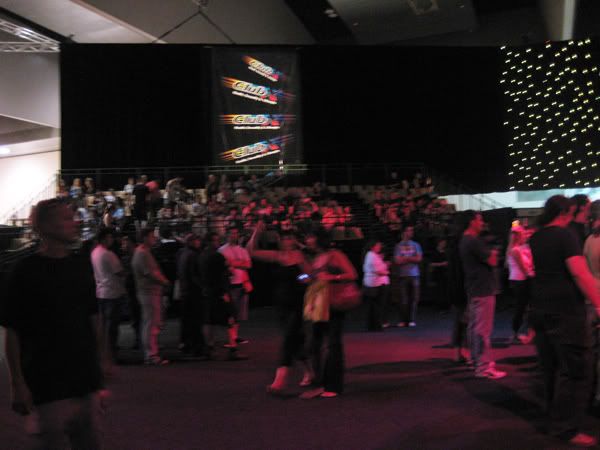 This was the bleacher area whereby you can sit and watch the shows on the stage.
One of the show, which I had the misfortune to catch. T___T
More about that later.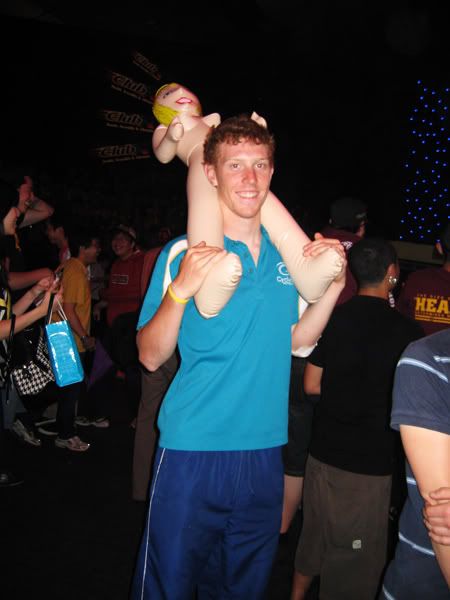 HAHAHHAHA guy piggy-backing his blow-up doll!
Totally cute image, if it's not so wrong. -_-
This man is wearing a suit with male genitalia emerging out! OH GOD, I'll never have a night of peace after this image. T___T
Sigh, this is the unfortunate show that I watch:
Mind you, it's SICK, don't say I didn't warn you. :(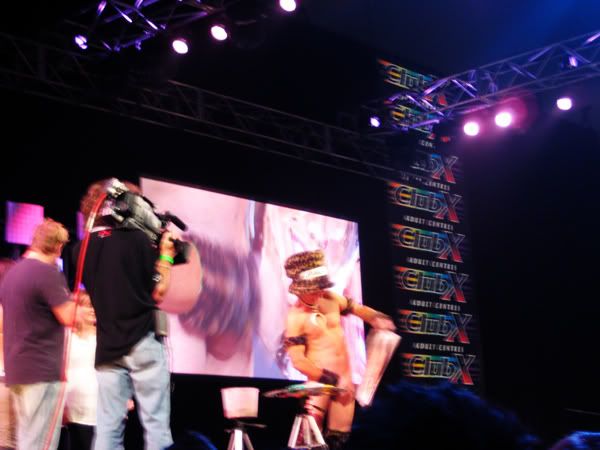 GUY WHO PAINTS WITH HIS PENIS.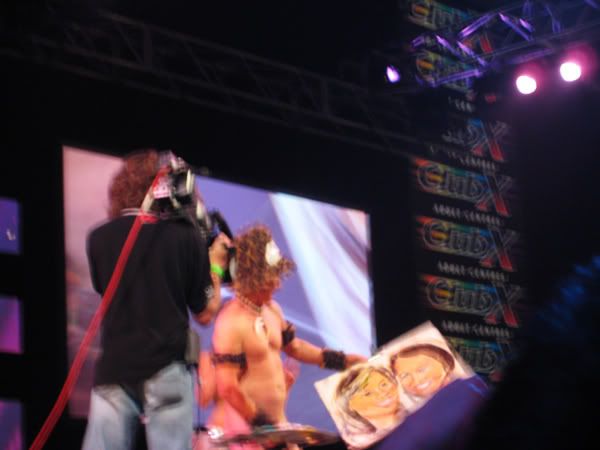 WITH HIS FLACCID, OLD, WRINKLY, 60-YEAR OLD PENIS.
He draws faces with his genitals-- by smearing it into an easel of paint!!! And then proceeds to color the background with his BUTT. Yes, he sits onto the easel, and starts imprinting onto the painting. If you can even call it that.
UGH, it's just the grossest thing you can imagine. T____T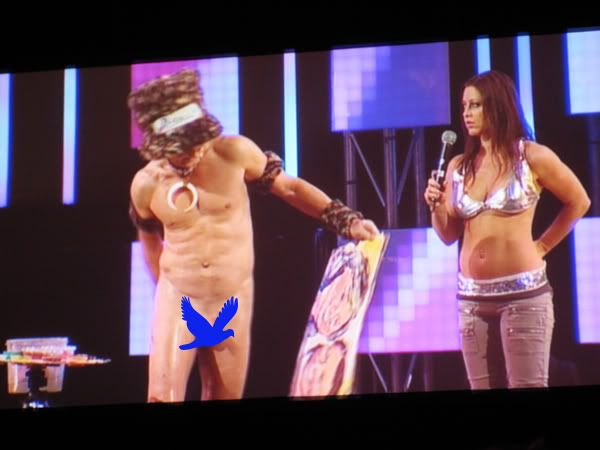 Censored picture. Click
here
if you want to see the real deal, whatever for, I can't imagine. =/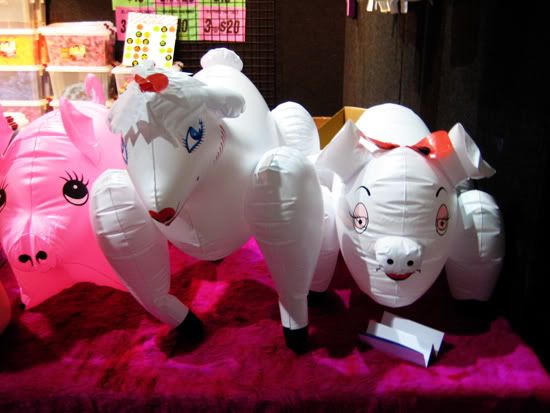 Blow-up sheep and pigs! For those with animal fetishes? Or more specifically, FARM animals. -__-
These inflatable animals come with a hole at their posterior, so Mey shoved her fingers into the passage to "feel the material", and with jubilance, she exclaimed "
wei feels damn real wei!
" HAHAHHAHAHAH why she said that, god knows, HAHAHAHAHA.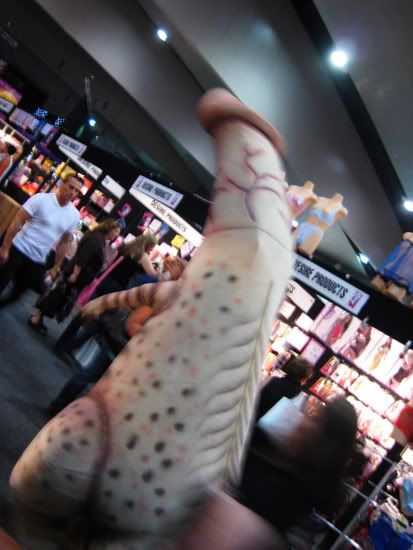 Veined penis parading around, and the fact that I can't help thinking that it looks like a dinosaur is really disturbing.
And this is a sex swing!
Like the one used in Sex and the City by Samantha, do you remember that
episode
!!!
HOT! :P