Short entry here, 'cause I have to go get ready some stuff for tonight after this... Haha, what else, about my birthday again la, haih, narcissistic wtf.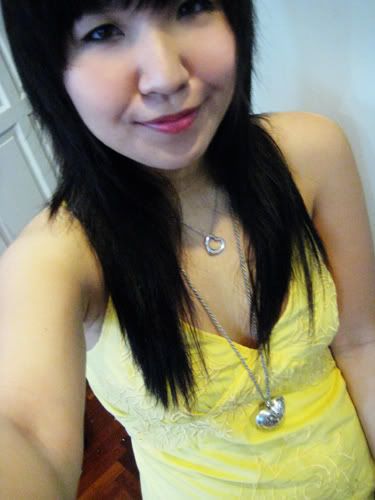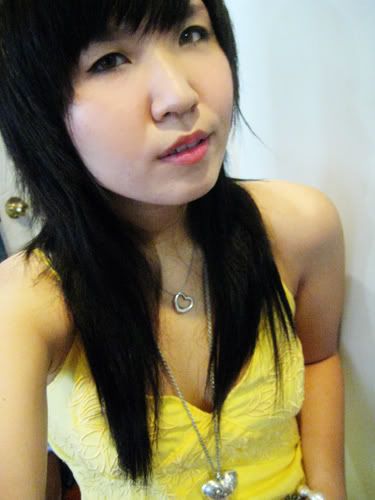 Ooooh, guess what, I have decided to side-sweep my bangs again! I was playing with my hair one night, and I realised, with a revelation, THAT MY EYES LOOK MUCH BIGGER WHEN I HAVE SIDE BANGS!!!!
It's true, even when I look through my old pictures, my eyes looked bigger (luminous, hee) when my fringe was pushed to the side... And when I had my coconut bangs, my eyes... looked really small. And when you have eyes as small as mine, every little bit helps ok! So yea, it's back to the my old bangs for now. T__T
Went to Bakerzin for tea ('cause they both had classes during the earlier part of the day). We originally wanted to go somewhere else, but judging by how unreliable our cars were recently, we didn't dare. T__T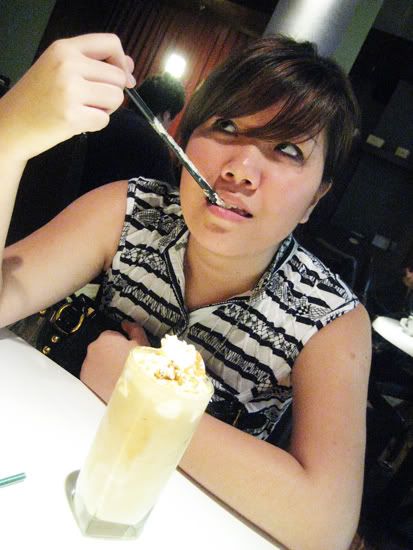 Teeny, who got stuck sitting on the chair, 'cause Jing and like to sit on the booths/couches.
Big sisters bully young sisters, haha.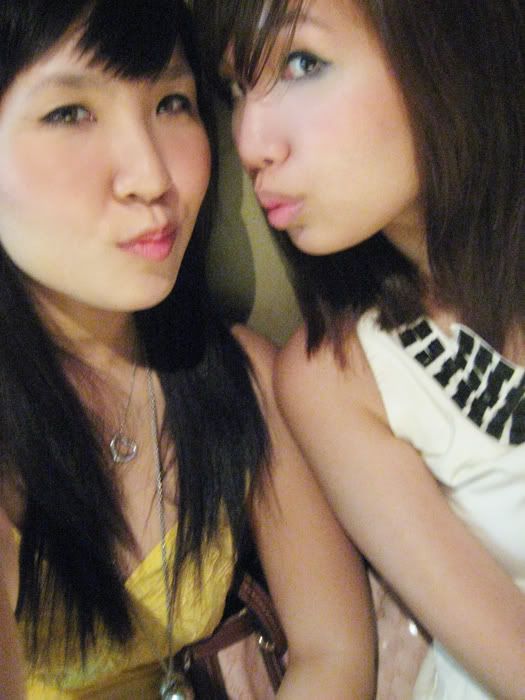 My eyes got look bigger or not!
And I wore yellow 'cause I wanted a wear bright cheery color on my b'day... Auspicious!! Sigh, why am I turning so old fashioned. T_T
The dress I wore is so so pretty, it has floral embroidery all over, and little cutouts at the hem.. But it just wouldn't translate into my pictures!! :(
My iced mocha. I like how this picture seemed also black and white, and it's almost as if the spotlight is given to my mocha! Haih, I think I think too much.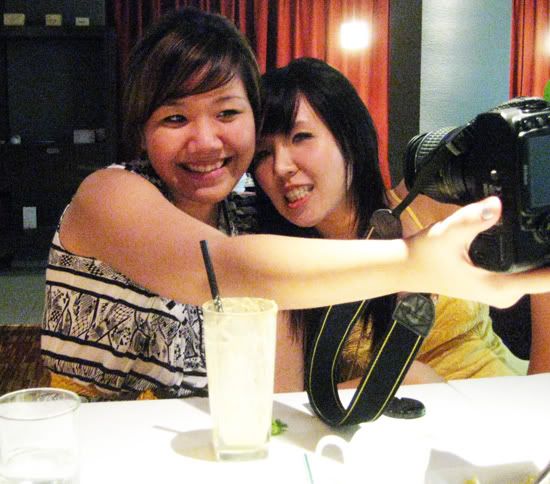 No proper picture of Teeny and I in my camera, they are all in her machine-gun-like DLSR.
OHHH! Finally a picture which sort of shows my dress! :)))
But the embroidery is floral-like, it seems tribal-ish in this picture. -___-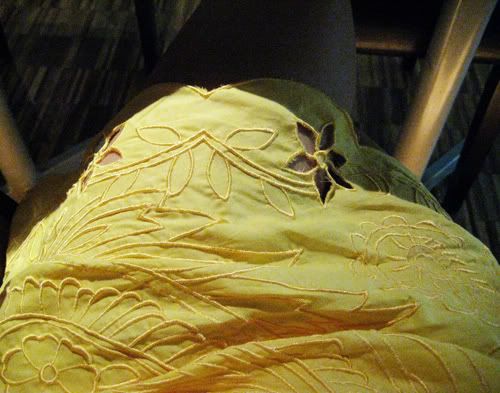 And the hem of the skirt! Damn nice rightttt. :)))
Food!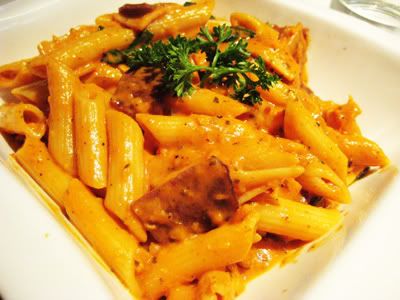 Jing's pink penne with ham and bacon.
My sister picked her meal because it is PINK. Seriously bring bimbo to a new level. -_______________________-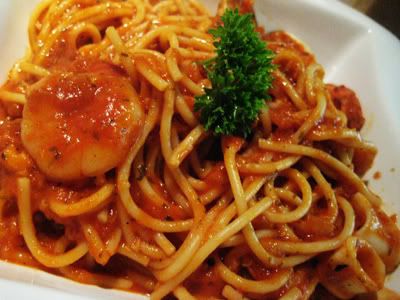 My tomato-based seafood spaghetti.
Which I barely had a few bites, 'cause I was stuffed from our appetizers and stealing Jing and Teeny's food, heh.
But then at night just before I slept, I was craving for this pasta, and i wished I tapao-ed home. T___T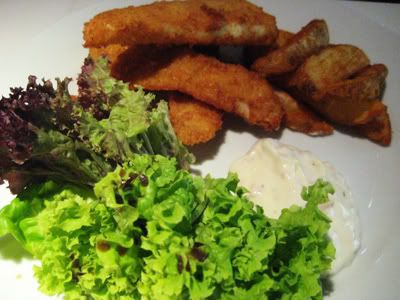 Teeny's breaded dory fish fillets.
I asked Jing how was it, when she was given a bite by Teeny.
Jing: Tastes like nugget!
Me: -____________-
Jing: Eh, no, tasting like nugget is a huge compliment coming from me!
HAHHAHAHAHHA ya we are all junkfood junkies. :P
Erm, sorry, we were so greedy and too busy yakking that i forgot to take pictures of my mood, so there are only the mains here..
Oh wait, I have one. Teeny pushed the leftovers of her dessert to me at the end of our meal, happily proclaiming "happy birthday!":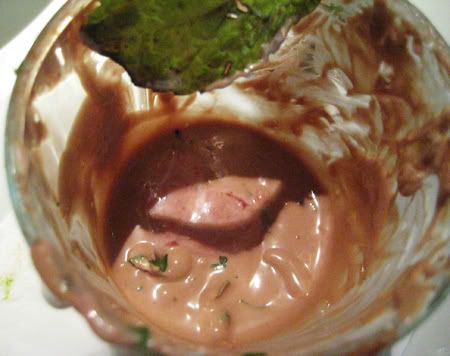 -___________________________-
Scrutinise closely.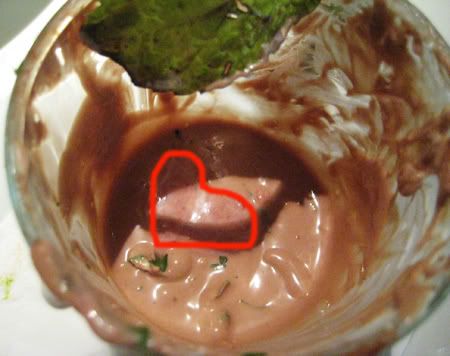 She actually drew out a heart shape with some strawberry sauce. -____________-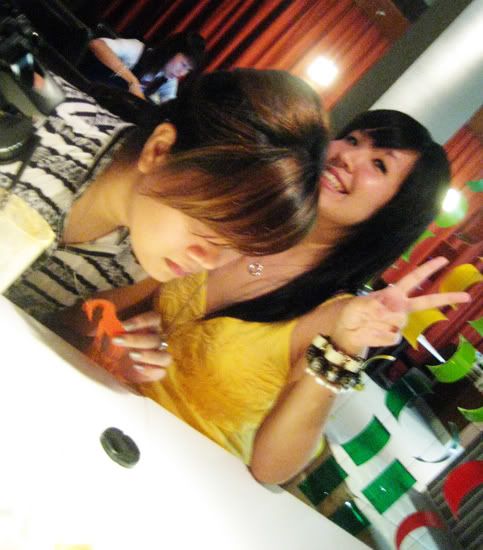 This was supposed to be a candid picture, but Teeny and I are just too camera sensitive. :P
Look at stupid Teeny, playing with her orange giraffe pendant. -___-
And here is she, looking damn emo, like straight out of a BSB music video, HAHAHHA.
I got cupcakes!
Which was finished by Jing in the end. -__-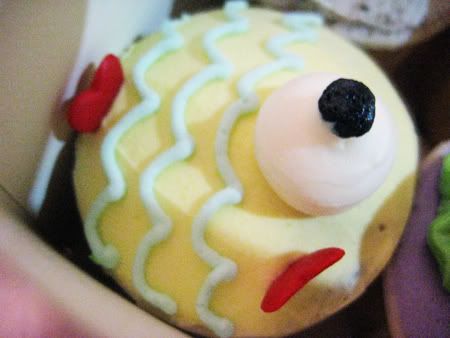 Look at this cupcake, it's supposed to be a fish! Damn cute right!
But upon closer look, I realised that it looked less and less like a fish, and more and more like Jing...
Imagine ok?
The blue squiggly lines are the sideway bangs, the single eye is forced till damn enormous, and pouty red lips!! Exactly like how Jing poses in pictures, HAHAHHA!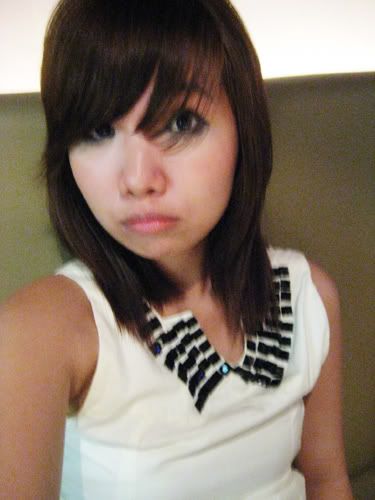 SEEEEEEEEEEEEEE.
Hhahahahhaha.
Shit, my 'short' entry is not at all short. -_________-
And OHHHHHHHH... The worst worst WORST WORST thing happened on my birthday!
The absolutely
worst
. Catastrophic. :(((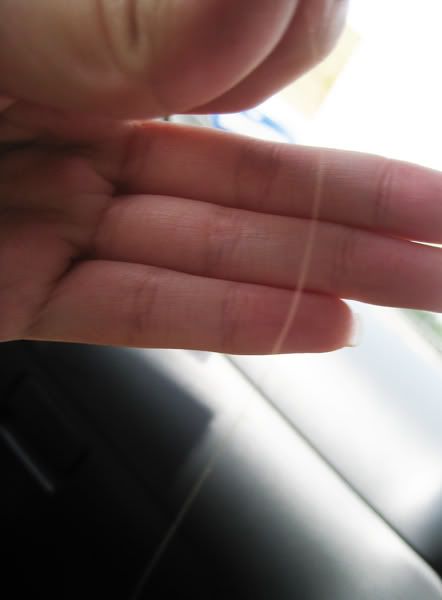 Teeny found a strand of white hair on my head on the day of my birthday!
T________________________________T
Is god trying to send me a sign wtf. T______________________T