I had my bangs straight down recently, for a change!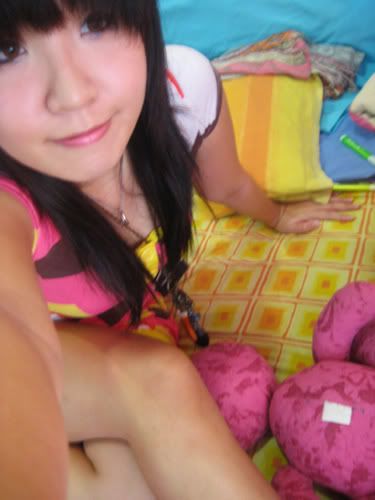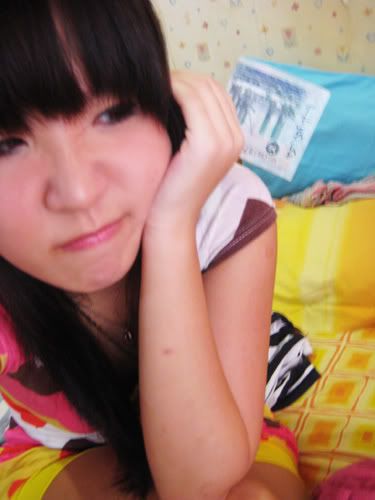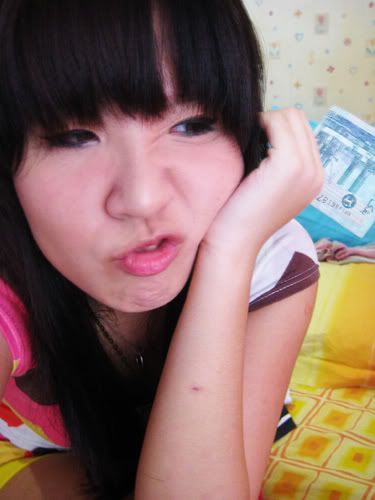 And no, the RM50 note didn't magically appear. I think Jing paid me pack the fifty bucks she owed me halfway through my camwhoring, and I absent-mindedly took pictures with it without realizing it was in my hands all along! Maybe it was a subconscious effort to not let go of money wtf.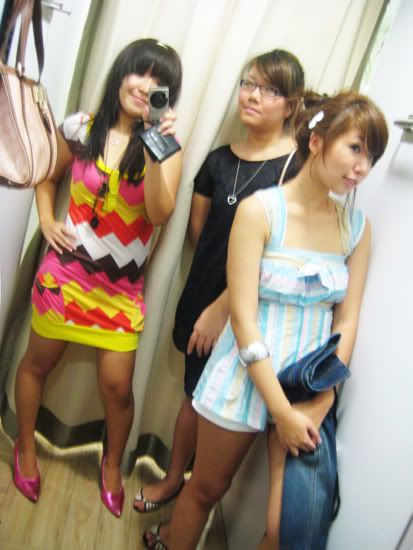 In Topshop, the day I got my zipper jeans! :)))
I love it so much, I promise I will wear more jeans now. :)))
HEEHEE wig-stealing taking place!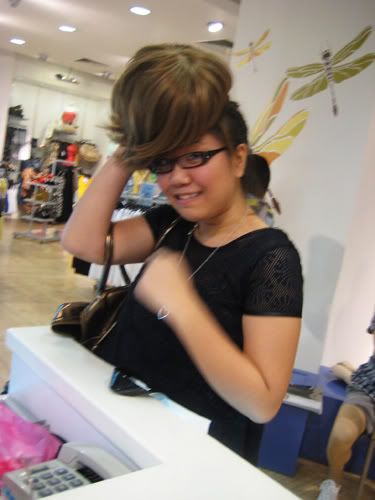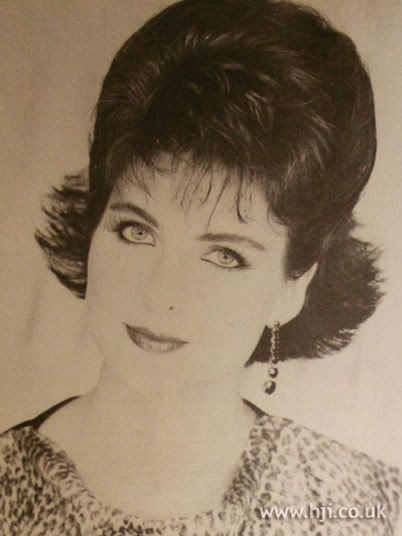 Beyotch stole my look HAHAHHAHAHAHHAHAHHA!
Ahem.
Anyway, I am feeling random tonight, so here goes, 15 random facts about me!!!
I have done 8 sometime ago.
1. I had my first ever piercing only when I was 16 years old. My dad completely disallowed piercings of any sort, because he was convinced that you'll get Aids from the needle wtf (paranoid doctor -_-). But when I was 16, my mom gave us the green light to get our ears pierced (she said our dad wouldn't know even if we smack our ears in front of him wtf). Currently, I have 2 piercings each on either earlobes, and one at the high curved part of my ear. My secret dream is to get my bellybutton pierced, but I doubt my tummy will ever be flat enough for it. T__T
By the way, my dad still haven't realized. -___-
2. I've only known how to put on make up since about a year ago!!! In fact, my sisters (4 and 5 years younger than me respectively) put on make up wayyyy before I did-- they were the ones who prompted me to!!! Before this, I only had concealer and blusher on; nothing else. o_O
And I only started putting mascara 3 months ago!!!!
3. When my SPM results were announced (9A1s, and an A2 for Chinese), I teared. My headmistress saw me crying and came up to hug me whilst murmuring words of congratulations-- she thought those were tears of
joy
. I actually teared 'cause I felt as if I have failed myself-- it was straight A1s for me or nothing. Yes, I set very high standards for myself.
4. I used to take strawberry-flavored Sugus (remember those old school sweets!), chew it up and flatten it against my tongue, and gently slither it between my lips and pretend that it's my tongue. And I will keep on flickering the sweet in and out like a giant pink tongue, while exclaiming, "Look at my tongue! Look at my tongue!" to my sister and giggling inwardly 'cause I thought I was damn smart. -_-
5. My boyfriend is my first boyfriend. We are each other's first loves. :)
6. Sometimes I feel a little claustrophobic for getting into accounting; I am not sure how well I'll do... Excluding the fact that I really am a huge nerd inside, I am about as un-square as they can get.
7. My favorite accounting joke is the "double entry" joke.
An example:
Why should you marry accountants?
'Cause they are experts in double entry.
HAHAHHA quite funny what!
Wait a minute, I have a favorite accounting joke? I am so doomed.
8. Before going over to Melbourne for my studies, we had to go for a medical check-up which includes a urine test. When in the toilet, trying to pee into the little plastic bottle given, I pushed a little too hard, and I pooped instead. T_________T Super embarrassing. T______T
And it's damn hard for a girl to aim into plastic bottle k! T____T
9. After I did a crucial oral presentation during my pre-u course(when I was still supposed to be doing Medicine), the feedback slip that my English teacher passed to me had this scrawled at the bottom corner:
"You'll make a great psychiatrist, because you make people around you happy"
That made me smile. :)
10. I love dressing up! Especially for themed parties/events!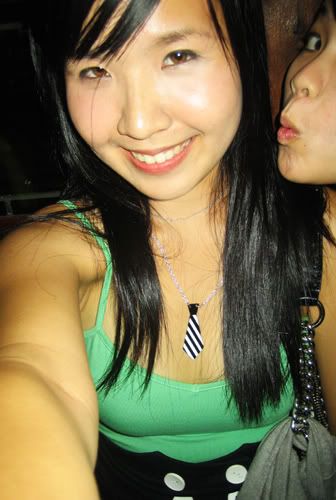 Going green for St. Patrick's Day 2007.
That's Jac's pucker btw, haha.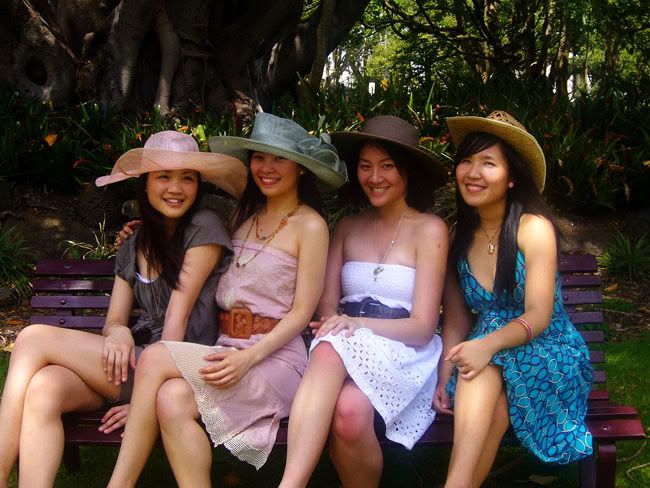 Hat party cum picnic at the Botanical Gardens! Such ladies we are. ;)
Harry Potter's book launch of the final installment-- y6es, I dressed up as a young witch for it.
Complete with the Hogwarts crest, wand, black loafers, tights, and even a pet (stuffed) rat! :P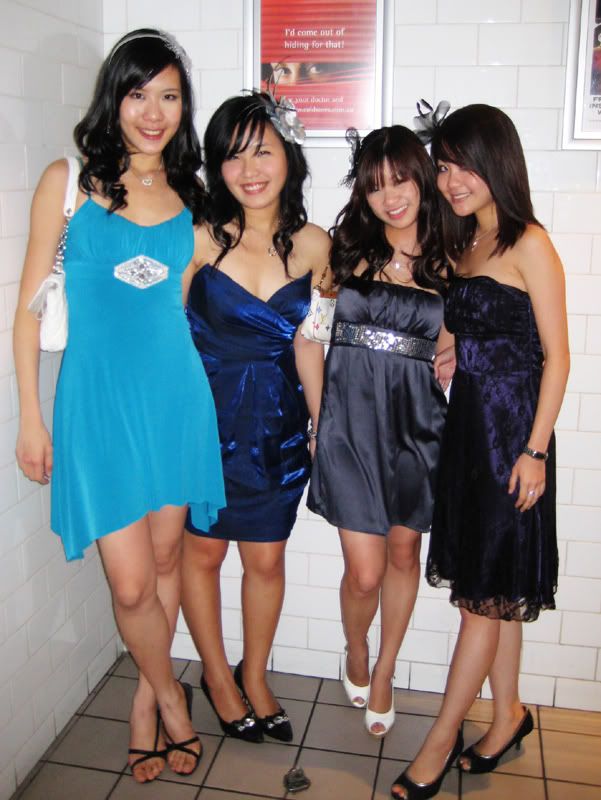 Smalls' birthday last year: Spring Race theme.
Kit Mey's costume party! I was a slutty senorita, HAHA.
11. Once, my cousin brother tickled me while I was chewing gum, and 'cause I was laughing and protesting so hard, my gum fell out... and got stuck onto my hair. T___T I couldn't get it out no matter what; my maid trying rubbing cooking oil on it to ease the gum off, but to no avail...
... so in the end I had to cut that chunk of my hair off! It was right in front somemore. T___T
12. I need a facial badly. I was due for one before my birthday, but 'cause 2 cars of the household went to the mechanics
then
, I had to cancel my appointment-- I have not made another one since.
MY SKIN LOOKS LIKE SHIT NOW. T___T
13. Contrary to what some of you might think, I am actually pretty good with my finances. Even the boyfriend grudgingly agreed, and he doesn't really approve of my shopping habits!! The boyfriend is super practical, so it's a big thing coming from him k. :D :D :D I can be really disciplined when I am saving money-- for example, I get RM300 in allowance, and I have a little side income from selling clothes, but I have saved enough for the boyfriend's b'day present (cannot tell yet!!) and aiming to pay for a trip for the the boyfriend and I!!! I shop smart ok. :P
14. I called the boyfriend just now, and he hung up on me. A minute later, I got a text from him saying that he
has a mask
on
and he can't take calls. Yesterday he had a
back-cial
(think facial!). WHY IS MY BOYFRIEND MORE VAIN THAN I AM. -________-
15. I secretly harbor a wish to have thick, luscious lips.
Shu Qi
or Angelina Jolie, here I comeeeeee!!!
Not a good idea, since I'll look like that: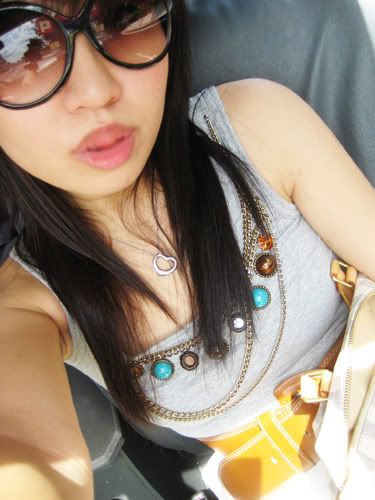 HAHAHAHAHHAHAHHAHAHHAHAHA.
Ok la, why am I so weird. I could actually go on about more random things about me. -_-
Am I really that random! T____T