I got my stitches out already! :D
Warrior stance this afternoon, before heading off to lunch and subsequently the clinic.
And my mom was damn nice, she brought us to Bakerzin, and stuffed us silly. I suspect she knew that removing stitches would hurt. T___T
Very very little pictures of our food, 'cause my mom tsk-tsk-ed at me for snapping pictures of my food, and hence hindering people from digging in. :(
Crabmeat and avocado salad, one of my favorites in Bakerzin! With baked cheese and cream sauce.. MMMM.
Caramel ice cream with chocolate and peanut butter and rice crispies, how can you not love something like that!!
And creme brulee at the back. I want to learn how to make creme brulee! :P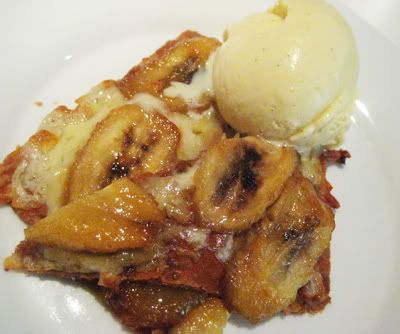 Caramelized banana pizza with vanilla ice cream.
Didn't touch this, because I don't eat bananas.
I just don't like the fibre-y taste of it! =/
And heehee, removing stitches didn't hurt! In fact, it was over before I realised. I am so happy to get rid of the bloody plaster, I got a lot of weird looks from people whenever I was out. T___T
Victory sign wtf.
Look at the mini plaster I have on now! Barely noticeable right!
I should be able to take it off in a few days' time; I just have to diligently rub some scar-removing cream, and I reckon I should be as good as new. :)
And OHHH, I got my pathology report back!!!
I am OK!! No skin cancer or any malignancy whatsoever! :D :D :D
Seeing my stitches removed (not that I actually
watched
it being removed, I am too scaredy-cat for it, haha) has given me the confidence that the wound is healed. 'Cause it's just hard to imagine that my arm is ok when the bloody bandage was on it (I was not supposed to remove the bandage)-- in fact, I feel like a tub of lard now, 'cause I haven't been going to the gym for the fear of splitting the stitches. T__T
But HAHA, I went to Mambo the day after I went for the operation! :P
I am damn gung-ho to club, although I could only dance with one arm. T__T
And oh! Haha, damn funny, I wore this for dinner with the boyfriend right before Mambo: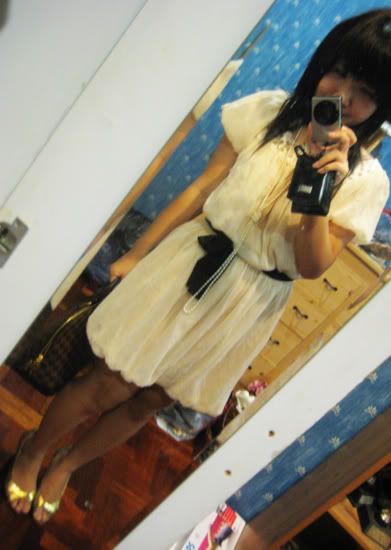 The boyfriend asked me hopefully: Are you wearing that for clubbing later?
Me: Of course not! It's inappropriate for clubbing! *sniffing disapproving at my boyfriend's fashion sense wtf*
HAHAHHAA 'cause he's damn sour and sensitive from the dress which I wore for my birthday! Too revealing. T__T So now I am on probation wtf. I guess that's why he was hoping fervently that I would wear a puffed sleeves knee length dress for clubbing, HAHAHA.
But my dress quite pretty right. :)
BUT! Insist it's more suitable for high tea or a classy dinner.
Baby, maybe next time, haha!
At Mambo:
Smalls.
I stayed over at her place that night; because if not, my dad would start summoning me home at 12am wtf.
When in Smalls' room, I saw the dress she was wearing..
me: Eh we both wearing yellowwwww!!! *proceeds to jump around the room*
Smalls (to her mom): Mummyyyyyy!! Why my friend like that wannnn!!
Hahahaha.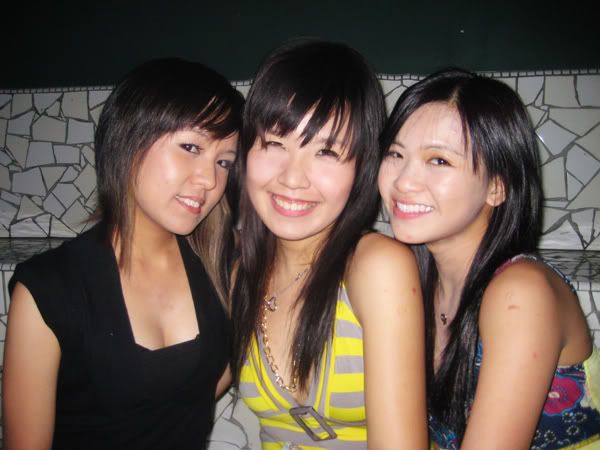 With Jen Ai.
Jen Ai and Smalls are both 5 feet-minus-a-bit, but Smalls kept on insisting that I belong in the same group with them!!!! BOOO.
Jen Ai wears pretty falsies!
She's the sweetest thing, when I complimented her on her eyelashes and asked her where she got them from, she straightaway offered to buy them for me. T__T
By the way, I have given up on false eyelashes since I tried it once for my ball and I looked like an Arabian ah kua wtf.
Brian and his pet.
TIPSYYYYYY.
And we look like a 2-headed monster in this picture!!!! O_O
Happy juice brings out the best in us, haha!
Arvind has really loooooooong arm hair.
And haha, Jen Ai damn bad, she calls him "Ah Black"! And he answers, HAHAHA.
Me (you can see a little of my bandage on my arm), Shannon, Smalls.
YELLOW group!!!
And those are "Y" signs that we were forming, haha.
Brian, Jen Ai, Arvind, Jon, Ming Wei.
BLACK group.
Seriously, we were only dressed in yellow or black that night! :P
And whatever color Arvind wore, he would still be placed in the BLACK group wtf.
Yellow and black. Bumblebee wtf.
Petrina and Shannon!
I climbed onto the stairs to take this picture for them, and I was so proud and happy, and the next thing I knew, I have tumbled down and now I have 4 bruises on my knees. T__T
Andrew, who is as stoned as I remembered wtf.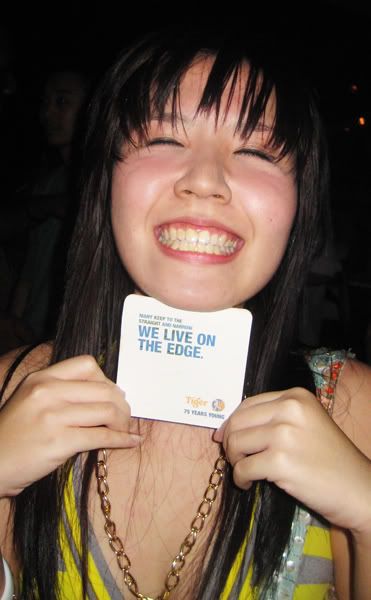 "We live on the edge".
Although I won't go bungee jumping 'cause I have a fear of heights, I chose shopping over surfing, and the fastest I have ever driven is 140km/h; damn right, we do! :P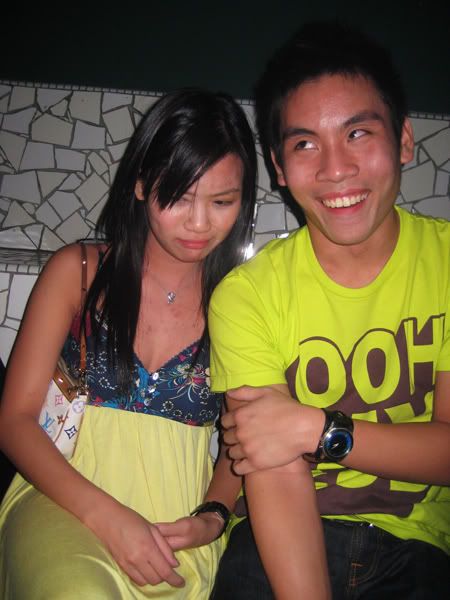 "Come come, 'no more alcohol' face!!"
HAHAHHA damn retard my friends.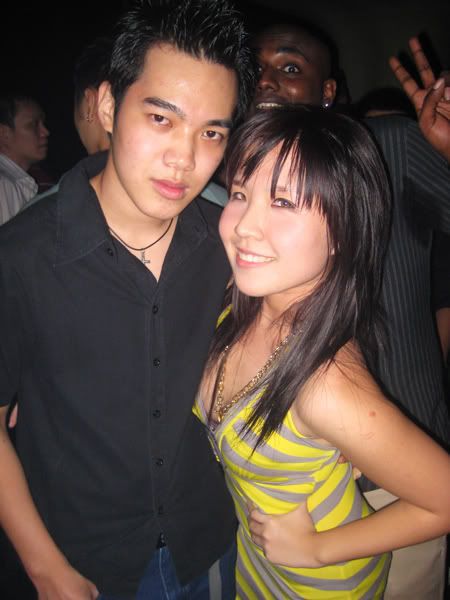 Brian and a very akward pose from me. -_-
Haih, no matter how expressive I am, Andrew still gives me the same expression. T__T
My model-esque friend, Shannon. :P
My model-esque friend, Jon.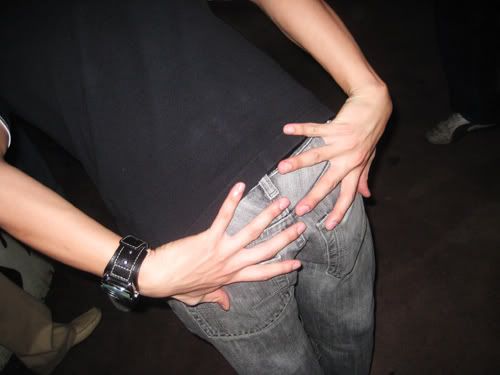 ... who insisted that I took a picture of his butt. T__T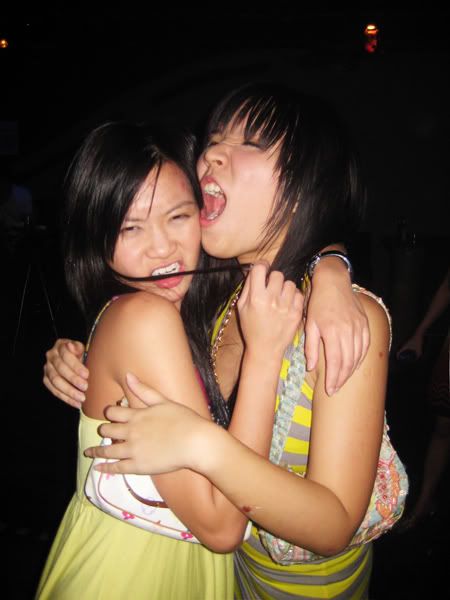 Good enough to eat! :P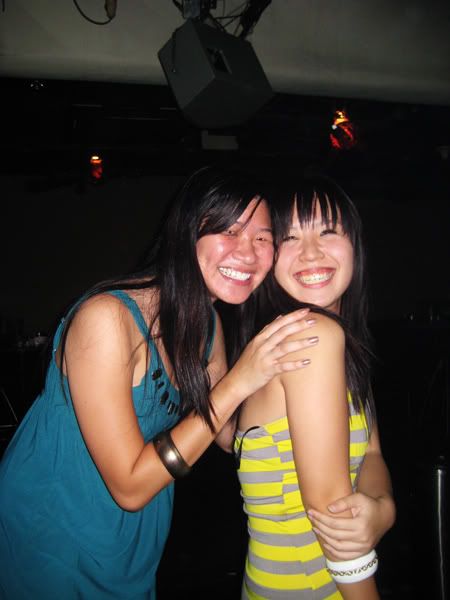 I look so thin here. *big shiny eyes*
Omg, the difference between guys and gays is only an alphabet wtf.
Jen Ai is a Hypertune model!!
So here she is, teaching the others to do the 'pop one leg' pose. :P
Jon, the pimp.
Brian saw our pose, and started waving his hands, "I want I want also!"
So we walked stealthily to his either side, and when he was not noticing...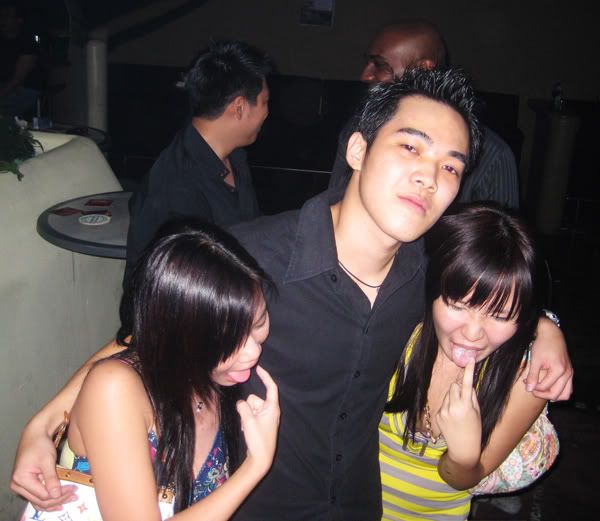 HAHAHAHAHAHAHA.
This was supposed to be our 'wholesome, goody-goody' pose!
But for Jon, it was the same as his 'pimp' pose. -_-
And gosh, I love Topshop. T___T
I tried on 10 items today, and besides 2 which didn't fit ('cause my butt is too big), I wanted everything else. T____T
I am marching back there with some gift vouchers I got for my birthday; but I don't know how to decided in between the 7 ('cause I brought one home already, heehee). T___T
And oh, that reminds me! I was in ZARA with my mom today, and I showed my mom this working shirt that I wanted to buy (it's a crisp baby blue shirt with a white collar and cuffs).
mom: EEYEERRRRRRR!!! So uglyyyyy!! *scrunches up nose and looked at the shirt as if it's a dead animal*
me: Mummy, it's nice la! Working clothes is like that wan!
mom: You really have to wear this type of clothes mehh! So ugly!!
Haih, even my mom thinks working clothes are ugly and sad. T_T I have been slowly adding some items to my working clothes collection; but I guess there will come a time when I really have to do some serious working clothes shopping. =/
That reminds me, anyone of you can recommend me nice (i.e. HOT) COMFY high-heeled pumps for work? Emphasis on
comfort
(but HOT). I don't paying a bit more (but in the few hundreds ok, so Jimmy Choos are out of the question wtf), but it
has
to be comfortable. Thank you! :)