Because my boyfriend asked me why I haven't blogged about the place he brought me to for my birthday. -_-
Then I damn syok sendiri, 'cause he told me that he searched my food tag (Revel in Food wtf) to find restaurants to bring his mom to for Mother's Day/her birthday. *big shiny eyes* Everyone knows how big a part food plays in my life right! T__T
Anyway, I totally recommend the place that we went to,
Top Hat
, because it's really charming and random, LIKE ME, heehee.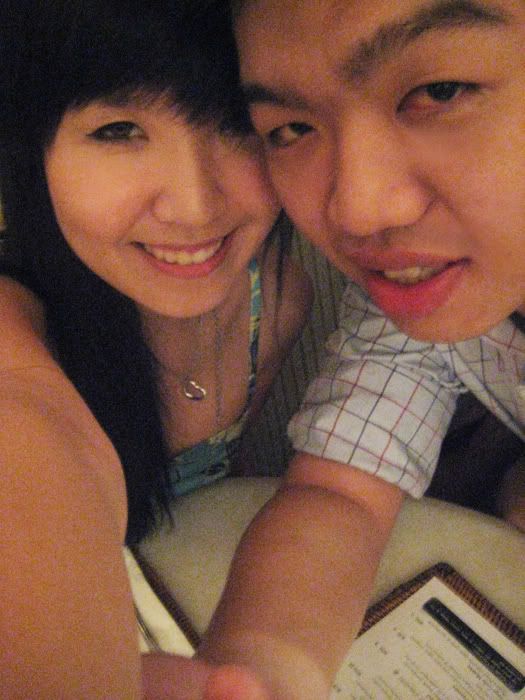 The boyfriend and I! And do you see that I have an almost-dimple in these pictures!!!!
God has finally heard my prayers for a dimple, hallelujah wtf.
Just a little history of Top Hat restaurant-- it serves fusion food: Western dishes infused with Asian flavors. It also serves local Nyonya food as well (which are also priced more affordably), so there really is a palette for everyone. :P And the best part is, the restaurant actually changes its menu every 3 months!!! This means that every time you visit the place, it's as if it's a brand new feasting experience. :)
Some pictures of Top Hat:
I couldn't quite place the theme of the decor in Top Hat-- you have this rich luxurious draping curtains, porcelain plates hung delicately on the wall, and marble stone tables with dark wooded chairs tucked carefully under...
But then, there are the brightly colored walls, a vibrant orange contrasted with the calming baby blues... The palmy fronds in the middle. The crystal chandelier casting a soft gentle glow, illuminated by the orange sheen bouncing off the walls.
The clean white sliding doors, leading to another eating area facing even more lush greenery. The kitschy frames encasing colorful pictures scattered on the wall. Then you see the old school air-vents on the top of the walls... All a delectable play of the new and the old, the now and the then.
Yes, Top Hat is housed in one of the old bungalows in remaining in KL. :)
Stairs leading upstairs, which I was so curious to climb up to! But the upper area was closed off for the day.
Chronological motion of how my eyes become squinty and tiny when I smile. :D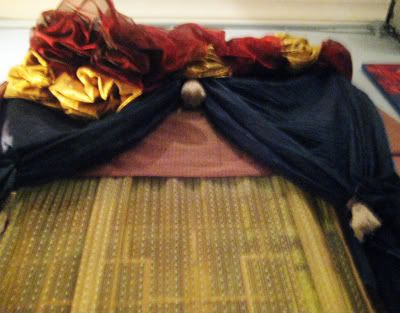 Really avant garde and over the top draperies right on top of us... If I have seen this color combination anywhere else, I would have screamed murder, but in Top Hat, it worked. :)
And ooooh, I thought of a way to seduce people with this type of curtains! Just hide behind the curtain and poke one leg out, and shake it to and fro in front of your seducee! HAHAHA.
Do you like the back of my dress!!!
It's this silk lake-blue dress with really pretty Japanese-inspired floral prints, and the back is just tied sash-style! :)
Clearer picture of my dress.
Nice or not!!! :P
Our food, oh sweet delicious food:
Appetizer: Smoked salmon salad, with pickled papaya, avocado, seaweed strips, and a dash of wasabi!
Oooh, the clash of flavors of the salad and the seaweed and wasabi was awesome! And there was a healthy portion of smoked salmon given. :D
Fried leaves in the salad as well! I am not sure what this type of leave are called (I think in one of the Thai delicacies, it is used to wrap peanuts and vege).
Damn interesting la the salad!
The boyfriend's cream sauce spaghetti and New Zealand Clams.
This was pretty decent, but I forgot what the Asian influence in it was. =/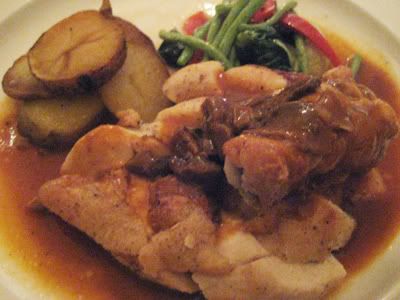 My pan seared chicken fillet! With roasted potatos and baby bak choy. :P
Loved the sauce on this one, and I really really appreciate the fact that the portion was hearty. I always suffer when I visit fine restaurants, because I am never full from sampling little spoonfuls of starters and a tiny dollop of the main course. T___T
Visiting Top Hat restaurant wouldn't be complete if we didn't order Top Hats (pai tees) right! :P
Toothy grin from me and slitty eyes from him!
:D and -.-, HAHAHA.
Dessert: Peach and banana crumble with fresh cream and vanilla ice cream!
Originally, I wanted to try the warm chocolate cake, but the boyfriend was being very reluctant about it ("Too full la"). Which, obviously, was strange and fishy to me, 'cause my boyfriend is usually very accommodating, what more on my b'day right!!! And he knows I dislike peaches and bananas, yes, I am very strange girl indeed.
But anyway, the peach and banana crumble was GOOOOD! I loved the creamy sauce which the crumble was immersed in; and the warm crumbly chunks and the vanilla ice cream went so well together! :)))
And halfway gorging my way, I heard an off-tune warbling...
The silly boy bought me a birthday cake, and the waiters were singing "Happy Birthday".... One of which was an Indian woman, and hearing "Happy Birthday" in an Indian slang was enough to make me sink lower into my seat in horror... T___T
"Harrrrpeee birrrrth deiiii toooo youuuuu"
I so mortified, I thought the song would never end. T______T
And the stupid boyfriend was just giggling away at the corner, RAWRRR!
A whole chocolate brownie cake from Westin. And those are marshmallows on top! :)
I told the boyfriend that the cake looks like the Buddhist god, Kuan Yin's lotus flower seat.
... and was greeted with a -_- look.
Top Hat from the outside! The old mansion in full grandeur.
Happy and stuffed, I would recommend Top Hat if you're looking for a place that you could just relax and devour some good food-- as compared to some of those rigid haughty fine dining places that I have been to. :)
Top Hat
No. 7, Jalan Kia Peng
50450 Kuala Lumpur
MALAYSIA
Tel: 603.2142.8611
Fax: 603.2141.3611
And I was damn silly, I received a bouquet of beautiful lilies for my birthday from the boyfriend via delivery right before the dinner...
... and it comes with a mini bouquet of a single stalk of lily tied to the it:
I thought the boyfriend meant it to be a corsage-- like I was supposed to wear it around my wrist or pin it to my dress (I was thinking to myself, wah why he so romantic, haha), and I huffed and puffed trying to tug that stalk of flower out. -______________-
Me and my prom date wtf.