I am really tired from packing (or more accurately,
unpacking
) all my clothes. Yes, you heard me right, remember my masses of boxes and mountains of clothes
here
? Well, for the past 2 days, I have been spending my nights unpacking clothes from boxes and my luggage bag (one only wtf)! And I am really proud to say that all my boxes are done. T__T I threw away so many of my clothes in my cupboard (am donating them, but let me use the word 'throw', it's more dramatic, haha). Yea, I have given up on selling them, 'cause there's simply too too too many. Just chucked them into big black garbage bags, and my mom will donate them appropriately. I still have my big red luggage bag, my oyster shell suitcase in the living room, and the clothes in my brother's room; but hey, at least, I am halfway there! T__T
Am really spent, so I am going to blog about something light wtf. Yes, about clothes la, or more precisely shoes, 'cause it comes so naturally wtf.
Anyway, sometimes it awes me, the power of fashion. I remember when I was younger (around 12-13), I would sneak through my mom's wardrobe, only to find this horrendous carrot-cut faded Levi's! My sisters and I will try them on while laughing giddily, laughing at my mom, laughing at the atrocity of the jeans' fit. A few years later, skinny jeans came back into fashion; however, I refused to put them on-- "How can
anyone
look good in this type of jeans???" I thought.
Look where I am now. Today, I steadfastly refuse to wear anything but skinny jeans. -_-
And now let's move on to one of the hottest trends currently-- gladiator sandals.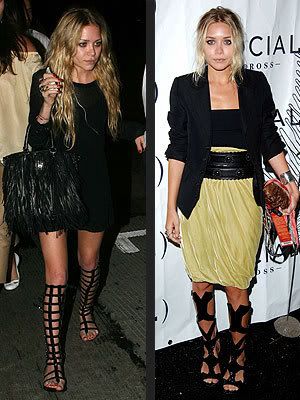 The Olsen twins.
Kate Moss. The boyfriend thinks she is a tramp (and so does half of Britain's population apparently), but hey, you can't deny she has got
STYLE
.
When I first saw such shoes (probably sometime around last year?), I shook my head inwardly, mildly protesting against the un-femininity of the design, the inconvenience of the shoes.. and of course, how unflattering it is. Look at all those straps winding around your ankles/calves/knees(???), it would shave precious inches off your legs! And not to mention, gladiator sandals are most commonly found as flats-- hello, short-legs-ville.
But aah, that is the wonder of fashion, isn't it. To make women covet for things that they don't want, don't need. Make women drool and crave for things that they sworn solemnly against.
I prefer to think of it as opening me to another world. :D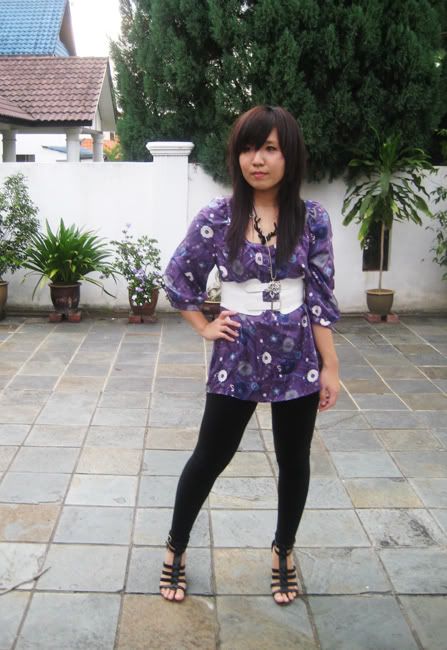 Haih, so now I am absolutely
dying
for a pair of gorgeous gladiator sandals.
The trend hasn't really caught on in M'sia yet, though signs of a gladiator-sandals heat are cropping up. Nevertheless, most places in KL have yet to really stock up on these Roman-inspired shoes. :((( Zara has started stocking on these sandals, but they are mostly flats. There are some in Promod and Topshop as well-- but they are flats as well.
I am hoping for something heeled ('cause straps + flat would really make my legs stumpy), and with goldware! I have also looked at US sites (who ship internationally), but the currency rate plus the shipping fees just make the shoes crazily exorbitant-- and I am not that keen to spend
that
much on gladiators yet, I think it's most likely just a flitting trend. =/ A trend that I am eagerly embracing, of course, haha.
Haihhhhh where to find laaaaa. T__T

And in case you're wondering, those are Jing's gladiator sandals! I have been stealing, err, I mean

borrowing

them. :P
In a frenzy of frustration and fury over my inability to find a nice pair of gladiators right now right here, I started looking for alternatives in my shoe collection, haha!
Below are shoes that I got from my trip to Gold Coast last year:
#1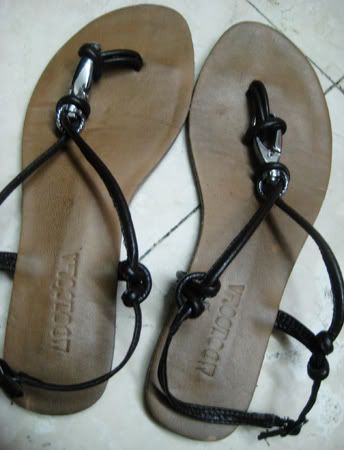 Leather thong sandals-- with these chunky silver metalware.
I can't shake off the feeling that they look like metal pliers though wtf.
#2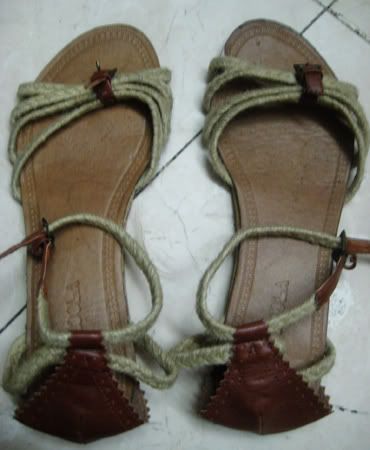 This is one of my favorite flats, I think. :)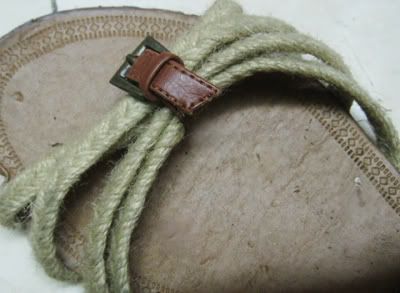 Love the blend of the tan leather and the braided ropes. Can replace gladiator sandals ar!! (cannot make it -_-) Unfortunately, they are ankle-strapped; I have an adversity towards anything with ankle straps. T__T They really make your legs look shorter wan!! :(
#3
Tan dragonfly sandals with strappy ropes.
Hehhhh, cute or not the dragonfly! The straps are long enough to be tied up the leg; nevertheless, I have a problem with such shoes--- after awhile, the straps always fall, despite how much I knot and tighten them! Does anyone have the same problem ar. Or is it 'cause my calves are too fat wtf.
I always feel very whimsical when I wear this pair of sandals. :D
HAIHHHHH. But these shoes aren't gladiators sandalssssss. And I wannntttt nowwwww. :'(
Eh, I just remembered! I have also started packing my working clothes, and I am not sure whether this is a good thing or not-- I have only started officially buying office clothes this week; but however, in my bout of packing, I realized that I actually have quite a bit of working clothes! o_O Some collected from Melbourne, some which I bought offhandedly this year if it's affordable and nice... But omg, I didn't know that I have collected to much already. My mom is NOT going to be happy. -_-
Anyway. OK PEOPLE GOT SOMETHING DAMN IMPORTANT TO ASK YOU ALL!!!
In a horrible twist of fate, I am going to be doing my hair tomorrow instead of next week! SO RUSHED. T__T I have no idea what I want to do, no notion of what color I want... But I have to go ahead anyway, 'cause I am leaving for S'pore in a week's time. OMG.
Please give me your suggestions!!! I am leaving tomorrow noon, so I will check my comments once before I leave.. T__T Give me some ideas k!!! 'Cause I don't have the slightest inkling what I want to do. T__T I only know I want to look hot wtf.