*updated*

I just had the most unfortunate morning today! Ran late for my appointment with HR, ; took a cab with the driver who didn't know how to get to my destination, but pretended to know how to; and my top split open at the zipper! Fantastic. By the way, I am safely in Singapore now.
Nevertheless, I am in a better mood now, 'cause everything went smoothly after that. :) And why all of you tried to cheer me up by asking me to go shopping in S'pore, HAHA! Okies, time to run, updates later! I am going.. err, shopping.
*shifty eyes*
:P
Wow, last post from KL. Will be off to Singapore tomorrow.
How quickly time has flew past-- 6 months of bumming (can you believe it!!!), guess this was inevitable.
Anyhow, before I go, there's a little something I want to leave for you all who are in KL; consider it a gift! :P
It's a restaurant that I went to recently, and I really, really enjoyed my meal, so here's a little recommendation from me, go try ok! :)
I had my bangs pushed up, 'cause my hair was kind of greasy-- no time to wash hair. Damn brave of me to do so k. T__T
Outfit:
Oh, this was before I dyed my hair, which is why my hair still looked dark.
And HAHHA why my index finger in the first pic so weird! Saturday night fever wtf.
Shoes. :)
Love this pair of shoes, but it's like 4 inches high, so in the end it's always one of my last options for footwear. T_T
Anyway, moving on to the place that I want to sing high praises about! :)
Wendy's Bistro
!
And it is quite easy to find. I am sure alsmot every PJ kid has heard of/been to Yuen Yuen's steamboat at Sunway right (the area right opposite Sunway Pyramid)! Well, Wendy's Bistro is situated right opposite Yuen Yuen. :)
Wendy's Bistro specializes in grilled pork, can I hear a MMM! I have always been a big lover of pork, bak kut teh, siew yuk, char siew, sweet and sour pork etc, you name it. But it was only after I went to Melbourne that I was introduced to grilled pork ribs! If you have never tried it before, YOU HAVE TO. However, once I was back in KL, grilled pork ribs (western-style) could not be found, 'cause most restaurants are
halal
. Even Tony Roma, which is supposedly famous for its pork ribs in the US, do not serve pork in its Malaysian franchises. :( So needless to say, when the boyfriend told me that he knows somewhere which serves great pork, I was all "Oink!", err, I mean "Yay!" :P
Interior of the place:
Yay, Movenpick ice cream! :D
Open kitchen concept-- you can actually watch the chef grill the meat.
Paintings adorning the wall-- they are for sale.
I just had my facial before dinner-- my skin was angry, splotchy and red. T_T
Food!
My iced coffee with Movenpick vanilla ice cream, yum!
Cheese-baked mushrooms with bacon and ham topping.
This was good, but I felt that the stuffed mushrooms in Italianni's are a notch better! :D
The boyfriend's breaded pork chops.
My mixed platter-- grilled pork ribs and grilled pork belly.
As you can see, I am the greedier half in the relationship. :P
Aah, I totally recommend what I ordered! In fact, I can't decide which was better, the pork ribs or the pork belly! (you can order both of them separately) When I eat the pork ribs, I think that they are tastier, but when I shove a forkful of pork belly into my mouth, I think that they are better! SO GOOD. Thumbs up. :D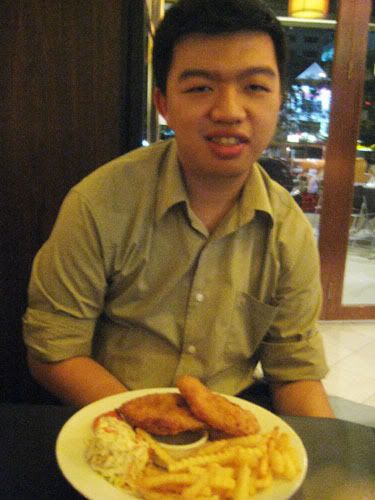 The boy that I will miss. :(
I was damn insecure of my accentuated round face ('cause no bangs to cover!), so had to use my hands to hide my cheeks a bit, haha.
But you agree or not! Once you have bangs, you feel so naked when you go without fringe!
Anyway, remember ok, must go try Wendy's Bistro! Maybe I'll see you there (I am already plotting for the boyfriend to bring me back there during my next visit home)! :D
Wendy's Bistro
No. 20, Jln PJS 8/18,
Dataran Sunway Mentari,
Petaling Jaya.
Tel: +603-5630 1699
****************************************************

My farewell dinner just now with the family and the boyfriend.
Me and my beloved shark's fin soup... And my parents also let me ordered Chinese pancakes.. T__T Is it 'cause it's my last night at home.. Or is it 'cause they are eyeing for me to pay the next meal with my salary. T___T
And sigh, I am all for conserving the environment, but I can't seem to resist the goodness that is shark's fin soup. :(
Ok, that's all for tonight. Following updates will be from S'pore, I guess.
No emo words, I don't need any reminders. I just need to stay.. strong.
Really
strong.