I actually wanted to blog last night, but I was high on drugs.
'Cause I had runny nose, and I took pills. T_T
I had an out-of-body experience, like I felt very charged, but not really myself wtf.
HAIH, obviously the effects of the medication is still in body. -_-
Anyway, met up with Audrey and Tze Ching! :)))
The last time I met up with them was exactly a year ago! Did time really fly past us so quickly. :( Although I did have the pleasure of being terrorized by Audrey during her visit in Melbourne later. She showed me weird looking vagina in porn magazines. T___T
With Tze and Aud.
Tze Ching insists on taking pictures in every single toilet. -_-
And then while we were trying to smile gaily for the camera, someone farted in the toilet stall behind us, and Audrey and I burst out in wild giggles. We quickly tried to stifle them-- we wanted to be considerate, haha.
At Mizu (in Bangsar Village 1), where we had lunch.
The day past by in a blur, which is a good sign! 'Cause time always passes by quickly when you're having fun. :) But I distinctively remembered:
Audrey shaking and trembling out of hunger (and anger wtf), 'cause they were waiting me-- I was late.
*shifty eyes*
To my defense, they didn't confirm with me what time to meet! And I had an emergency errand to run. :(
Tze Ching scoffing at Aud and I, 'cause we drank our miso soup straight out of the bowl; she insisted on using spoons-- and she asked us why are we so low-class. T_T But that's the authentic way to gulp down miso soup what!
Tze Ching calling me a Grammar Nazi, 'cause I corrected her speech. T__T
Clutching hands with Aud and trying to compose ourselves 'cause Su Ann (pinkpau, who is coincidentally much younger than us T_T) was so refined and mature. T__T
Outfit! :)
I threw on a really old top of mine, with my new paperbag skirt! (You can see its matching gray sash tied onto my drawer handle in the background wtf) I tied it there, 'cause I was afriad I wouldn't be able to find it amidst the mess in my room.
I was really happy that I could find this paperbag skirt in Topshop! :))) 'Cause I first saw one in a
Mooks
ad in
Cosmopolitan
, and I couldn't justify forking out 129.95AUD for a skirt which
might
be unflattering. But yay, I have one now! :P
And someone commented on my blog that day that they recognized my new tan vintage-inspired shoes! Heee, yuppers, I was wearing it. :D
Some pictures of my top, 'cause I am still quite amazed that I am wearing something that I bought 3,4 years ago. :P
It has this pretty fabric appliques on the bustier-- kind of reminds me of a mermaid, HEE.
The back! Tie-up sash flowing downwards. :D
**********************************************

And people, I HAVE MY BOYFRIEND BACKKKKKKK! :D :D :D :D :D :D
He is officially done with his professional exams, so now we are going to spend as much time as we could before we are forcibly torn apart. T__T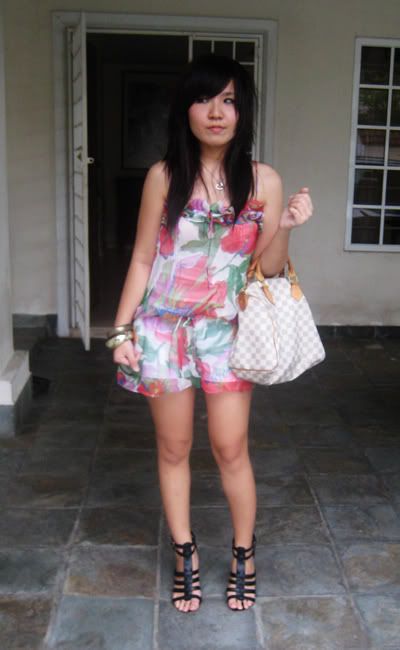 Wearing a sheer chiffon floral dress (which is kind of stretching it, 'cause obviously it is a top, haha), with this amazing rosette-like neckline!
I think I had that weird expression 'cause I was eying my big dog warily just in case it bites me again. T___T
We went to Pasta Zanmai, in OU. :)))
Which is recommended by some people for the good food, and by my sister for the hot waiter WTF.
Pasta Zanmai's interior:
Cozy booths!
(Incidentally, I feel that the giant lamp hovering over makes it seemed as if it's a mothership beaming its aliens).
Open-concept kitchen!
Reminds me of Hell's Kitchen for some reason.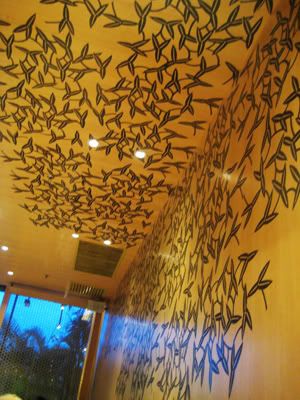 The ceiling that was facing me.
Not that I am that tall la-- I had to look up, haha.
I told the boyfriend to show me a victory face for having his exams over and done with. -___-
I don't know why my arm was lying so lifelessly at one side-- like ready for a
tabib
wtf.
OH you know what! Aud said my eyes are very nice 'cause they are very dreamy. What is the meaning of dreamy eyes!!! Is it 'cause my eyes very small so I look perpetually sleepy WTF.
Then she justified by saying that Patrick Dempsey also has dreamy eyes, OMG how is that supposed to be reassuring! T___T
The boyfriend's pasta: Grilled chicken and Japanese mushrooms in cream sauce.
There was plentiful of mushrooms, consisting of shitake etc and this button-like mushrooms which I thought were too cute to be eaten.
The boyfriend thought the cream sauce was kind of bland, but personally, I thought it was just nice, it's light and flavorful-- I dislike cream sauces which are too thick and cloying.
A set of pasta comes with: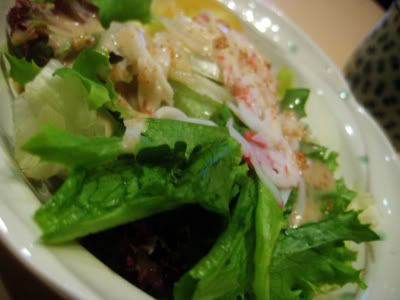 Salad (with a really nice sesame-ish dressing and shredded crabmeat).
Miso soup. Which I am proud to say that I drank from the bowl, haha.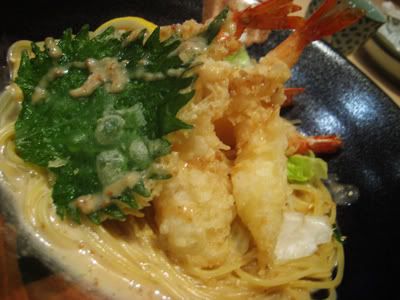 My
ebi tempura
pasta in sesame sauce.
I liked this dish, 'cause I got to play with food, haha!
You have to grind your own sesame seeds, to be sprinkled over the pasta!
The correct way to do it is to gently move the wooden mound around in circles.
See the textured lines on the bowl? By grinding it in circles, the black bits of the seeds are removed.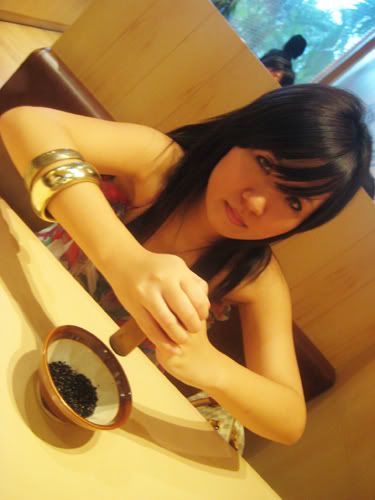 This is a NO: you shouldn't pound the sesame seeds straight-down, 'cause then you would break the seeds!
As told by the knowledgeable boyfriend wtf.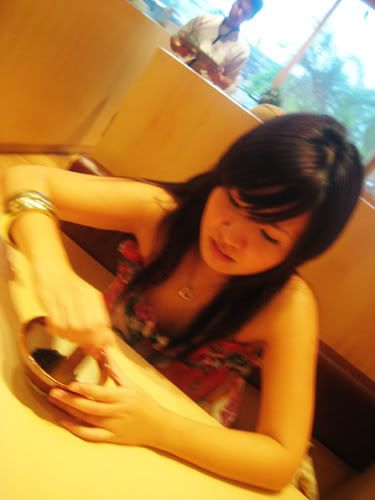 Grounding the seeds. I asked the boyfriend whether I looked domesticated while doing so.
You know, like those ladies who
mendulang timah
in the rivers last time!
He replied me very a very decisive "NO". :(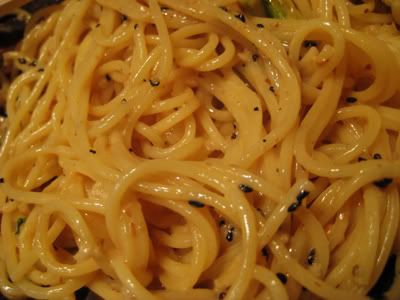 Anyway, you sprinkle the sesame seeds onto your pasta after
you are bored playing with it
it is done!
It was definitely the first time I had pasta using chopsticks! (Though I can't say the same for my grandma, HAHA). Trust me, there is something utmostly satisfying in slurping pasta on wooden chopsticks. :P
And Jing saw this picture and said that she feels like slapping me because of my expression in the picture. -__-
I will blog about the Lapsap sale at Palate Pallete yesterday soon; before I go off, let me present you with the feline side of me!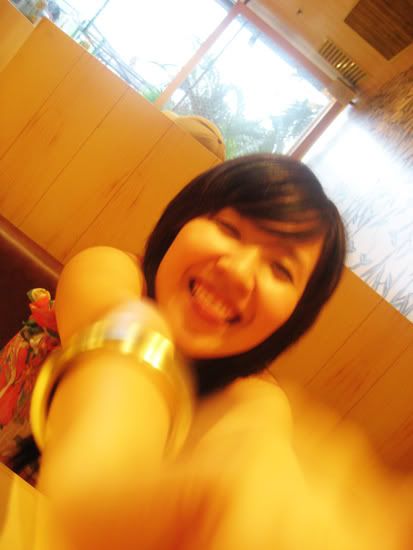 Mid-stretch.