Update: WAHHHHHHHHH this Blogger scheduling thing really works !!!
(this is a scheduled post btw)

Anyway, guess what!!!
I am in shock myself. -_- My mom just bought 3 Prada bags! *weeps in joy* One is for her best friend though. But wheee, the Hoe family's bag collection has expanded again wtf. More details on my S'pore buys when I get home k! :)
Because this was bound to happen, haha. Just a walk-through of some outfits that I haven't posted before. :P
They are random pictures since the beginning of the year or so, so you can actually see the transformation of my hairstyles!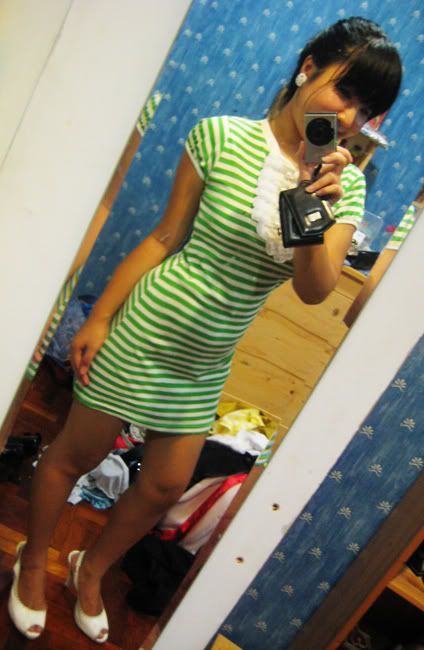 It's a kitschy T-shirt dress with this white ruffled bib.
I remember wearing it for lunch with Jac the day before she left. Omg, has it been 4 months plus!!!
Emo. :(
Electric blue pinafore dress with white buttons.
I have since sold this dress-- but I have made a friend along the way!
Crazy girl who stays in the UK and is afraid of bombs hidden in trash cans, HAHAHA.
I wore this outfit to see Ranjitha, my high school best friend, whom I haven't seen for the past 2 years 'cause she left for Ireland. First time seeing my bestie after so long, it was like seeing a first love again ok! :P
Candid picture wiith Jing, who has just bought her Gucci bag that day!
Yes, the bag that Teeny and I chipped in also as part of her b'day present. -_-
Haih, why is my sister so materialistic wtf.
With this vintage-inspired chiffon dress in this very lovely shade of pink/lilac.
But it crinkles so easily though. :(
I do remember that the day I wore this dress, was the day before I went to dye my hair.
This means that it was the last day I had jet black, never-been-dyed-before hair ok! Milestone wtf.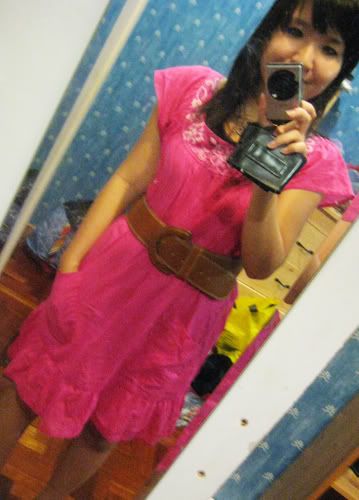 Who said I don't wear my clothes twice ar!
I wore it once before when I sent my parents to the airport after my graduation in Melbourne! I remember holding back tears then. :(((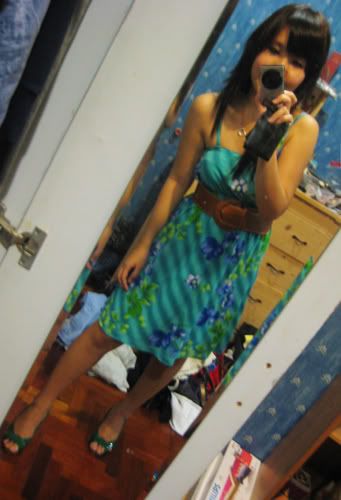 With my happy green patent platform shoes with wooden heel.
Can you believe it, my boyfriend actually complimented the shoes!! Damn shocking k, 'cause the boyfriend is super conservative in dressing. T__T We are damn un-matching in terms of fashion sense wtf.
And walao, I used to wear dresses so often! -___________-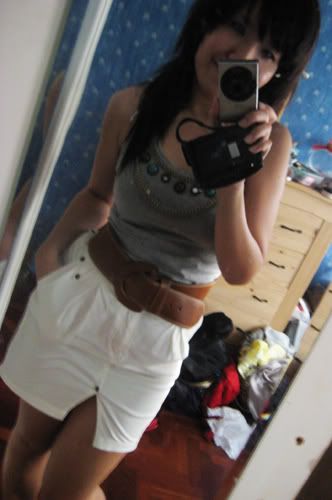 In this Bettina Liano's white skirt with quite an indecent slit in front, haha.
Can wear for work ar! Then can get promotion quickly HAHAHAHA.
And in case you wonder what do I wear when I go over to the boyfriend's. :P
I found my old Gucci sling, and guess what, I am in love with it again. :D
In a
Sass & Bide
tank top and paperbag shorts. And Keds. I aim for comfort! Sometimes. :P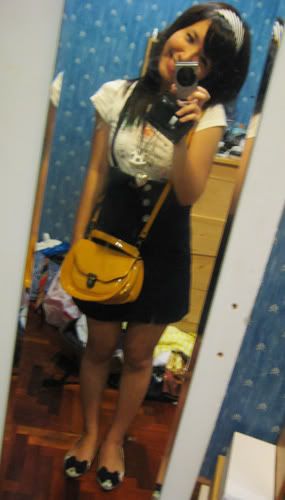 I. look. so. unbelievably. like. a. schoolgirl. -__-
Ok, that's all. Hmm, this may sound weird, but I can remember exactly what and when I wore the outfits, and who I was with during that time!!! Actually, I have always been like this- I associate my outfits with the day/outing. Sometimes when the boyfriend asks me, "Hey, do you remember ....", and I will quickly shoot back "What was I wearing!" to jog my memory. Usually if I could remember what my outfit was, I could remember the day's occurings as well. -_-
And I also have a scary ability of remembering people's clothes. I can remember everything that you have ever worn, and how you put them together. In fact, I have friends who call me for fashion advice, because I know their wardrobe better than them! :D :D :D
Haih, I think I am a very scary girl.
Oh, one more outfit-- something I wore really recently:
My new skinnys! :)
Unfortunately, once I start work, I am afraid that it will never see the daylight again. :( It really scares me, dressing for work. I won't call myself a fashionista or anything, but I think it's quite obvious that I adore dressing up,
playing
with dressing up. And the idea of being restrained by codes and rules and policies (in terms of dressing) scares me. A lot.
Yen the Hairstylist asked me what will I be working as in S'pore...
Me: Oh, I will be in auditing.
Yen: WHAT?? Means business formal???
Me:
*nods depressively*
Yes...
Yen: SO NOT YOU! SO NOT YOU! SO NOT YOU!
T___T
Last week, my mom and I finally got a set of black suit (blazer + skirt) for me. When I put it on, I nearly cried. It finally seemed real-- the forlorn girl staring back at me, clad in a boring black suit. Its implications not so much refer to what I am going to wear, but what I am in for. Sigh, don't want to talk too much about it. But oh well, guess a black suit is apt, considering the sombre, morbid affair work is.