*UPDATED with second day!*


Extreme picture overload, I'd recommend clicking on this entry so that it opens up in a separate page-- wouldn't want the page to get stuck! T_T
HAIIHHHHHHHHHHHHHH.
WAHHHHHHHHHHHHHHH.
SIGHHHHHHHHHHHHHHH.
Yes, shopping ban is up again. T________T
But not a real one la, 'cause I still need to get a few pair of shoes I have been eying in Topshop, and err, I need working clothes! *shifty eyes*
Went to the Fashionista's Junkyard Sale and
Bijou Bazaar
over the weekend, which of course, are EVILLLLL.
DAY 1
Saturday:
(YES, we went on both days -__-)
Jing! And our dog, BB. Don't ask me, I didn't name it. o_O
Oh! Random, but have you ever wondered why in Hong Kong dramas, they always pronounce the word 'baby' as "BB"! So instead of 'I am having your baby', it's 'I am having your BB'!
Ok, finished already.
Teeny, with her vintage dress that she got from the last junkyard sale.
Jing and I were both salivating over this dress, but logically speaking it just wasn't feasible for us, 'cause it'd reach our ankles wtf. And it's quite a waste to cut/alter it, 'cause it's in this lovely chiffon pleated material!
At times like this, I really hate the fact that I am short. T__T
Me! My inspiration (haha, like real only) for the day was child-like and all things kiddy.
Ya la can you tell that I refuse to grow up wtf.
At Showpink...
(most of the pictures of the day are from Teeny-- my camera was out of battery, bah!)
Jing got these lens-less frames for damn cheap! I was really emo 'cause I got one a few weeks ago for three times the price. T___T
And Jing really looks like
Stuart Little
Chicken Stuart
Chicken Little
a duck
right!!!
And she looked like some mad woman who sells spectacles wtf, 'cause got damn a lot of glasses hanging off her, haha.
Ok, not many pictures taken at Showpink obviously. As women, we are not that great multi-taskers wtf. It's shopping over photography! :P
Bijou Bazaar!
It's actually held at a boutique hotel, Jeumpa D'ramo, in Bangsar. The converted bungalow, facing the main road heading to Telawi, is gorgeous! Jeumpa D'ramo means 'berkumpul di serambi' in Acehnese, eek, I thought it's french, HAHAHA I am such an idiot.
Looking at my outfit, I felt like I fit in so perfectly, lalala!
Rubber duckies!!! :D :D :D
My sisters had to hold me off to not let me jump into the kiddy pool wtf.
I was holding a rubber duckie, if you can't tell. I think I was craving for roast duck HAHAHA.
Sigh, you know those inflatable kiddy pool tub?? I have always always always wanted one. :( When I was young, I really loved to swim (my love ended when I found out swimming makes your shoulders broad like a gorilla wtf), so it was my ultimate dream to have one in my house. My dad promised me year after year, but I didn't as much as see a glimmer of it. :(
Unfulfilled childhood dreams.. Is it why I shop so much now ar!!! Like, it left me emotionally scarred so I have to seek solace from elsewhere WTF.
What was supposed to be a picture to show the back of my pinafore dress (there's this really cute bow detailing), ended looking like a suicide in the making. -_______-
I think this picture is utterly gorgeous!
Our love story, haha.
Sigh, the place is just so lovely! I would love to have a party at the place.. Unfortunately, I share the same idea with both of my sisters-- knowing my dad, he will just let us have ONE birthday party, shared by the 3 of us. -__-
And I am trying to console myself that my legs looked short in the picture above because of how the light rays hit the pool; I can't remember the term, omg, I have totally forgotten everything I have learnt in Physics. T__T
Some pictures to showcase me in action, haha... I was unknowingly caught on film!
Imagine, there're actually more pictures than those shown here! Teeny was snapping pictures of Jing and of the place in general, and I was in the background, frantically snapping up buys. T__T Somemore my arm stretched out damn far, haha!
You have to take off your shoes to go indoors, but there are stalls/sellers outside as well-- as it was just a nuisance to put on/off our shoes, we just walked barefooted everywhere. The floor was burning hot, hence it was a relief to dip my scorched foot into the chilly pool water!
A
hugeeee
relief.
Teeny calls this my 'orgy' face. -________-
A little too eager to shop wtf.
Met loads of people in the 2 bazaars that I went to! People whom blogs I read, people who read my blog, people whom I have sold my clothes to before... It was kind of fun to play 'who you can recognise'! :P
With Alea, who is OMG so hot!!! She is totally CFM, haha.
With this seller, with a really amazing collection of dresses! And she's so hyper as well, my most distinct memory of her is her flailing her arms and telling us to "buy more! buy more! buy everything!", hahaha.
Happy buyers! :D
My rocking horse necklace, it makes me so giddily happy whenever I look at it!
And I have a rocking horse story, haha, but I am not sure I want to share! :P
My love-bird brooch. It's so random, but aaah, it's dam cute right!
In fact, whilst browsing around, I can hear people pointing at me (or rather my accessories), saying "Eeee, so cuteee!". I felt like a zoo animal. T_T
At lunch after our shopping frenzy:
I was looking really disheveled and sweaty, it's a tough job jostling through throngs of women with a purpose!
Emo Teeny.
(who stole Jing's frames)
I took my birdie, and exclaimed "Let it play with the rocking horse!" before perching it on the horse's seat and rocking it cheerily away. Teeny gave me looks of horror and kept on shouting "Eee, stop it la! Damn obsceneeeee!" Haih, dirty minds.
Actually, lunch was
god-sent
. 'Cause we were so
kancheong
to go shop that we didn't eat at all before leaving house. At first I was surviving purely on adrenaline (shopping is a sport! :P), but after about 2 hours, I was weak and hungry.. On top of everything, I had period cramps (I suspect it was 'cause I didn't eat at all). T___T
But I persevered. :P
My buys:
Granny cardigan with floral brocade-like design.
I like how the faint brocade touch gives the oversize cardie look a feminine makeover. :D
Vintage double breasted shirt-dress.
I am thinking of cutting it shorter to give out a flirty feel, but Jing opposed to it; she said I could wear it for work! Cannot la, too funky!
This
is for work. Layering, layering! :)
Vintage white top with gorgeous eyelet detailing.
I have to cinch it in with a belt, of course, but it's really pretty! :)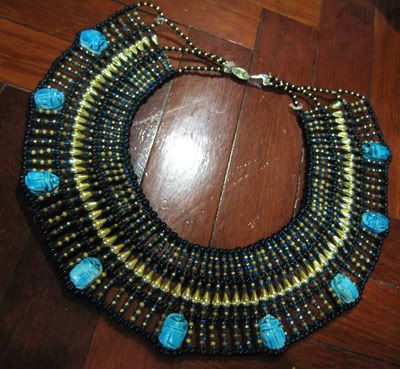 Neck..thingy. I wouldn't call it a necklace, it's more of a neck.. decoration? Haha.
Thinking of pairing this with a plain white tee! :P
Girlie floral cardigan, for layering purposes.
Am also thinking of how I can work this into my work-clothes wardrobe. :P
Vintage princess puffed sleeved dress with pussy bow.
This looks really good when worn, can't wait to don this dress! :D
Brand new DKNY swimsuit with cut-outs.
Am not really planning to wear this to the beach-- imagine the awful tanlines! But am inspired by
Jade
, who wore her swimsuit as a top, haha, brilliant! :D
Satin bustier corset with gold buckles, HOT.
My sisters said that this top is really S & M-inspired... I say, good for me! (and him WTF)
Plaid mandarin-collared dress shirt with ruffled detailing.
Will look so good with my tan Topshop pumps (which is still in the shop, HAHA).
Another beige shirt blazer, but this is a vintage one. :P
I would say the first one is more suitable for work, while this is more for my play days ('cause of the cut).
Vintage animal print victorian blouse (love those buttons!).
Will try to make this work for my work-clothes as well-- they look like mini polka dots from far, haha.
Impulse buy, this one. Will think of ways to layer it. :P
I love the frou frou collar on this vintage blouse! Unfortunately, it's too big for me, so an alteration is on the agenda.
I am actually thinking of altering it to make it a sleeveless top-- I think it would be really hot! But I am also afraid that it'll look like a top that I already have...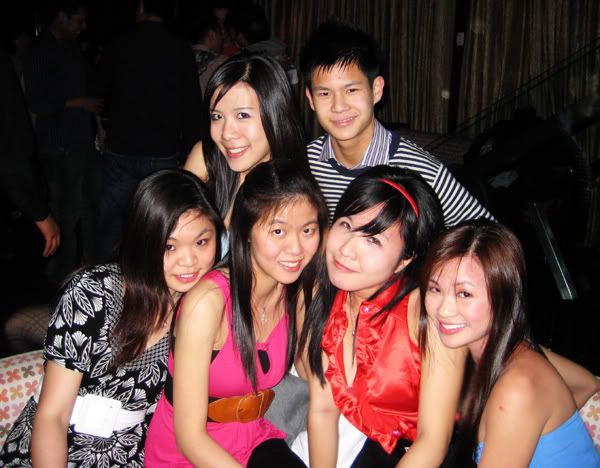 Satin collared halter top with ruffles.
Not to mention, the sleeves are too pretty to be removed! However, if I were to alter the sleeves as well, I think it would be quite difficult and tedious. =/
Give me suggestions k! :)
Vintage dress with ruffled bib and uneven hem.. Aah, so cute!
I want to go for a tea party now, haha.
Vintage bag with colorful patchwork.
I would have really appreciated this if I was still in college... Unfortunately, I am not (don't use sling bags much now). But my mentality is 'buy now, think later' wtf. Haha, might give to my sisters! :D
Aaah, I love this pair of shoes! :))) Am just looking for something like that. :)))
Vintage tan bag, LOVEEE!
******************************************

*updated*

Day 2

Sunday, the following day!
Haih, we went back on the second day 'cause on the first day we blew ALL our cash (with a few dollar notes left for lunch wtf), so we reserved the items that we wanted, and promised to go back the next day.
And I think my sisters and I must have very trustworthy faces! *muka bangga (and muka honest wtf)* 'Cause when we told people that we have reserved stuff with certain sellers, they gave us a look of disbelief and asked us "What??? They actually let you all reserve things??"
Heehee.
Outfits! It's quite fun to dress for these type of events, 'cause a lot of the people there are really stylish! You won't really see people wearing a pair of leggings and a top and call it an outfit wtf, but the people there wear turbans and vintage dresses and funky belts and colorful opaques! Aah, especially the sellers I think, they are so adventurous with their dressing that I just feel like grabbing them to kiss them. :D
I was so gleeful when I put on this top and found out that it's long enough to be a dress! :D
I told Jing: "Eh, nice tights! Where you got it from!"
Jing: *gives me -_- face*
"It's yours, I took it from your bag."
OOPSS!! -_-
And if you're wondering, why she took it from my
bag
, it's 'cause a lot of my things are still in the luggage bags, I have no space to unpack them to. T__T
Teeny! Eh why got weird
tong
and bowls in my house. -_-
My layers of necklaces. :)
Showpink again, 'cause one of the tops that Jing bought has a stain on it, so she thought she wil go back to inquire about it.
HAHAHAHAHA look at Jing's gung-ho shopping expression!
Bijou Bazaar!
In resting mode, haha.
Look at my 'pei' face!
Teeny and Jing! I like how there is black and white, hot pink and electric blue. :P
And I kept on wanting to creep up to the balcony (as shown in above), but it was actually where they cooked food to sell in the bazaar. T_T
Ladies sit with legs closed!
It was really hot, what do you know wtf.
And my buys from the second day (I will not feel guilty.. I will not feel guilty...).. :)
One of my favorite buys of the day!
Vintage-inspired tan square-front pumps with lace trimmings, so pretty! :)))
The color is more tan in real life! Sigh, now I am confused, should I still get the tan pumps I have been eying in Topshop ar.
And I love this pair of pumps very very much as well!
Love the b & w houndtooth print and the pop of the red bow, MMM.
Braided rope bracelet with charms! I like the bow and ballet slippers charms, but I think I will remove the tusk charms, they are too tribal for my liking, haha.
Old school pearl strands.
Brooches! For work-- the best way to brighten any outfit; accessorize, accessorize! :)
And did you notice that the mother of pearl button brooch in the middle is a bird/dove! :P
Scarfs!
The following 4 items are for work as well:
Black blazer with chinky wooden buttons, love the cut of this. :)
Gray and pale pink pinstriped blazer... If I can't work this into my working clothes collection, I will just wear it with suspenders and shorts/jeans and call myself an emo boy. :P
Yellow cardie! The boyfriend said that auditors don't wear colors.
If that's true, should I go back and exchange the cardie for black.. or gray... T__T
Pale pink bow belt.
Eh, I can team it with the gray pinstriped short blazer (above)!
Yellow shift dress with crotcheted/eyelet detailing around the waist! It plays actual skin peekaboo. :P
Sailor dress! :D
Yummy red dress, loving those pleats. :)
Well, what can I say, I love junkyard sales and bazaars. :D
And oh! When I was in Showpink, and chattering away with one of the sellers about shopping...
*bla bla bla*
Me: I am doing accounting!
Him: *mouth drops agape, tongue lolling, eyes wide*
Me: Errr.. *panicking 'cause I thought he is having a heart attack wtf*
Him: Cannot be!
Me: *apprehensively* Errr.. What do you mean?
Him: I have never heard of this before! I have never seen someone so fashionable and doing accounting!
Should I be flattered!
But what is this! Is the general stereotype of accountants so bad! -__________-