*updated*
Yesterday, right before our trip down to S'pore!
Magazines are important props for long trips. ;)
Does this look like a paparazzi shot or not!
I found my ladybug necklace. A pop of color for my outfit!
Ya la, the colors of my outfit very bland and sad, to suit my mood mah. :(
Jing, who wore a skirt to sit in the bus!! What if people take upskirt pictures. T__T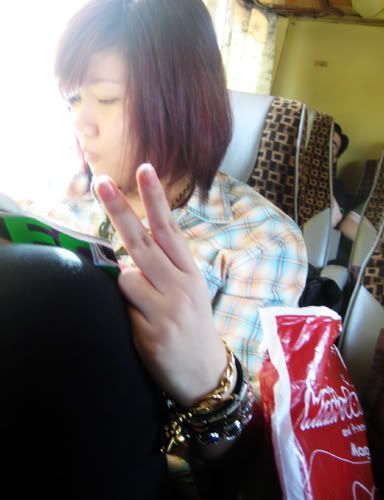 Gangster Teeny, whose hair color is getting lighter and lighter as the days go by. :P
Every day I see her, she is like a new person wtf.
And HAHHAHHA 'cause I was afraid that I will dirty my white Miu Miu bag in the bus, I kept it in the dust bag, and my sisters kept on throwing me dirty looks, HAHAHHAHA.
What la, I haven't gotten a leather protector what. :(
Okies, that's all, there is a juicy mother-daughter talk going on now!! :P

******************************

*updated*
Here are some pictures of our first day of shopping!
*big shiny eyes*

With Teeny, at the MRT station; btw, are we allowed to take pictures in stations
*shifty eyes*
.
This is her new hair color! No more unsightly, bleached hair, much to my mom's relief. But due to her previously bleached hair, her hair color is fading as the days go by-- from dark auburn to purple-ish red-pink, HAHAHAHA. Whenever she makes any movement to go to the bathroom to wash her hair (it fades whenever she shampoos her hair), Jing and I will scream after her: "NOOO! THINK BEFORE YOU ACT! ARE YOU SURE YOU ARE DOING THE RIGHT THING!!" Hahahahhaa.
And oh! I was wearing my new Aldo cream T-bar maryjanes. I wish I could insert a smiley face behind the phrase, but unfortunately all I want to say is: WHO SAID ALDO SHOES ARE COMFORTABLE????
I think my feet died yesterday. :'(
With Jing. Do you like the back of my dress! :))) It has a bow-like design at the back. :)))
Teeny who was miserable 'cause she is on a really strict protein diet now! No carbs, no sugars.. not even fruits! =/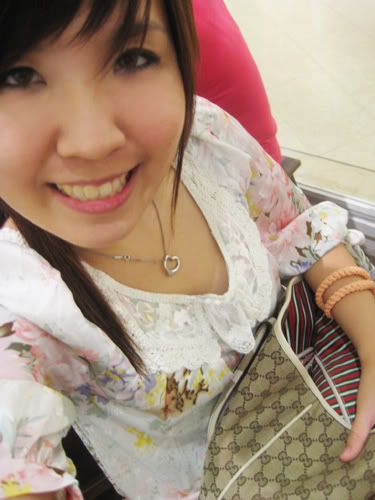 My mom told me that I looked slim in this dress. -_- I think she thinks I am fat all the other times. T_T (Ya, my mom rarely gives us compliments wtf)
Resting our feet.
I am telling you, I am supposed to be well-rested for the commencement of my work, but at the rate we are shopping, I am going to be absolutely knackered and exhausted by the time Monday comes by. -___- I already feel like my legs are going to drop off. T__T
And oh ya! You guys were right, there are a lot of
gladiator sandals
in Singapore. ;)