*updated*

I am in Singapore now!! And praise the lords, my cousin managed to set up a wireless connection.
*kisses laptop wtf*
I am seated in my cousin sister's (who is currently in Dubai) room now, and it's kind of weird... Because this is where I am going to stay in starting from next week. Until I find a place of myself, of course. But still... It feels weird.
Aaaaah, thank you everyone for all the hair suggestions! There were some great ideas! :) Though everyone had different suggestions, haha. Nevertheless, my hair is doneeee! Yes, the fate is sealed.
Anyway, outfits outfits!
Jing's inspiration for the day is Taiwanese head. -_-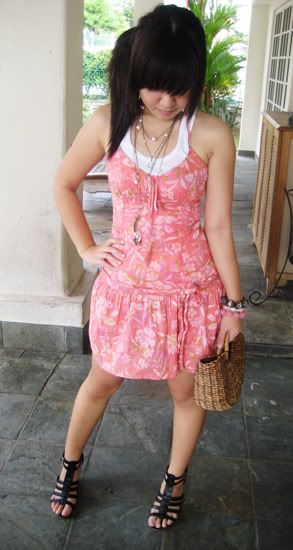 The reason why I needed a hair sprucing-up desperately before I leave for S'pore-- my bangs resemble a shaggy mutt. -_-
And the skirt of my dress is actually shorter than what is depicted in the picture k. T_T Stupid sister la, a good whole 5 inches taller than me, so she take pictures of me ala bird's eye view wtf.
Wheee, look at my rattan bag! My sisters got it for me from Bangkok about 2,3 years back (a trip I missed because I was interning T_T), and I found it in my frantic room-tidying! :D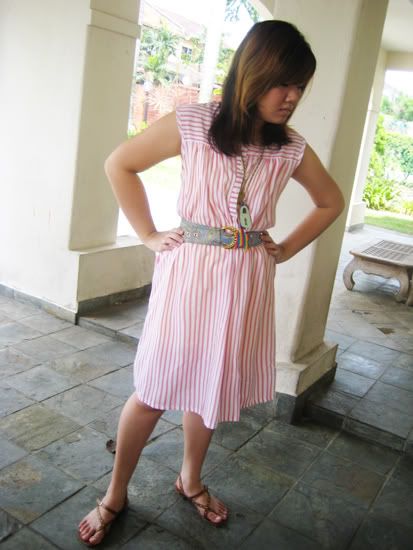 Teeny in her PJs, lalala. :P
Freaking sohai picture.
And that ends the documentation of my old hair wtf. No pictures of my new hair-- though, I did nothing drastic! But, below are 2 examples of the reactions I got:
#1
Me: Ohhh, my hair is not light enough!
Yen the Hairstylist: Aiyo, everytime you come here, you say the hair color is not light enough, if this goes on, you are going to be a
gam-mo
(gold-haired creature, haha) soon!!!
#2
Boyfriend: Omg, you look like a
lala
.
Such opposing views! -_- But nevertheless,no pictures for the meantime, 'cause my hair is still going through the slightly awkward stage of a new hairstyle.
And some amusing quotes of the day:
#1
Jing: My bf said that my hair is growing so slowly!
Yen the Hairstylist: Of course la! He thinks you are a TREE ar!
HAHAHAHAHA.
#2
While cutting my hair...
Yen: Omg, how can anyone have this much hair!
Yen: I have only not seen you for less than 3 months, where did all this hair come from!!
Yen: How can hair grow till
this much
!!!
T_____________T
The whole day she made me feel like the hairy Oompa Loompa from Willy Wonka and the Chocolate Factory ok wtf.
Anyway, enough about my hair. I am going to post up some pictures of a recent girls' night out! :) Haven't had one of those in quite some time. *big shiny eyes* I am going to S'pore tomorrow, and will only be back on Thursday! But thank god I have internet connection at my aunt's place. T__T Anyhow, I have arranged for a scheduled post for one of these days-- did you know that Blogger could post up scheduled entries!!! You just need to pop in the date that you want your entry to be published (in 2020 also can wtf)!! Damn
canggih
right!!! So that's what I am going to do, am very curious to see whether it works! *fingers crossed*
People, I introduce you to the tightest corset in the whole wide world. T___T
I literally felt like those women from the older eras in Victoria dresses and restrictive corsets-- I could barely breath! T__T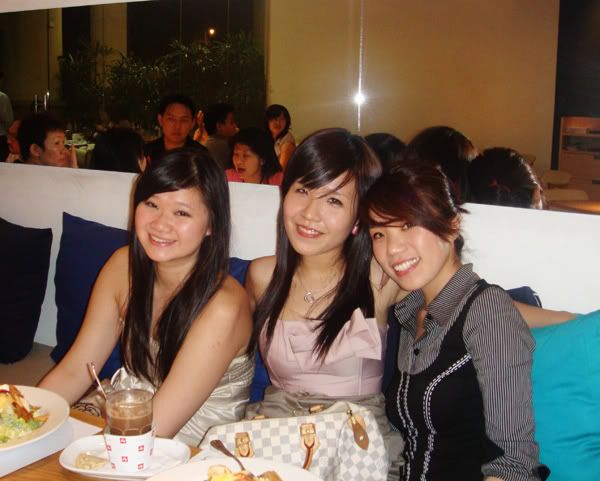 With Julie and Joelyn, at Ms. Read. :)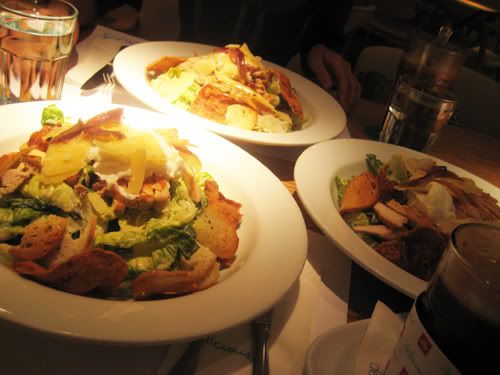 All. Of. Us. Ordered. Salads. -_-
I was so disgusted with myself ok! 'Cause I always look pointedly at those tables with all the girls seated around it forking salad greens into their mouths. And now I am one of them! -_-
Women should eat real food k. :P
Don't ask me why I was covering my boobs. -_-
And look at me! I am ASHAMED. I couldn't even finish my salad! T_T
But then again, I ate with the boyfriend at a Japanese restaurant right before Ms. Read la. :P Sigh, this shall be my downfall, what with the decreasing metabolism and everything wtf.
HAHAHAHA Joelyn looked damn gangster here!
Or either that, it's how I imagine a char kuey teow seller would eat, HAHHAHAH.
Me trying to breath in my corset. T___T
Could you tell that we took like 5 trips on the escalator just to capture a satisfactory picture!
How I miss time with camwhoring partners who would go to
any
lengths. :)) I better stop gushing before my sisters get jealous and bitter wtf.
After that we adjourn to Joelyn's house for some alco time. :P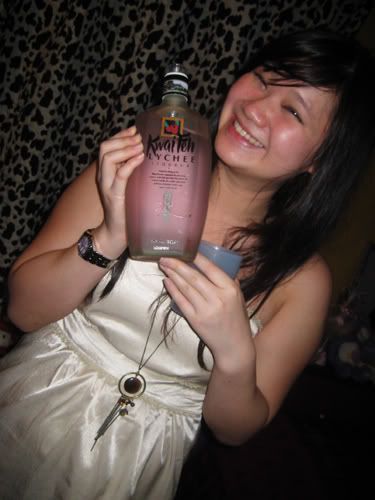 Julie the alcoholic in denial.
Julie on the phone.
Friend: Where are you now?
Julie: I am with my friends!
Friend: Does your friend's name start with Jack and ends with Daniel?
HAHAHAHAHAHHA.
The Kwai Feh liquor that Julie supplied. :)))
Lychee-flavored! Need I say more. :)))
And remember the world's tightest corset!
I took it off in Joelyn's place...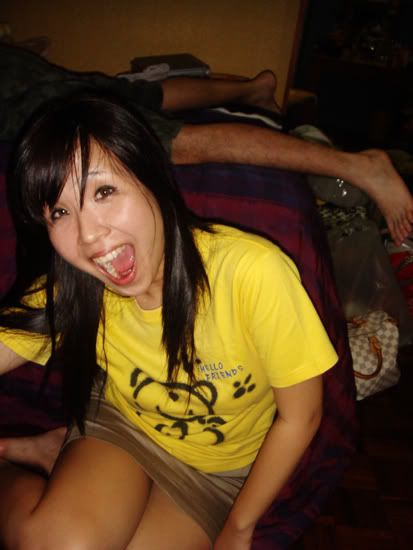 ... in return I got this shirt from Joe!
HAHAHHA it says HELLO FRIENDS on it with a very jolly-looking teddy bear wtf. Which is why I was waving in the pictures ala HELLO FRIENDS. Haha!
And that's Jin's (Joe's bf) very hairy legs in the background. -_-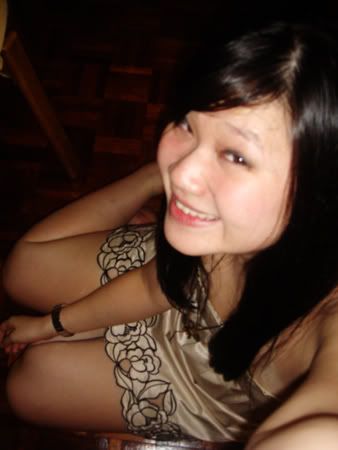 Julie's dress with the very pretty hem! :)
Interestingly enough, Jing almost bought the same dress in navy!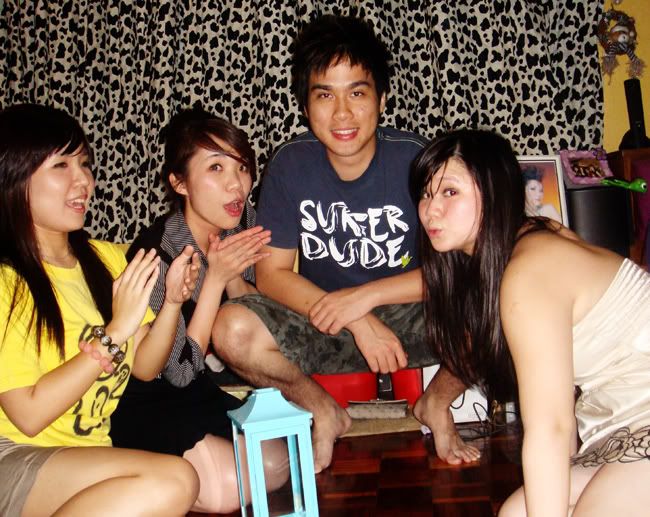 Joe has a lantern in her room-- which swiftly became a prop for our pictures. I suggested that we take a campfire picture, hahahah why am I like this.
Somemore look at the picture! Joe and I damn gung-ho in clapping and singing along to err, campfire tunes! HAHA.
And I was this close to photoshopping a piece of shit under Jin's squat WTF. What kind of pose is that you tell me! -_- And you might recognise Jin from Hitz.fm!!! He is deejay-ing there now, omg I know someone famous. :P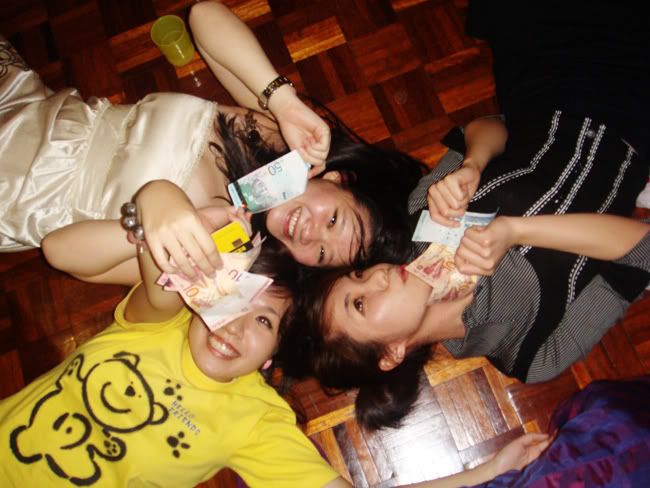 Money money money, must be funny, in the rich man's world.
HAHAHAH I was holding up RM10 notes, so when I saw that Julie and Joe took out RM50 notes, I took out my Maybank ATM card! HAHHAH. I am quite cute when I am slightly tipsy. :P
Look at the manic glint in my eye while looking at the money! Haih.
Jin trying to throw Joelyn off the staircase. -__-
Sorry k, most couples who have dated too long tend to become a little strange, haha. For example, I like to bite the boyfriend's cheek. :P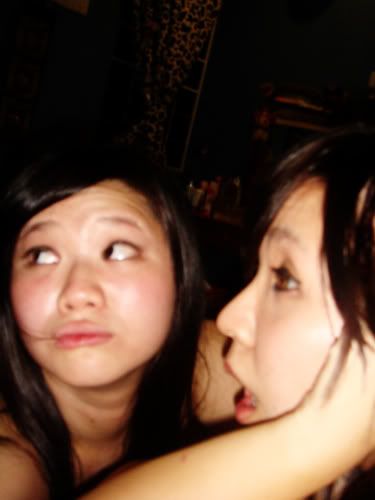 Drunken gazes. :D
Ilmu itu pelita hidup wtf.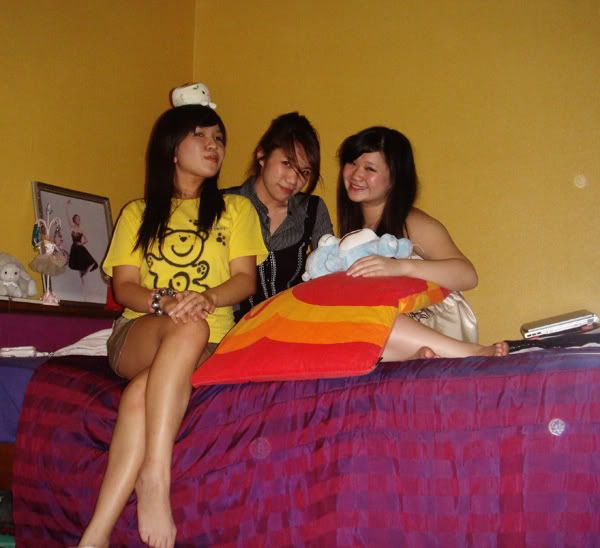 Me not being able to take a decent picture at all-- I insisted on crowning myself. -_-
Btw, this is what I put on my head...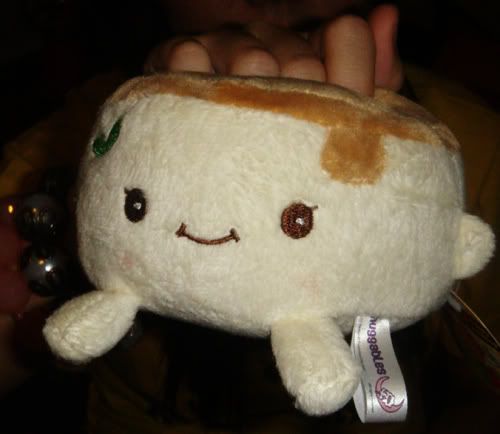 Joelyn told me it's a PUDDING!! How can this be a pudding!!! It doesn't even remotely look like one ok!!! You all be the judge. *defiant*
Am only putting this picture here 'cause Joelyn looked so pretty here. :)))
Like in an insurance ad or something-- gazing into a better future wtf.
Sigh, am going to S'pore 'cause there is a compulsory medical check-up before I start work. Urine test and all those thingamajig again. I hope there are no psychiatrist's tests (for mental health wtf) though!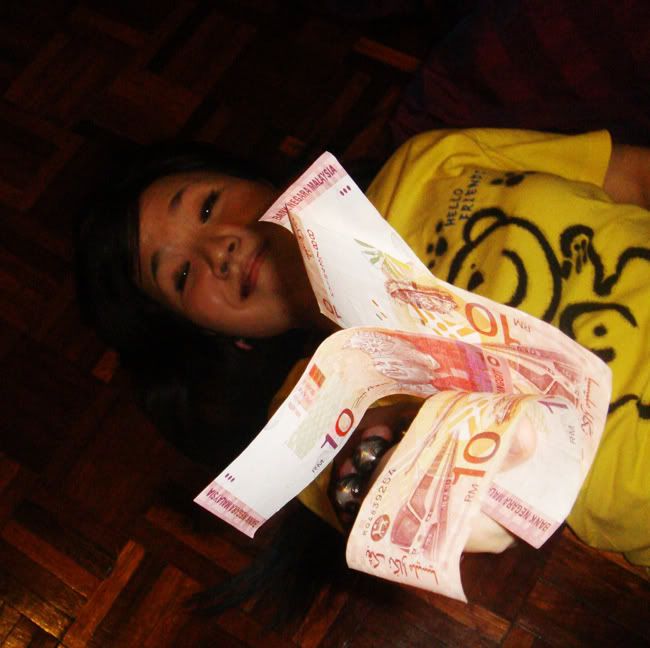 'Cause I will surely fail it.