*update*

OMG OMG OMG I have heard the BESTEST BESTEST news I have heard in quite some time. JACLYN AND SMALLS ARE COMING TO SINGAPORE IN 2 WEEKS' TIME!!! Can I hear a

Whoop Whoop Whoop

! :P Think teatimes, lunch binges, slutty clubbing, dawn suppers, slumber girlie time.
Flat hair flat reunited, that's how it should be! :D
It's confirmed already!
I cannot be left alone in a foreign country, a brand new place. :(
Because I cannot stop myself from shopping. T__T
Today's the first weekend that I am here alone, and after sleeping in till 3pm (WORKING IS DAMN TIRING OK), I decided to go shopping by myself.
I came home with:
- 10 tops
- a skirt
- 2 head bands
- 3 belts
- 3 pairs of shoes
- a bag (a work bag! 'Cause I have decided that for the meantimeI don't want to use a designer bag for work. [I have been using my Gucci tote for the past week, because it's just the right size and shape!])
- reserved 3 cardigans (omg, they are the cutest things ever!)-- I ran out of cash, hahaha
- a bag of Famous Amos cookies
- a piece of kaya cake
- a fast food meal wtf why do I eat so much junk
T_______________________________T
This is just like how I was in Melbourne! Back then, buying 20-over items a day was a norm. I don't want to go there again!
The irony of all of this is that just yesterday while talking to the boyfriend about trips, I told him: "Do you think X amount of money is easy to earn!", and then he asked me whether I am frugal 'cause I have started working. I then told him primly that yes, now that I am earning my own money, I will be very careful with my spending. T_T
And just last week I was telling my sisters that I don't plan to shop much in S'pore, because I really want to save my money. And to anyone who told me to go shopping in S'pore, I replied them the same way too.
Look at where I am now. T_________T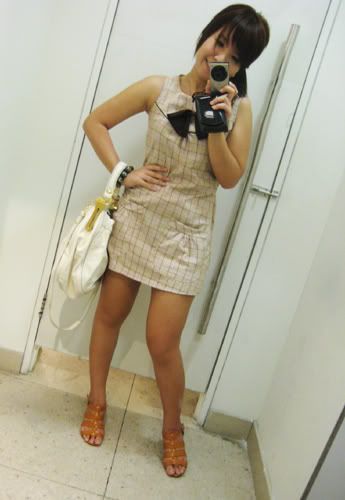 And just in case you're wondering how work is treating me-- this is how I look like now! :P
Me in my faux schoolgirl plaid dress and my extremely uncomfortable new tan sandals.
Speaking of which, I think I have to give up high heels. T___T
'Cause from Monday to Friday I am in very uncomfortable heeled shoes, so when I am not in work clothes all I want to do is ..err be like monks and tie rafia strings around my feet or something. But certain outfits just look better with heels, HOW LAAAA.
Btw, this explains the 3 pairs of shoes I bought today.
*shifty eyes*
More pictures of Jing and Teeny in S'pore! :)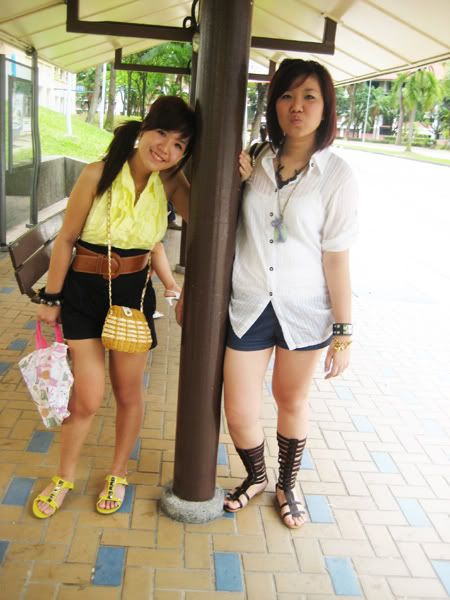 FLATSSSS. It's just insane to wear heels here, we do so much walking! =/
And that's Teeny's crazy-ass gladiator sandals! She got it one size smaller than her feet size ('cause they don't cater to larger feet), so when we were there, every night after she bathed, she would put on the shoes; sit on the floor, chat with us and go on with her nightly activities. She did so to 'expand her shoes' according to her. -__- Do you know how scary it is just trip over someone sitting on the floor wearing long warrior-like sandals! T_T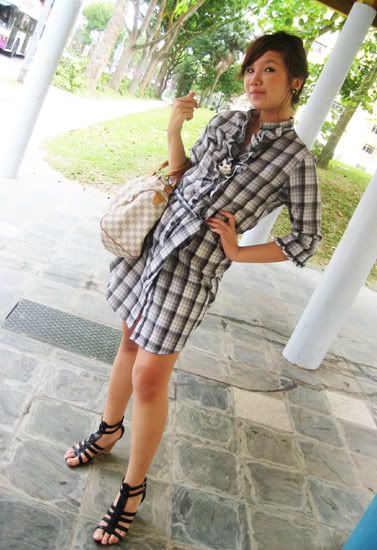 Jing!
Eh I just realized both of them were wearing gladiator sandals that day. -____-
We went to one of my favorite eating places in Singapore. :)))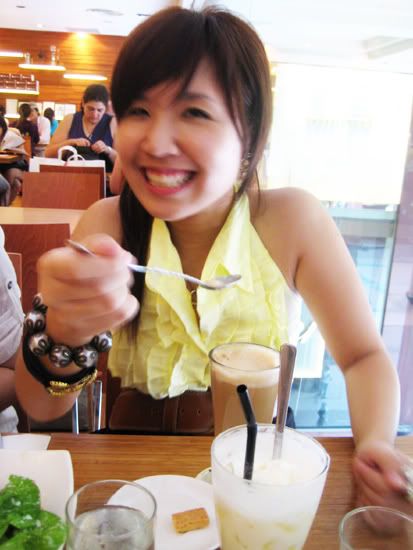 Coffee Club!
Since we have discovered the place a few years ago, we would always stop by whenever we are in S'pore. :)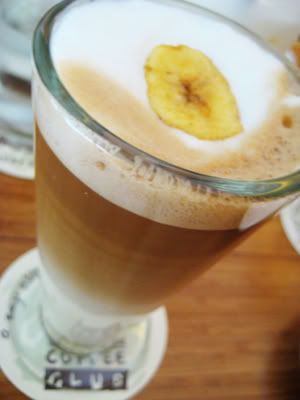 My butterscotch and banana latte.
I don't like bananas, I have no idea why I ordered this! I think I was feeling adventurous. -_- At first, there really wasn't any banana taste in the coffee, so I decided to let the banana slice (floating on top of the drink in the picture!) to just remain submersed in the coffee.
But after awhile, I felt like I was drinking banana juice. T____T I think the banana slice is not really the fruit, but more like a sponge with banana essence in it, and it unleashed its banana flavoring. T_____T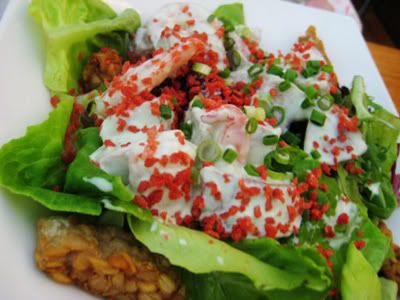 One of my favorite dishes here: Wasabi prawn salad!
Teeny's dory fillets with crumbs. :)
She is
still
on her protein diet. o_O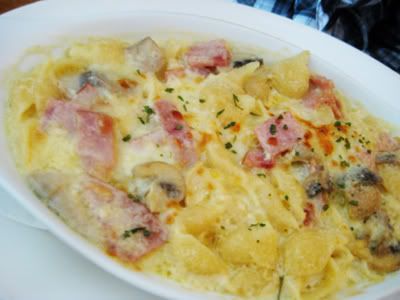 Jing's pasta, Al fredo!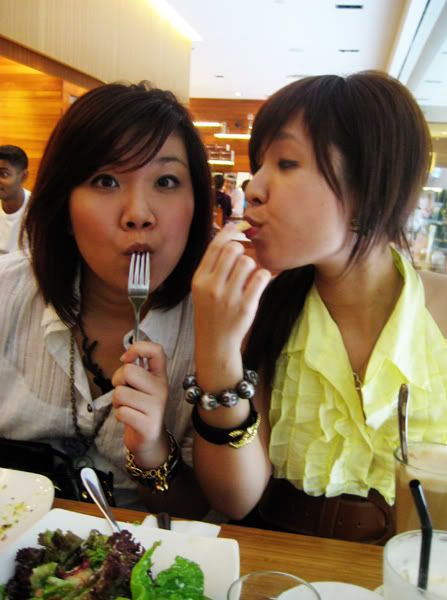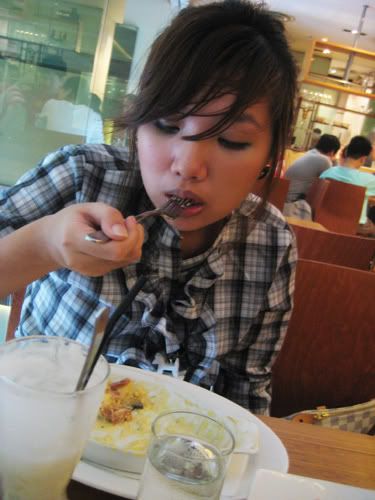 They were ALL GOOOD. ;)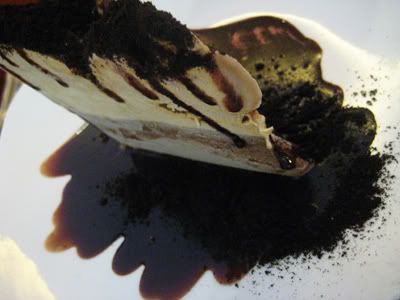 And my absolute favorite-- the mud pie!
Coffee and chocolate ice cream and and oreo cookie base and chocolate sauce and butterscotch sauce, oh my god, this is as near to heaven as we can get to. :P
It was truly a fantastic evening, gorging on all these delicious foods, gossiping and laughing, and eying all the bags around us (we saw Birkins and Kellys, OMG), and we sat right next to the glass windows, getting a full view of Orchard Road. :) Unfortunately, I don't think I will be making a trip back there anytime soon. Have you ever experienced this before? After you have been to a certain place with someone, the sentiments attached to that place would change forever for you.
In Melbourne, I walk past the same shops, the same buildings, the same Yarra river, for all the time that I was there. But when the boyfriend came down to Melbourne to visit me last year, suddenly these places aren't what they were to me anymore. After he left Melbourne, everytime I passed by a certain street, a certain spot on the grassy hilltop, I thought of him, I thought of the time when we were there.
Aaah, but maybe it's just me. :)
One more last random picture: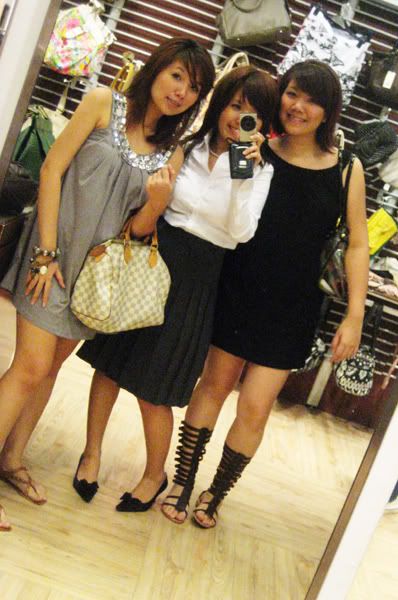 After my first day of work!
Dressed extremely conservatively, because I wanted to be safe; it
was
my first day after all! ;)
But I was damn emo, 'cause when I met up with my mom and sisters at Orchard, they were all dressed in great outfits, whereas I was in some starchy uniform wtf.
And oh ya, for all of you have complimented us on our dressing sense, and asking us where do we get our clothes from, check out Jing's new baby:
Velvet Ribbon
! I am her unofficial consultant for this project of hers, and her (our) main principle is that she only sells things that we ourselves would actually wear! :P So gooooo, buy buy buy! And then maybe she will start remunerating me with some consultation and advertising fees. :P