Sisters: "Whatever happened to saving?"
T________________T
Sometimes I really hate myself.
I think it was the delicious "Thank god it's Friday" mood that I was in yesterday, so I decided to go off for a little shopping after work, lugging my laptop bag which is as heavy as a baby whale. The main agenda was for me to get a moisturizer, since I have ran out of it.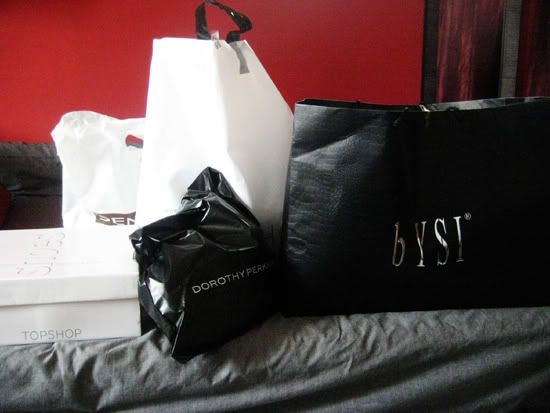 But I got a little carried away. T__T
They don't look like a lot right! But the Topshop bag carrier bag behind is as big as my pillow. T_T And the Bysi paperbag you see at the front is the size of 1 and 1/2 pillows wtf. Trust me, it was HELL trudging along carrying all these shopping bags along with my work bag and my laptop bag! T____T
It's just that I got a little too excited, 'cause do you know Topshop here have sales up to 60%!! In M'sia, 70% sales only come on during the last stretch of the sales period, i.e. final clearance period; else usually 50% is the cap. And just to let you gauge how crazily I spent yesterday, I have officially became a Fashion Fast Forward (i.e. Topshop/Selfridge/Dorothy Perkins) member (Singapore) AND I have also scored my first voucher (given when you spend over 250 bucks). I have a FFF card back in KL, but unfortunately, it cannot be used in S'pore! So I am pretty happy that the S'pore membership card is safely in my wallet now. :P And that I am also on my way to collecting my next voucher. -_-
BUTTT I am quite emo now! 'Cause I just found out that Topshop back in KL have started their mega sales too! T___T And it appears that for the things I have bought in S'pore, I have paid more for them as compared to if I have bought them in KL. T___T FUCK THIS SHIT WEI. Damn sad now, I was gloating 'cause I thought I got good bargains, and now my sister told me that KL is cheaper!!! I am only trying to console myself that even though it's cheaper in KL, it's not like I can go back to get them now. And by the time I go back next round, sizes would have run out anyway.
*reassures own bitter self*
But anyhow, I am really really really pleased with purchases yesterday, 'cause I actually stocked up on a lot of, err, long-term wants of mine! Things like, 50's full swing skirts (two), a cute swing bolero jacket, cigarette plaid pants, tutu skirts (two), wide legged pants, 2 pairs of Topshop shoes. These are things that I have been wanting for sometime, just that I had trouble finding nice ones! And they are also things that I could rewear, so I reckon they are justified buys. :P Also got a couple of dresses and tops... I did momentarily toyed with the idea of posting up my buys, that's how much I love the items I got last night, but they are really too many of them! And anyway, don't you think it's more fun to seem them on me when I actually wear them. :P
Btw, I have actually coveted one of the Topshop shoes that I bought last night for a long time! So much so that I almost bought it during my company's private sales (20% off). And now it's 50% off! Thank god I didn't get it then, if not I will really be sobbing my brains out. Thank god for near-misses sometimes. :P
***************************************

Work outfits! I find that documenting my work-wear helps me be more.. mindful of what I wear-- I try harder to not to be boring. :P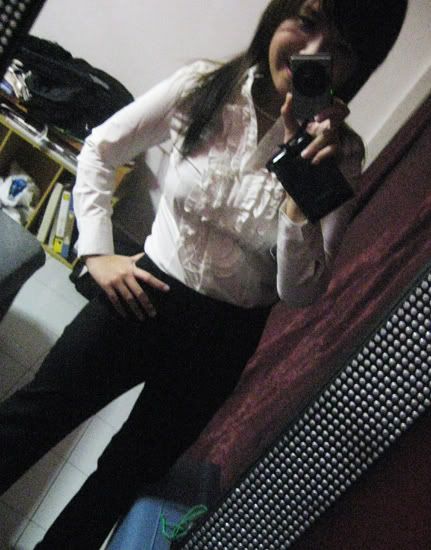 First day of working with the client-- decided to play it safe and professional, hence the white and black ensemble.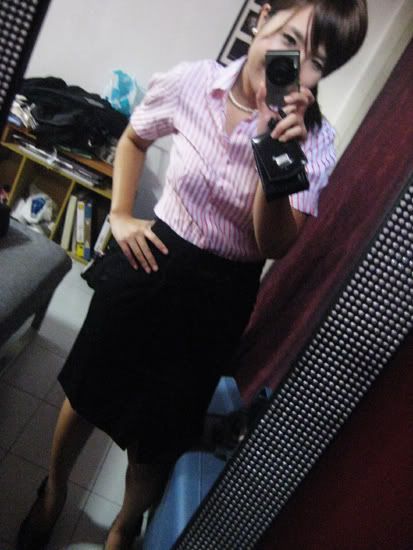 Never would I have anticipated the day that I wear pearl earrings AND necklace! Seems so.. adult. =/
There is a bow on my black skirt, can you see it!
I try to get more interesting items for work. T_T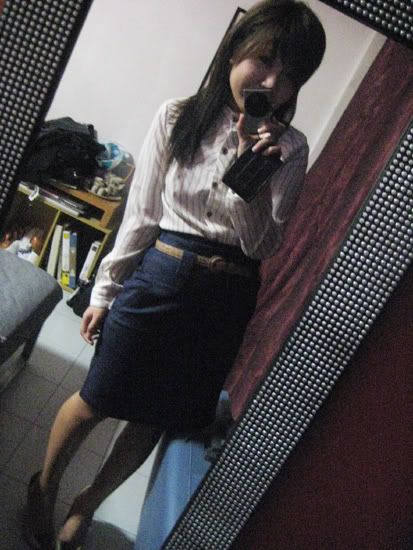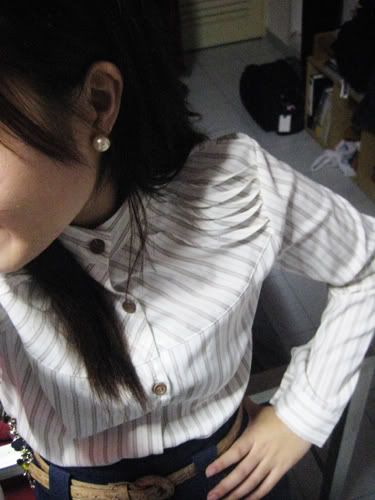 Mandarin collared shirt, with pretty pleating. :)))
Hmm, you know what, considering how much I wear pearl earrings, I really should consider investing in
Mikimoto
. *HINT HINT TO THE BOYFRIEND*
My manly outfit-- vest and slacks! Coupled with my new pearl cuff. :)))
Casual Friday!
Oooh, I was wearing matching pink button earrings, and halfway furiously typing away on my laptop, my colleague asked me, "Eh! Your earrings look like Mentos!". So I retorted, "Are you trying to tell me I look delicious!", and then he said, "Ok ok let's get back to work".
Boohoohoo. T___T
*************************************************

And I am adhering to my
promise
. :)))))
May I present to you, the most delicious, yummy, scrumptious, mouthwatering siew yuk there ever ever is!! :))))
I can't remember the English name of the shop, but I think it's Wong Kee or something like that.
It starts its business at 12.30, and during lunchtime, the queue is might long! You'll have to be quick too, 'cause the siew yuk gets sold off real fast. The coffee shop only has this ONE stall, so you can imagine how booming the business is! :)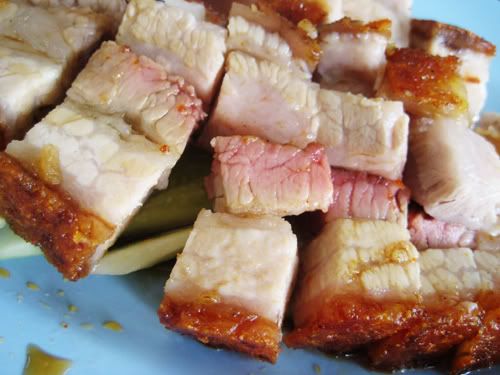 MMMM. Crispy skin, with even layers of fat and meat... The meat literally melts in your mouth, and the skin crunches and pops... I can honestly sweat to god that I have never tasted such good roasted pork in my life!
It's so good that I go to the shop 3 times a week; and when I went back to KL last weekend, it was the first meal that I demanded for! :P The shop is near Times Square-- err, I suck at directions, so please go to
here
for a true and fair review + directions to the place k! :)
And I found this batch of pictures along with the siew yuk pictures, so I am posting them up too. :P
All rosy and satisfied after my roasted pork feast. :)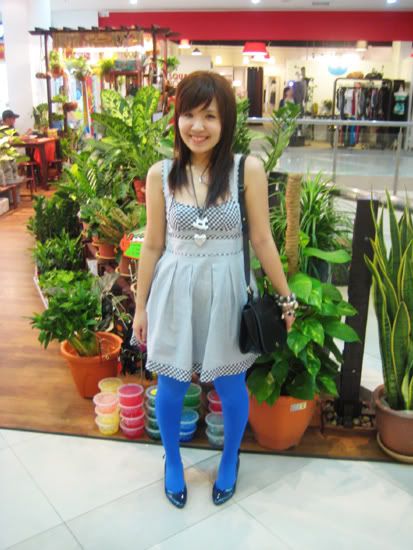 Outfit! I was going for a child-like, doll-ish effect, hence the playful stockings and the rocking horse necklace. :P
And yessss, I wore this to have siew yuk at a coffee shop! I did get a lot of glances/stares, but boo, I am used to it!
*brave face*
We went to Desserts' Bar Hartamas Shopping Center! :)
And I look so boobsy here.
*shy*
Desserts' Bar
! :)
And if it's not obvious enough, YES, it's desserts desserts desserts all the way here! Healthy desserts though, very fruity ones.
My drink: ice blended mango and strawberries.
EH why my mango slices looked so furry here!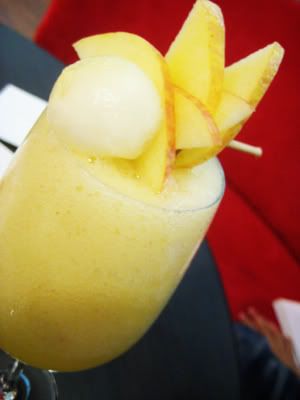 The boyfriend's blended apple and melon.
Normal people sip on their drinks, with no accidents or mishaps.
... As for me, I didn't even realized that one of my mango slices have fell out. T__T
But never mind, don't my eyes look so big here! Like Alien Workshop wtf.
Vanilla panna cotta with fresh raspberries and strawberries and a dash of honey. I thought this was quite awesome!
And I had fun pushing the plate back and forth to see how the jelly would jiggle, hahaha.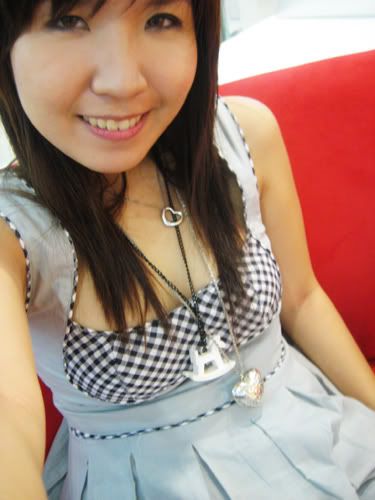 I think I look like a schoolgirl in this dress! Should I keep it for role-playing WTF.
I actually bought it for winter in Melbourne, but I never did get to wearing it. :(
You know how you can leave imprints on certain fabrics by lightly scratching it or making strokes on it?
And heehee, this is what we play with (the couch) while waiting for our desserts to arrive! :P
***************************************

While out doing groceries just now, I saw a girl on the escalator wearing a fur-trimmed sleeveless parka. Which leads to a question that I have always been meaning to ask you all-- what exactly is the limit when following trends? M'sia (and S'pore wtf) are tropical countries, so no matter how badly we want to, there are some (winter) trends that might not be too suitable for our climate.
This question first popped into my head when I saw this Topshop stylist (you know right, that there are fashion stylists in certain Topshop stores, they will help style you up! Based on a fee of course) wearing a knit beanie, black tights, and a knitted scarf. Stylish, yes, very much so. But whilst the outfit is a YES during autumn/winter; under our weather conditions, it just looked a little.. weird. So the debacle is, what is yay and what is nay in KL(or S'pore/other tropical countries)?
- wearing knee length boots
- knitted beanies/scarves
- leather jackets
- trench coats
- PARKAS-- with fur somemore wtf
- And any other thing you can think of! Suggestions! :P
Personally, I can accept jackets (trench or leather), provided they are not too warm. If they look too thick/warm, you might look foolish. I won't be wearing any knee-length boots in non-winter countries! But ship me to a cold country, and I will be happily pulling them on. :P Aaah, I miss the days of boots and trenches. T_T Scarves are ok, provided they are lightweight-- a thick knitted scarf will look silly! I am undecided on beanies though, I saw a girl in f21 once wearing a beanie with a tank and a denim mini, the look didn't really go. Though I admit, too many a times I am tempted to throwing on my beanie, 'cause they are so cute and just waiting to be worn! :D
What other yay or nay fashion items can you think of! And what do you think? :P