For the first time, I fully appreciate the meaning of this phrase. T__T
On Sunday night while being on the phone with the boyfriend, I was kicking a racket on my bed (and getting tangling in my blanket in the midst of it wtf), crying to the heavens for taking away my weekend. T__T
But at least today I finished at 4pm!
*big shiny eyes*
I can't remember the last time I took the bus/train in broad daylight. T__T
And I am going home this Friday!!! I am SO SO SO SO SO happy and excited, my panties are in a bunch wtf. What should I dooo!!! Spending time with the boyfriend is a must, I haven't seen him in 3 weeks! And ahem, Bijou Bazaar on Sunday.
*throws boyfriend to a side HAHA*
And the food! Omg, I feel like I haven't had decent food in so long. The Singaporeans are pretty proud of their food, but hello, there is NOTHING compared to Malaysia the food haven ok! Do you know that I don't dare to order dry noodles here??? Because instead of tossing it with black sauce, they laden it with ketchup and chili sauce. -__________- And bak kut teh! Apparently bak kut teh here is not black in color. HOW CANNNNN!
And something very exciting is going to happen this weekend! Tell you all after it materializes. :P
Pictures!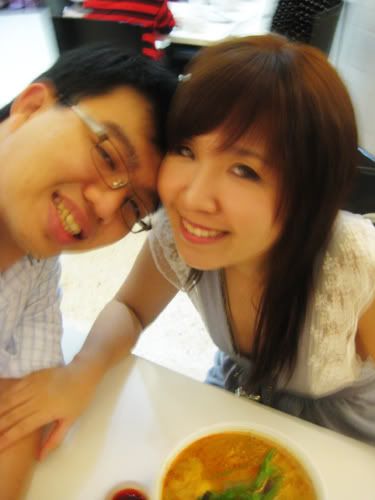 With the boyfriend in Oriental Cravings in OU. They have one of the best claypot lo shee fun here! Even better than Murni's, in my opinion. Of course, you are paying double the amount though. =/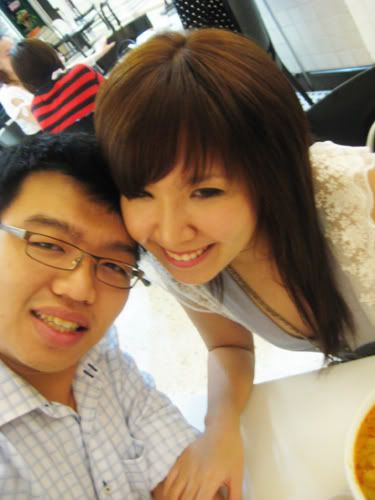 HAHAHAHA I am posting this picture 'cause for some reason I was looking away-- but don't you think that makes this picture look like a wedding picture!!!!
Like gazing far away to our bright and happy future WTF.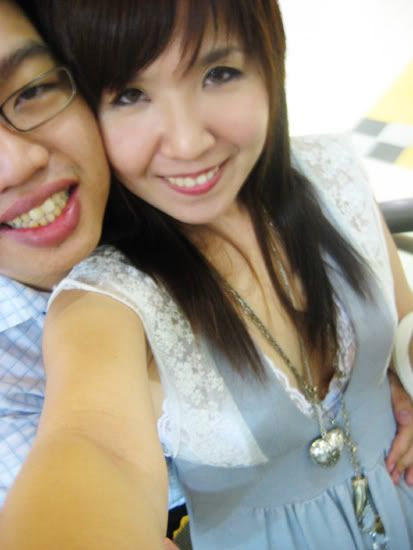 Me and my rabbit teeth. T___T
I really need to be more disciplined and wear my retainers often!
Outfit for the day. Was going for the demure/girlie look, did it work! :P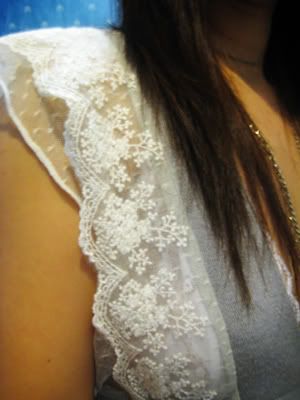 My favorite part of the dress: The to-die-for pretty cream layered lace sleeves! :)))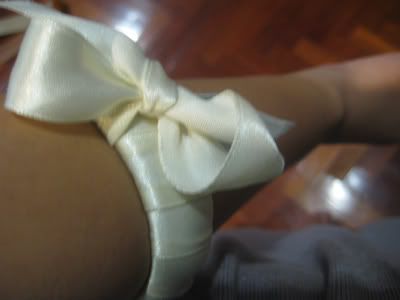 The cream satin bow cuff that I wore.
I have been feeling rather healthy lately! (Although I have been steadfastly having fast food as dinner =/) 'cause I have been having fruit juices everyday! Normally, I am more of a coffee/tea person, but it's really easy to get cheap fresh fruit juices at MRT stations (1-2 SGD)! I have been taking dragonfruit juice for 2 days already!!! And my bowels have improved greatly, haha-- flatter tummy, hurray!

***************************************

Since I have more time today (4pm finished work! Wheeee!) and the boyfriend has dumped me for deep slumber (he called me just now after accidentally falling asleep, and in a blurry thick tone: "Bee, I dreamt I was acting in a children's cartoon" -__________________-), here are some random pictures from Melbourne! Heh, can you tell that I am quite gung-ho today.
These pictures are from December last year, when Shannon and Jon came down from Perth. Wow, it has been more than 6 months!!! Can you tell the difference between the then-me and the now-me. :D
Being chummy with Michelle at Smythe Street! Or is it Bridge Road. One of the tram stops
la
wtf.
Hahaha, can you see my water bottle peeking out of my bag!
Seriously, I am the most unglam person in the world. T_T I carry a water bottle everywhere I go! I can't help it if I need to be dehydrated. T___T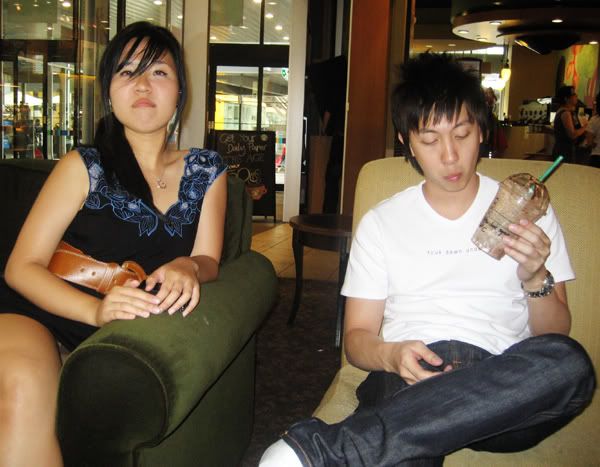 In Starbucks. And excuse the greasy bangs-- I think my side bangs now suit me so much more. =/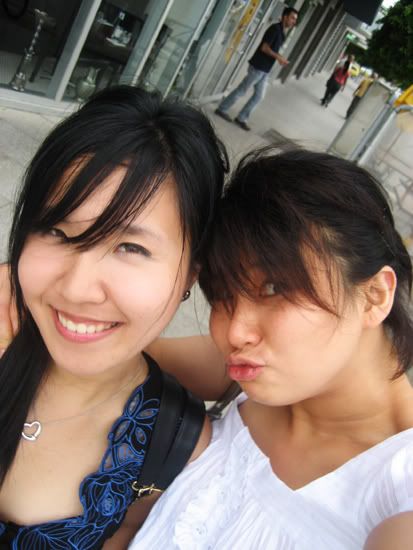 Haihhhh look at how round my face used to be!! T_T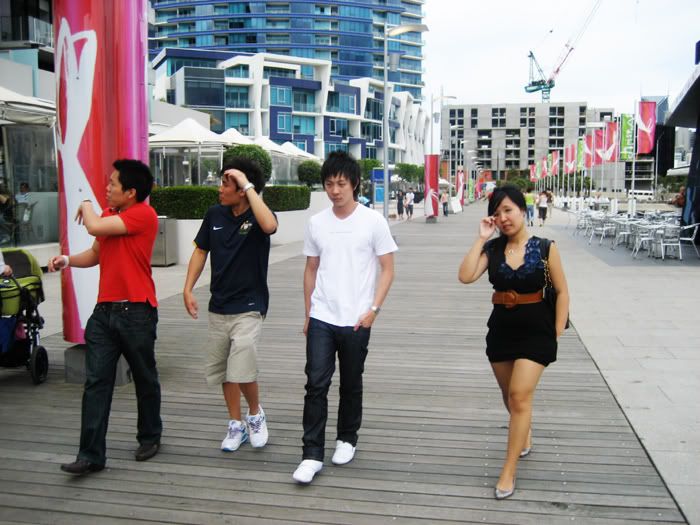 Shaun, Shannon, Jon, Me-- at Docklands.
LOOK AT MY ARM-- it looks amputated, so scary! =/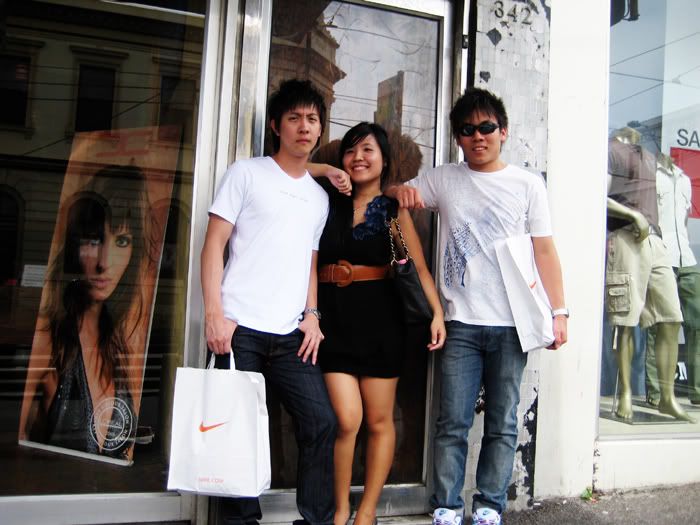 Being cool on Smythe Street.
And meet J.Lo!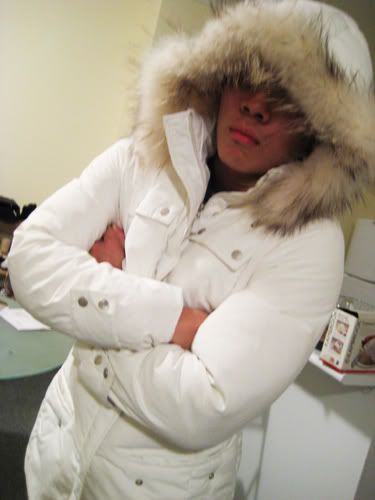 HAHAHHAHAHHA Shannon in my winter jacket HAHAHHAHA!
And ohhhh, my mom got this winter jacket for me right before I left for Melbourne-- she thought winter in Melbourne is like -0 Celcius. When I went there, everyone was in trench coats and pretty jackets! -________- I felt like the most unfashionable person alive then. T____T