Someone commented once that she likes reading my entries with Flat Hair Flat in it, simply 'cause the entries are always so happy.
Well, this is for you people who think that way. :P
The small one, who came down to Singapore! For too short a weekend, I might add. :(((
She saw my dress, and the first thing she could say was :"SALMON!"
No love man our friendship. -_-
And Flat Hair Flat reunited. T_____T
Mey just came back from Melbourne after visiting her boyfriend, so you could say that the timing of everything was perfect. :)))
And fuck, I was looking like shit in almost every picture 'cause I went straight from work! My make-up was all melted off during the day, my hair was stringy, BOOO.
With Abby here!
We went to Oosh in Dempsey for dinner and drinks, and they straightaway led us to the back al fresco part of the restaurant (bypassing the main entrance)! T_T I think it was 'cause of the racket we were creating before they brought us into the restaurant (camwhoring and such
*shifty eyes*
). And although it was pretty obvious that there were still seats indoors, they insisted that we had to sit outside. ARE WE THAT NOISY wtf. Thank god it was really really dark outdoors, the only light being emitted from the solitary candle on the tables-- so we asked for extra FOUR candles and candlelight holders, one for the each of us wtf, HAHAHA. The waiter finally got overwhelmed, and ushered us into the restaurant. :P
Smalls' mains. -___________________-
Where got people eat ONE sausage for a main meal wan! -____-
But quite cute hor, the display of the palette resembles a smiley face wtf.
I had pork ribs. T__T
Why am I such a big eater compared to my girlfriends! T_T
I looked a little worse for the wear here, as I was seated at the head the table, and I insisted on shouting and shrieking to be heard wtf-- making me quite exhausted and hoarse by the end of it. :P
Still at Dempsey-- but we adjourned to the drinking area! :)
With Kenny.
Kenny told me I am the loudest girl he knows after Smalls. -_-
Kenny (who has been working in S'pore for sometime already) told me a few months ago that Singapore is too small an island to contain my noise. -_-
Kenny, upon knowing that I scored a job in S'pore, told me that I don't have to inform him of my arrival in S'pore, because he would be able to hear me. -___-
With Erin!
Who loves to splurge on clothes. T_T She thinks 100-over SGD for clothing is cheap, and recommends all these expensive places to me. But I am a cheapo when it comes to shopping, howww. T___T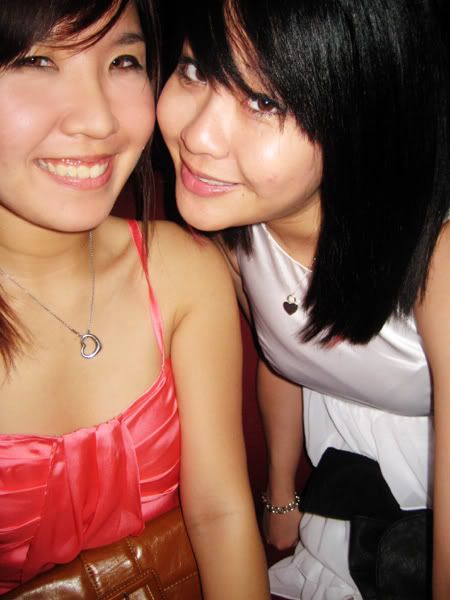 Excuse us, it isn't everyday that best camwhore buddies are reunited. :P
With Jiren, the wonderful host who took us in for the weekend-- our slumber party was held at his place!
And he didn't mind our noise.
*touched*
In fact, after Jac (and us) left, he called me and tell me that his house is so empty without us. T___T
All the girls! Nevermind that there are 1001 pictures of us, and although there are 3 other guys, there are close to zero photos of them.
Girls are so much better to look at, don't you think!! :P
After awhile, we (specifically Mey) started complaining that our poses are too boring. And she accused us of having rusty camwhoring skills! BLASPHEMY!
Which pretty much lead to idiotic pictures. :P
I was emo-ing (internally wtf) for a good part of the night 'cause I packed the wrong pair of shoes to change into after work. I wanted to wear my new Topshop shoes! :(
Glowy picture from Jac's camera. I swear, the woman's camera is magicked!! We all look so shiny and happy and pretty.
*shy
*
1,2,3,4,5.
-_______________-
Tipsy people is like that wan.
And they kept on arranging Smalls and I to be in the middle 'cause we were wearing pink, and everyone else was in black and white. Why are my friends like this. -___-
Sexyback, although the phrase/caption is SO SO cliched and overdone already. But I can't find a better adjective wtf.
And I also wanted to show the gold zipper of the dress I was wearing! I bought the dress 'cause of the zipper, I am weird like that. -_-
Flat hair flat pictures: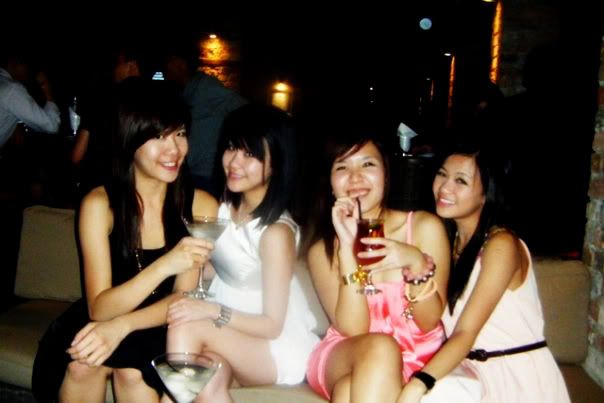 Pictures
failed
by Smalls, because she wanted 'proper' smiley pictures of us. And she scolded me when she saw that I was drinking my Sangri in the picture, hence making the picture 'improper'. -_- Talk about obsessive-compulsive, woman! :P
And speaking of idiotic pictures, everyone, this is High On Grass, the cocktail that Mey and Jac ordered. A concoction of liquor, wheatgrass and honey.
Served with real grass wtf.
As attested by them, haha!
Why are my friends so attractive, HAHAHA.
Btw, our table that night won a Singfest ticket! Check out here for the line-up, omg, we are talking about Alicia Keys, Travis, Panic at the Disco, Pussycat Dolls, Jason Mraz, One Republic, Simple Plan..!!! All in a weekend concert!!! And the tickets cost SGD300 (it might be higher now as it nears the date) for a 2 day pass. -_- I was really eager to go, and am even up for forking out the insane amount of money (considering I haven't received my pay yet), but I couldn't find anyone to go with me! T__T So I booked tickets to go home this weekend. And now we won this ticket. HAIHHHH. T___T
Ok, I am going to end abruptly here. I wanted to post some pictures of us, or rather me attempting to go to the beach on Saturday, but the reason is strictly superficial-- I wore black on Saturday, and I wore black on Sunday, so I want to break the monotony lest I post both batches of pictures in the same entry.
I can be such a bimbo sometimes.
On another semi-superficial note, after only a month of working, my colleagues told me,
"We noticed that you don't repeat your clothes!!!"
And these are
male
colleagues. -_____-