I had ice cream and curry puffs (two) for dinner. =/
I couldn't be bothered to go out for dinner, and anyhow, I didn't fancy the idea of eating alone. And no, I am too tired to cook! Is this the life of all working people ar wtf. T_T
If my mom finds out about my meal, I would get a good nagging.
I really need to start taking better care of myself. :(
Anyway, some pictures from a time where my sisters and mom were still here. :)
This was only Day 2, but we have already waved our white flags-- we had to wear flats thereafter! T___T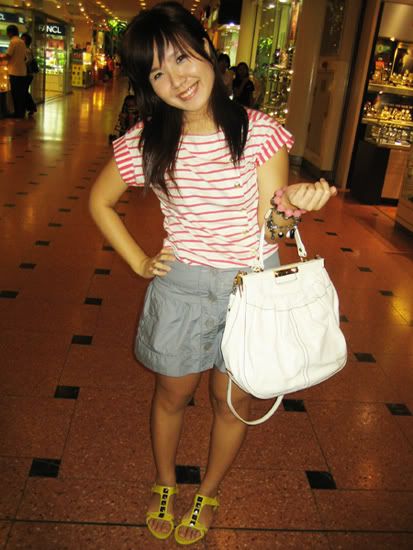 My Miu Miu bag pretty or not! :P
And oh god, my right hand looked so thin and wax-ish! Like a
doll
's! Jing, did you photoshop this picture before passing it to me! -_-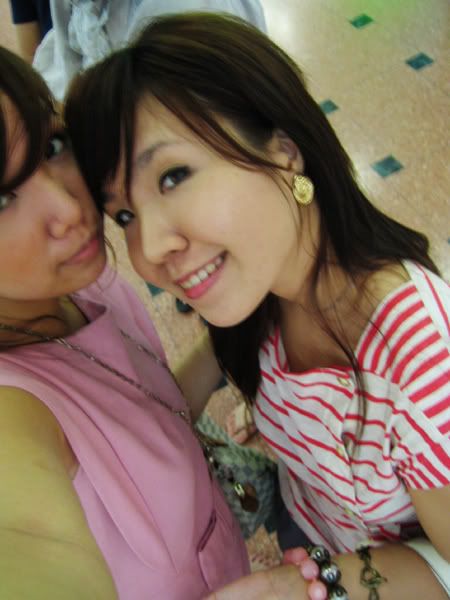 I was wearing this gorgeous pair of vintage earrings-- twisted in a classy rosette-knot, solid gold.
Only problem was, they were clip-ons, and they were very very heavy.
So by the end of the day, when I take off these earrings (they are okay when worn, you don't really feel them), my earlobes were really sore! And then you would find me cursing and grumbling while I rubbed at my ears. Until Teeny told me that there are pulse points in our earlobes that could restrain our appetite and make us lose weight!
Then I quickly clipped the earrings back on wtf.
Speaking of Teeny, you might notice that there were no pictures of her.I think she was PMS-ing, she didn't let us take any pictures of/with her. -_-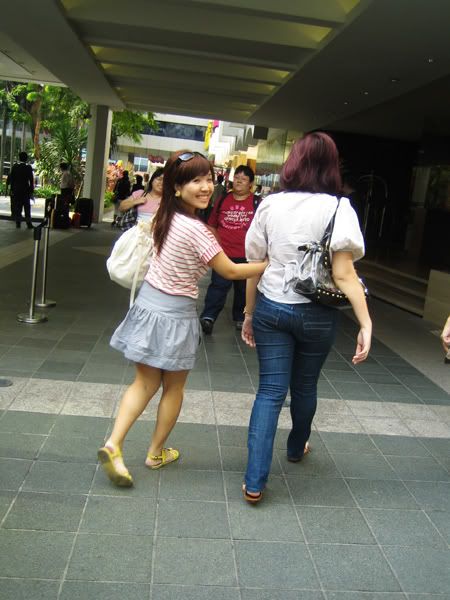 The only way I could capture her on camera. -_-
Somewhere on Orchard-- our second home!
But my second home now is the office wtf. T__T
My colleagues scared me today by telling me that it's a common occurence to work till 5am! T_____T
With my mom and Teeny at dinner. ('Cause my mom asked to take the picture, so Teeny didn't dare to disobey, hahaha)
And yes, my mom is the skinniest woman in the family. T__T Injustice! T_______T
And oh, you might observe the picture above that there were people sitting on the side railings behind us! They were queuing up to get into the restaurant! -_______-
Us queuing, and being super
tulan
about it, hahaha.
Seriously, everywhere you go in S'pore, it's queues and lines!
SEEEE, go Gucci also need to queue! -_________________-



************************************

Anyway, some updates on working life so far:
These 2 weeks would be dedicated to training, kind of like university lectures. Which is basically sitting down and pretending to listen WTF. But I am not complaining, 'cause it's like getting
gaji buta
this month (which loosely translates to receiving salary without doing anything hahaha)! But immediately after training, i.e the following Monday, I would be out on a job. I am in auditing-- being on a job means that you're assigned to audit a client, and it usually means that you would be working at the client's place. This would also mean that I would sort of be thrown into the deep end of the sea when that time comes, 'cause I guess I would be expected to start.. working and knowing things. But I found out that one of the seniors on the same job as me is my university mate! And he's also my boyfriend's friend. Will he go easy on me ar.
*big shiny eyes*
Hmm, what else... Oh ya, on the 2nd day of work, we ended our training early to go for a private sale (for our company employees only) in Topshop, Selfridge, Dorothy Perkins, Warehouse and G20000! And we also have some discounts in these shops for a limited period. But I didn't get anything, 'cause did you know that things (international brands) are more expensive in Singapore! Much more expensive, in fact. So if I am going to get brands that they have back home, I'd rather go back to KL for them.
I also found out that my company has a really big drinking and clubbing culture. :P
And I got wind that my unit makes business trips to China really often!!! I am not sure how I feel about this. =/
What else can I tell you about my experience for these few days... Oh! I know what else I can tell you about work. The company gave us a free shoe-bag and waterbottle on our first day of work, and my mom was very impressed. -_-
Hmm, I think that's about all. For now, all I can say is, Thank God It's Friday! :P