While weighing the weight issue (wtf) with Jaclyn...
Jac telling me that her mom offered her monetary rewards if she loses weight (as if she even needs to! -_-):
hui wen- -I sold my soul for soles says:
WTFF WHY UR MOM SO NICEE
hui wen- -I sold my soul for soles says:
but even if mine gives me money to lose weight
hui wen- -I sold my soul for soles says:
it wont work
hui wen- -I sold my soul for soles says:
i rather eat
hui wen- -I sold my soul for soles says:
and bluff her that i become slimmer alrdy
hui wen- -I sold my soul for soles says:
but actually everyday wear black around her WTF
And when Jac started droning on about how FAT she is (this is the cue for everyone to roll their eyes):
hui wen- -I sold my soul for soles says:
any more skinnier, u will be jac in the box wtf


hui wen- -I sold my soul for soles says:
coz so small can fit in the box wtf
And look what makes the boyfriend tick:
insidious embodiment says:
i am damn impressed
insidious embodiment says:
hehe
insidious embodiment says:
i just installed my fingerprint on my pc
insidious embodiment says:
now i dun have to put any password
insidious embodiment says:
just swipe finger for anything and everything which needs password
insidious embodiment says:
then will use my fingerprint...
insidious embodiment says:
hehe
insidious embodiment says:
can assign diff fingers to diff passwords
insidious embodiment says:
haha
-__________________________-
Lest you all think that I am so lazy to blog that I just post excerpts of my IM conversations, here are pictures from my weekend as I promised! :P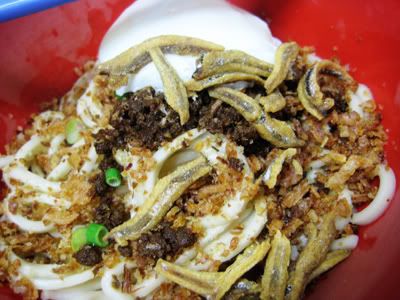 Kin Kin dry spicy Pan Mee! Really famous in KL-- I would give you the address/directions, but I am too lazy to look for it now. Might update the location later if the boyfriend is willing to impart with his mighty navigation knowledge wtf.
The secret to the most exciting Pan Mee! A thrilling ride through and through. 'Cause you have to eat it with their chili, and trust me, they don't get any spicier and
syok
than this! :P
Supper with the sisters. Supper is a very common occurrence in the Hoe household-- we have to meet the 8 meals a day quota WTF.
Simply threw on the first dress that caught my eye in my cupboard. 'Cause it was just a casual outing! And that, is my Charles & Keith sandals which I bought one day because my heels were too painful. T___T Damn expensive (after conversion), heart painnnn. T___T
The many faces of Teeny wtf: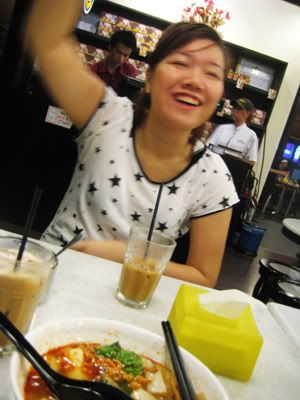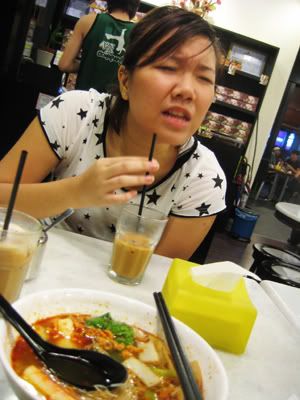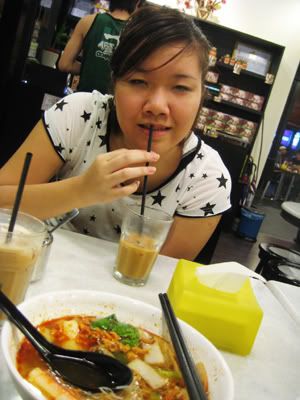 And ooooohhhhh, if you're a fan of milk teas, you really should try the White Milk Tea in Old Town (where we were)! It's damn damn damn good! Once you try it, you can't really go back to normal teh tariks!!!
With Jing.
After snapping this picture, being the obsessive compulsive camwhore I am, I snatched the camera to check the picture (don't bluff! I know all of you all do this too! :P), and exclaimed, "shit, why am I the only one so blur in this picture!!!"
Then Jing replied me: Eh, are you sure you haven't passed away already, and now you are just a ghost ar!
WTFFFF.
And then she is damn bad!!! We were laughing really hard at something, and Jing snorted and spurted out a small crumb of roti bakar, and it landed at the corner of my face!!!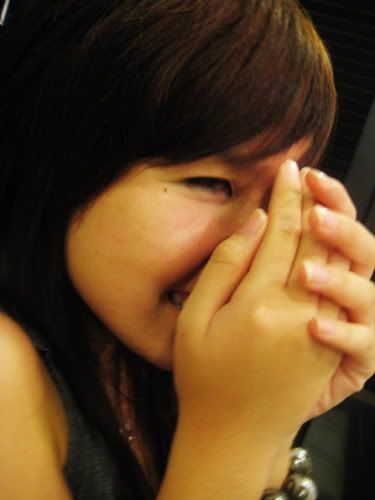 Then she forced me to stay still so that she could take a picture of my "Marilyn Monroe moment". T____T
(Can you see the dot at the corner of my eyes wtf)
Sunday! Errr only pictures of my outfit, 'cause I was sick (runny nose) and had no mood whatsoever, for
anything
. Damn sad right, my last day at home-- considering that I was only home for effectively 1 and 1/2 days, and I was sick and blah! :(
Wore something bright and cheery to lift my mood.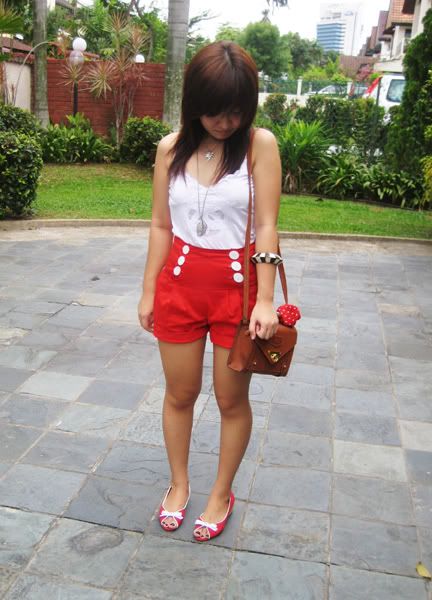 I actually knotted a red polka-dot scarf on my vintage bag, but you can't see it! T_T
It just looks like a huge wad of.. fabric from here. T__T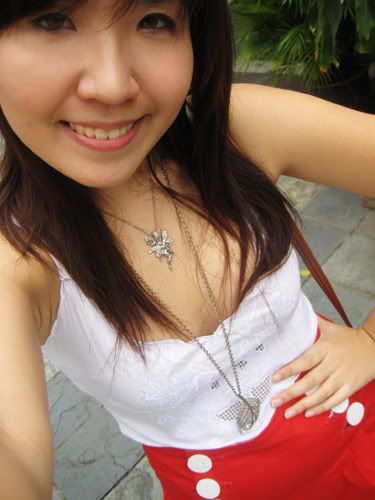 My very narcissistic attempt to show you the details of my top! It's a really pretty top, with embroidery and netting and a cut-out neckline! :)))
Ok, I have one question to ask you all ok! It's purely a hypothetical question (for you lucky non-working people wtf)... But when you start working, the right thing to do is to take portion of your earnings to give to your parents right? What proportion do you think is appropriate?
I plan to give my grandpa and my grandma each a sum of money... Just 'cause they are so cute and worried about me working abroad. And also, I think they really contribute so much to our family. My dad asked for me to give him SGD500 each month!!! 'Cause he thinks that I can't save (HE IS SO WRONG, but I don't dare to show him my bank balance, 'cause what if my parents say, oh you have so much money, we don't need to give you allowance!! *untrusting wtf*), and he insists that he will help me "save" the 500 bucks. -___- 500 is quite a significant chunk from my salary ok! T__T So now I am confused, how much should I give to my parents? Should I even give any? My mom tells me that I don't need to, they have enough of it; but I reckon it's the right and filial thing to do?