HELLOOOOOOOO!
I know I have pretty much disappeared off the face of the planet for the past few days-- I am not only referring to my blog, I have lost contact with my sisters and the boyfriend these few days too wtf. But I have gone to my happy place, y'see! :)
Pictures from the first 2 days... The bulk of pictures would come later for days 3 and 4, when Smalls have arrived, and the Flat Hair Flat was officially united! :D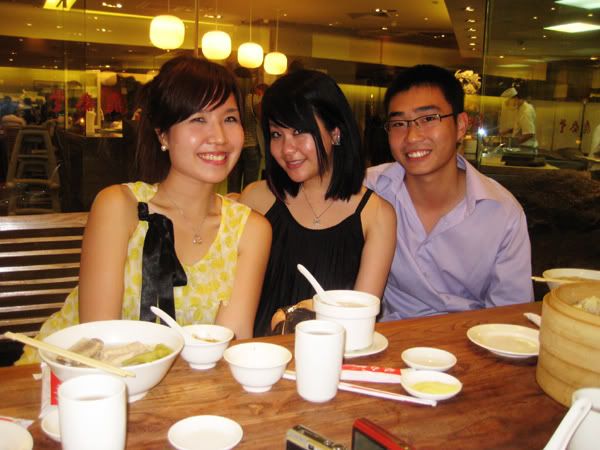 Made dinner plans to see Jac after work. :)))
Jac and Jiren there!
I was so excited to see her! I think it was almost half a year since we saw each other. T_T And I felt like a first date wtf, I kept on fidgeting to make sure I was in tip top condition, haha. And I went straight from work to dinner!! But obviously I didn't wear
that
to work. I brought clothes to change. :P Haih, vanity is like that wan. And it was damn funny, 'cause everyone kept on coming up to me to ask me discreetly, "Did you wear this to work?" with a worried look on their faces; and they all breathed a sigh of relief when I told them that NO I changed! Hahaha.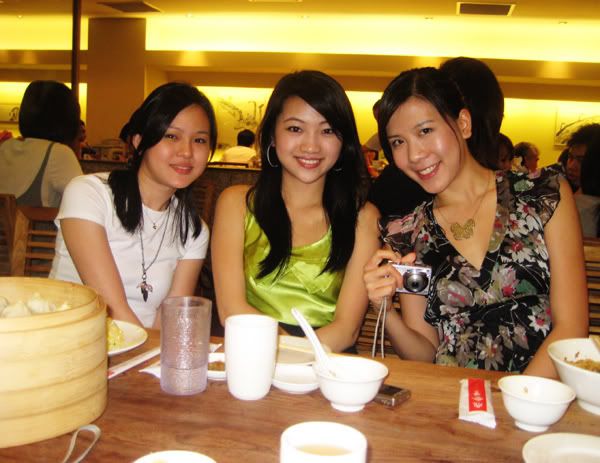 Erin, Abby and Mey.
Why are all my friends so pretty wan. :)))
And before I left work, I told my seniors that I was going to meet my girlfriends, and I mentioned that they are all damn hot. Then they told me to bring my girlfriends to meet them for drinks, but I am welcomed to not join WTF. T__T Always
kena
bullied at work. T____T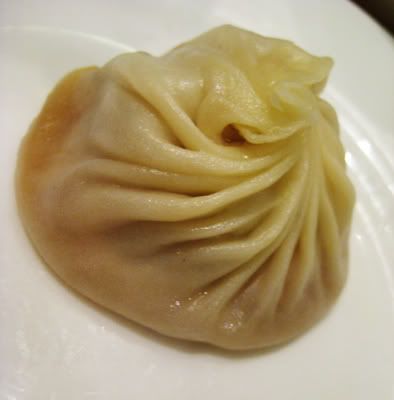 Siew loong pau
!
We had dinner at Din Tai Foong, and they guaranteed on their menu that each dumpling comes with 18 folds-- Jac and I spent a good part of our dinner counting the folds, hahaha. WHY ARE WE LIKE THAT. :P
Queuing up for Swensen's!
And you know what! I had the top that Jac was wearing! (
had
, 'cause I sold it off already -_-) It's damn weird, but in the 6 months that we were apart, upon stalking her blog and Facebook, I always find that we have the same clothings! (things that I have bought from Melbourne before I left) :P I think this is easily the 5th top! DAMN WEIRD RIGHT. Haihhh, what to do, excellent tastes excellent tastes, hee. But I find it really amusing though, 'cause although we always like the same things (even in S'pore, we find ourselves reaching out for the same things), our dressing sense is actually quite different! Aah, the wonderment of fashion and style. :P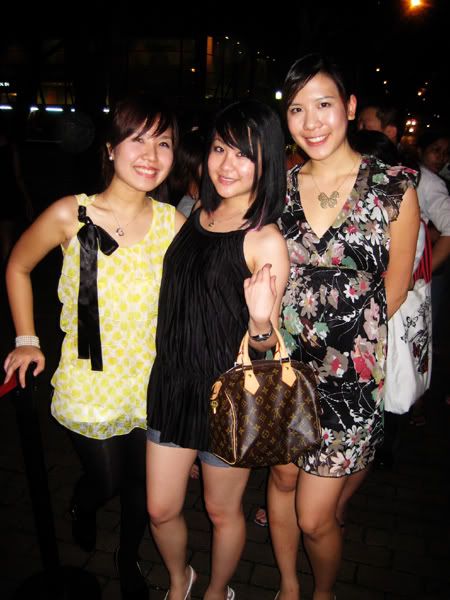 Flat Hair Flat minus 1.
And meeting up with Jac the following day... I swear to god, last week was just majorly exhausting. Everyday, straight after work I will zoom to meet up with the girls! But I wouldn't have it any other way of course. :)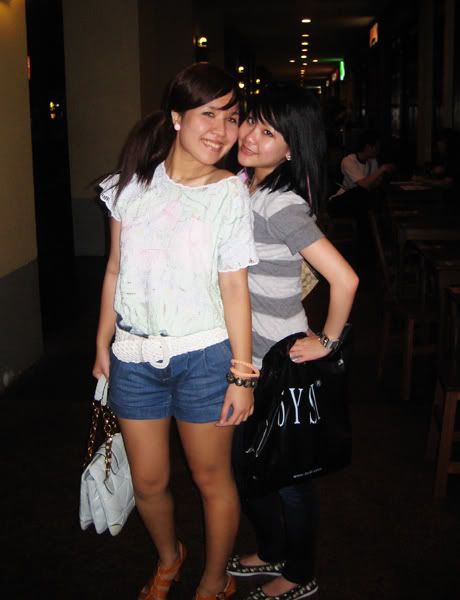 Jac: OIIII why you dress up! I purposely wore baby tee and jeans 'cause I thought you'd be in work clothes!
Haihhh I am quite anal, don't want to be caught dead in work clothes. -_-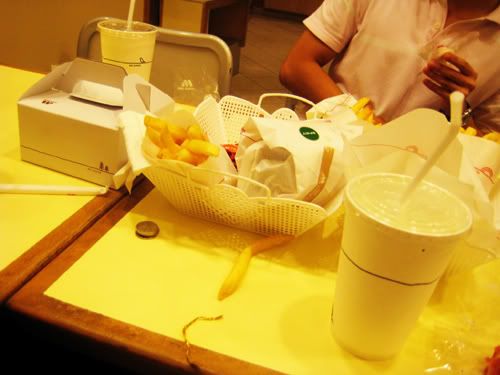 In MOS (the fast food joint wtf) 'cause Jac felt like having their burgers.
The amount of food for 3 of us (Jac, Jiren and I)!!!
Haha, I will show you all more pictures of how scary Jac is when it comes to ordering food soon. :P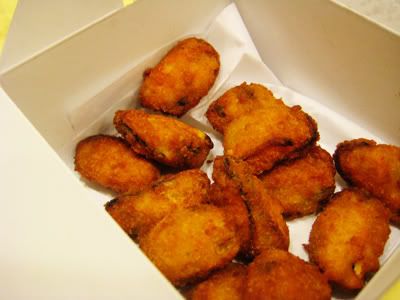 Garlic and lemon mussels!
Damn niceeeee. :)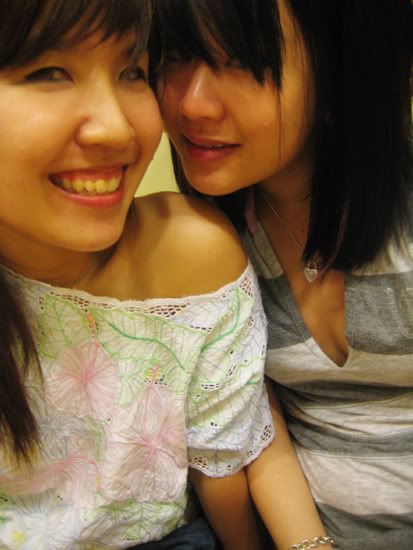 Jac has put on a little welcomed weight ('cause she was really so skinny last time!), and now she is always found bragging about her new cleavage, HAHA.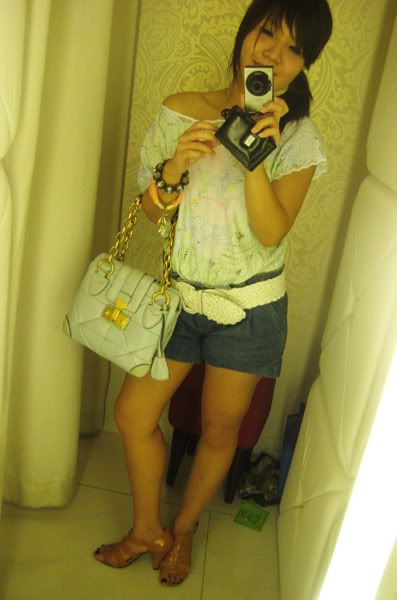 Outfit!
I damn like this top! It's one of my precious thrifted finds in S'pore. :))))) The whole top is crotcheted actually. :))))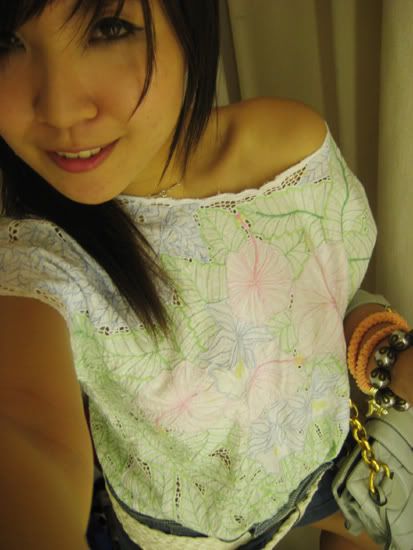 Close-up. :))))
Okies, that's all for now, I need to catch up on my sleep!
And in case you're wondering why my colleagues called me Fiona, it's 'cause I told them someone from the office told me that I look like
Fiona Xie
. Fiona Xie is super super super gorgeous! And god knows I don't look anything like her la, but the girl insisted that when I smile, we look alike. T_T Then when I told my seniors, they threw their heads back and laughed giddily. And they started calling me Fiona after that. T___T They even wanted to save my number under the name 'Fiona'. T_____T Why they like to bully me. T___T
But anyhow, they told me that I am the most outstanding and bravest one out of the new joiners in our department!
They also told me that I am damn noisy and that I should have my own radio show, but that's another issue altogether wtf.

And if you're wondering what the withdrawal symptoms are referring to... I miss my girls. I am having Flat Hair Flat withdrawal symptoms. :(