*updated*

I saw an uncle in the bus yesterday wearing a snug round-neck, puff-sleeved leopard-print tee with high-waisted black pants and gold cuffed chains HAHHAHAHAHHAHAHAHAHHAHAH. But then he let me go before him with a smile on his face so now I feel bad for laughing at him. =/
I haven't done my work-outfits entries for quite sometime, but here is one of today's outfit-- from work to play! :)
I still religiously document my work outfits every day though (to delay going to work WTF); when I run dry of things to talk about I shall post them up k-- all 3-4 weeks worth of them. :P
Hurrah for Fridays! :)
And this is what I wore for meeting up with my high school friends! :)
I was wearing the same top from work-- tucked it into my ball-skirt for work, and pulled it out for play! And yessss, I brought a change of shoes.
*shy*
Wearing kitten mules seemes inappropriate for Friday night drinking what!
And omg, I have absolutely NOTHING to wear in S'pore! I have quite a bit of working clothes here (enough for me to wake up and just pull on something and still look reasonably put-together and fresh), but I am out of going-out clothes! And going-out outfits are the most crucial of them all, 'cause they depict personal style the most right. :( I didn't bring much (play)outfits over, 'cause apparently I thought I'd be too busy to have a life. -_- It feels weird though, 'cause back home I have a somewhat extensive wardrobe, but in S'pore I feel like I am without an arm and a leg. T_T
Must. Pack. More. Clothes. Over. When. I. Go. Home.
This is Topshop's changing room btw. Sigh, my friends could only meet up at 7.30pm, but I finished work at 5.30pm sharp (
self-declared wtf
). Going home and coming out to the city again was not an option, so I did what any self-respecting girl would do-- I went shopping. And I reserved 1 pair of shoes, ('cause I didn't want to bring a box of shoes along with me for dinner and drinks), paid for another pair of shoes (but left it at the shop to retrieve them another day), and spent SGD100 on tank tops in Topshop. T___T (Tank tops for layering! I have never ever purposely bought basic tops for layering before; everything that I buy must always come with a twist-- but hey, I think I am going to have fun experimenting. ;) )
I must claim the money back from my stupid friends!! Had they met up with me earlier, my bank account wouldn't have suffered. T____T
Oh ya, When I was in the mall, an old guy came up to me and started talking to me in gibberish. I was running late and therefore quite impatient, so I kept interrupting him, shrugging my hands and shaking my head apologetically at him. He stopped, and told me in a matter-of-fact way, "I am Japanese!". That was when I figured out that the nonsense he was spurting out was Japanese wtf. But anyhow, he kept on repeating the same line a few times over-- "I am Japanese!", and expected me to join him in the conversation. -_- It took him awhile to realize that we are not from the same hometown WTF, and after that he asked me for directions to Suntec City in English. Before he walked off to the direction I pointed him to (correct directions la, I only give out misleading directions to people when I am in a prankster mood or if the person has body odor HAHAHA), he spinned around and told me in his solemn, crisp Japanese accent, "You are beautiful!" followed with those little "ehh"s and curt nods that Japanese people seemed to like to incorporate into their conversations.
A compliment is always good to brighten your day! Even when it comes from a dirty old man wtf.
VERY IMPORTANT, please do my shoe poll on the right side of my blog!!! It's VERY VERY VITAL OK!
(If some other poll comes on other than the shoe poll, just refresh the page, 'cause there are a few polls going on my page now)

What happened was, I stumbled into this shoe store-- OK FINE IT WAS NOT A CHANCE ENCOUNTER, my friend brought me there during lunch break, and having seen some shoes that I liked, I hunted and searched all over to find the shop again (it's quite hidden!)-- and omg, I LOVE the shoes so much. BUT! They are considerably more expensive than the usual price I would pay for shoes. I would say, around Topshop shoes' pricing or slightly lower than that? :(
I had so much fun in the shoe shop though, I spent easily an hour in there, despite the fact that the shop was barely bigger than a shoebox, no pun intended. I even started chatting with a few ladies there-- we asked each other opinions on the shoes that we were trying on; we eyed shoes that each other tried on and proceed to try on the same pair wtf; we complimented each other on the existing shoes we had on etc.. Girl bonding yo! :P
And the sales lady is seriously amazing. The shop doesn't put out all their shoes on display, and after seeing 2 pairs of shoes that I took out from the display shelves (mary-janes and oxfords), she started taking out shoes from the stockroom which she "thinks that I will like", and boy, was she spot on! Every pair she brought out elicit a little gasp of delight from me. T_T And now I want them all. T__T
If it was only one or even 2 pairs, I wouldn't really give much thought to it, but we are talking about a few pairs here (actually I bought one already *shifty eyes*), so it would add to quite a bulk of an amount. T__T But they are really cute, HOWWWW. I don't know why I have been having such a shoe obsession recently too... I think it's to make up for my lack of interest in shoes in the past (another story for another day :P).
So anyway, if I want the shoes I should go back by Monday to get them, the shop sells very limited amounts of each design and theysell out relatively quick too. SO HELP ME, do the poll k!
Baby, you don't have to do the poll, I know your stand WTF.
And speaking of shoes, Jing and I were having an inspiring conversation about shoes, and LOOK AT HER DRAWING OF A PAIR OF SHOES THAT SHE WANTED TO ILLUSTRATE TO ME: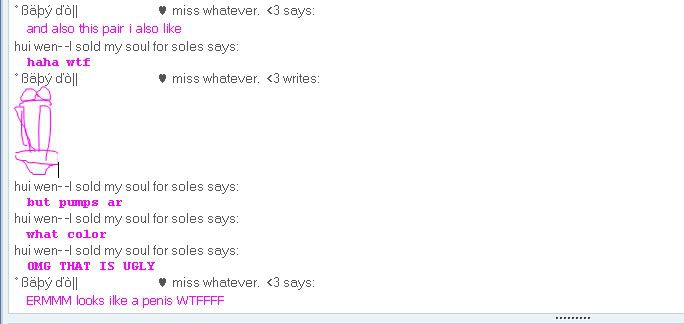 HAHAHHAHAHAHHAHAHAHAH WTF HHAHAHAHAH DAMN UGLY!!!