The last thing I feel like doing now is blogging.
Just got off the phone with the boyfriend; he is on my way to Mambo. Take away the fact that I wish
I
can go club in KL, to just meet up with everyone and let loose and be crazy, it was the
manja
, teasing, giggles-filled short conversation we had that put me in this craving, delicious mood. What I'd really like to do is just curl myself and hide at the corner of my bed, and run through all my happy memories with the boyfriend. Unfortunately, this mood comes with side effects, it makes me acutely aware of what I
don't
have with me now. Which is basically everyone I love... and just home, in general. :(
This is one of the lingering consequences of going home for the weekend. Once I am back here by myself, I will be struck by a bout of homesickness. I will feel down and just.. bored. Especially often, the first day I am back in S'pore would be a Monday. Take Monday blues, and add on the the severe case of feeling homesick, and you get a very sad hui wen indeed. :( Not to mention that my parents and sister(s) were supposed to to come down to S'pore this coming weekend-- I was looking forward to it for a couple of weeks already; planning where to bring them, thinking of what to wear etc. But now they are not coming down; instead, the the whole family is going to PD/Ipoh for a family trip-- without me. :(
Ok, let's not be sad here. I am going to upbeat. 'Cause... I will be going home next week! Next Tuesday, in fact, haha. Took 2 days leave, and am going to go zoom-zoom to and fro on an airplane to save time. I am not so spoiled and depressed that I have to purposely take leave to go home in the middle of the week k!! I have some personal matters to attend to, which I may or may not blog about. Personal matters which involve a dinner function. -_- But anyhow, my 2 days at home would be packed, 'cause I made bookings for a facial (oh lord, save my skin) and a hair appointment! I really can't stand my hair now, regrowths are just so ugly! Not to mention that my rebonded parts are growing out, and now my hair is taking on an unruly feel. T__T Which brings me to my dilemma, I have heard that when people with dyed hair re-straighten their hair, their hair will go bonkers!! Like it will just become extremely dry twigs, and err that's not a look I am going after wtf. But rebonding is sort of a must for me, 'cause my hair has a natural wave which I don't really like. Not to mention rebonding my hair doesn't make my hair flat, in fact, it
controls
it a bit, 'cause really, I have extremely thick bushy hair. :( Another option I am considering is to
relax
my hair, but I don't personally know anyone who has done it before... Anyone here has tried it before? What do you all think about it? :)
Anyway, guess who was back in KL last weekend wtf.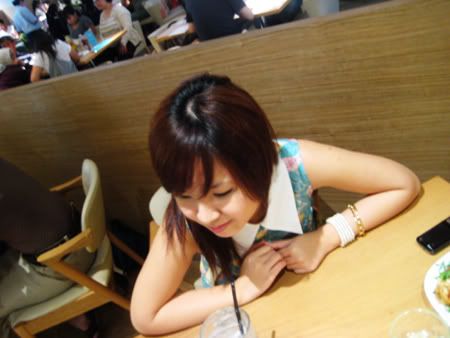 Dragged the sisters to Ms. Read (or is it Delicious now?) 'cause I was craving for their food for some reason.
Me: Ms. Read! Ms. Read! Ms. Read!
Jing and Teeny: Can't we go Nirvana? Or mamak?
Me: WTFF why so cheap!
Jing and Teeny: We know you earning Sing Dollars now laa!
Heee, I have to admit, earning in SGD has its perks. But heyyy, I even gave money to you girls ok! I am such a generous and kind-hearted sister. *touched by own actions WTF*
Successfully dragged my sisters to Ms. Read, hurrah!
(Which explains the forced grins on their faces, hahaha)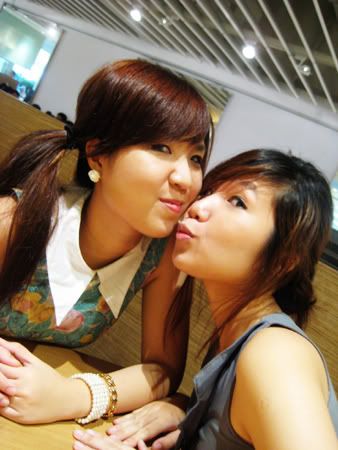 With Jing. Wearing one of the vintage dresses I got from Lapsap last week!
I couldn't help feeling like Flinstone with the white collar I had on WTF.
Pretty rose blossom button earrings!
My sister's, bought for RM2.90. When I heard of its price, I told her, good job good job.
Haha, that's how we sister is like! We pride ourselves on getting the cheapest things, and we commend each other on our efforts each time! :P Like "Try harder" or "Keep it up", hahaha, we are thrifty cum smart shoppers k. :D
Food, oh delicious food!
I crave for good food SO SO MUCH at home-- food in S'pore is not anywhere comparable to M'sia. :(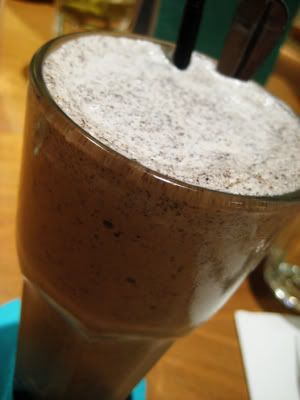 Oreo smoothie, for my lethal sweet tooth.
I don't usually have a particular sweet tooth, but I do after missing desserts in S'pore! :P
My duck confit angel hair pasta.
Jing's Ayam Percik rice (it has some fancy Malay name, but I suck with Malay nowadays, so, sorry! =/)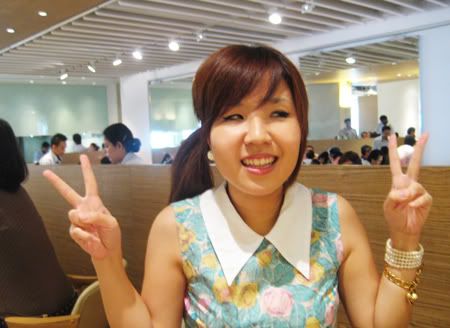 And err, 'cause I forgot to take pictures of Teeny's spicy crab linguine, here's a representative WTF.
Those are
pinchers
! *defensive*
Chocolate Pavlova, which comes highly recommended by the sisters.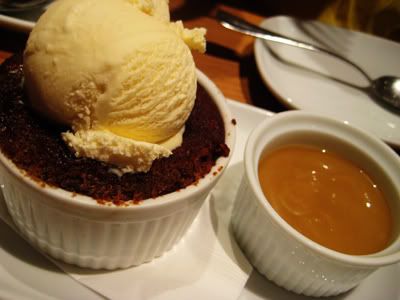 And sticky date pudding, which comes highly recommended by me!! :)
My first encounter with sticky date pudding is at the ski lodge during my ski trip in Melbourne, and it was love at first sight! Since then, I could never find this dessert... But now I have done so! :D And boy, it's GOOD. :)))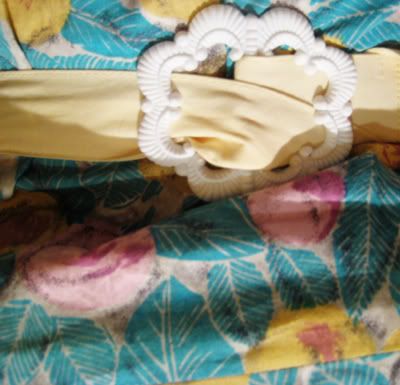 Antique-looking belt is love!
Pardon the pariah-way I tucked it in though, haih.
Clambering onto the table top to catch a top-down picture of Teeny.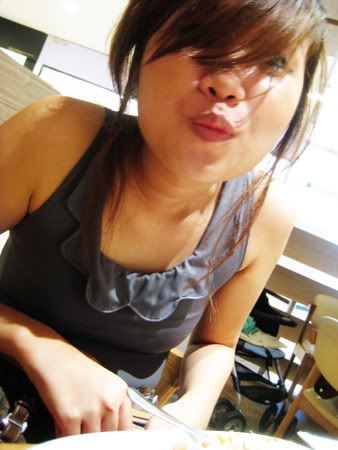 But when it came to Jing, I refused to take such pictures of her, and insisted on taking from bottom-up. The reason? "EH YOUR REGROWTH DAMN UGLY" Hahahha poor thing she got opressed 'cause of bauty reasons wtf. The Hoe sisters maintain high standards on vanity WTF, hahaha.
Ending with some outfit pictures. :)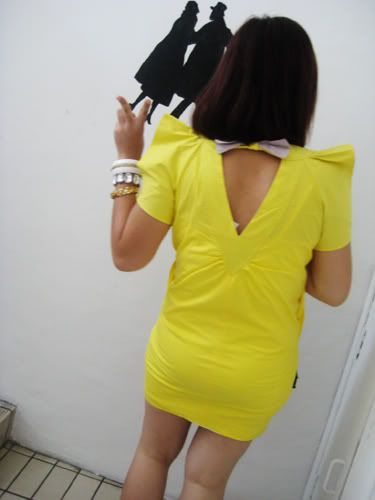 Teeny with her really cute dress! :)
Jing,
ala
Alice in Wonderland.
Carrying a Kate Spade woven picnic bag, I expected the boyfriend to have something to say about it (I saw him later during the day). Just like as expected, the moment he saw the bag, he went "Woww that is really...err... boxy..."
HAIHHHH the boyfriend needs more training! :P
If you are wondering why I still blogged despite stating that it's the last thing I want to do, it's 'cause writing things down helps me put things into perspective. :)



Updated:

Just when I was feeling all miserable for myself, some high school friends started messaging me on MSN.. Turns out that there are quite a few of us working in S'pore!!! And we are meeting up this Friday!! I am feeling warm and quite excited now. :)))
I guess it's true what they say; there is always a silver lining. :)