Well, not really. More like Lapsap
buys
. -_-
'Cause I didn't take ANY pictures at Palate Palette! I have been there a few times too many (not that I am complaining :P), and there's only so many times you can see the same pictures of the afro carousel horse and the hula hoops and whatnots right. If you feel compelled to revisit those past entries I have done on Lapsap, just click on the 'Revel in Events' tag! But knowing my luck, the pictures would probably have their bandwidth exceeded or something, HAIH.
Had I met a lot of people there, I would probably have whipped out my camera to go clickety-click too, but unfortunately I was there too early! I reached Palate Palette practically when it just opened-- whereas most people would be there fashionably late. :( It's not 'cause I am kiasu ok! (fine, partly wtf) but 'cause I have other places to go to after that. This is what you get when you have less than 2 days at home-- you're just trying to rush rush rush. :(
Okok, moving on the pictures pictures!
Pardon the woozy eyes, I blame the sun!<=(
Oh ya, this is the vintage-inspired brocade skirt that I mentioned
here
! :)
Teeny! I have been eyeing her MiuMiu-esque skirt for ages, and have been pestering Teeny to sell it to me. T_T
Everyone, help me persuade her to give it to me! ;)
The first picture is to enable a closer look at my skirt, and the 2nd picture is to lend a more intimate perspective on my.. collarbone, hahaha! It's a big thing ok, there was a few years in my life which I have lost my collarbone (puberty wtf). T_T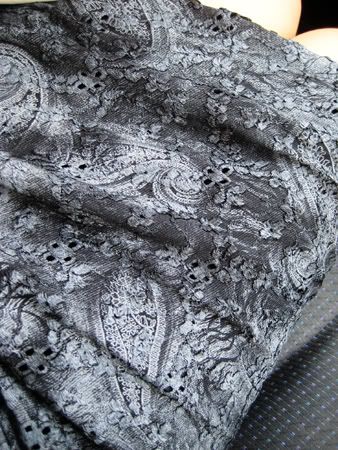 My skirt again! The color is actually darker in real life. Am excited about this skirt 'cause I took something that people would consider to be frumpy and outdated, and revamped it a bit! :)
On the way home from Lapsap...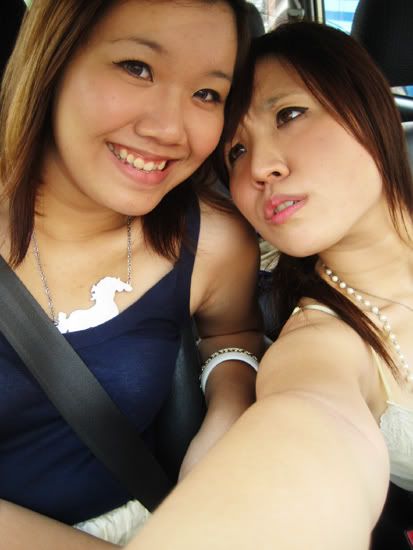 Reckless on the road.
Teeny: Ehhh the lighting here very nice! Faster! Let's take pictures together!
Me: Errr, aren't you driving now?
Teeny: Ya. But never mind, the lighting very niceeee!
Me: *whips out camera*
Hahahaahaha!
And errr, the pictures below aren't actually Lapsap-related, but they were taken on the same day, haha.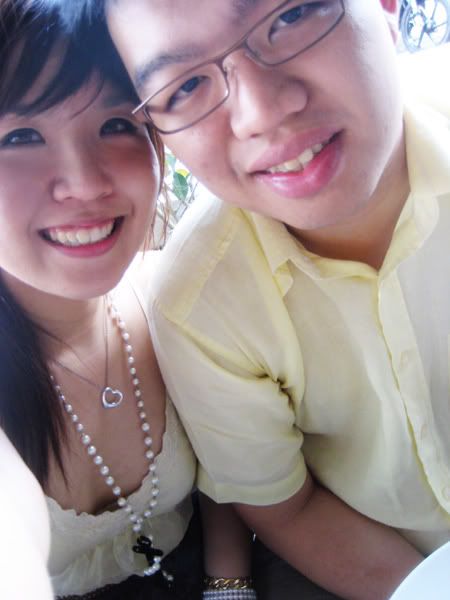 Went to Chawan in Bangsar with the boyfriend. :)
Chawan is the latest eatery in Telawi Bangsar, and it's situated right opposite Bangsar Village 1 (same row as Nirvana). Apparently it has became quite the hotspot for night yumcha sessions! :)
Chawan is good for their many types of coffees, from all the different states of M'sia!
The boyfriend ordered a Tupai (translated to squirrel -_-) something, whereas mine is the Kopi Kemaman (from Terengganu, also one of their recommended coffees!)
The menu comes with the extensive list of all the different coffees-- along with a comprehensive description, including its flavor/aroma and its origins.
The boyfriend: Bee, actually I wanted to order the Hang Tuah kopi...
Me: Oh, why didn't you?
(*shaking head inwardly 'cause I thought Hang Tuah sounds more manly than a Kopi Tupai wtf)
The boyfriend: 'Cause..
*points at the menu and reads out loud*
The Kopi Hang Tuah is popular amongst the older generation
.
I scared you laugh at me. :(
-____________-
The boyfriend's Nasi Dagang with Gulai Ikan.
Nasi dagang is basically glutinous rice mixed with brown rice-- definitely a healthy option! :) Until you start eating the really thick and creamy gulai ikan, haha. Thumbs up for the fish (resembling fish curry, but thicker)!
My nasi Briyani.
Since Melbourne, I have started on this quest on looking for the perfect Nasi Briyani in KL! (Surprisingly, Melbourne's ones are the
best
I have eaten so far =/) Oooh, maybe one day I should do an entry and pit all the good KL nasi briyani's against each other, haha.
Alright, am done with the non-lapsap-related things, moving on to the happy buys of the day! :D
Kitschy kiddy envelope clutch!
Brightly-colored, random, childish-- I couldn't say no! :P
Fierce mustard yellow patent pumps! It's not really obvious from the picture, but the back of the shoes is made of satin-- an interesting touch on the shoes! Brand new, and a steal at RM15!
*proud face*
I actually already have a pair of happy yellow wedge pumps-- but they're a little too happy for work! So I am going to save this pair for work-- the pointy toe screams RAWWRR POWER WOMAN. :P
White dress with a ruffled tier skirt and studded details.
This dress is actually self-designed by the buyer-- which means that there is only one of this around! :P Love the bronze studs at the bustier and straps, add on a little bad-add attitude to the pure, girlish demeanor. ;)
Another creation by said buyer-- B & W checkered cape-jacket.
I think I am going to have fun experimenting with this piece! :D
ZARA mandarin-collared sleeveless dress-shirt, for work.
Newest additions into my vintage dresses:
The yellow shade is not so bright in real life! Love the floral prints in the really soft pastel palette. :)))
This dress actually hits mid-calf; I am still in a dilemma whether or not to alter it and make it super short, or leave it as it is! Any suggestions? :)
And the back (or is it the front -_-) has this cute round white fabric buttons, reminds me of
tong yuen
, HAHA.
Faded denim dress with white daisy embroideries and daisy appliques! So sweet! :)
Love the start white collar against the floral background! :)
Hot pink polka dotted dress with a full skirt. I love full skirts, 'cause you can go swish swish swish in them. :D
English Garden overalls! :)
Eh, waitamin, upon closer look, why does the cut bear such close resemblance to our secondary school pinafores. -_-
And this really really cute collar accessory! :))))
My mom is playing dirty now. -_-
This time when I went back, I found out that she has moved all my boxes and luggage bags of Melbourne clothings into my room!! (Previously they were kept in other areas of the house), so now my room is so tight and cramped and obviously very, very messy. :( I guess this is her way of getting me to clear out/tidy up my clothes; I have to admit, previously I was quite complacent, I mean, my clothes were happy being situated in the study room and my brother's room what! And I am getting quite stressed out, 'cause I don't really know how to get rid of some of my clothes-- I really don't have time to post up sales. I can't bear to just throw them away, that's for sure! :( I did toy with the idea of keeping a lookout for any junkyard sales to book a stall and get rid of my things for once and for all; but this is not really a feasible option, 'cause I myself am not too sure about my work schedule and when I can be back. =/ Looks like the only solution now is to move everything to S'pore. -__________-