Hello, everyone!
Today, I am going to perform some magic. :)
Well, well, let me just rewind a little and update you guys. ;)
See, what happened is was, last week I got my pay.
My first paycheck ever.
Ladies and gentlemen, this is when the magic comes into place!
I assure you, the paycheck looks much more... presentable in real life, hahaha.
And let's see what it has transformed into!
*POOOOOOF*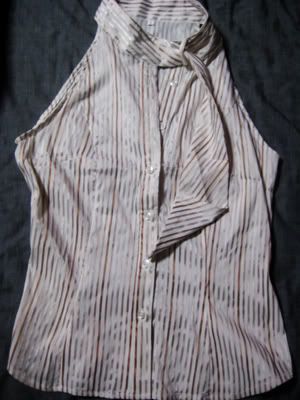 Work clothes up first!
The stripes are a very dark peach, almost brown, and shimmery!
I am trying to add on more varied pieces into my work wardrobe. I am bored with work clothes. :(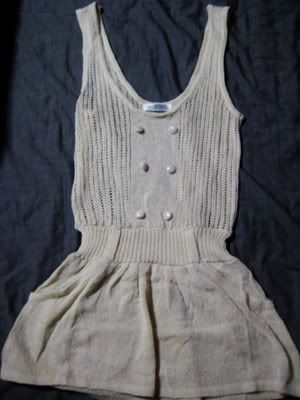 Knitted vest with a little skirt and pockets, this would look cute in layering with slacks! :)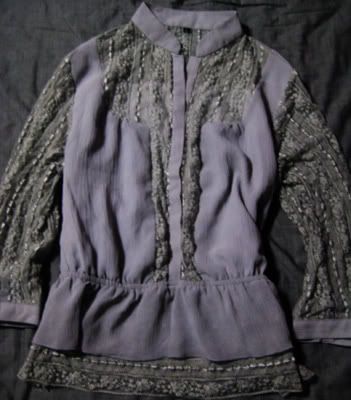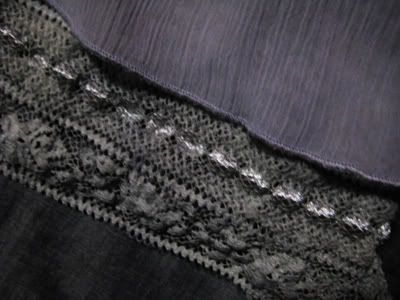 Gray chiffon and lace blouse.
For days when I want to feel less like a power woman, and get more in tune with me soft, feminine side wtf.
I know it looks like shit against the gray bedsheets, but it's really quite nice. T_T
Ok, done with work clothes! Let's move on to the more fun things. :P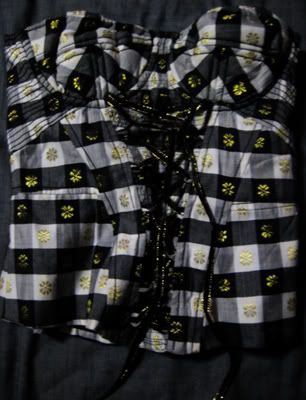 A corset tube top with an ehnic feel-- the fabric reminds of me the
kebaya
kains? :)
And the best part is, it gives me quite a mighty cleavage when worn, hoho.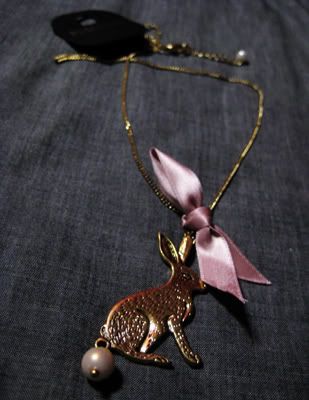 Indulging in my childhood! All of you know Peter Rabbit right! And Brer Rabbit from Enid Blyton, haha.
I love this necklace, it just has this childish charm written all over it. :)))
If anyone even dares to suggest 'Playboy' when they see me wear this, I swear I will whack them up. -_-
A vintage-inspired navy velvet brocade skirt with a gold embroidered band, which I wore to Lapsap in Palate Palette on Sunday. Only a teaser picture here wtf.
And stop looking at my boob and concentrate on the little bit of the skirt that you can see!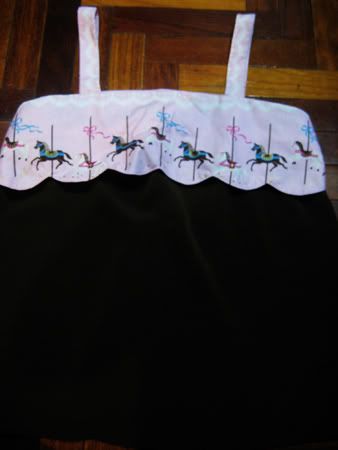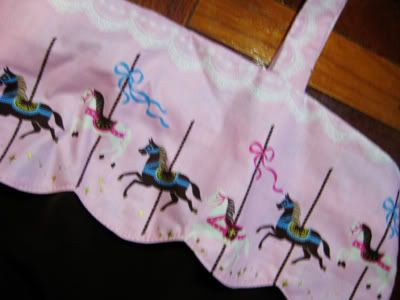 Heeheehee, top with carousel horses! This top is horribly me: whimsical, random, and superbly kiddish, haha!
The lovely owner of Tea & Sympathy purposely remade this top for me.
*big teary eyes*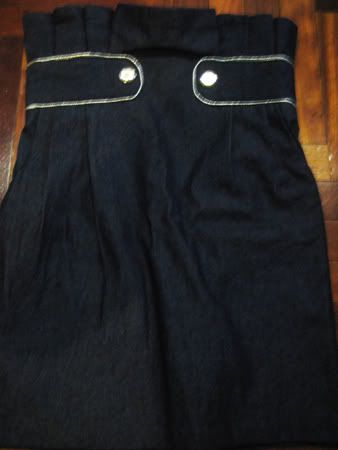 Denim high-waisted paperbag skirt.
You can't really see the paperbag ruchings of the skirt here, but oh well, nevermind, keep a lookout for it when I wear it! :P
Moving on to my happy buys of shoes!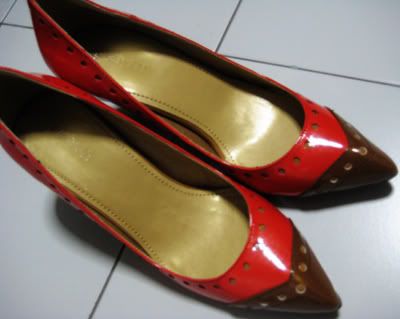 Happy heels number 1!
The colors are way way more vibrant in real life-- a bright lively orange and brown.
I love how kitschy they look, and it also has this retro feel to it! :)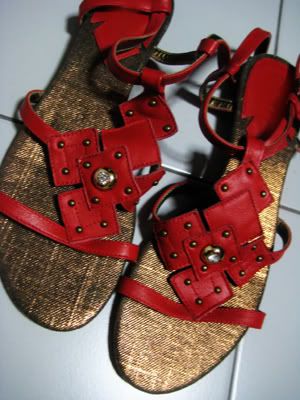 I hate to admit it, but sometimes I do feel bored of the gladiator sandals trend... Which is why we need more unique, pretty sandals! ;P
The sandals are a deep red, the design very nice right. :)))
Happy shoes number 3!
Whenever I see these shoes, I think of "Blue Cheese", which is super apt! 'Cause it's electric blue patent, with the funky holey cream yellow front, haha. Okok, I shall stop being so cheesy, no pun intended, HAHA.
There are actually more things which I bought from the Lapsap sale, but I shall put them in a separate Lapsap entry!
But I shan't leave out the creme de la creme of my buys. ;)
A little reward myself, and also something to commemorate my first ever real paycheck...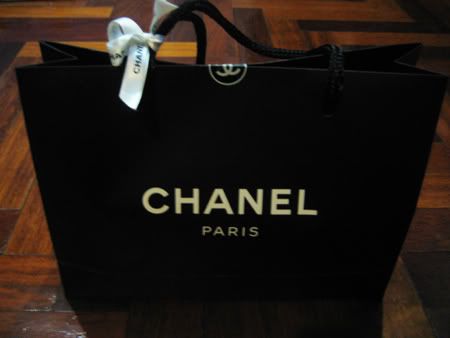 :)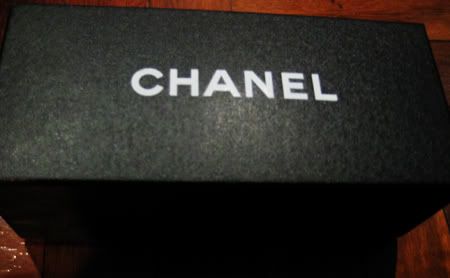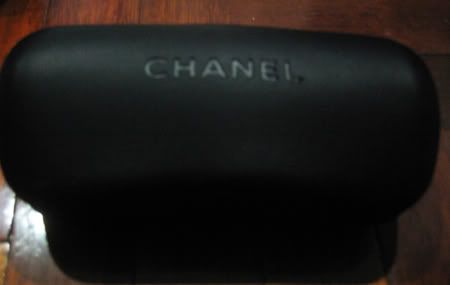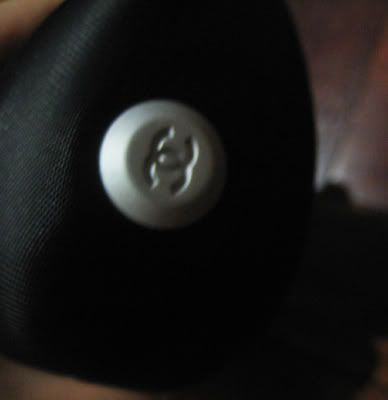 Hello, lover.
Finally got myself a pair of Chanel sunnies, after talking about it since last year!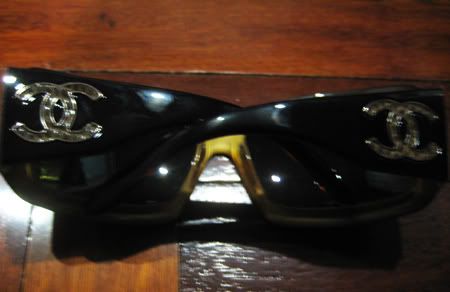 I am really sorry that the pictures sucked, I was in a rush when I was taking these pictures.
More pictures next time when I wear them out aight! :P
But it's really kind of sad, 'cause this is actually not the pair of sunnies I have been coveting from a long time ago! :( For almost 1 year I was going back and forth, deciding whether or not to get it, but I never did. The thought of forking out such a huge amount of money for 2 tinted lenses made me heavy-hearted wtf. Not to mention my track record with sunglasses/spectacles made me think twice (leaving them behind, breaking them etc.. -_-). In fact, about 3 weeks ago I was in Chanel Singapore lovingly poring over my dream sunnies, but I still couldn't bring myself to pay for it then and there. "I will use my first pay", I told myself, and walked out of the shop.
Well, guess what. It is sold out already! T___T Both in Chanel Singapore and KL, and they are not bringing in any more stocks of that particular pair!!! In the end, I had to choose another one. This teaches me a valuable lesson-- sometimes there is no good in being
too
cautious in your purchases, look at where it lead me! Being an impulsive shopper has its merits ok. :(
And sigh, it's such a pity that when it comes to sunnies, the design don't really matter, because most importantly, the sunglasses
shape
has to fit you. 'Cause if it was up to me, I would have bought the sunnies with the trademark Chanel quilting at its side! But they make me look like retarded beetlebugs, haihhh.
Oh ya!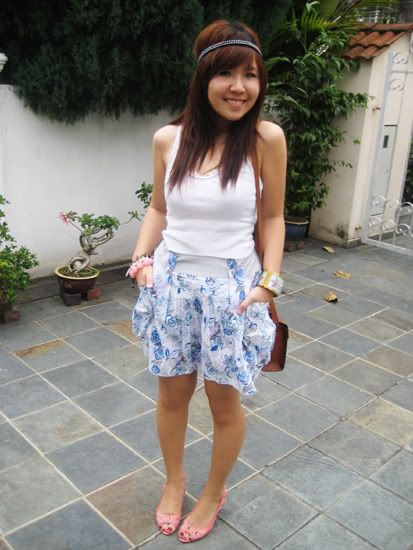 This skirt I was wearing here was also part of my payday-splurging-scheme. :P
Striped high-waisted front, and a doodled floral full skirt!
Wearing happy peach pink retro wedges here. :)))
My beloved sisters: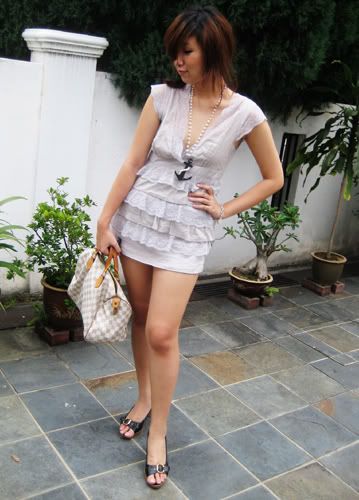 Jing, and her trademark
Velvet-Ribbon
pose, haha.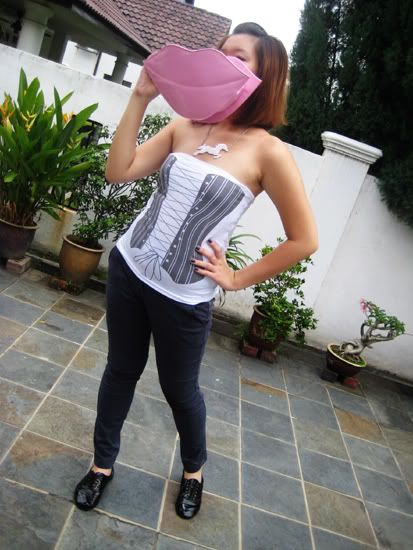 Don't mess with the Hoe sisters, or a fat lip you will get! :P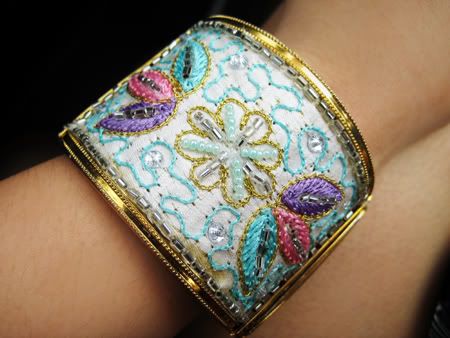 Pretty bangle-- beaded and fully embroidered, it reminds me of fairies somehow! :P
And please don't get distracted by the hair on my arm. T___T
My weekend back home started on such a wrong foot, it was almost a recipe for disaster.
A fight with the boyfriend almost as soon as I reached home.
Getting stuck in a jam for 2 and 1/2 hours with the sisters in KL. We all haven't had anything to eat at all for the day, and we were hungry and frustrated, but there was nowhere we could go. was almost in tears thinking of the time I was wasting! :(
Because of the huge delay in the jam, I had to cancel out on dinner with the family-- I made an appointment with the whole family 'cause I wanted to treat them to a nice dinner with my first paycheck. I felt so bad. :(
But I guess all things have a way of working out for the best. :)
Though the jam was so so bad that I thought I would be in a foul mood
forever
, the laughs and excited chatter the sisters and I kept up during our lunch/dinner more than made up for it.
I've made plans with the family to bring them out next Sunday, and nothing is going to stop me this time! It's daddy Hoe's birthday. :)
My Sunday was surprisingly quiet, besides Lapsap, I spent the entire afternoon and evening napping with the boyfriend and watching The Simpsons together. The movie was released when I was still in Melbourne, and we made a pact to watch it together when I get back. 1 year later, we finally managed to catch up on this date of ours. :) His room is always awfully cold, so I bundled myself up in a freshly-laundered long-sleeved shirt of his, with his Homer Simpson T-shirt underneath. Add that to tight cuddles, and I would say the date went pretty well. ;)
I gave some money to my grandparents when I was back. When my grandma saw the bundle of notes in my hands, I thought she almost cried. She told me to keep the money to myself to "buy something to eat", but in the end, I managed to persuade her to take the money. I was all choked up then. The moment just felt incredibly personal and... raw.
But I wouldn't give it up for anything. :)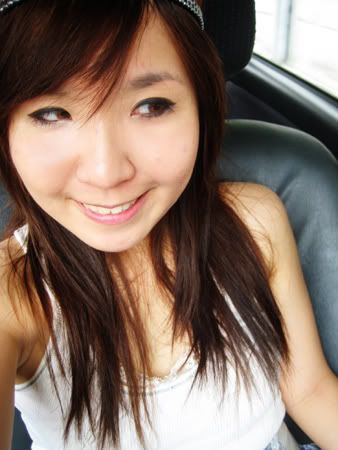 Oh wow, guess what! It's the 20th again!
Pay day for August (month 2) has arrived, oops. HAHA!

ps: This entry was actually completed last night, but I couldn't publish it 'cause of the wonky internet connection, rawrr!