When it comes to Olympics, the Hoe family does it the right way. ;)
Teeny.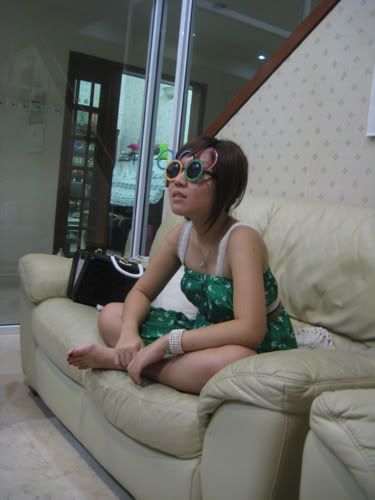 Me.
Jing.
I am sorry if she scared you wtf.
Mommy Hoe: "WAHHH what a worthwhile investment! We can use it for for every 4 years, for every olympic! We can pass it for generations and generations! WAHHH we can make it our family heirloom!!!"
-______________-
Drunken Daddy (induced so because of too much wine intake during his birthday dinner):
"I loooook the beesssst..."
Grandma Hoe!!
She was tying up some rubbish bags, so Jing and I joined forces-- I called out to her to distract grandma, then Jing promptly perched on the glasses on her face, followed by me quickly going "click!" on my camera. Grandma was in a total blur, hahahaha! Isn't she the cutest thing ever!!

Sorry for the mini disappearing stint, yes, I was home again! :D
Proper update coming up soon, I promise!