Thank you for all the concern and sweet comments on my accident!
I will update the previous entry on the details of the accident later-- I don't really feel like reliving the sordid affair now. :(
Anyway, I am back! Contrary to my original belief, I didn't take much pictures in KL, 'cause it was such a hectic trip! Just errands after errands (and accident T_T), so much so that I was mostly makeup-less and bespectacled. Geek alert. :P
I
did
get my hair done though!
But I am don't want to show you all wtf. Acting coy wtf.
Hahaha, no la! We were actually out at Nirwana's (banana leaf rice is love), but it was raining when we reached home! I couldn't let my hair get wet 'cause I just dyed it... And there wasn't any umbrella in the car, so I frantically asked my sisters whether there was a plastic bag or a book or
anything
which I could shield my head from the rain.
Then Jing passed me the Tea & Sympathy paperbag and asked me to wear it.
I really put in on my head but it couldn' cover my head, and somemore I worriedly asked them, "eh cannot cover my whole head, got hair poking out! How ar!"
Then the very wordly and wise Jing pointed out that I only dyed my roots, so as long as the paperbag covered the top of my head, I am safe.
So I proceeded to run to my house with the paperbag cupped on my head like a proud Red Indian. T___T
************************************

Yaaaaa, I only touched up on my roots, and got a trim! Didn't do anything too drastic 'cause I chickened out last minute, HAHA. I decided at the 11th hour that I am not that keen to rebond my hair, I really do like the volume and puffiness of my layers now, and I am afraid rebonding hair will make it look limp and lifeless (though my hairstylist assured me that it won't happen). Not to mention that my heart aches when I think of putting my hair through so much chemical thrauma! Rebonded it once in January and 2 dye jobs subsequently, I feel that my hair needs a breather. So my plan is to let it be for the meantime, and see whether my hair remains poofy and happy till my next hair appointment! :)
I am contemplating going back to blunt straight bangs and curls for my next visit.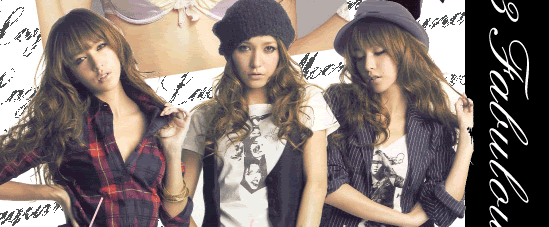 Because I want to look like
Lena Lena
. T____T
The day before, I caught a glimpse of my reflection from the corner of my eye, and I thought I beared a little resemblance to Lena Lena!!!!!
Like when we smiled... 'cause our eyes crinkle! (for different reasons: 'cause her eyes too big, and mine too small wtf)
When I told Jing and Teeny, they laughed so hard that the car shook. T_T
And they told me that the only similarity between Lena Lena and I is that we are both human. WTF.
T__________T
Btw, I took a cab from Times Square (where my hairstylist is located at), and I didn't know that taxis there run by coupons!! I am sorry, but I haven't taken a cab in KL since.. forever? 'Cause taxi drivers in M'sia will rape you and then chop you into pieces what!!! But I took a risk 'cause I wanted to do my hair but I had no transport wtf. The things I do for beauty, haha! Anyway, back to the story, I walked to the long stretch of cabs in front of the entrance, and this Indian taxi driver stopped me and asked me where I wanted to go. When I told him where my place is at, he quoted me RM30 straightaway! In a rather matter-of-fact, only-for-you-I-charge-so-cheap way, I might add. I quickly shot back, "Why aren't you running by meter?" and he LAUGHED at me. He said that no one goes by meter in Times Square and that it is all done by coupons. He then cut his quotation to RM20, and said that it is very "murah" ('cheap') and that coupons are way way more expensive.
I was very pissed and wary (and a little scared, 'cause all the cab drivers looked like potential rapists T_T) at that point, but I decided to take a walk to the coupon counter anyway. And guess what! It only cost me RM16 to take a ride via coupon payment!! Bear in mind that the shopping mall takes a small cut out of the amount, so essentially it costs even less than that. And that bloody bugger tried to charge me RM30!!! Arghh, now I know how bad the cab system is like in M'sia. :(
Anyway! Everyone has been asking me why I went home in the middle of the week. And everyone chastised me for not taking an extra day leave on Friday to stay in Kl for an entire stretch till weekend. :(
I admit, I have been farsighted! I completely overlook the fact that had I took today off as well, I will have FIVE days at home. :( But upon deeper pondering, I can't be home this weekend! 'Cause it's moving time. :(
So, the reason I was home was so that I could... attend a dinner.
I know, damn wtf right. Long story cut short, my dad is a member of Lake Club in KL, and they extend memberships to members' children. My dad decided that it might be difficult for me to pick up a membership in the future (they have all these prissy requirements;
gee, I hope they won't ever find my blog =/
), so he got me to apply for it now. In short, I got the membership (had to go for an interview -___-), and I had to be back for the Induction Night! Apparently if I don't go for it, there will be terrible consequences. -___-
Which is why I flew to and fro in 2 days. Rushed like hell!
It was a formal event! At first, I was quite excited about it, 'cause I thought I have tonnes of formal wear which I don't really have opportunities to wear anyway.
I was hopelessly wrong.
I had half an hour to get ready for the night (was in KL doing my hair before that), and I found out that all my cocktail dresses were too short, too slutty, too bright, too youthful!!! Just wrong, basically.
('Cause I assumed the event to be quite solemn, the members are all old dudes. Not to mention Lake Club is really strict about dress codes)
So I had nothing to wear. T_T
Which is why I was really proud of my outft for the night. ;)
I threw on a cream lace front-hooked corset that I got from Lapsap in Feb, and dug up my mom's
Donna C
's skirt from a couple of years back-- did a bit of random tying, and yay, I got myself a cocktail dress! :D
Showing the lovely layers that is the gorgeous skirt.
Pictures do not do it any justice!
Btw,
Donna Chew
(or Donna C which she is more well-known as) is a local designer, which makes really lovely feminine clothes, with a specialisation in cocktail wear! I always see people seeking advice on where to get formal dresses in M'sia for proms and parties, well, seek no further! Donna C really makes such lovely, pretty dresses. The ready-to-wear formal wear don't come cheap (ranging from averagely RM400 and above, but this was a couple of years ago so I am not sure whether there has been a price increase), but rest assured, they are truly beautifully made pieces! She custom-makes pieces for customers as well. :) Donna C can be found in Sungei Wang, em, at one of the higher floors-- they call the shoplot '8 M'sian designers' or something like that-- where she can be found with Melinda Looi, Khoon Hooi and a few other local designers. :)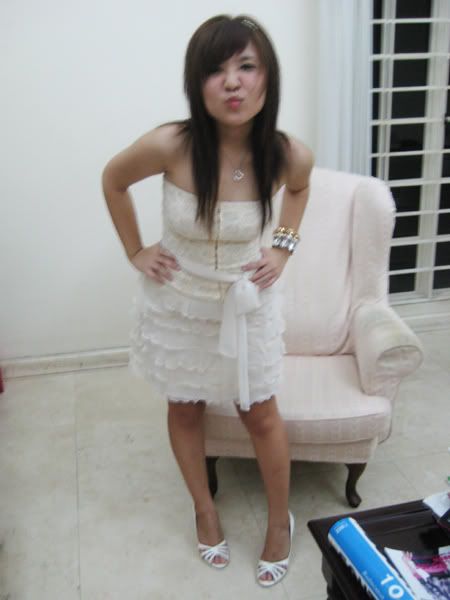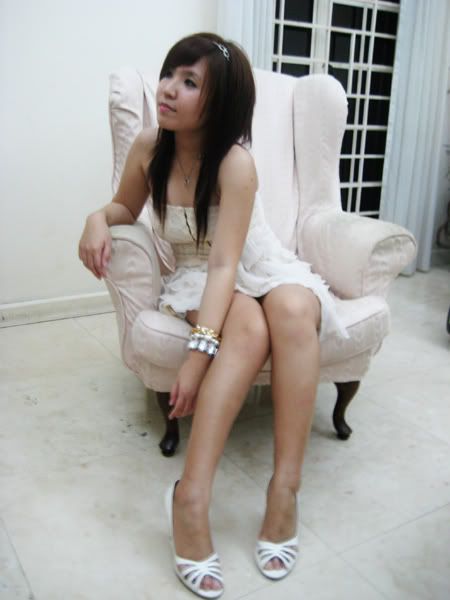 Full outfit.
Damn pleased with it, 'cause I put it together in less than 5 minutes, hurrah! :D
No more ugly roots showing!!!
The color looks quite dark here, but
everyone
asked me in office today whether I dyed my hair. T__T I was super shifty, 'cause my company is against 'non-natural' hair colors and all along I was pretending that I was born with brown hair wtf.
Okies, I can't resist posting a few more narcistic pictures of myself, 'cause it's really rare that I am all white and virginal wtf. More often than not I am clad in crazy psychedalic colors and prints. :P
Moving the furniture in tomorrow! Pray for me that I have hot, muscular burly movers k! :P
But most likely they are banglas wtf.