I wouldn't need to go to work today if I was in KL. :(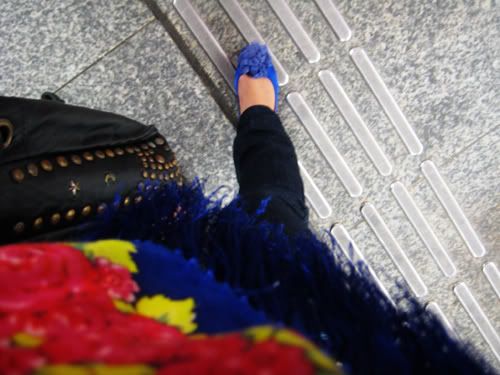 *****************************************

Thank you for all you people who did my shoe poll!! :)))
The results were quite half-half (
*in denial wtf*
), so it was a judgment call, haha. Keep a lookout to see the outcome of your votes wtf.
(and ehhh seriously, which ones of you are the one who voted yes or no!! I am damn curious. :P)
Posting some pictures from my previous weekend back home, 'cause I will be going home tomorrow-- and going home means more batches of pictures! :P After which KL pictures would go through a dry spell 'cause I won't be going home for about 3 weeks. T_T
As promised, a picture of my new sunnies! :)
I think I perched it a little too high on my nose ('cause I was rushing wtf), so I looked like a scuba diver with goggles on. T_T
Wearing this gorgeous champagne-colored satin headband with mini gold studs. It was an amazing find! :) Got it along with this other lovely vintage wooden hand-painted headband. Aaah, begone, boring Diva hairbands! :P
Jing damn stupid (and blind), she called this a 'ostrich' headband, 'cause it looks like ostrich leather. -___-
EH BTW did you know that a ostrich leather Chanel 2.55 bag would cost you SGD55k!!!!!!!
DAMN FREAKING EXPENSIVE RIGHT!! I almost died when I saw it.
Ok, moving on to more affordable things wtf.
Affordable, but priceless.
Meeting up with Smalls! :)
'Cause I miss this miniature woman with a voice louder than a kingdom of crows so much-- spending 2 days in S'pore 1 month ago was NOT enough!
That, and pressure from her, 'cause she insisted that I only go back to KL for junkyard sales. T_T And that the only way to meet me is to go to junkyard sales. T__T
Err, only one picture of us in Paddington's House of Pancakes. I took like, 3 pictures of Chris who was there as well, but the pictures have all mysteriously disappeared!
My camera doesn't like boys ar.
Outfit! I call this... birthday suit, 'cause all nude wtf.
Wearing a really pretty sheer beaded top which I stole from my mom's wardrobe, tweed wool cuffed shorts, and a brand new pair of nude-colored patent platform pumps. Which oddly enough, is
really
comfortable, but it killed ONE toe of mine. Not one toe from each feet, just the toe on my right. WHY???
I added my hairstylist on MSN so that we can discuss what to do to my hair. Why am I like this! T___T
Ya ya, I will be doing my hair on Wednesday. Since I will be back and no one is free to accompany me during the day (everyone is either at school or work), I thought I might as well do something productive wtf. I am starting on the hate-my-hair phase again anyway (which is why most of the time my hair is up), so it's time.
Anyway! Yen (my hairstylist) said that she will straighten my hair + dye it and it won't kill my hair! Her exact words were: "If I do it, it will be ok" Damn cocky right! :P But I like that in a woman wtf.
I am so shallow sometimes I hate myself. My biggest worry is that if she straightens my hair on Wednesday, what hairstyle can I do for Mambo on the same night!!! ('cause after rebonding, you're not supposed to tie/clip/curl/basically do
anything
to your hair). I have the perfect outfit to go with the perfect hair accessory, but now the option is thrown out of the window! Life is so hard wtf.
***************************************

I got all my furniture already!:)))
FINALLY after making so many trips, I paid for everything at Ikea yesterday.
I swear to god, my heart bled a little when I swiped my debit card for the crazy-ass amount. Crazy for only 2-months of salary!! And for what is essentially a big pile of wood wtf.
I get so emo when I think of all the pretty clothes and bags I could get with the amount. It's like I paid so much, but there was no satisfaction in spending, sigh. Retail therapy gone wrong wtf.
But I did feel very, very grown-up though. :) In my entire life, I have shifted-house 3 times (excluding aussie), and each time, daddy and mommy and the muscular movers would do all the work, I just needed to make sure that all my barbie dolls came along with me. Even in Melbourne, we had friends to help us move in/out every single time.
But this time around, I did
everythin
g by myself. From choosing the furniture from a catalogue, to picking them out in the showrooms, to picking/loading them myself, to liaising with the delivery guys... The bulk of the work will come this weekend though, which is when the furniture and my stuff would be moved in.
I am really afraid of Sunday-- the day when I will move in my belongings. I have only been in S'pore for 2 months, and I have collected so so so much things. Mostly shopping, I am ashamed to admit. =/ My aunt and my cousins have expressed their shock (and disgust wtf) at the sheer volume of things I have, and they worry for me too, come Sunday. T_T
But most of all, I fear of... moving to a new place. When I express this to people, they go "But why?" But it's still another new phase. Another place to call 'home'. While I am slightly excited about having my own proper room (all the decorating and making the place mine), I am just nervous and weary, I guess. New location, new transport routes,new people to stay with, and so many more.
I am looking forward to sorting out my wardrobe though! I have been living out of my suitcases. :(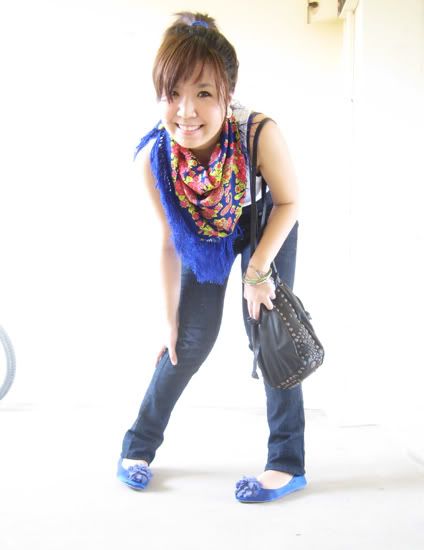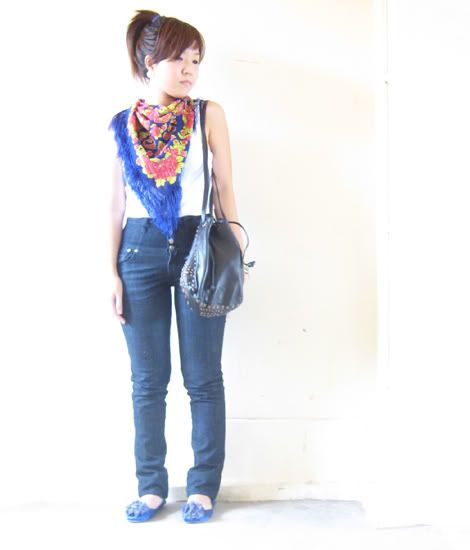 What I wore to Ikea yesterday.
No lovey-dovey M'sia post this year, but hey, check out the colors of my outfit! I didn't notice how patriotic I was!! :P
I think my subconscious wanted to scream out its love for M'sia. ;)
Click here for last year's lovey dovey patriotic post.
1 year has passed????
It felt really strange looking at the new batch of Merdeka night clubbing pictures this year-- without me. :(
On another note, I bought 100 hangers yesterday, haha.