Moving is going to start... NOW!
Everyone is scolding me now for having so much stuff. :(
How in the world did I ended up with over 20 pairs of shoes in 2 months???
I will update at my new place tonight k. :)
************************************************

*updated*
I am at my new place now!
Planned to blog earlier, but wireless was not on 'cause I am sharing it with another 2 tenants, and they were out for the whole day-- with the modem shut off and their room locked close! T_T
At least I managed to get some packing done. :)
So far, everything that should be up is up. All my furniture are standing proudly around me now, and my bed is beckoning at me with its fluffy cheery bedspread. I am yet to be done with unpacking and keeping my clothes though. I bought two 2-door wardrobes, and my plan is one for work clothes, and the other one for play outfits. So far, only my 'work' wardrobe is filled up, 'cause I ran out of hangers!
I bought 100 hangers from Ikea and I ran out of hangers. I am speechless. -__________-
You should see me today-- my cousins and aunt helped me to move, and when my cousin sister saw the amount of stuff that I have, she told me that she has been in S'pore for 10 years and she has less stuff than me. -____-
And my aunt stifles a little gasp of horror at every suitcase/luggage bag that I lugged out of my room. -___-
I think I just have very dramatic relatives. I insist that I don't have that much stuff! :P
Anyway, so far, things are good here. :) I took a walk around the neighbourhood yesterday, and everything is within 10 minutes of walking distance-- MRT station, ATMs, food courts, mall, Coffee Bean, supermarket... Convenience is such a major plus point!
And the place is really clean-- my cousin is a complete hygiene freak. Which suits me fine, 'cause I am really particular about hygiene as well (not personal hygiene though WTF)! Like, I don't mind if things are messy or out-of-place, but I get very very paranoid at cleanliness of toilets or even things like light switches.
I like my room; yesterday when I was moving in the furniture, I was a little aghast when I saw it, 'cause it was so so so much smaller than I remembered. I was so afraid that the furniture that I bought wouldn't fit in! I settled on a queen bed and 2 wardrobes in the end, not to mentioned I have a study table and a chest of drawers, so my fear was justified. But alas, everything fit really well! I even have a bit of space, which, as my cousin put it, "can do yoga there". ;)
No pictures of my room yet, I have a lot of paper bags and rubbish lying around. And I want to personalise the room a little further before showcasing it! Be patient! :P
****************************************

Err, feels strange to have only text so here are some pictures from my high school reunion in S'pore last week! :)
OK, Claire, me, Xin Wen.
I forgot his name, but his initials are really OK ok! wtf
Eek Ping and Cindy, who are siblings.
Wilson and Xin Wen who were two of the most artistic people in our high school! Wilson specialises in comic-drawing, whereas Xin Wen draws human potraits really, really well. :)
I was a prefect in high schoo, and Eek Ping and his friends used to ask me to keep their porn for them when there are spot-checks. T___T
Xin Wen and Hui Wen!
I swear to god, if we are in primary school, I am very sure people will make fun of us. Y'know, XX and YY sitting on a tree, K-I-S-S-I-N-G... YOU REMEMBER THIS RHYME OR NOT!
-___-
ClaireandOK, JiaqiandJason.
I think the cutest thing is that Jia Qi and Claire have been best friends since primary school, and now they are working together in S'pore, staying together, and have their boyfriends with them here as well! So cute right!
Where is
my
boyfriend. :(((
We went to Popeye's, a fast food joint, which serves chicken and biscuits.
No pictures of our food 'cause we were so hungry that we gobbled everything down! But if you're wondering what the biscuit is, it actually tastes like scones! :) They give you a mini tub of jam to go with the 'biscuit'. But I saw some Malays eating the scone-tasting biscuit with chilli sauce. =/
We had fun in the underpass that night. :P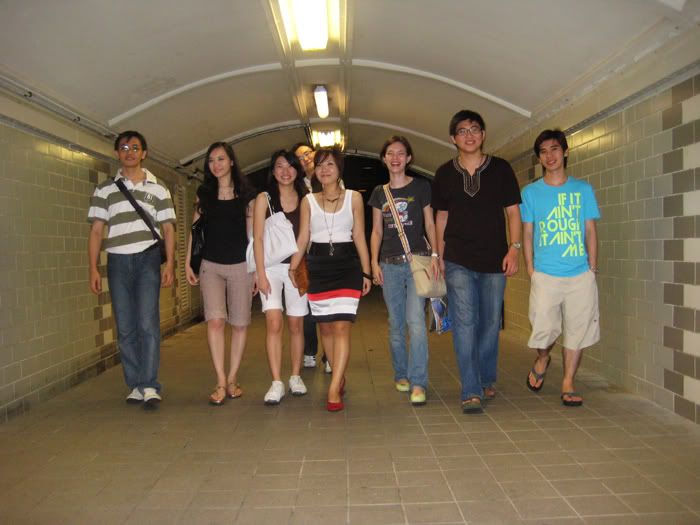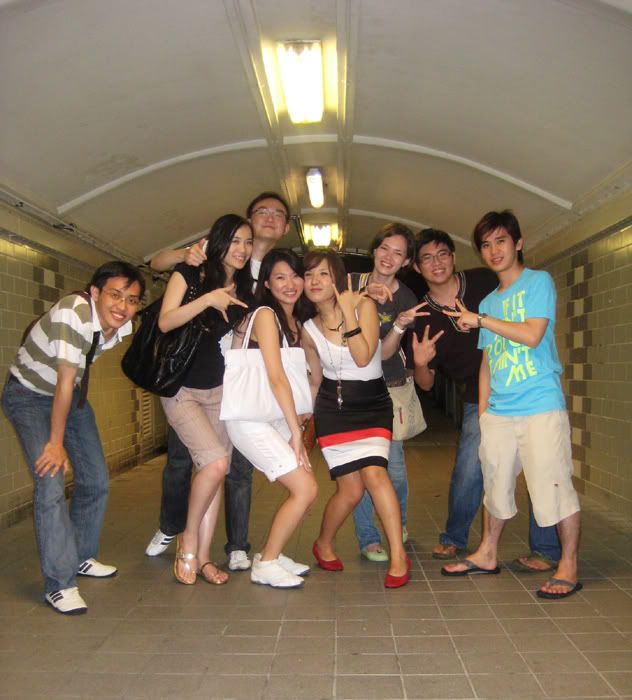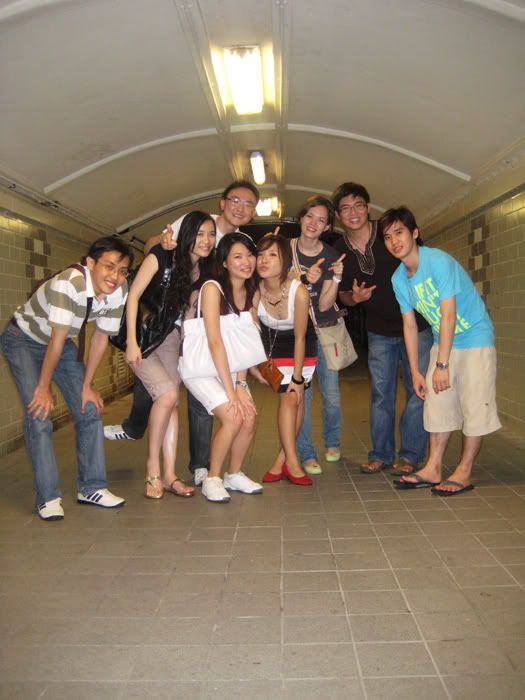 ... and terrorised people in buses... :P
My favorite picture of the night! :)))
And oh ya, we went to Clarke Quay for a walk, and omg, it reminded me so much of the Yarra River in Melbourne! I could almost imagine Southbank sprawled right across me, and I was strolling next to Flinders station....
.... very emo! :(
Speaking of which, I have my study table placed right in front of the window in my room-- as with all my other study areas (in Melbourne and back home).
Eh wait, to sidetrack a bit, it is good feng shui for your study area to be facing the window... I totally swear by it! In fact, I credit my good grades all through my life to this! It's like your brain is more 'open' and the 'chi' flows better.. hahaha. I don't know la, but having a wall in front of makes me feel like there is a dead end. Or am I just too crappy. :(
Anyway, as I was saying, my current study table faces the window, and in my past two accomodation in Melbourne, I have always had a heater under the window where I will warm my toes while I study. So I keep on pressing my feet against the wall, but I find no heater. My toes feel deprived, and I feel a bit lost. :(
I swear I am emo-ing 'cause of my laundry basket! It's the same Ikea one that I had in Melbourne. T____T
Ok la, I better go sleep and not think crap already. Hope I sleep well, considering I am sleeping in a brand-new, foreign place for the first time!