The boyfriend is officially 325km away from me again. :( (
source
wtf.)
My emotions are a little raw now, as always when I get used to having him with me 24/7, then to have him being taken away from me again. So at least for today, I don't feel like relieving the pictures and moments we have during the past few days.
But I, however, can share with you happy shopping pictures from Showpink last weekend. :P
ShowPINK! :P
The aptness of all my pink glory didn't occur to me until much later, haha.
Only Jing and I went! 'Cause stupid Jing forgot to coordinate with Teeny, so Teeny blindly went for a facial appointment instead. We tried and tried calling Teeny, but she was too busy getting her pores picked at wtf. I think the pain made her really bitter and angsty too, 'cause when I persuaded her to come, she yelled at me over the phone. T__T
Jing! Pantsuit is love!! But I can never find one that fits me, 'cause they are all made for giants above 5 feet 9. T_T
Why do you think Jing folded her pantsuit wtf.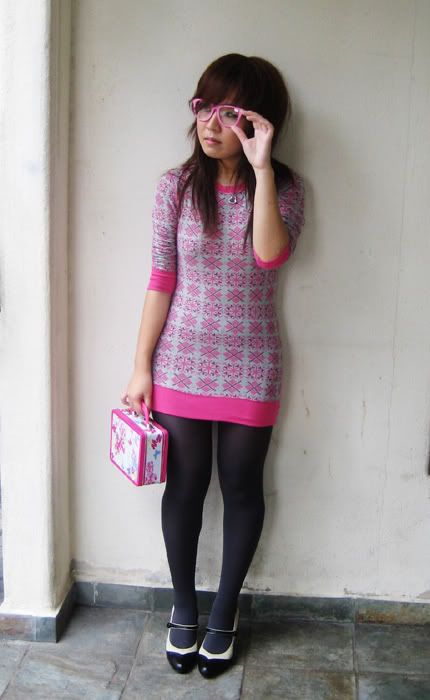 School nerd.
Wearing old-school snowflakes sweater top/(self-declared) dress , gray opaques, cream & black maryjanes, pink geek glasses, and my favorite accessory of the day-- pink lunch box as my handbag, hahaha! :P
Said lunchbox cum handbag, HAHAHAHA.
It's cute ok!!!! A little noisy, 'cause when I put my keys in the box, it clatters against the tin body
a lot
wtf. But CUTE WHAT! :D
My stupid shoes!!!! The heels are too thin/spiky-- so hello, speared dried leaves!
Teeny saw my shoes and said: SATAY!!! T__T
Embracing my inner geek in Showpink.
Which came naturally 'cause haihhh, I think I was the greatest geek in school. There are sacrifices to make to score straight As wtf.
And hahaha, I met Smalls at the junkyard sale, and she didn't recognise me 'cause of my glasses!!! I tapped her on her shoulder, and when she spun around and stared at me in confusion, I swear to god I saw day and night passed us by before recognition dawned on her, hahaha.
Too excited over the bargains I scored, hence the blurred motion! :P
My kuli!
Err, all the bags except for one small one were mine. *shifts feet uneasily*
Lunch time at Miss Read, Bangsar Village 2.
I half-expected to see a friend there, 'cause everytime I am there I see someone I know! *deja vu*
When Jing looks like that, I don't mind it when people tell us we look alike, haha. :P
Minestrone soup, which I greatly regretted-- look at the amount of parsley!!!!
I have GOT to sign a petition soon to ban restaurants from using parsley in food, grr.
And now to the fruits of my labor!! (do you think it's easy to be wearing opaques and long sleeve and having your skirt barely cover your ass wtf)
Vintage blue and white striped satin dress shirt, but I am going to wear it as a blazer! :)
The blue is brighter than shown in the picture-- a cross between navy and electric blue.
I was still in a F1 mood when I bought this shirt! :P
Royal blue silk top with puffed tapered sleeves...
... and a huge bow at the back! Love this top. :)
Sailor midriff top! I am gonna be Popeye! :P
Quilted granny bomber jacket, like that it has this military feel to it.
I am a sucker for adorable prints and cute trimmings...
Anchors and yachts, SO CUTE! :D
I got this vintage top simply 'cause of the random clown embroidery! 'Cause my randomness translates to my dressing. :P
When I tried on this top and showed Teeny, she told me, "Clown in clown". T___T
I am embarrassed to admit that I have yet to own a single maxi dress, 'cause the cheaper ones are too common, and the ones I really like (chiffon billowy ones in Zara) are way out of my price range! Saw a couple in a vintage shop in S'pore, tres cute, but too too long!
But all that has changed. :P
This dress fits really well, and I like the quirky, dolly feel of it! The frills, the happy peach red/pink, the cream lace, yayyy! :D
In fact, I am thinking of incorporating this dress into a happy theme for a new blog layout! Any ideas? ;)
80's leopard print cropped top/jacket with funky puffed sleeves, another awesome find. :)
Bright colors and a bow already make this cropped sweater a irresistible find...
... but check out the adorable back!!! Can't say no! :D
Vintage knit crotchet skirt in a dusty navy blue. I fought for this skirt with Smalls' ex-schoolmate, HAHAHA.
Another great find of the day! Lace button-down dress-- really, the lace is the most most most awesome and gorgeous thing! :) I am already planning how I want to wear this when I visit Teeny in Melbourne during winter next year, haha!
Some accessories:
Plastic vintage bra on a bronze-y chain.
La Perla
, anyone? :P
Tin soldiers!!! LOVE this one. :D
Coming up next, want to see the first fashion bazaar that I go to in Singapore? :P
I now know where my diva cum drama queen genes come from.
My parents' 25th wedding anniversary is coming up soon, and they are planning to throw a gathering/party for the occasion.
And they want me to take leave to attend the party! -________-