C No.1
:
Cuppacakes @ Wondermilk!
Outfits:
Teeny, possessed by a marching soldier wtf.
Jing, and her standard
Velvet Ribbon
pose, haha.
Joshua, Jing's best friend, aka
Lacquer & Lace
owner. I love his outfit!! He seemed to be glowing, HAHA.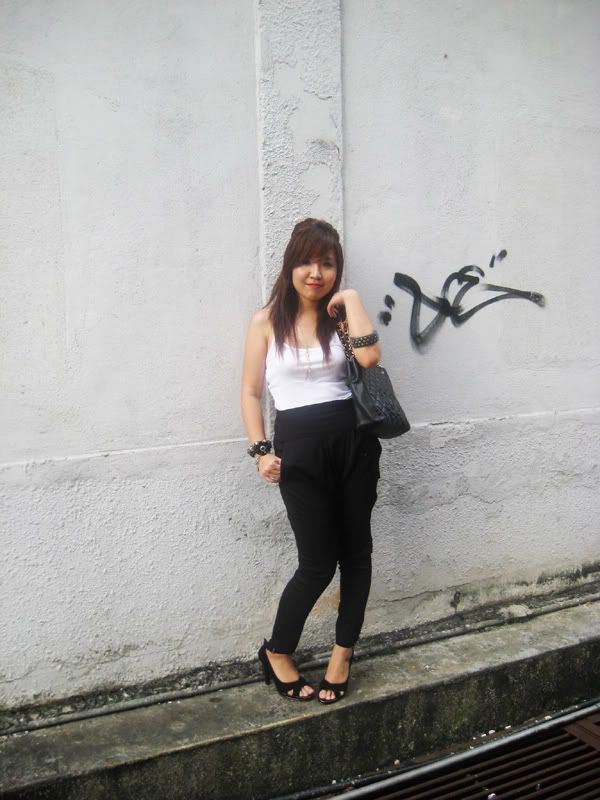 Me!
White top with braided back (not shown): Esprit
Black drop crotch pants: Singapore
Velvet black heels: Charles & Keith
Bracelets/Bangles: Topshop/Taiwan
Bag: Chanel
Tin soldier brass necklace: Junkyard sale
Red lips: I got it from my mama WTF
I have never, ever worn lipstick in my life!!! Unless you count the time I was 4 years old, and I performed in my kindergarten concert. Oh wait, I have applied lipstick, (rather haphazardly, I might add) -- I used to steal my mom's make-up when I was young-- all of us have done that before right! :P
But I have never USED lipstick before! I am more of an
au-naturale
girl, I am uncomfortable with color on my face, except for a rosy blush!! But I just thought I needed a pop of color with my monochromatic outfit. :D
At Wondermilk, proudly showcasing the free cupcakes that we got!
As overrated as it is, I still think Cuppacakes make some of the tastiest cupcakes! Especially their strawberry dream cupcakes, SO NICE! And their designs are always adorable as hell... I can't recall a single time when I look at their cupcakes and not feel the urge to smile. :)
Joshua, me, Jing, Teeny, Nadia from
Honey Pumpkin
,
Jezmine
.
When we were taking pictures indoors, Joshua told me that my face detector only detects my red lips. T___T
Then when we asked a passerby to snap this group shot of us, she told me that my camera is very naughty, 'cause the face detector only focused on my crotch!!!
'Cause I wore drop-crotch, so it is more in your face is it. T_______________T
With Jezmine!
And I noticed in almost every picture I was crossing my legs-- self conscious of the crotchjimajiggy WTF. I got so many lovely comments that day on my pants though!*shy*
Hmm, the event was ok, there weren't many stalls, I just got a suit (inclusive of blazer and bottoms) for RM15 WTFFF, a black satin dress which I plan to do some DIY on, and 2 belts! GOOD GIRL, HUI WEN! :D
Thank god we got free cupcakes! :P
C No.2
:
Jing has achieved one of her life goals. *shiny eyes*
In fact, it is one of my life goals too! It is the life-long dream of many girls. :))))
Guess which bag she got from Chanel? ;)
At Dome!
Pretending that her bag is a Dome patron too wtf.
Was she afraid I would kiss her with my pouty red lips!
*shy*
And, err, guess who was caught red-handed in breaking her shopping ban...
*shifty eyes*
:)