Ok, continuing on my cruise weekend!
I am on a mission here, 'cause the last time I went on a cruise (end 2006), I resolved to blog all about it-- but ended up not doing so... So now I must!
Camwhoring in our room which is barely bigger than a shoe box, SIGH.
And this is the outfit I was referring to here where my mom called me an Indian woman wtf.
Plenty of time to camwhore while waiting for everyone to get ready. One bathroom, 4 vain women-- bad combination!
Jing looks so pretty here!
*heart*
Teeny munching away on her necklace. -__- 'Cause too eager for breakfast but we took so long to get ready wtf.
That thing that my arm was resting against-- that's actually the upper bunk bed!!!!
Haihhhh very hard to explain, I show you all in my next post. T__T
Outfits! :)
Teeny, with her new cheap-ass Cotton On shoes.
She bought it in S'pore, during one of our meet-ups in Orchard last week. There was an array of colors for the shoes, but the moment I saw her picked electric blue, I eyed her warily and asked her, "Confirmed you brought a lot of blue clothes to wear in S'pore right!!!"
At first she denied. But you all will later see that all her outfits in S'pore are blue! She purposely bought a pair of flats to match her outfits in S'pore. -___- \
I know my sister too well!!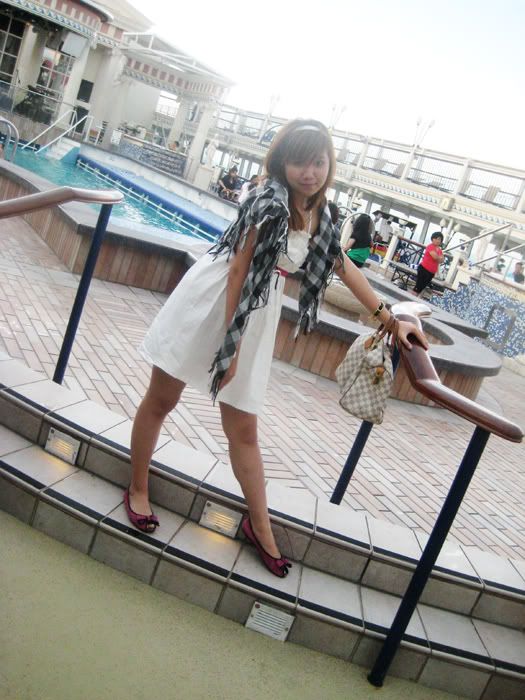 Jing, who only brought flats to wear on the ship, 'cause her feet was dead from all the walking she, Teeny and mommy did (without me I might add, 'cause I was at work T_T) in the days before the cruise.
But who looks in envy whenever she saw me clicking my heels (fine more like stomping wtf)) on the wooden deck!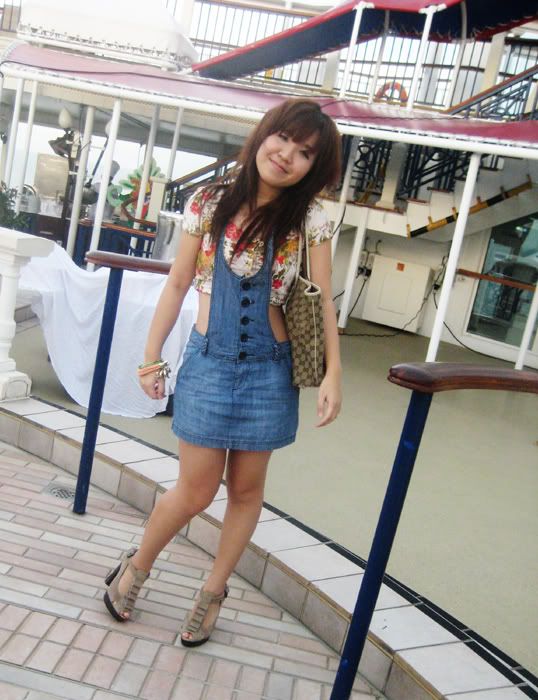 Floral button-down top: Thrifted

Denim overalls with braided straps: Free Fusion, Target Australia
Bracelets/bangles: Thrifted/Diva

Beige suede heels: Topshop

Tummy status: Protruding wtf
O.M.G. This is too rare to not post up! My skin looks so so nice here! T___T
Breakfast time!
Fine, ok, it was LUNCH time. 'Cause we only woke up at noon. T_T
We were trying to decided what to do/where to eat by looking at the itinerary, and my mom was like: "Errrr I think we can just ignore the top half of the page 'cause we have missed half of the activities in the day already" wtf
We decided to sit outside on the deck, so that we can enjoy the light sea breeze.
And that's my mommy there! :)
Mommy used to have gorgeous long curls, but she snipped it off one day, and voila, stylish bob!
Mommy's darlings:
Eldest: Teeny calls me Man (my name in Cantonese) the Elderly. -____-
Middle: Middle child syndrome-- attention-hogger wtf
Youngest: Mommy's pet!
SO HOWW!! Which one of us look like mommy the most? :P
Sitting on my mom's lap-- my mom is thinner (but taller) than me, god, life is unfair wtf-- I was so afraid I would break her bones or something! T_T
But I used to sit on my mom's lap all the time (until Jing and Teeny was born la stupid things, fight for attention with me wtf)-- in the car's front seat, reading story books, revising, sing-alongs.. The good old days. :P
Err, if you think I was kidding when I said that Star Cruises *might* close down because of the way we eat, think again, hahaha!
We decided to play some board games, so we went to borrow some form the activity centre.
Squinty Jing-- she has the sun with a vengeance, haha.
We settled on Scrabble! And yes, this is the same table as the food-laden table depicted in a few pictures before this-- we managed to clear off quite a bit yo!
The leftover food here are supposed to be snacks/brain fuel food for us during the game! :O
Err, left the deck for greener pastures. Or rather
shadier
pastures, haha.
The deck was getting rather sunny and hot... Bad for scrabble chi-chi! So we moved indoors. :)
(as you can see, we moved our food along with us too wtf)
Teeny's victory sign, 'cause she was leading in the game.
SIGH, lost to a girl who used to think WIT is spelled as WHEAT wtf.
Jing, the infamous sore loser, who cannot lose, no matter what. Here she is, taking the game super seriously, and looking damn grouchy, HAHA.
Which is no surprise, especially when Teeny and I pretend to be blind while playing the game HAHAHAHAHHA.
Irritating Jing further hehehe. Teeny and I are at PERPENDICULAR angles! (the word later came up in a competitive game of Pictionary wtf)
Mmmm, playing board games with a warm cup of tea, and the sea beneath you, beside you, around you, now
that
's a smashing feeling. :)