And that's what cruises are for. ;)
*********************************************

I was too tired to register it last night, what with reaching home almost midnight after one full day of shopping malls with the sisters and sleeping in the wee hours for the past few nights. But it hit me real hard this morning-- my cruise weekend is OVER.
:'(
Needless to say, I had a real bad case of Monday blues today, sigh.
What I wouldn't give to be seated on the cruise ship again, sitting al fresco, the velvety black skies cast above us, the gentle sea breeze. The ship still and quiet, in the night of 3am, with only our laughter piercing through the air. :)
And my lips are not glossy 'cause of a new brand of lip gloss-- they are merely proof my late night supper, heh.
Yup, food is abundant on the ship-- free flow of food! Thank goodness we only go on cruises once every 2 years, if not
Star Cruises
would have closed down their business a long time ago, considering the way my sisters and I eat WTF.
Obviously the camera is not for capturing scenery pictures! Besides the fact that we are much more interesting objects to photograph, hehe, the sea is a very scary thing at night!!! It's just completely pitch black!! You can't even hear the sounds of waves or breeze or water splashing... It's so utterly still that it feels unnerving. 'Cause I keep on imagining what would happen if I drop in. Or what lives under the ocean. T_T The creature of the Blue Lagoon wtf.
Laughing our heads off 'cause at one point we could see the horizon of a city of some sort (Indonesia or M'sia or Singapore we are not sure), and we actually witness a big fat angry black cloud splattering rain over one small part of the place! Like, one isolated cloud which was raining, whereas the rest of the place was fine. Just like how it is depicted in the picture wtf. It really is an amusing scene ok! :P
Grouchy 'cause I was sleepy, but yet I was having too much to go sleep.
(Actually I was just afraid that my sisters will call me 'old' and 'uncool' if I announce that I want to retire to bed wtf)
Hijacker's victory pose, haha!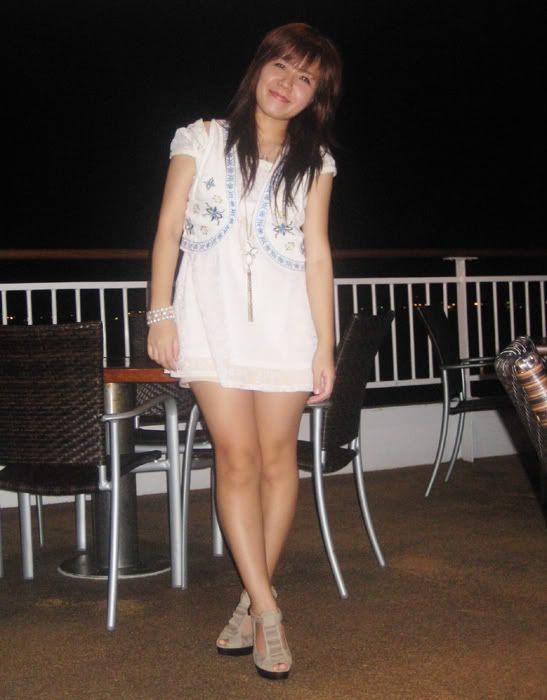 Cream lace smock: Bridge Road, Melbourne
Cream bohemian vest with embroidery: Cineleisure
Necklace with faux white stones and tassel: Topshop
Pearl bracelets: Assorted
Beige suede heels: Topshop
Wearing all white so that in case I fall into the murky black sea, people would be able to find me WTF.