Last week
Projectmuffstit
asked me to do up a few shots using a white tee... Brilliant, isn't it? The white tee is like one of the most staple items of the wardrobe, along with the denim jeans, the white dress shirt, the black pencil skirt? :P
Anyway, people, do look out for the
Contest Tee-Up
that they are running, and maybe submit your own look to win a vintage blazer and some discounts from their online shop? ;)
So anyway, as I was saying, me + white tee = went a little overboard with the number of looks, heh.
The bare minimums WTF:
Topshop men's white V-neck tee.
The same tee is worn in all the shots.
Look 1:
Colorful sequined beanie: Topshop
Pleather leggings
Faded denim jacket: Topshop
Necklaces: Assorted
Studded heels: Zara
These shoes are the ones I mentioned that I got
here
! :))) I have been basically obsessing over the original
Burberry ones
since the first time I saw them... I pretty much can't afford the real thing, but I was so desperate I wanted to buy a pair of look-alikes from Pedder Red!! Not that these Zara ones were that cheap. -_- But I love them to death. :D
Look 2:
Faded denim high waisted shorts: Miss Selfridge
Black leather studded bag: Kate Moss for Topshop
Studded bangle: Topshop
Black suede fringe boots: Online
I am becoming quite the shoe freak... Loving these moccasins-like fringe shoes! :)
Look 3:
Silver turban headband: Forever 21
Dust green/gray tutu: Zara
Satin pink top with embroided hem (worn underneath, embroidered hem peeking out): Bysi, Singapore
Green and white diamante cuff: Miss Selfridge
Pink patent ballet flats with diamantes: Woolworth, Melbourne
Some thing I always try to do is to make sure that my work wardrobe can be used for daily wear, whilst my play clothes can be worn for work as well. And this is a classic example-- the pink satin top that I layered underneath has the most gorgeous embroidered hemline, and I wasn't going to let it go to waste! :P
Am I weird that frivalously colored shoes make me happy? ;)
Look 4:
Plastic frames: Thrifted
Woolly tweed shorts: I.am (OU)
Black satin bow hairclip with lace trimmings (clipped onto shirt sleeve): Vintage, from the 50's
Bag: Kate Spade
Gray knee-high socks
Tan brogues: Thrifted
Happy nerdy leg in the sun.
Look 5: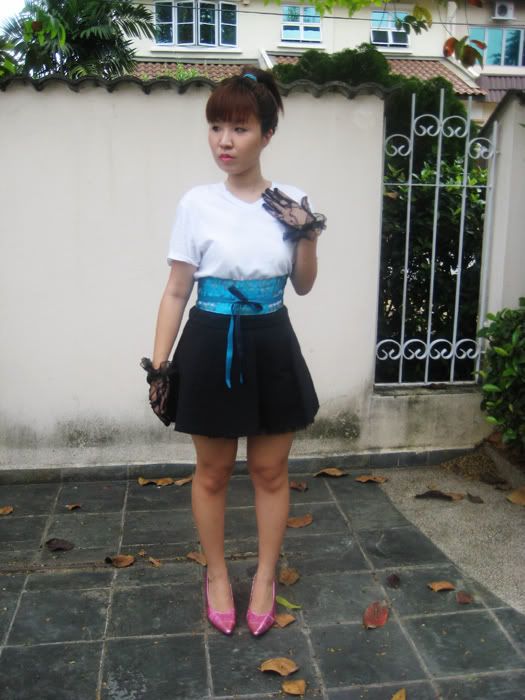 Black brocade skirt with underlying tulle layers: River Island
Sky blue silk obi belt: Topshop
Black lace gloves: Sungei Wang
Metallic pink pumps: Sunway Pyramid
Damn, the tulles of my skirt can't be seen! And the main reason why I hauled the skirt home despite its hefty price tag was precisely because of the tulle layers. -_-
My Topshop obi belt was bought back when Topshop just opened in M'sia.. Easily 8-10 years ago? I LOVE it when I re-use things from the past!! Or maybe I was just a really fashionable kid, hoho.
Hope you all enjoyed looking through as much as I enjoyed putting these looks together. I have a sudden craving for more white tees in my wardrobe now!! What about you? :P