Today is a very special day!
But before I go on to how special this day is... Let me present you all with some happy-clappy pictures of us! :D
Because pictures of the three of us never fail to pick me up. :)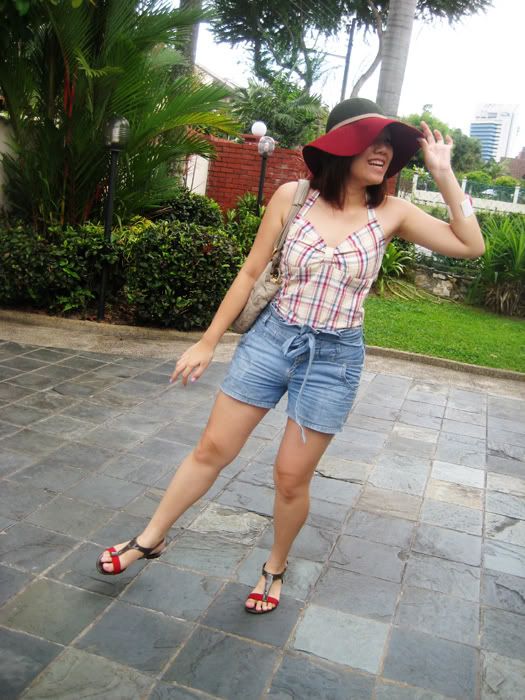 Teeny,
ala
tai tai!
Teeny, whom I missed so much. :( As mentioned in my earlier post, the impact that she was gone didn't really struck me, simply 'cause I am in S'pore, and I didn't actually get to see her leave. But on Friday night, the moment I reached KL, whilst the boyfriend was bringing me home and whizzing through the familiar KL streets, it really hit me. And I just started crying then and there in the car. :(((
And the boyfriend thought I was crazy wtf.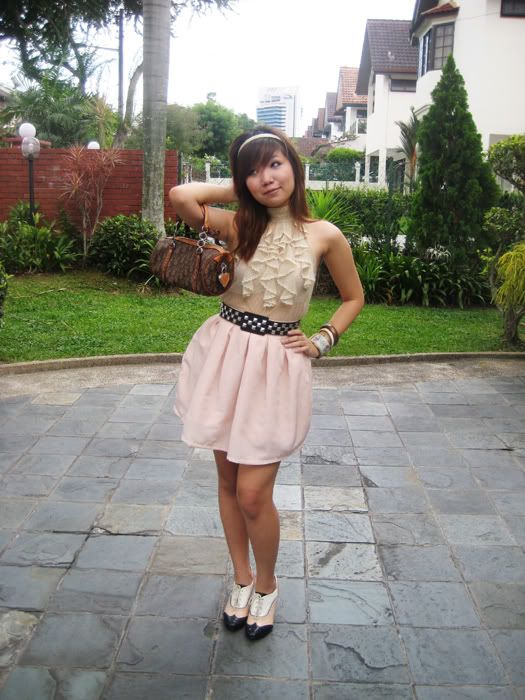 Jing, wearing an entirely sheer top! I kept on wanting to throw a
guni
sack to cover up her chest wtf.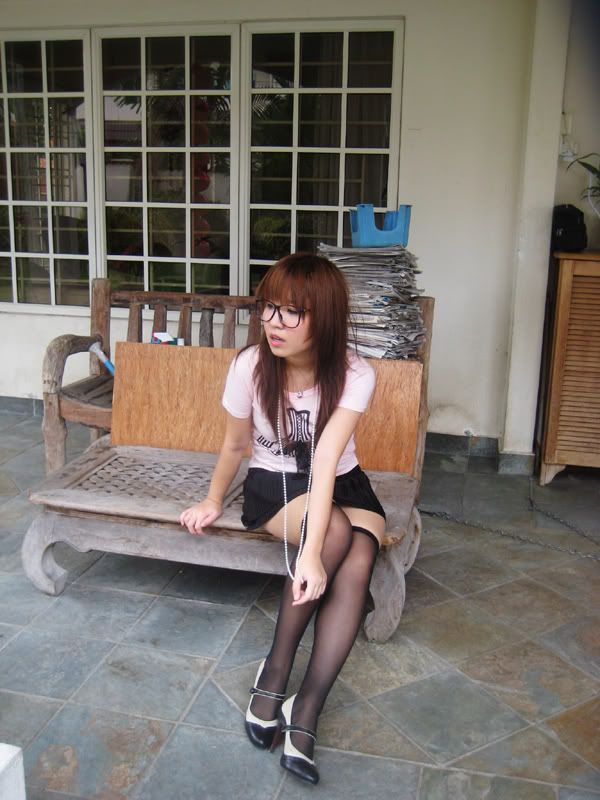 Teehee, my legs looked so
Agent Provocateur
here! :P
Pink tee with ball gown design and err 3D bow: Kuala Lumpur
Satin pleated miniskirt: Times Square
Pearl strands: Sister's
Nerd glasses: Thrifted
Sheer black knee-highs: Macao
Black and cream maryjanes: Singapore
We were at Sushi Zanmai, and the OCD streak in me kept on thinking that there is dirt on the cup, and couldn't resist taking the napkin to rub it off. -__-
"Che, it's the design la!"
"... I know! But it just looks so DIRTY!"
*rub rub*
"Che, I tell you, after you rub off the clay design, they make you pay for the cup ar!!!"
"Oh."
*stops abruptly*
HAHAHAHHAHA.
Candid picture!
And candid pictures of me. Why so ugly. T__T
Jing and woman with no face wtf.
Two blind mice.
Entertaining ourselves 'cause Teeny rather do the following than to pay attention to us...
Playing Sudoku on her handphone!!! Boooo NERD wtf.
I miss my sister so much, how ar. :((((
On a more selfish note wtf, I am praying that she will buy a lot of things for me, and pass it to my dad (who went to Melbourne with her) to bring to me, wheee!
Doing
Wing Chun
with Jing HAHAHAHHAHAH.
'Cause I watched
Ip Man
recently, and I was *sort of* obsessed with the martial arts! Actually it's 'cause of Donnie Yen, the lead actor la.
*shy*
He is so man, le sigh. After I watched the show, I just kept on doing Wing Chun moves (complete with 'haiyah! haiyah!' sounds) to irritate my sisters, hahaha.
Close up of my outfit! That's a ball-gown print on my tee. :P
HAHAHAHA damn stupid! Jing lost one side of her false eyelashes, and started acting shifty and dodgy wtf. 'Cause a true lady never reveals her vulnerable side WTF.
Anyway everyone, today is a very very special day, because it's Jing's birthday! I DEMAND everyone of you to wish her a very very very very HAPPY BITHDAY!!! Because I am a bad sister, I couldn't be home to celebrate her birthday with her, and just be
with
her. :( I have also been very very very bad, because I haven't had time to do up a proper b'day post for this special person in my life. And I am even more of a bad sister 'cause I didn't teman her to get her birthday present for herself. -___-
Now everyone GOOOO, wish her! It's one more hour till her birthday ends, but knowing how self-absorbed Jing is, it's birth-
year
to her anyway WTF, so all your wishes will still count! :D
Happy birthday my love!! Hope your high from your shoes last till next weekend, when I will accompany you to get THE wallet! :P There is nothing more in the world that I wish for than to have been with you today!
Love you, with or without falsies, haha!