*updated*
I am back in Singapore!!! Touched down this afternoon. Though I am happy to leave Penang (I love Penang as a tourist spot/island, but Penang = work is not a fun notion for me, boo), I am damn emo to be stuck in Singapore too! :( 'Cause in about 2 hours' time I will be missing out on TWO 'lou sang' dinners-- one with the girls, and another one with the boyfriend and our university mates. SUCKKKKSSS.
Though Jac promised to webcam with me while they 'lou sang'. -____- And she asked me to prepare my own chopsticks and 'lou' with them as well WTF.
Aaah, answer me truthfully, do you enjoy visiting my blog more this week! 'Cause as you can see, for the first time
ever
, my blog is practically devoid of any pictures!!! But of course that is only a temporary reprieve. :P I don't like my blog looking so empty and blank.. T__T So here is my attempt to brighten it up a bit!
Here you go, 101 pictures wtf.
Pictures of our last ever GNO before Teeny goes off to Melbourne. T_________T
Teeny with her new camera (for her to bring over to Melbourne)! Which she 'crystallised' and made it into....
... DOMO-KUN.
If you don't know what a domo-kun is (like me),
this
is domo-kun:
WTFFFFFFFFFFFF.
Teeny really stuck crystals on her camera and made it look like this... this... monster!! And the lens is its mouth. -____-
I tell you ar, this woman is crazy, give her any surface, and she will cover it with crystals and make it look like weird Japanese characters. -___- For example, Teeny recently lost her handphone, so my dad lent her his spare phone... And she 'zhng'-ed it with bright blue,red and white crystals and make sparkly star designs on it!!! And when she returned the phone to my dad, she told him it's to commemorate Obama's win the elections HAHHAHAHA. How is my dad ever going to use the phone anymore!! Hahahha!
Jing wtf.
She wore gloves, and she was being so paranoid the whole night! Convinced that her hands looked weird and all (which they did HAHA). And she refused to hold the camera or her glass... And when she ate, she had to shiftily take off her gloves, 'cause it's too slippery for her to hold up her utensils, hahaha. But luckily she didn't use her slippery gloves as an excuse to not pick up the tab WTF.
Cradling domo-kun in my hands wtf.
Hehe, more pictures of my outfit later! But GUESS WHAT! I was actually wearing a
swimsuit
, HAHAHAHA!
In fact, I bought the swimsuit a mere 2 hours before our outing! 'Cause on that day, after my sisters picked me up from the bus station (came back to KL from S'pore), they went straight to Bangsar! And I fell in love with this quirky swimsuit, and came up with a lot of reasons why I need to buy it, although I have easily a dozen bathing suits (at least 70% not worn). So I told my sisters that I will wear it for clubbing (Jac's birthday party) on the same night! And the FIRST thing that my sisters replied me is: CHE PLEASE WEAR SOMETHING WITH THE SWIMSUIT AR! Hahahahahhaha! Why my sisters have no faith in me! Do they think I am such an exhibitionist HAHAHHAHAHA!
We were at California Kitchen in KLCC, a place I have been to a few years ago and fell in love with its blue tortilla chips with spinach dip. Try it people, it's really really yummy!!
But we didn't order the chips though, we were too broke to afford a RM20-over snack wtf.
Instead, this is what we ordered to share! :)
(sorry the pictures sucked, I was too hungry to care about how the the food pictures turned out)
Carbonara tagliatelle with chicken.
Some tortilla wraps to share.
Avocado chicken pizza (which came with a much fancier name in the menu, of course).
Jing being glum 'cause of her alien-looking hands, haha!
Sisters who share the same hairdye. -________-
Boo to Teeny who didn't wanna take pictures with us! But camwhores by herself. -__-
Outfit pictures! No more of all three of us after Teeny leaves. T__T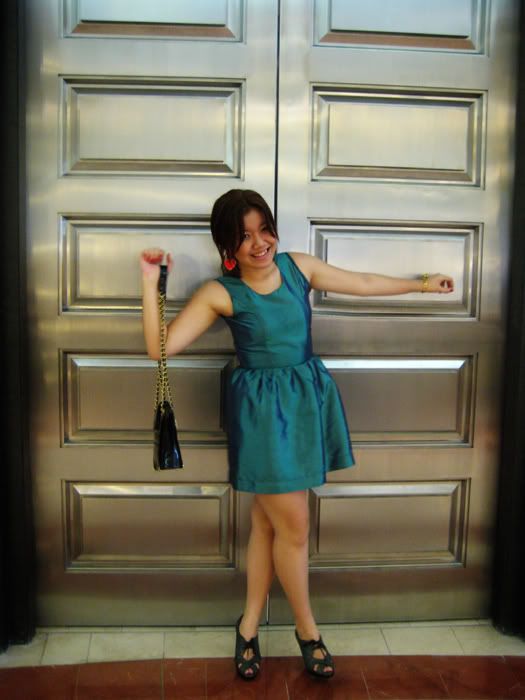 Teeny. New dress, bought along with my swimsuit! :P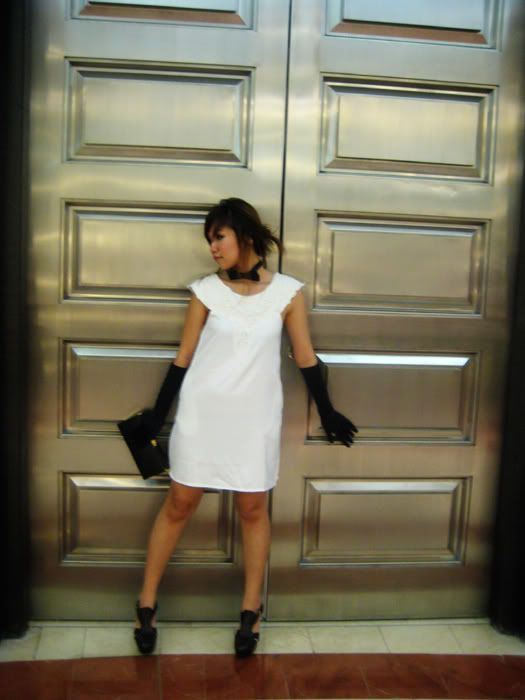 Jing! This is the manliest (i.e. bowtie) you will ever see of her. -_-
And my swimsuit wtf.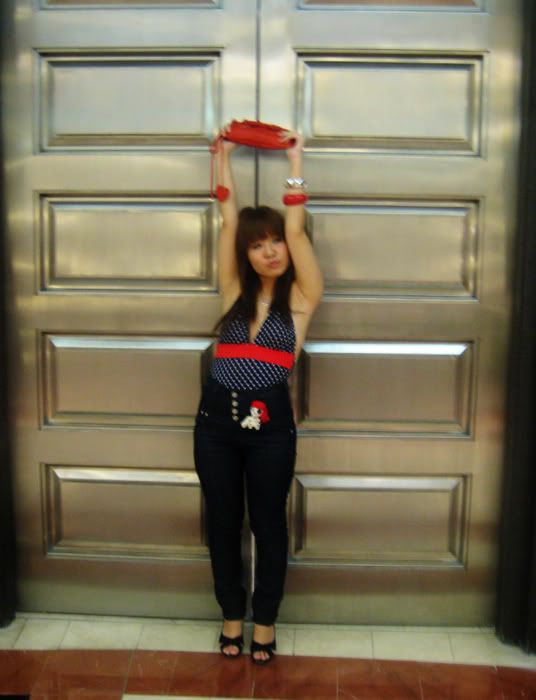 Navy star-print swimsuit (worn as top): Tea & Sympathy
High waisted jeans: Forever 21
Black suede heels: Charles & Keith
Red leather clutch with bow and ruffles,
and heart-shaped dangly thing wtf,
: General Pants & Co., Australia
Red bangle: Diva
Studded bangle: Singapore
Pirate stuffed toy brooch (pinned at waist): Disneyland, Tokyo
Eh my outfit will go very well with my dad's spare phone WTF.
Shhhh don't tell anyone, but our stuffed pirate is missing one arm. Lost at sea WTF.
Jing and Teeny were so prettily-dressed! Whilst I had to take a sluttier approach to things wtf 'cause I was to head to Zouk straightaway after dinner for Jac's bash. When we stepped into KLCC, we saw some people looking at us, and immediately Jing commented: "We are overdressed!". To which I replied dryly, "I feel under-dressed!"
'Cause in bathing suit HAHHHA!
More poser pictures of us:
Man and woman!
Hahaha damn funny, 'cause usually Teeny has to be the 'man' 'cause of her height! :P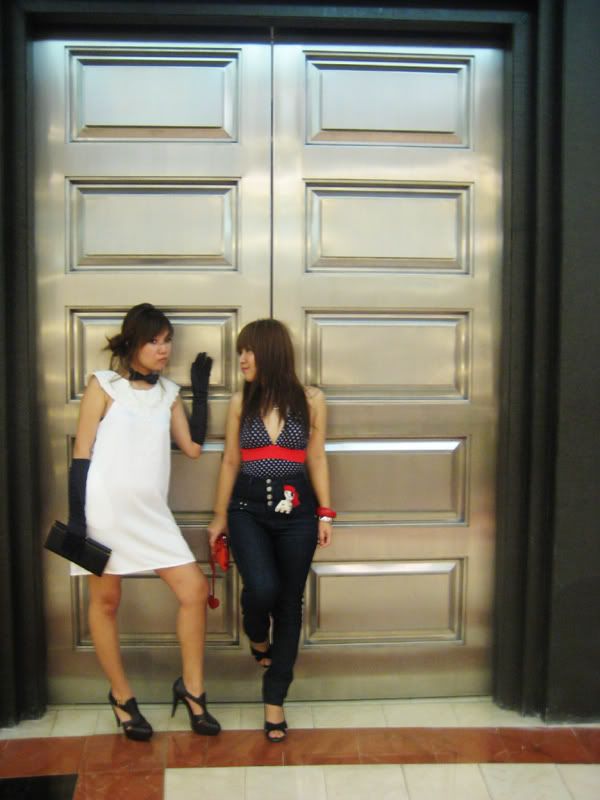 Jing, me, and her paw, haha.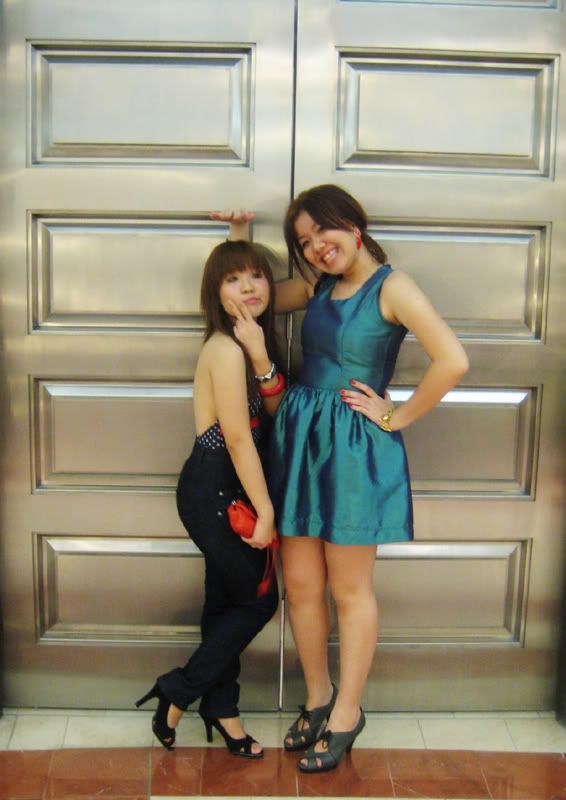 Shortie, boo.
*********************************************

*updated with clubbing pictures*
Pictures from my camera as well as stolen from here there everywhere! :)
With Victoria!! Mmm, Victoria, I just realised! Peekaboo, SEXAYYY! :P
Call me the worst best friend in the world! This is the only picture of Jac I have in my camera. T___T
But at least she looks hot here! Although she looks like she has no nose in the picture wtf.
Cheersss!
With Vic and Mey Mey!
Damn pretty right Mey's Blair-lookalike dress! I got it for her for her birthday.
*shy*
Any more vigorous actions, and my arm will crash right into the camera lens. -_-
Julie! Before she crashed out. *clucks tongue* :P
Julie again, the picture-hogger! :D
*squish*
Guess who.
*shy*
Everyone was amazed and in disbelief when I said I was wearing a swimsuit! Why!!! But I also got quite a few compliments la. Almost makes the trauma I suffered when I had to pee in Zouk's toilet (cue: bathing suit) worth it WTFFF.
Girls: me, Vic, Mey, Winnie.
HAIHHH look at my eyes!! Now I know why people said I have crinkly smiley eyes. T__T
I mean, seriously,
what
eyes wtf.
Hugs! :)
Smalls and Brian.
Smalls was wearing this really pretty red dress... So we came up with lots of nonsense that night. Remember the pirate stuffed toy I had on my jeans? Smalls and I said we will compete by the end of the night who could pick up the most guys with our pick-up lines for the night respectively:
Me:
*points at pelvis region wtf*
Have you seen my privates, oh I mean pirate?
WTF
Smalls:
Open me like a red packet!
HAHHAHAHHAHAHHAHAH DAMN SOHAI.
Behind: Jialin (hot doctor in the making), Nicholas, Winnie, Victoria, Mey.
Front: me, Jac, and half of Brian wtf.
Another squishy picture of us! And most importantly, picture of me and Jac.
*shifty eyes*
The reason why I am talkative is 'cause I have a big mouth wtf.
With Ju, who is so so pretty and hot that I immediately felt inferior. T_T
I mean, seriously, only an extremely striking girl would be able to carry off such a short crop like hers! *heart* And she has such pretty accessories too... *strokes her jumbo Chanel 2.55 and kisses her
Jessica Cushman
bangle*
The only picture of us two.. T____T Sorry Jac! *kisses your feet wtf*
Eh thanks ar, whoever it is who took a picture of my cleavage. -___-
Adrian, who is the nicest, most good-natured guy! 'Cause he laughs at all my jokes wtf.
No la, seriously, he is damn damn nice! Halfway through the night, I found out that I lost my blush brush (brand new!), probably 'cause my clutch couldn't be closed properly (too many things wtf). And whilst I just slumped on the couch sulking, he actually held up his handphone light in the dark and looked everywhere for it. T______T He didn't find it in the end, but I was damn touched k!
And woohoo, in the end, some other guy found it for me! And to reward the kind soul, I put some blush on his cheeks for him HAHAHHAHA. And I think he was drunk, 'cause after that he asked me to add somemore on his forehead HAHHAHAHAHHAHA.
With Brian and pretty pretty Ju.
*adoring*
With Cody, whom I have heard so much about!
*wink*
HAHAHHAHAH DOING THE LIMBO ROCK HAHAHAHHA
HAAHHAHAHAHHAH when we left the club I saw this giant gold coin decoration for Chinese New Year, and picked it up... And surprisingly, it was detachable! So laughing, we tried to take it out of the club wtf. Then the guard saw and tried to stop us: "Ehhhh!Tak boleh tak boleh! Ini tak boleh bawa rumah!" (
No no, you can't take this home!
). So shamelessly I told him "Bang, kita tak akan bawa balik! Ambil gambar saja ok? Kita nak Happy Chinese New Year, gong xi fa cai!!!" (
we won't take it back! We just want to take some pictures, 'cause it's Chinese New Year
!) HAHAHHAHAHAH so this was how this picture came about!!!
And if you think I spoke to the guard that way 'cause I was high, I will have you know that tipsy hui wen and sober hui wen acts the same way WTF.