Remember the weekend before this, I made an impromptu decision to go home?
One of the main reasons was her:
Jinnie-boo.
That's what I call her when I am in a good mood. ;)
When I am mad at her, it's HOE HU JIIIIING! Haha.
Jing's boyfriend left on that weekend, and Jing asked me to go home to accompany her. I couldn't say no.
*sniff*
It was really nice though! 'Cause it was a looong time since Jing and I had some alone time-- when Sam was back, she devoted all her time to him, which I can understand. The Hoe sisters are cursed to be LDRs. T___T So it was great to just catch up on girlie, superficial, frivalous, bitchy things. :P
We were at Delicious, one of our staple girlie hang-out places.
Jing's deep fried mushrooms, 'cause she's on a
diet
.
*snorts chortles chokes*
:P
My smoked salmon on wholegrain toast-- which caused me diarrhea FML.
I don't really have proof that it's the sandwich which caused me to be ill, but besides the sandwich, everything that I had for the day, the boyfriend has eaten as well, and he didn't get any tummy aches! I am also inclined to jump to conclusions because the last time I went clubbing after having the exact same smoked salmon sandwich, I puked till I turned gray.
Don't believe?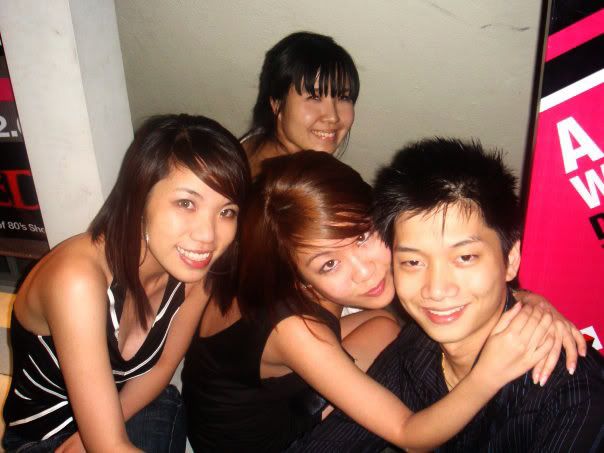 LOOK! I managed to dig out a picture-- looked at how pale and gray I looked. :/
*click*
Or maybe I am just allergic to smoked salmon
*can't bears the thought*
T___T
Haven't done this in a bit-- sisterly outfit pictures! :)
Jing with her new shoes.
I play with my hair too much.
Gray lace overlay vest: Vintage

Gray leopard print bodycon skirt: Miss Selfridge

Gold and black chain interlink belt: Jing's

White knitted beanie: Sportsgirl
Gold bamboo bangle:Topshop

Silved studded bangle: Singapore

Oversized faux pearl ring: Topshop

Gray laced-up pumps: Topshop

Bag: Miu Miu
I am not going home this weekend, and in a weird way, I am kind of relieved. All the commuting and travelling for the past 1 and 1/2 months have been taking a toll on me. I am grateful for the rest awaiting me this weekend! :)