Random pictures from our first day in Seoul. We embarked on our journey the day before at about 2pm, and only arrived in Seoul the next morning at about 6am! Damn transit flight. Things we do for cheaper flights. But it was necessary though, as I am currently unemployed! (happily so)
Had breakfast at Paris Baguette, a really popular bakery chain dotting Seoul everywhere.
I insist that there is no more comforting smell than the buttery aroma of freshly baked breads, mingled with hints of scents of jams, raisins, cheese, sausages... Nothing quite like it to kickstart the morning!
That, and a cup of steaming hot latte. :)
Korean McDonald's.
First official meal in Seoul: Sam Gye Tang (ginseng chicken soup).
I was told that I can only use one type of utensil at any one time (chopsticks OR spoon)... Trust me, it's quite the challenge to eat an entire spring chicken with chopsticks!
Vending machine with colorful snacks.
After successfully making our order with a mixture of broken Korean and sign language.
Jing and I were quite amazed that I looked so fresh!!! Remember, I have been traveling for almost 20 hours and barely had any sleep. Furthermore, when I was freshenening up in the washroom, I realised I forgot to bring my BB cream!! (that's the only coverage that I use). I almost freaked out, but thank god my friend was understanding enough to rushed me to the nearest mall to get some foundation, haha. I have to say, KOREAN MAKE UP IS SO CHEAP! And so good, judging by how fresh I looked here. :P
Little kids at the Aquarium.
You are required to take off your shoes at most traditional sit-down restaurants.
Animal instinct.
Our bedroom! Not bad, especially considering we got a pretty decent deal.
And
we also got bunked up to a suite, woohoo!
Coffee is an essential in Korea. That, with cigarettes, beer and soju. Almost every restaurant that we have been to has a coffee machine-- free coffee!
Will have a separate post on all the cafes in Seoul. :)
Korean phrasebook!! Absolute life savior as Koreans speak very, very minimal English.
Saw the world's biggest guinea pig--
capybara
in the Singapore Night Safari once, and was entertained to
death
with how cute it looked. Imagine when I saw a capybara stuffed toy in a Korean gift shop!!! I totally lost it and was almost writhing on the floor dying with laughter, hahaha. (those smalls bits in front of the toy are its legs by the way, hahaha)
Seoul sights.
Outfit: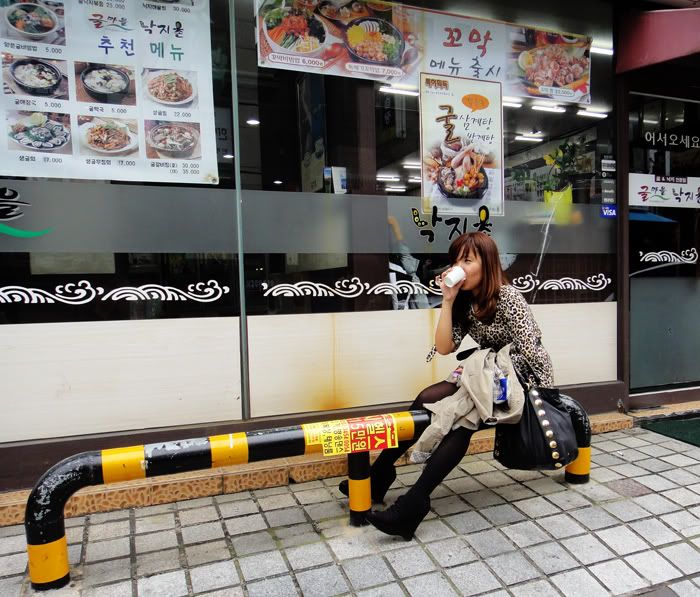 Enjoying my free Korean coffee in the chilly weather.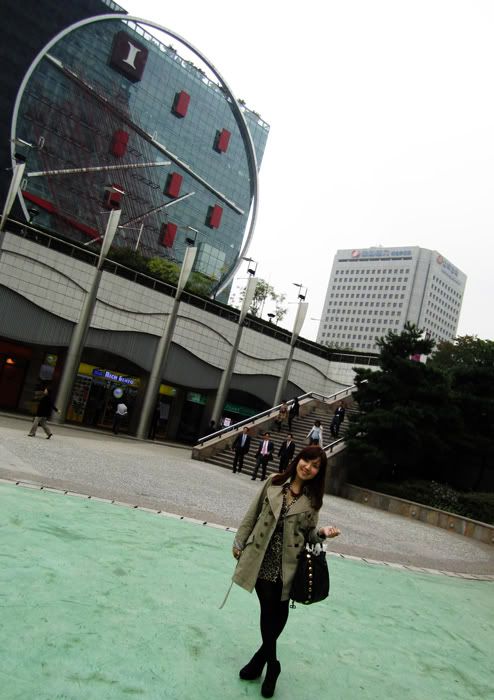 Leopard chiffon long sleeved buttoned shirt: H & M
Black shorts (worn underneath): Cotton On
Black tights: Random
Trenchcoat: Burberry
Black belt with silver buckle: Bysi, Singapore
Silver choker: Topshop
Silver cross: F21
Black suede wedges: New Look
Bag: Miu Miu
I have pictures from my first night in Seoul as well, just dinner itself is worthy of another post! Will post it up soon! :)