New updates on
Boudoir-Boudoir
!
Spot my favorite word in Apgujeong.
Cutest, and possibly most camwhore dog in the world.
Samsung cars are everywhere in Korea.
Wondered into paradise by accident.
Walked out with a chocolate-coated waffle stuffed with custard in one hand, and a biscotti gelato in the other.
Can you find my youngest sister?
Sunbathing.
Korean side dishes. Caution: Stay away from the chilli.
Myeongdong. Everything you could ever want from Zara, Forever 21, H & M, American Apparel etc., they are all here.
Samsung's competitor in motor vehicles.
Koreans love their thick frames! I am trying to fit in here.
Gamja Tang-- pork bone spicy soup. After you pick all the meat from the bones, the authentic way to finish the dish would be to dump the rice into the soup and eat it when it has absorbed all the goodness in the soup. So satsifying.
Purposeful in Dongdaemun at 2am.
Enthralled by happy neon lights.
Korean street food.
This is a fried chicken skewer, by the way. I look too happy.
Dusk in Myeongdong.
Halloween costume, anyone?
Sausage covered with french fries. Phallic delight, this one.
My couture moment.
Crowded even on a weekday.
I don't have a proper outfit picture, so this will do: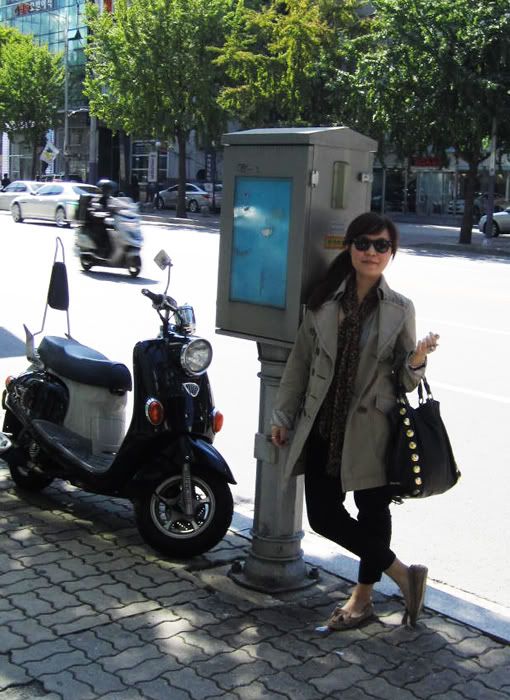 Gray assymetrical tank: Topshop
Navy harem pants with gold buttons: Topshop
Nautical nude cardie with navy trimmings: Miss Selfridge
Leopard print scarf: Far East Plaza, Singapore
Trench coat: Burberry
Silver chain necklace: Topman
Rings: Topshop/ F21
Turquoise shell wayfarers: Ray Ban
Suede moccasins: Zara
Bag: Miu Miu