In the mood for some retro lovin'.
Coffee and fashion are two of my biggest addictions. And weaknesses.
Upon closer look, my coffee foam had something that looked suspiciously like a heart-shaped cat on it??!!
Wearing the faux leather shorts I got recently. I have been looking for one for AGES! Still beating myself for not getting one in Korea, arghh.
No point crying over
spilled milk
missed shorts though.
Wrinkly hands alert! Is there such a thing as a bad hand day, haha.
I was in the mood for a little hard and soft, hence the leather shorts, the fluttery petals clutch and dashes of pink: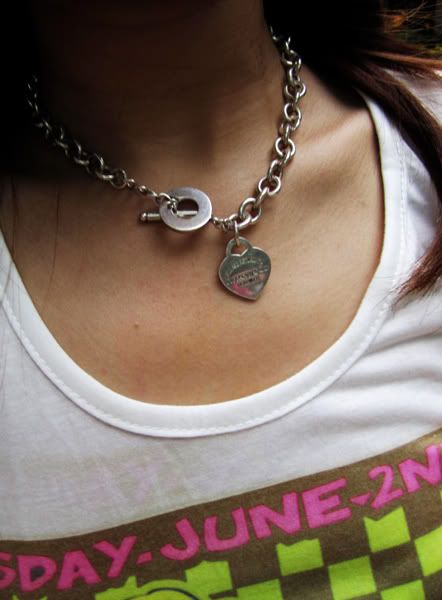 Retro pin-up girl print tee with cuffed up sleeves: Bangkok
Faux leather paperbag shorts: Bangkok
Fuchsia velvet pumps: Zhuhai
Silver charm toggle necklace: Tiffany & Co.
Arty ring: YSL
Pale pink petals clutch: Jing's
By the way, regarding the
Fat Spoon junkyard sale
that I will be participating this Saturday (4 December), I have been working really hard to find some goodies for sale! I have definitely hit the 100-items mark. Way past it, in fact. -_- Anyway, I personally think it's impossible to put up everything on sale on Saturday due to space constraints, so I will try to work on posting it online first.
Nonetheless, I would appreciate if you can drop me a comment or an email on what you would like to see on Saturday! Whether it's a wrap-around shirt, a particular cardie, denim shorts etc., if you want it, I will try to sell it! Or you could browse through my older entries, and if there's anything you are interested, drop me a comment with the blog link, and I will put it up for sale as well (if I can bear with it). I am serious about detoxing my wardrobe AND I WILL!
*determined*