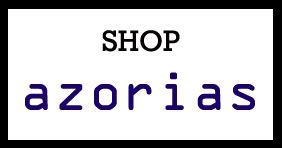 ***************************************************

Continuing on with more picture of my weekend stay at Golden Palm Resort, Sepang Gold Coast.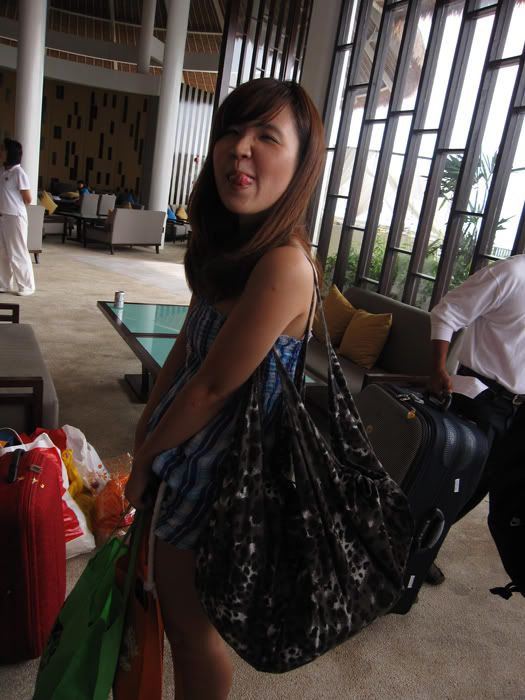 Official
kuli
of the day.
In the lobby. Which was small, crammed and stuffy, by the way.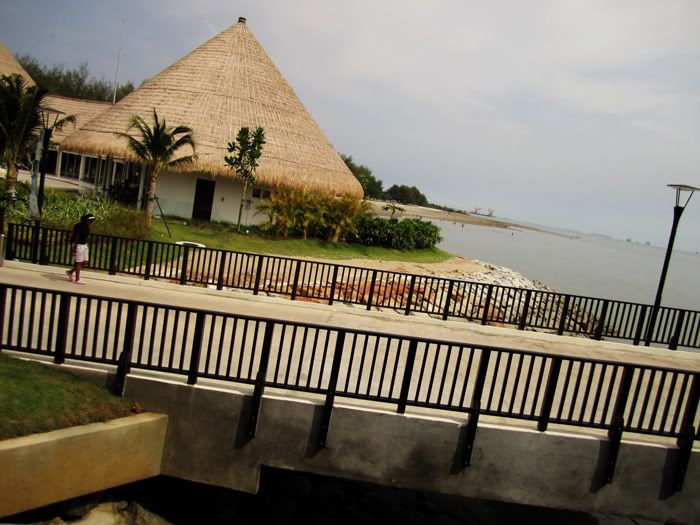 Unimpressive sea view.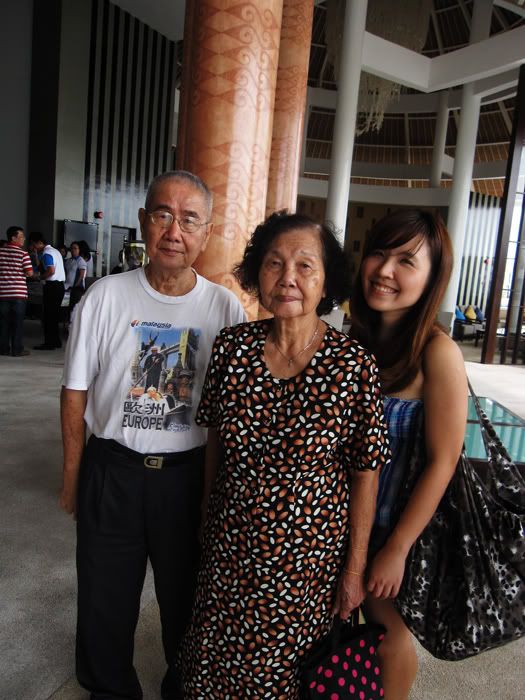 Grandparents! Why do old people not like to smile in photos??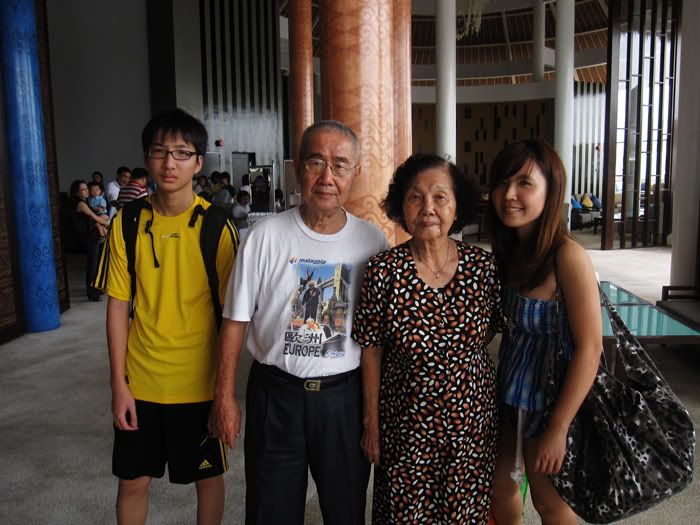 And apparently the younger generation as well-- please refer to my brother. -_-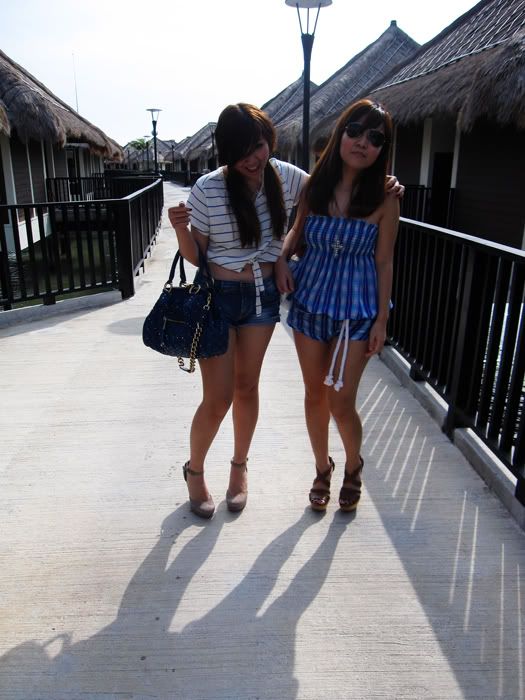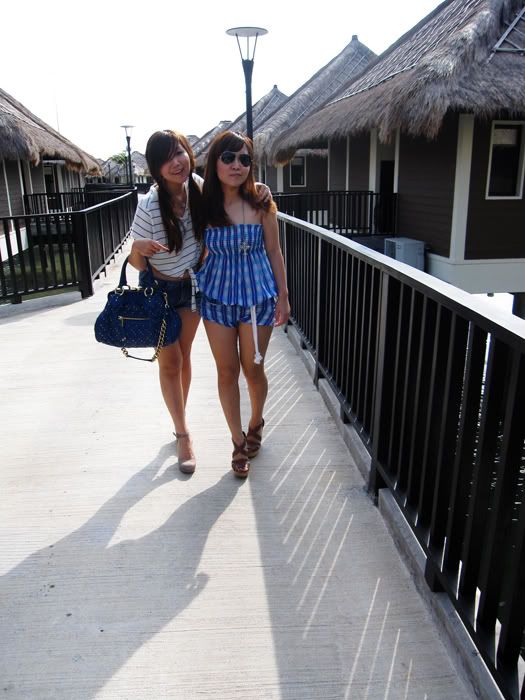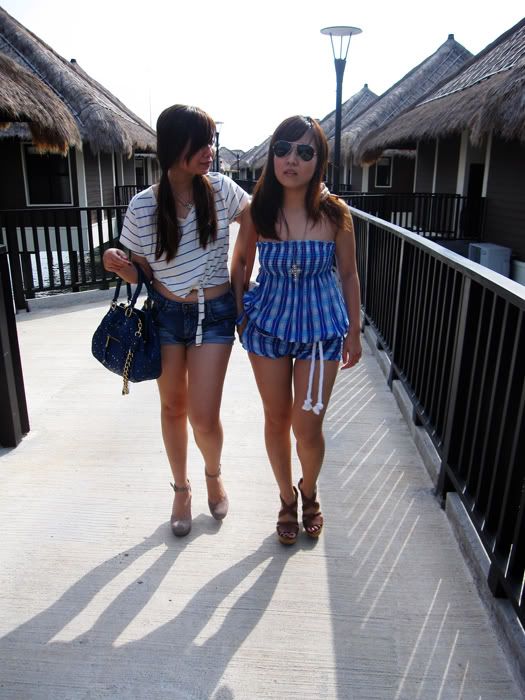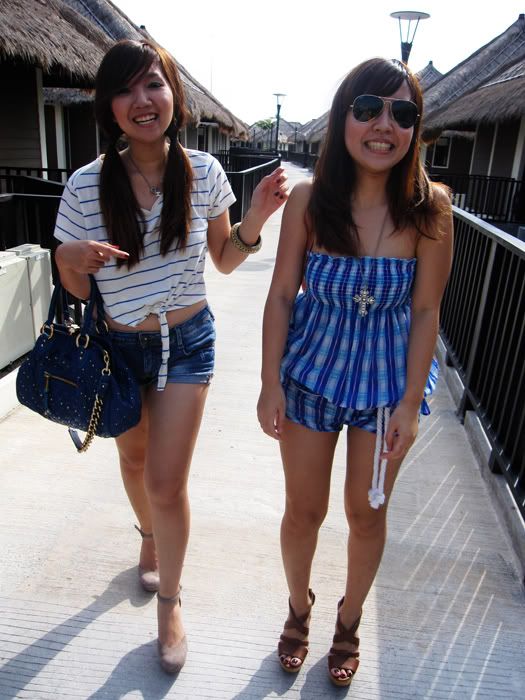 Outside of our sea villa.
Beach babe outfit hehe: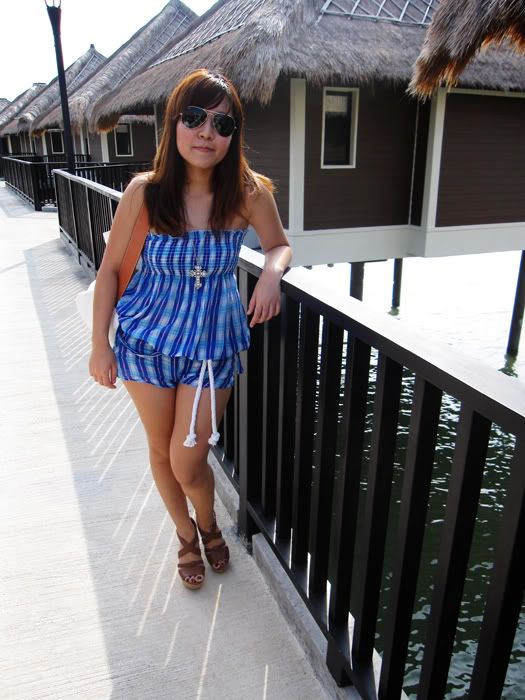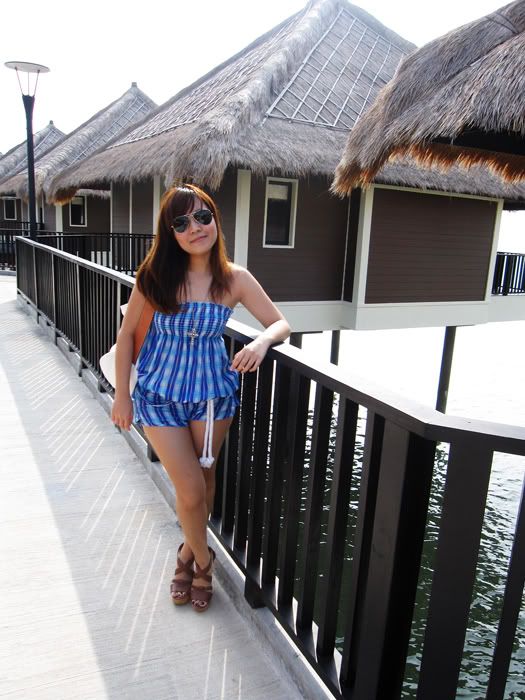 Sky blue plaid smocked romper: Miss Selfridge
White rope belt: Bangkok
Silver cross: F21
Tan leather clogs: Steve Madden
White ruched knapsack with tan leather straps: Bangkok
This was a real candid picture-- caught when I suddenly remembered that I didn't bring sunscreen: "FARKKKK!" hence the hand flinging, haha.
Perhaps by now you could guess that I wasn't that impressed with the resort, to say the least. The entire design and layout of the place looks cheap and artificial, especially when I compare it to some of the sea chalets I have stayed before, such as
Avillion in PD
and
Pangkor Laut Resort
. Even my dad who is oblivious to interior and designs commented that the place looks artificial. The palm tree layout of the villas is gimmicky, and cannot be observed by those who are at the actual location.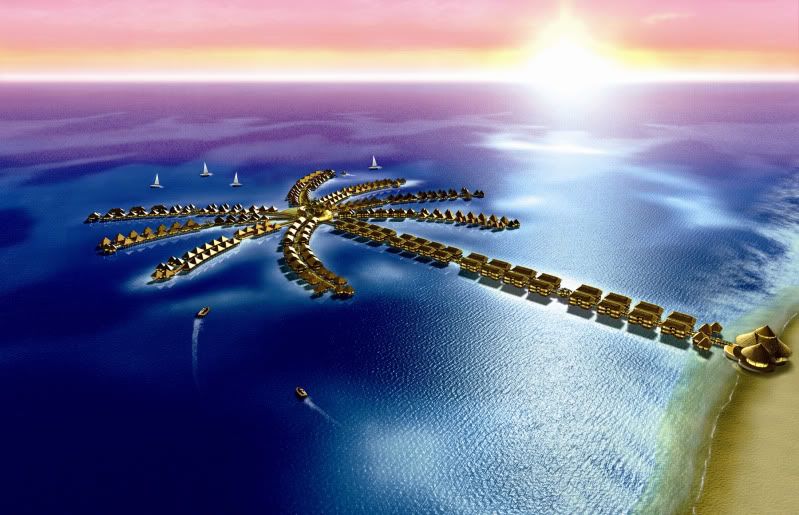 The resort is run fully by locals, and based on what I read in the newsletter, it's part of the corporate social responsibility endeavors as well as providing a localized experience for hotel patrons. However, I feel that the staff were mainly inefficient and unprofessional. And I mean, staff who can't speak English at a resort that claims to be of international standard??
Besides that, I have a few questions about the resort:
1. Why isn't there anyone to help us bring down our luggage when we alight at the resort entrance? Even 3 star hotels do that.
2. There is a fair bit of distance from the lobby to the villas-- in fact, we need to take buggies to our villa. Again, why isn't there anyone to help us take our bags to our villas?
3. In fact, the entire buggy system is haphazard. Often, you see a big group of people waiting for buggies, with no queue system whatsoever, waiting for buggies which carry 8 people at one go. -_-
4. How can the staff speak like the waiter at my neighbourhood mamak:
BOSS, takde katil kat villa ini lah!
-_-
Furthermore, the operator has promised to deliver an extra bed to our villa. And he only brought us a comforter. -_- Turns out that they
don't
have extra beds at the resort. Communication breakdown much?
5. The entire villa smells like rattan-- not in a good way. It's suffocating and made us feel dizzy. The comforters smell funky as well.
6. We were late for our buffet breakfast the following morning, with only 5 minutes to spare till they close the buffet. When I was dishing food onto my plate, why is there a
staff
fighting with me to take the food???? -____________-
7. I needed someone to clear a table with many dirty breakfast plates at the swimming pool lounge bed. Mind you, this was 1 hour after the buffet closed; why was the table not cleared is beyond me. When I approached this waiter, she looked away and walk off to another lady. WTF????
One of the saving grace of the trip was that we found the best paus of my life!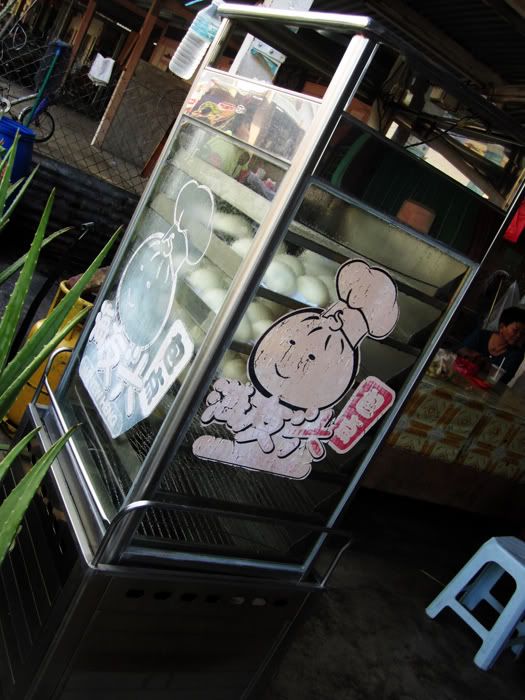 Hai Yew Heng, at Tanjung Sepat, Kuala Langat. Just google
Hai Yew Heng
, and you will find a long list of sites recommending their paus!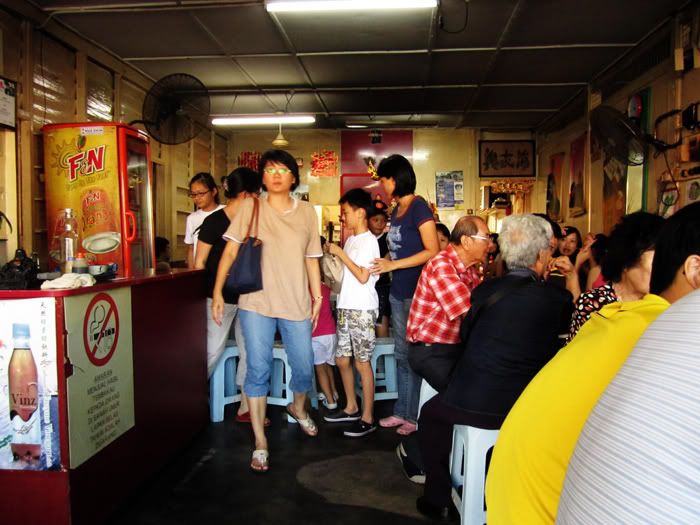 Insane crowd! Especially considering that the shop only sells paus!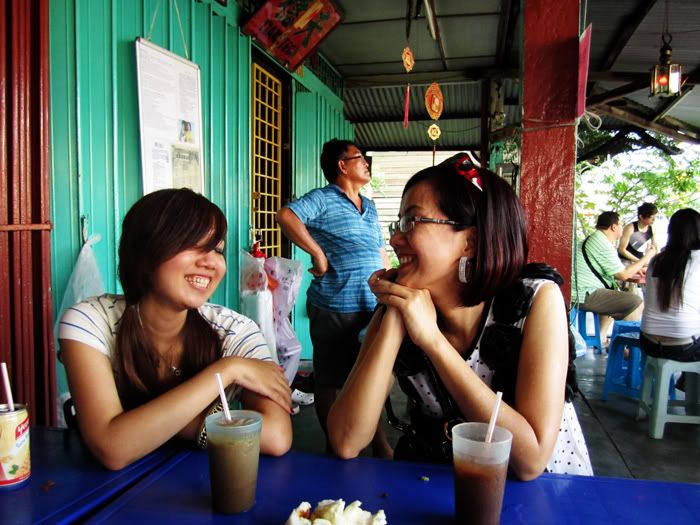 Love the old school, colorful charm of these pictures. :)
My 2 favorite paus of the lot: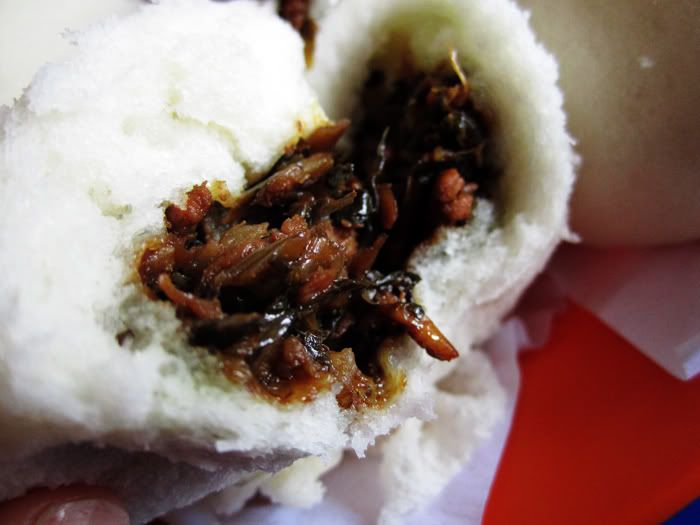 Mui choi
(preserved vegetable) and pork pau.
Tau sa
pau (bean paste pau).
They are really so so so good!I whacked 2 paus each time I went there. Yup, we went back there a second time the following day. We had lunch, and went over to pick up the paus that we have reserved (to bring home for some friends),and we couldn't resist sitting down for some paus all over again. We also brought back 65 paus by the way. :P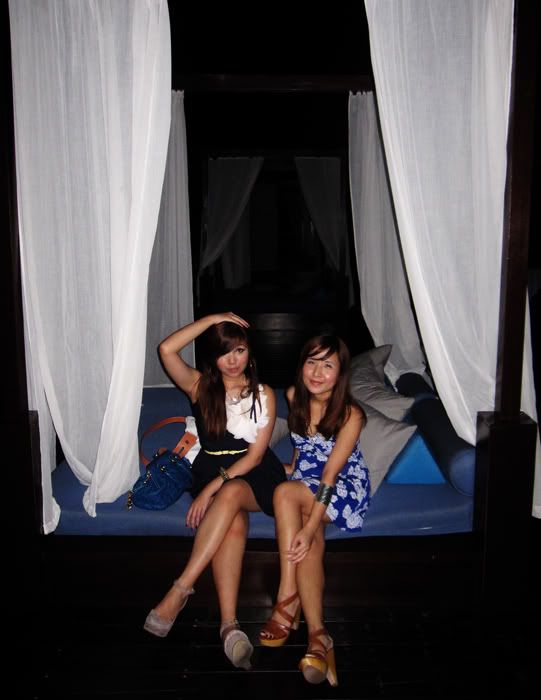 We love canopy beds! What more those by the sea.
My favorite moment of the trip: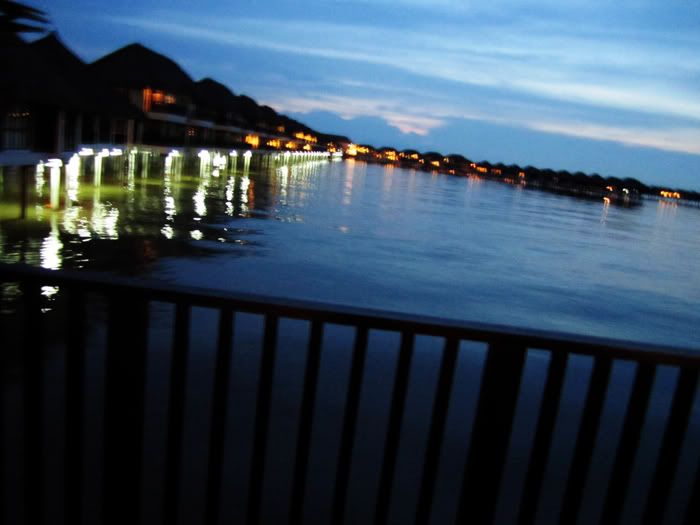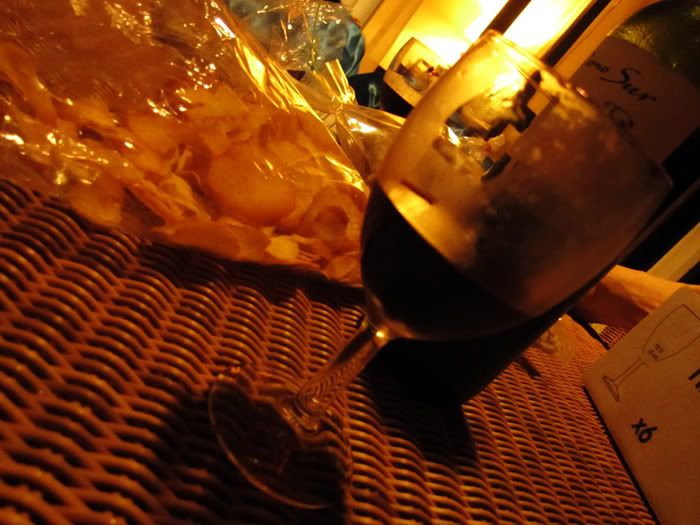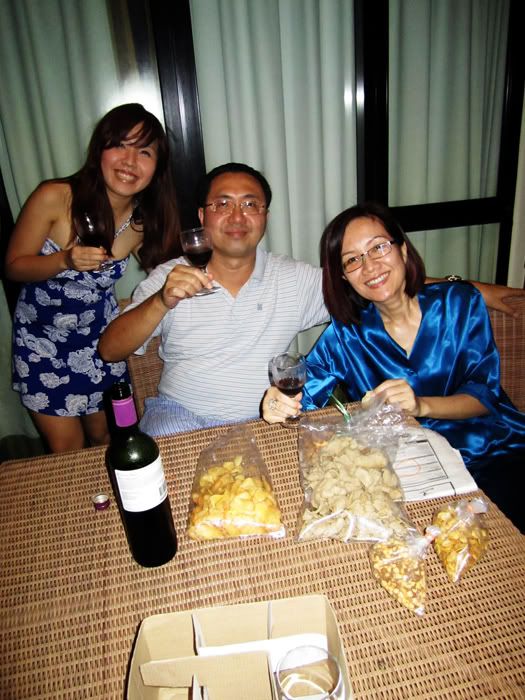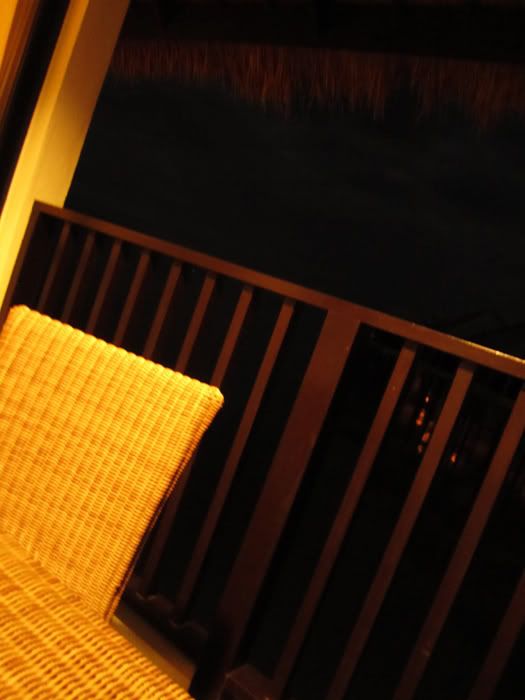 Red wine, fried snacks and chatter by the sea. :)