I was actually in Bangkok over the weekend!
You know how they say a picture speaks a thousand words? Well, this picture pretty much sums up my 4 days 3 nights: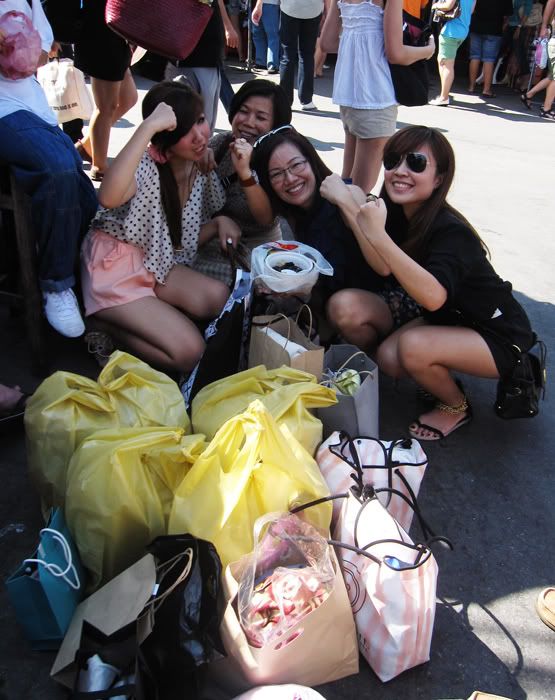 At Chatchuchak market.
This is is with our GAMBATEH/ SURE WIN/ KITA BOLEH stance, hahahaha.
Am really happy with my buys! For things that I bought for myself, offhand I can name a few things which I am really satisfied with-- black faux leather shorts (which I have been looking for since forever), a pretty black rosette skirt, knitted shorts, Topshop inspired floral sheer floaty pants, a pleated chiffon dress with leather bondage, a polka dot tank dress in stretchy rayon/chiffon which reminds me greatly of the American sporty chic look and fits me so well,
ikat
-print linen shorts...
I have also done some stocking for
azorias
, and I am very pleased with what I have got! Don't get me wrong, Bangkok is shopping paradise for sure, but there IS alot of crap there, and loads of digging and sifting through is needed! Furthermore, I am not sure whether it's age catching with me, but I do find myself being way way fussier with the quality and cutting of clothes than I used to be, and Bangkok can be a little disappointing when it comes to the quality sector. So I am really excited with the things I found! From the top of my head there is the Celine-inspired camel colored shift dress with leather details (I've kept one of this for myself!), the Grecian maxi dresses, rosettes rosettes rosettes, H&M inspired blazers, chiffon petals, the quintessential dress shirts in various gorgeous designs... I am all smiles just thinking about them.
An update will up be on
azorias
in the next 2 days. In the meantime, I have lots of stocktake to do! :)